Giving Tuesday is just around the corner!
Just like with other major historical events, what we remember and can learn from are the stories of individuals—what they experienced and how they felt while facing new challenges. You may recall reading the inspiring stories our older children and young adults wrote earlier this year, collected in our Papa's House Magazine: Letters from the Lockdown. Their words described the hardships encountered due to the lockdown restrictions, but also how they were facing those challenges.
Personal narratives such as Khusbu's below provide the detail, clarity, and context for the historical record of these unusual times.
| | |
| --- | --- |
| ​ | Each day starts with the same schedule—hard-pressed with our college life and work. We were working very hard for our board examination, but who knew that one day all that would be changed? Many events like family gatherings, school events, etc. were prohibited by our government. Finally, the day came when government officials decided to lockdown our country as there was a drastic increase in new cases and the number of deaths was climbing globally. It was devastating. Our exams were postponed and many people are unable to have a stable social life... There are many families where it's burdensome even to manage a meal.. I pray that everything will go back to normal. |
While there have been many setbacks in education for our children this year, we are working to ensure that they are well equipped to get back on track with their learning. With GivingTuesday just around the corner, we hope you will support our efforts to provide our children and young adults with access to education while learning remotely.
YOU are the ones ensuring new possibilities for our children in spite of this year's challenges due to Covid-19. Thank you!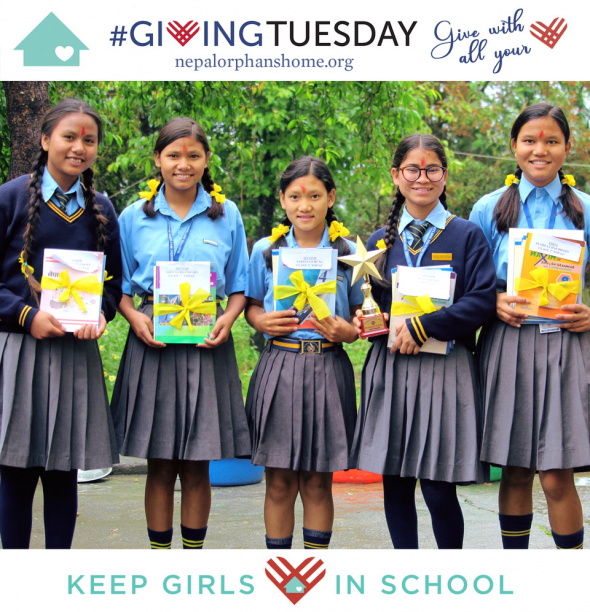 ​
Thank you for your donations!
We are so grateful for the generosity of our donors! They are truly the lifeblood of our organization and our ability to provide for our children and others in need. With recent changes on our website, it's even easier to make donations online. Amounts can be donated one-time, monthly, quarterly, or on an annual basis.
Nepal Orphans Home receives no government support and relies on the contributions of individuals sharing our mission to provide for the welfare of children in Nepal who are rescued from slavery, orphaned, abandoned, or otherwise not supported by their parents.
Please help support our children by making a donation in any amount.