The Chelsea Education and Community Center (CECC) supports and extends the mission of Nepal Orphans Home (NOH) by providing hands-on vocational training, academic enrichment, and life skills lessons for our children and young adults, as well as free English language, Nepali literacy, basic math and computer classes for women in our community.
In Memory of Chelsea Detrick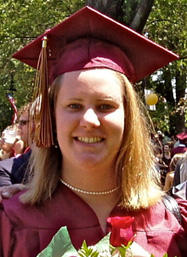 Chelsea Detrick grew up in St. Louis, Missouri, USA where she attended Webster Groves High School. Chelsea then attended Elon University in North Carolina before moving to Seattle, Washington to begin her life after college. Chelsea was a wonderful child and young woman who died much too young on April 9, 2009.
Many thanks to Glenn Detrick, longtime supporter of NOH, for spearheading and guiding this significant project in loving memory of his daughter Chelsea. The Chelsea Center is a place where love of learning and joy for life thrive in memory of Chelsea's own life. 
Classes for NOH Children and Young Adults
The Chelsea Center is open to NOH children and young adults for classes from 4 to 6 p.m. and currently offers the following classes:
Math Enrichment/Khan Academy classes serving students in Classes 1 through 6
Math classes to augment and extend academics
Science classes to extend conceptual understanding and encourage curiosity
Computer classes
Creative writing classes for Classes 5 to 10
Art and painting classes
Book clubs to encourage the enjoyment of reading among readers
Activities, workshops, and events on Friday to foster basic life skills of the students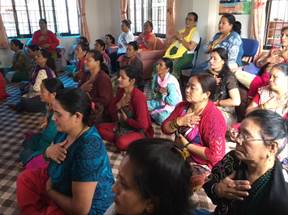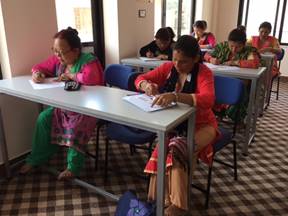 Adult Education at the Chelsea Center
One of the most important initiatives of the Chelsea Center was opening its doors to adult women in Dhapasi in July of 2015.
Today, over 250 local women are taking free English, math, computer, and Nepali classes from 10 a.m. until 3 p.m. We also offer special workshops on Friday to augment our academic curriculum. Workshop topics have included basics in banking, first aid, health topics, child development, and depression. Recent surveys of our community women students found very high marks for our classes and the teachers who lead them. Find out more details about special events at the Chelsea Center here and our "Life Skills Training" curriculum here. 
Chelsea Center Staff and Leadership
Twelve young professionals and teachers work part time and one works full time on the Chelsea Center staff. Our teachers include three of our former NOH children, now young adults, who work as instructors for the women's classes at the Chelsea Center after they finish their college classes in the mornings.
In April 2018, Prashanna Bista, previously an evening math teacher and then Assistant Director of the Center, became the Director.  Prashanna earned a bachelors degree in Physics in 2016 from Tribhuvan University followed by a Post Graduate Diploma In Counseling Psychology in 2017. 

Women's Council from left to right: Ambika, Maheshwori, Parvati, Sabina, Meenu, Santa, Tara, Chiza, Bhagiratha (Not pictured: Sabitri)
In August of 2016, the first meeting of the Chelsea Center's Women's Council was held. Consisting of five local women recommended by the instructors from the adult education classes, the council meets regularly with Chelsea leadership as an advisory group for the curriculum, schedule for the classes, and new program ideas. The council members also represent the concerns of other community women attending the Chelsea Center and help NOH identify local families who may be experiencing difficulties.  By expanding to ten members in 2017, the Women's Council offers a wider range of input from the women it represents as well as increased capacity to initiate new programs such as this year's Diversity Day celebration.
To learn more about the important work being done at the Chelsea Center, please visit:
To donate to the Chelsea Education and Community Center—a crucial part of preparing NOH children and young adults to be responsible, self-sustaining citizens and to help empower the women of Dhapasi through education—please click on the "Donate"  button below and note where you would like to direct your contribution.
Thank you for your support!