All parents share the desire to see their children enjoy healthy, happy, and fulfilled lives. Yet, across the world, overwhelming poverty has cut short the lives of millions of children and forced many other children prematurely into the labor force, forgoing their chances for schooling and limiting their opportunities for development.
Child Labor
Child labor, especially the more exploitive types, not only is a violation of human rights, but a disinvestment in children. In the extreme, children are sold into indentured labor or trafficked...contrary to Article 4 of the United Nations Universal Declaration of Human Rights, "No one shall be held in slavery or servitude; slavery and the slave trade shall be prohibited in all forms." Moreover, Articles 2 and 6 of the United Nations Convention on the Rights of the Child, enjoin states to "take all appropriate measures to ensure that the child is protected against all forms of discrimination or punishment on the basis of the status, activities, expressed opinions, or beliefs of the child's parents, legal guardians, or family members," and "ensure to the maximum extent possible the survival and development of the child." 
A vicious cycle of poverty can be perpetuated by child labor. In traditional societies, sons are usually preferred by parents as better sources of income and old-age security, since daughters require dowries and after marriage are 'lost' to their parents. This reality bolsters high fertility, in turn, stretching family resources and limiting parental investment in the education of their children. Moreover, child workers increase the supply of labor, keeping wages low and perpetuating the reliance of poor parents on their children's labor. Children forced to work are typically unable to attend school--at least regularly--and are thus deprived of education and the means to earn better incomes as adults. Poverty, high fertility, and child labor are perpetuated across generations.
Nepal and the Kamlari System
Nepal is one of the poorest countries in the world, ranking 143rd out of 191 countries in the United Nations Development Program's 2021 Human Development Index. Mean years of schooling for Nepal's population was only 5.1 years. For generations, agricultural laborers have been forced to work for landowners to repay debts incurred earlier, sometimes by their parents or even grandparents. Often to have any access to land, these workers would have to pledge their children, usually daughters, as working collateral. The bonded children would be forced to labor for the landowners. Under the Kamlari system in rural Nepal, destitute families are pressured by hardship to sell their daughters…and not just as agricultural workers or household servants. Indentured children can be found working in hotels, restaurants, brick kilns, stone quarries, and construction, among other areas. Sometimes these children end up trafficked in the sex trade.
There are existing laws in Nepal intended to protect children. Political instability, civil strife, corruption, and the lack of a coherent development strategy, however, have all contributed to the lack of effective enforcement of the laws. Furthermore, Nepal's Child Labor Act of 2000 does not cover family-based work, work in private homes, or work in agriculture--which account for an overwhelming majority of Nepalese child workers.
Nepal Orphans Home's Provision for Rescued Kamlaris
Early in 2008 Nepal Orphans Home (NOH) began collaboration with Society Welfare Action Nepal (SWAN), a Nepali nongovernmental organization operating in the Dang district, to rescue Kamlari girls from indentured servitude. NOH renovated two buildings in Narti and opened the Lawajuni (New Beginning) Home, providing shelter, food, clothing, schooling, and health care for girls rescued by SWAN. Over that year many girls who had been sold into slavery came to Lawajuni, gaining their freedom, recovering their childhoods and attending school.
Over the next few years, Nepal Orphans Home brought nearly seventy of these rescued Kamlaris from Lawajuni to Papa's House in Dhapasi. Nepal Orphans Home provided a haven. Before coming to NOH, the children had little hope for the future. After becoming part of a large, loving family at Papa's House, the children's cheerfulness, diligence, respect for each other as individuals, and integrity set a fine example for the community. With their enhanced education, our children develop their aptitudes and gain the self-confidence that will guide them into adulthood as independent and responsible individuals who have the skills to earn a living wage. In the future, they will be contributing citizens in the development of Nepal.
Among the young girls was Urmila, who came to Papa's House a decade ago from Lawajuni. In 2016, Urmila placed first among hundreds of students taking an admission test to Kantipur Dental College, earning a full scholarship for her first year of study. Urmila has now completed  dental school.



Young Urmila and Papa at Lawajuni before coming to Papa's House

​


Accomplished Urmila with Papa after placing first on the admission test to Dental College
Like Urmila, there are many other rescued Kamlaris who've grown up at Papa's House over the years, including the four sisters, Bimala, Asha, Gita, and Srijana.  Nepal Orphans Home is proud of these young women and all the children we have raised over the years.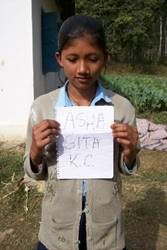 Bimala, Asha, Gita, and Srijana at Lawajuni in 2008

September 2019 at Papa's House on Gita's wedding day: Srijana (bottom left) is now in college studying IT; Gita (center) is in college studying Social Work; Asha, (bottom right) is studying German and will be working in Germany next January; and Bimala (back left) is now in university studying Hotel Management.  On the right in the back is their older sister, who was a Kamlari at age 7 and then married at age 14.