Tuesday, December 19, 2006
This morning the Maoists called a nationwide Bundh, which means all activities and transportation close down. I will pass on further expansion, suffice it to say it has given me the opportunity to try to break through the log jam of work piled on my desk as appointments scheduled can not be met.
We have a visitor from Japan with us for a few days, Rika Kojima. Rika arrived midday on the 17th and hit the ground running. She brought with her a box of goods from Tara Cannon, our long time friend in Tokyo. Rika and Tara are friends; Rika works for Thompson Publishing and Tara is a university professor, among other duties.
This morning Rika unleashed a half dozen frisbees on the kids as well as bubble-blowing wands and enormous bubble capacity soap mixtures. The kids are leaping about in the warming sunshine tossing frisbees and popping soap balloons. On Rika's first morning we woke her well before sunrise for a walk to Tohka, the compulsory introductory walk for all our guests. It was cold and dark as we began the trek but the sun started to rise just as we reached the gates and illuminated the quiet busyness of early morning village life.
| | |
| --- | --- |
| | |
| Rika and Anu Maya | Rasmita |
Rika has also spent some class time with each level, and yesterday she accompanied all our class 1-5 students on a walk with the teachers to our new school still under construction.
I signed the lease for our new building recently; it is in a better area and will attract paying students who will help us to pay for the school. We will move in March; April begins the 2007 academic year. We have been certified to run through class 8 in the upcoming session. It is going to be a great third year with the school. It is constantly expanding and improving with much praise to Milan Godar, our principal, and a great teaching staff.
The new girls are settling into the routine; they now have an all-new wardrobe, school uniforms and warm pajamas. The other kids made them feel like long-separated sisters when they first arrived and included them into the family circle with a seamless grace. Two of the expected girls were unable to make the long journey, but a new girl was added. She is Bhumika Rai, a mere wisp of child with a heartwarming and ready smile. She was sick for the first few days and pretty much remained in her bed. The didis and I kept her company in her silent misery, though she still smiled at us. She was up and running deer-like in the field this morning with the others.
| | |
| --- | --- |
| | |
| Bhumika | frisbee mania |
Christmas is getting very close now. We will plan a better than usual supper on Christmas Eve, and I will try to build suspense while regaling them with Christmas stories and poems before putting them to bed. I hope that each child will find sleep a little elusive that night so that they can enjoy the anticipation of the morning's offerings, slight by most standards, but rich to them.
A recap of the day will follow this update soon.
Have a very Merry Christmas!
Namaste.
Papa
Sunday, December 10
Eshorda walking into her party.
Eshorda's three sisters handing her the gift.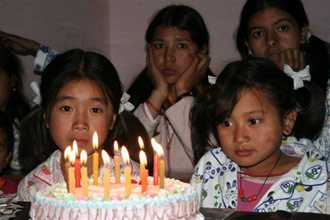 Mary and Anu Maya, pensive.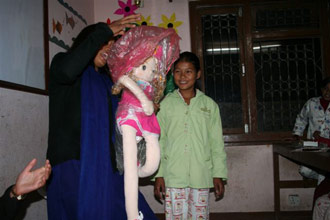 Gita helping Deepa with her gift.
With a one-week separation we first celebrated Eshorda's birthday, and then Deepa's.
Eshorda shares a room with her three older sisters Susila, Lila, and Rajina. They are very close and a delight to have in our home. They are just starting to learn English and my Nepali isn't what it should be, and through this we have many very funny moments of misunderstanding. I spend a good twenty minutes each night saying good night just to them, and we try out new words or phrases on one another.
Deepa is also a great child; I have written before about her and her sister Cila. When I asked Deepa what she wanted for her birthday she said a large soft doll, and the one we found was almost as tall as she. The doll's legs and arms folded well and we were able to compress her into a rather small package. When Cila handed the present to her I caught a slight tremor of doubt cross her face that this couldn't possibly be what she had hoped to receive. She was thrilled when the doll began to emerge from her packaging bigger than she had hoped.
December is thick with the birthdays of our children. One, Samjhana, celebrates hers on Christmas day. I told Samjhana that in honor of her birthday I was calling for a one-day holiday from school, putting up a tree, lighting our Tihar lights, and surprising every child with a gift. She just smiles knowingly and lets me rattle on.
Because Nepal is such a poor country the goods that are manufactured here or sent here from other countries are of second-rate quality. I suppose the exporters feel Nepalis can't afford to buy much or buy costly items, which is true, but it is my opinion that cheap goods cost much more than quality goods. Everything we buy wears out all too quickly. We never outgrow anything, so it is unfortunate that Christmas comes at a time when a lot of utilitarian gifts will be given. All the children are using patched together book bags, so we will buy all new bags and then fill them with their gifts, and either hang them from their beds during the night or place them around the tree. The gifts will be a new Kolta Sulwa made for each girl, and pants and shirts for the boys. Winter jackets for all but the four who stayed with me during Dashain, at which time we bought theirs. Warm shawls for everyone, gloves, underwear, and socks. The younger girls want dolls, the older girls a CD or earrings. The boys have been pretty quiet about naming anything fun they would want. New sneakers and exercise clothes are needed for about two thirds of them. They are doing their karate lessons barefoot now and it is quite cold in the mornings. Coloring books, stationery, colored pencils, and fun pens will pretty much top it all off.
Christmas is a great time; it is a novelty here, yet it is becoming a little more known. Today in the food store where I often shop they have a fake Christmas tree, decorated and prominently displayed.
In closing, the results from the midterm exams will be given on Friday. However, I learned tonight when I was putting Kabita Karki to bed that she has scored a 79 out of a possible 80 points on her math exam. This information was overheard by a fellow student when some teachers were talking about it. So congratulations to Kabita! Uncle Peter and Aunt Boo will be very proud of her hard work.
Namaste.
Papa
Monday, November 27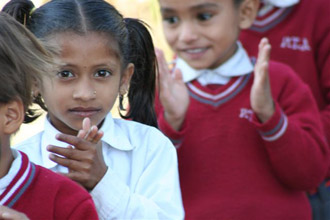 Adoration for John at the nursery school assembly concert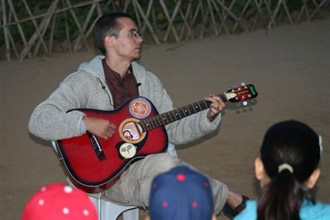 John at the night concert

Some things are universal

Early evening concert on the wall
We have a volunteer named John Cordel with us for four months. These photos are about three weeks old. John is a very accomplished singer and guitarist who I tapped for a few concerts before he left for Trisoli. John is a great guy: a paramedic from Ohio, compassionate, insightful, and humorous. He is volunteering at the government school in Trisoli while also working at the medical clinic. The clinic has a rotation of doctors who come only on Saturdays. John has had to step up and help in a variety of cases, including botched abortions. He also had to observe an 8-year-old boy brought in after an accidental hanging. This happened on a Saturday, and a doctor was present, but said there was nothing that could be done. The boy, lying on the floor, soon passed away under the silent gaze of the few gathered around. This has all been part of the beauty and struggle that is rural Nepal. Volunteering here will bring one closer to life than they ever could have imagined.
At Davidson College in Davidson, North Carolina, Nepali students Utsha and Upasana Khatri are a sophomore and freshman who became familiar with Papa's House by way of my brother Peter, who teaches economics there, and his wife Boo. Peter wrote an update after their visit to our home and school last summer. The girls did some further research on us and then contacted Ying Zhang, the President of the Asian Cultural Awareness Association at Davidson. Utsha and Ying then decided to have Papa's House showcased in their annual dinner. They and all the members of the ACAA worked extremely hard and produced a magical evening of entertainment that included wonderful cross-cultural food, a moving photo presentation, and speakers. Over 200 people attended the event. Ying had also managed to have an expert on Nepal's political and cultural nature, the author and documentary filmmaker Mikel Dunham, come from California and speak to a packed house the night before. Utsha and Upasana's parents drove down from their home in Maryland to attend this magnificent evening with great pride in the exemplary attitude of the students involved.
In Winston Salem, North Carolina, there is a woman's college with 37 Nepali students. Liberty Pandey, the president of the International Club, is one of them. Liberty and Trina Tamrakar, a junior, learned about the benefit at Davidson and contacted my brother about doing a similar evening at Salem. Both of these girls are passionately proactive in assisting causes that should be a concern to us all. Last year they worked on the Pakistani Earthquake Relief Fund, and so it was a huge tribute to Papa's House that this year they decided to center their annual dinner around us. They had learned of my great desire to offer an alternative to the girls who are trafficked in such high numbers each year in Nepal, and this is a cause very close to their own hearts. Trina produced a PowerPoint program that was very moving. A meal featuring the food of over twenty countries was prepared by students from those countries and served by students in their native dress. The room was packed with 400 attendees.
The staff at Papa's House, our children, and the teachers and staff at Papa's Trinity Academy owe a great debt to the four girls mentioned above and the dedicated and selfless members of the clubs they represent. They have raised the awareness of the needs of others to so many people, and as Nepali students have shown North Carolina what exceptional people the Nepal are. Through their efforts we have received many letters and donations from the Davidson community. The immediate benefit from this has allowed us to accept four more girls into our home. Rasmita Rai, Kausila Shrestha, Chaumati Shrestha, and Kanchhi Biswakarma are walking four days with a guide and then spending 24 hours on a bus to reach us. A miracle has touched their young lives, a gift from the efforts of the above.
My sincerest appreciation.
Namaste,
Papa
Wednesday, November 8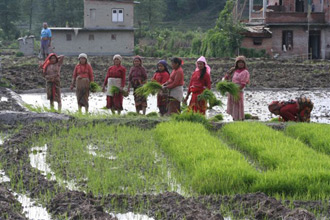 Some of the locals we pass on our morning hike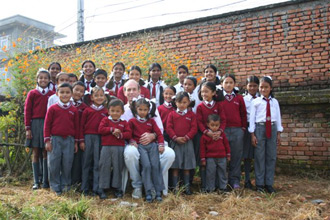 Papa, Puja and some other family members
My granddaughter Nora
Samantha Grey and her father, my son, Aaron
Daylight hours have been decreased with winter coming. We used to wake up at 4:30 a.m.and assemble on the playground at 5 in the breaking dawn. Now we assemble at 6, but it is still quite dark. This morning we took a hike to Tohka. It is a magnificent walk along a very narrow hardened mud berm raised between the rice paddies. There are hills and a river to cross; the path winds through the yard of a small cluster of houses where the goats, dogs, and chickens all loudly alarm our passage. The path requires a single-file parade and often we will meet women with large baskets of hay or vegetables strapped to their bent backs on the way to the market. We yield to their load with quick nimbleness, momentum-defying gravity. The sun starts to show itself over a distant mountain, and we are suddenly cast in yellow gold light, the children's smiles luminous. As we approach the small village of Tohka we pass other school children, already in school uniforms, making their journey to a distant school. We join others on the dusty dirt road into town. Just before reaching the gates of Tokha we take a path towards an empty field, where a small yet intricately ornate Hindu temple sits in the stillness of dawn. Our children remove their shoes and enter to make a circuit, praying and genuflecting at each station, ringing a bell to send their prayers skyward. There are many bells, each with a different depth of sound, from tinkling to percussive. We go to the temples many times in a week, there are several and we alternate.
We have karate classes four mornings a week, and on those mornings it is only the smallest children and I. One karate morning we went to a beautiful little temple that sits on a hill about a mile from home. My small children, seven of them, were inside the candlelit temple doing their thing while I was waiting outside enjoying the serenity and the tinkling of gentle prayer bells. Suddenly shattering the morning air was a gong being rung with a frenzied urgency that would certainly draw the attention of any God anywhere. Surprised by my children's irreverence I called out to them in Nepali to "stop that quickly." The sound stopped, and out stepped a Nepali woman my age looking very angry at the affront, she collected her flip flops and left in a huff. I had no idea, I was sure we were alone there. My children laughed all the way home about that.
I returned last Wednesday from two weeks in America. Leaving was difficult; the children, each with their own sharp memory of loss, searched my eyes for some guarantee that I would return as promised. The return was joyous; I never knew so much love could be packed into their embraces. There was shyness for a brief stretch from Puja; she couldn't talk to me, she stood next to me, her hand in mine, looking at the ground, smiling and shaking her head.
Somewhere over the Pacific on my way east the sadness of leaving gave way to the thrill awaiting me in Florida, seeing my other family and loved ones who are so supportive and good about letting me go. My first born granddaughter Nora is now 13 months old, and very expressive. We had many long talks while playing with her toys, she shaking her head in agreement to almost anything I might say. And then, a few days after my arrival, the event that drew me back at this time took place when I entered the operating room with my son and daughter-in-law to welcome Samantha Grey into this world. Samantha entered quietly and patiently, a couple of quick cries to prime the lungs followed by a lot of stretching, yawning, and blinking through as yet unseeing eyes. Both my granddaughters are a real blessing, and one day they will meet all their Nepali brothers and sisters. Davidson College in Davidson, North Carolina, has two wonderful Nepali girls who, hearing about Papa's House, wanted to do something to help us. What they have done is very special, and I will have the story together and posted in a few days, so please come back then.
Namaste.
Papa
Saturday, October 7
Two young girls homeward bound after their Dashain blessing.
Swings are set up one time each year for Dashain.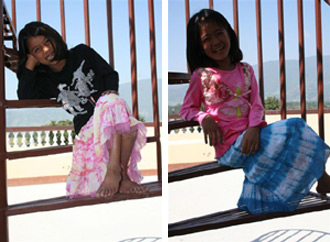 Puja and Mary in their new Dashain outfits.
It's evening time, already dark, though the kids continue to play a game outside, their eyes adjusting to the waning light. We will be eating in about an hour, our first meal together in about two weeks. The Hindu festival of Dashain has come to a close and tomorrow school resumes. Dashain is the holiest of the Hindu celebrations and is a time when all families or remnants thereof are compelled together. With the exception of Puja, Mary, Depa and Sila, all our children went to their villages to be with a parent, aunt or other guardian. Several of the children had to walk two days after a one-day bus ride in order to reunite with the above. They all straggled back in today and our family is again united.
The three Didis who live in our home also had other places to be, but Gita left late and returned early so that I was alone for only about five or six days. The girls and I had a wonderful time each and every day establishing a routine of sorts that allowed for sleeping in each morning and a Disney movie each night on my computer. We have been spoiled, and tomorrow we return to 4:30 and 5 a.m. wake-up times.
The girls were very patient with my attempt at cooking Nepali food and always cleaned their plates out of kindness. We explored different parts of the city, went to the zoo, went to the area of Kathmandu that caters to tourists and ate wonderful wood-fired brick oven pizzas, played a lot of badminton and other outside games, studied, colored, read, talked, laughed, and took afternoon naps. The missing members of the home were ever present in my thoughts; their presence has so etched itself in my conscience that they could still be easily seen in my mind's eye going about their routines as usual.
Today one child or another would announce the sighting of a returning child walking with a grin on the dusty winding road leading to our gate casting shy glances up at the house. Our children have the eyes of sailors in the crow's nest of whaling ships, and the lungs to alert a sighting. All the house would race down to the gate to welcome the most recent arrival home, the gate would open and the child would be engulfed in the pure love of his or her brothers and sisters. I will never stop wondering at the amount of love and sharing that I witness with these children. Each of them is truly loved by the others, I have never once heard children talking in anger to one another; sometimes our older girls will avoid talking to a sister for a day but you have to be really alert to notice.
That's about it for now, the children have washed and collected for supper. I will go down into the excited din of the dining room and feel the love.
I enclose a couple of random shots taken in the village over the past week.
Namaste
Papa
Saturday, September 9, 2006
Workers removing the debris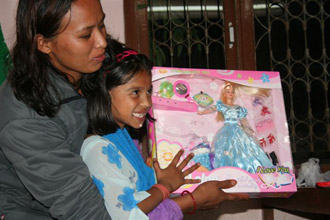 Puja, with cake still on her chin, opens her gift

The teachers take their turn in a three-legged race
It has rained for about 24 hours now. Slow, steady, windless rain. The monsoon season will be soon over and this is its exit notice. We can expect one or two quick and furious storms to finally purge the atmosphere before the October skies bring crisp and vivid views of distant snow-capped mountains hidden from sight most of the year.
One evening this past week the wall separating our property from the neighbors' gave way after a day of rain. Starting from one end it laid itself down like a perfect wave breaking, ten-foot standing it then spread itself neatly, reaching out ten feet on top of the neighbors' freshly planted winter crop. Where the wall started to bend around the property corner in front, it remained standing, but has since been removed. A crew of seven has been working for the past four days cleaning up the property next door and preparing the ground for our new wall.
Puja celebrated her 9th birthday this week. The celebrant waits in another room while the rest of us assemble with lit cake in a darkened room and await her entrance. The kids start their birthday countdown about a month before the day and we make sure that when the day arrives they feel very special. Puja is an extraordinary little girl, though not the neatest of cake eaters.
One of many festivals closed schools this past Wednesday; it was to honor the Goddess Indira. We remained open, a decision made by Milan in an effort to separate ourselves from all the other schools that are quick to grab any opportunity to close. Both students and guardians alike have praised the idea. The children worked hard until after their tiffin (lunch) break, and then the school organized games for them. Everyone had a great time, and the teachers also joined in the competition.
An interesting situation in a village school some distance from here has captured my attention. A snake was spotted and killed at the school one morning. A few hours later one girl started convulsing and then fainted. Then other girls followed suit, all recovering, a total of 18 that first day. The second day the fainting occurred again with 21 female students involved. The school was closed and a medical doctor was called in but could find no cause other than "mass hysteria." The victims demanded of their guardians to be taken back to the school. Once there they would rant and rave and then faint. Shamans were called, Hindu priests, and practitioners of Tantric medicine, but all had no impact on the girls. The original girl is named Pabitra and the situation became known as Pabitras malaise. The snake is known as Naag and is worshipped in Hinduism, and seen in all architectural ornamentation. The malaise has spread into the community and people are going to the school grounds where they too start shaking, crawling around and then fainting. A Naag Puja has been requested where a statue of Naag will be brought to the school and seven virgins will perform the ritual Puja. Today's paper stated that individual victims that had performed the Puja on their own have since gone back to the school grounds and remained unaffected, unlike before.
And so it goes in Nepal.
That is it for now.
Namaste,
Papa
Sunday, August 20, 2006
Miku and Yuka with some of the family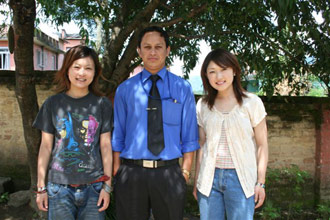 Yuka and Miku with our Principal Milan
A young girl receiving her vaccination
It's 5:30. Sunday and Wednesday mornings we have the karate class, and today I have elected to stay inside and try to get caught up, but through my open window I hear the breathing and laughter of our family learning a new discipline. There is an amazing amount of paperwork that washes ashore in our little refuge.
Last Wednesday afternoon we said our goodbyes to Miku and Yuka. They made such a wonderful impression upon all of our children bonding with each. They taught four periods each day in our school, rose each morning with the rest of us for exercise, awed our kids with their badminton skills, tirelessly turned a jump rope, ate elbow to elbow with the others, and talked about life in the room they shared with a couple of our older girls after lights out. They brought with them a breath of fresh air, stimulating the children's imagination about the rest of the world that currently lives in a seldom visited part of their minds. If anyone had risen late into the night on Miku and Yuka's last with us they would have found them crafting personal gifts for each child and Didi. They presented these along with a good deal of tears the next day. Saying goodbye is always very tough on visitors and children alike.
Tara Cannon sponsored this trip, as previously mentioned. Along with the gift of Miku and Yuka she sent three boxes expertly packed with an assortment of Japanese games, lots of educational books, a great laminator and plastic to go with it, three solar lights, colorful ribbons, neat key chains that have lights strong enough to illuminate a room, and at least 100 batteries to back them up with, particularly helpful here with the power often being withdrawn after dark. Tara also sent one book that I am using to help in my English classes. It is called "The Heinle Picture Dictionary." It's an amazing tool, and I highly recommend it to any teacher as a guide to clearing the fog of the English language. She packed about 20 pairs of reading glasses of all powers to be distributed to the elderly of Dhapasi who rely upon their sight to sew or do other sight-demanding occupations. This small gesture makes the difference between supporting oneself and having to depend upon others; it is a remarkable notion. I wish that everyone could see the immediate smile that breaks apart faces that have not hosted a smile for a while when these people put the glasses on for the first time. These are the countless moments each day when you really feel what love is.
The Saturday of the girls' arrival we hosted a program to vaccinate the people in the surrounding communities against Hepatitis B. We actually only provided the venue; a very seasoned force from an INGO did all the work, and hundreds of people showed up for the day-long event.
Our school principal Milan Godar has been working very hard courting the top officials at the Ministry of Education, getting them to come and see our school, talk to the teachers and to me as well. He has also visited many other private schools in our area explaining to them what we are doing and the niche that we want to fill, gathering their blessings and help in lobbying the ministry to provide us sooner rather than later our documents. His success will be consummated today when he has been summoned to the ministry to receive those documents. They are so impressed by Milan, the teaching staff, the facilities and the concepts, that as of today we will have the government's permission to continue to run our school independently. They have also granted the unheard of permission to increase our classes through class 8 starting next year, a break from the one class per year increase that has always governed private schools.
That's it for now.
Namaste
Papa
Wednesday, August 2, 2006
Urmila, her arms full of birthday greetings form the children
Urmila receiving her first piece of cake from her best friend Esorda
First dance
It has been a good couple of weeks. A brief comment on the political atmosphere in Nepal first, as it is a strange and intriguing time. The people of Nepal have gone from being completely dominated by both a government that robbed them of all their civil rights and the Maoist force that tortured and abused them with complete impunity. The people were like beaten dogs in a no-man's land, doing their best to live quietly and without attracting attention. But somewhat miraculously the people pivoted on one last event against them and rose together to beat the government and the King's Army all without arms, with just the courage to mass together and be heard. There were many who died for the cause, and thousands injured, but after 19 days the King, cornered in one of his own palaces with the people demanding his death, relented. From the scorched streets a new alliance was formed from eight diverse parties, the Maoist included. They struggle to this day to establish a democracy, while the pendulum has swung high in the opposite direction. Now, the people take every matter into their own hands; everyday there are strikes that shut down parts of the city. These happen quickly, and I am not sure how it is orchestrated, but suddenly a bus will pull across a road on one end and that is it for traffic. Soon, at the other end, the same, and before long all buses in that section of the city stop. The people have been torching police stations where they feel corruption is housed. They close large businesses by locking the owners inside until they receive what they feel is due them. Students are locking down universities. When the people close an area, either by bus blockade or by dropping obstacles across the roads and lighting tire fires, the police and MP's will show up on the perimeter, but they no longer enter the fray as before, shooting and breaking heads with their batons.
My Nepalese daughter Sangita and I got caught in such a case last Sunday; it happened quicker than a flash flood. It was very touch and go for about 10 minutes while we made our way through a mob of thousands whose enthusiasm for righting some perceived wrong had robbed any of them of their senses. What I saw in these people were faces contorted with anger beyond care for living; they had detached themselves to the cause of the moment and the power of collective madness. Another look I saw was in the face of Sangita, shock mixed with fear. After we made it through to safety she shivered and I realized that I will not always be capable of insulating loved ones from harm.
What has happened? We are seemingly in the crux of a time when humanity has become simply tired and angry, a time of universal fear where the shadow of terror is cast far and wide and the seeds of an uncomfortable sense of insecurity reside in all decent people.
Like the crowds that form and act so quick now in Nepal, a larger part of the world than not has started to lose its brakes in a rapid descent to a cataclysmic end, sucking more and more people into its powerful wake.
This is a time for all good people to take a stand and to make a difference in others' lives for the good. To lay low, avoid involvement, to hunker down hoarding goods just feeds the problem. Every act of kindness has far-reaching consequences; the act is a trigger that ripples a desire to do well through countless people far beyond the small circle it began in. We need that now perhaps more than ever before.
I enclose some birthday party photos and some from our Saturday hike to Tokha. This past Saturday I allowed the hike to be completely voluntary; all our children had been through a rough week of exams and I felt they might prefer to sleep and relax, but every single person wanted to go. We had a great time.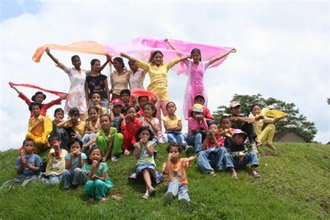 Saturday in Tokha

Sila and Mary playing with the hill top wind
I have taken over the duties of morning exercise. We wake the children at 4:45 and expect all to assemble in the playground by 5. It always turns out to be one of the best times of each day. We spend 15 minutes in exercise followed by games that can be played by 34 at once. That notion alone has demanded a lot of thought. Some mornings, like today, we will take a long walk through other parts of the village, followed by everyone doing their own thing back in the playground when we return. Many will play basketball, others badminton and still others will opt for jumping rope. The gong rings for tea at 6:30 and the children will bring their metal tea cups and a few thin biscuits back outside, weather permitting. They will then clean up for study that starts at 7 and lasts until 8, and then head back to their rooms to make beds and organize themselves. Rice and vegetables are served at 8:30; then they get on their uniforms, polish shoes, and collect downstairs where the Didis start hair braiding and tying ribbons, while I make ties, tie shoes, fix cuffs, and dispense medicines and bad jokes. The days are very full with little idle time. The evening study ends at 8 and most of the younger children now are in their beds by 8:20 asleep before the lights out at 9. The older children are usually in bed at 9 now, and by 9:30 I have said my last goodnight and turned off the remaining light on their sleeping and peaceful floor.
We have two students, Miku and Yuka, arriving Saturday from Japan's Meikai University. This has been arranged by a good friend and tireless advocate for my work Tara Cannon.
Tara has been a professor there since the '80's and has felt that the time has come to get us some exposure by having students come and volunteer for a few weeks. All the children as well as teaching staff eagerly await Miku and Yuka. They will be teaching in our school while sharing rooms with the girls in our home.
As always I want to express my sincere appreciation to my family who continue to help to share the financial burden of this lifestyle. I am also very grateful to South Carolina Senator Greg Gregory who has given his heartfelt messages and donations without fail for many months now, Tara Cannon, and Karen Billings at www.buttermilkbarn.com. We have made life a happy adventure for 240 students, 34 children from nightmarish backgrounds, and a growing handful of people in the community that have found their way to our door. Anyone reading this who may not have donated, please consider it. Your world will also change for the better.
Namaste
Papa
Thursday, July 20
It is exam time in all the schools of Nepal. The exams are given three times each year and last for about eight days. The students have been in preparation for this time with extra study classes. At 5 each morning when our children are getting ready to go to the playground for exercise I will see and hear on all the roof tops around me the low murmur of teen age girls pacing back and forth, books or notes in hand reciting aloud what they are trying to commit to memory. The same is repeated after school through gorgeous sunsets until darkness robs them of sight. Students take school very seriously in Nepal; they seem to understand it might be their one shot of getting out. At the end of the academic session for students in class 10 they are given the "School Leaving Exam". This is referred to as the "iron gate." The results are made available usually 2 months after the test has been taken and are posted first at the Ministry of Education, and after in the newspaper. This year they were posted at midnight after many hours of postponement, yet there was a crowd of hundreds waiting to see if they passed or not. I believe that this year they had the highest passing rate ever, 47% if I remember correctly.
Four suicides were reported the next day, three by girls who failed. The other was a father who did not see his son's name, only for the family to find the next day that the newspaper had made a mistake and the boy had passed.
Our children are doing well also; they are committed to learning, and work hard. I have hired two of our teachers to monitor the afternoon study hall that begins at 4:30, helping those who need it with their homework.
We celebrated two birthdays this past week, Chham and Binu, turning 12 and 15 respectively. Cake and dancing, lots of laughter and kindness hallmark these evenings.
Urmila turns 8 on the 28th.
Sangita and Nirmala turned Puja into "Beautiful from Pakistan."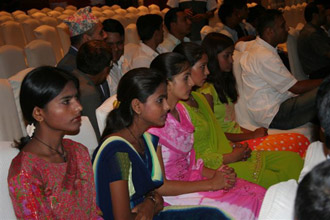 We arrived early for the show.
Pretend time after the show.
The last of our girls to receive new Kolta Salwas, the traditional easy wear wardrobe for girls, finally donned them on Wednesday night. There were 5 who had been left waiting, but now that everyone has a new one, we will take a group photo and post it in a few days.
The home and school are running very smoothly now, days blend together, Saturdays are cherished as they are the only free day of the week. This past Saturday was rainy so we played indoor games and rented a movie to watch on the computer. Four or five of the younger girls had a day in a mock beauty parlor, Papa's kitchen, where they had their nails done and make-up applied and then cheap costume jewelry and wardrobes borrowed from one place or another were put on and pictures taken. This came about after I had secured tickets for a runway fashion show at a big hotel in Kathmandu a week earlier for five of our older girls. The girls had never seen anything like it before and were very excited. I hired a local hairdresser to come that afternoon and do make-up and nails for the girls. When we left for the show all the other children lined the walkway out and cheered their older sisters on, letting them know just how beautiful they all looked.
The fashion show was a real hit with the girls; that night will stay with them for years to come. Watching the faces of the girls who did not get to go that night I knew we would have to have a make up day for them as well. We had a good time; with the help of our older girls, the younger ones felt pretty special. We have 34 very wonderful children, kind to one another, loving, cheerful, yet still susceptible to short-lived moments dwelling on lost mothers or fathers. They will usually show up at my door silently waiting for me to acknowledge them, and I will know immediately by their downturned faces what is going on. They will take hold of me and start sobbing, there is nothing to say, it just has to come out. These times are less frequent with the passing of months or years, but the newer children are still visited by the memories every so often.
I have much more to say, but will present it in a week or less.
For now, thank you those of you who share your thoughts and funds with us.
Namaste
Papa
June 21, 2006: Peter's Thoughts
The following are the reflections of Peter Hess after visiting Papa's House.
One individual can make a difference. My brother, Michael Hess, has transformed the lives of 34 orphans in Nepal, established a school and preschool attended by over 240 children, and through quiet acts of generosity improved the welfare of countless others. My wife, Boo, and I just returned from spending two weeks with Michael at the orphanage in Dhapasi, Nepal. We had never been to an orphanage before and didn't know what to expect. Having taught a course in economic development for over twenty years and traveled to numerous developing nations, I was familiar with the poverty plaguing the majority of the human race. What we found in at the Papa's House, the orphanage in Dhapasi, inspired and moved us deeply.
We found the most affectionate, happy children…amazing given the destitution, neglect, and despair that had dominated their young lives before arriving at the hostel. Boo and I stayed with a wonderful family, a mother and her daughter, a doctor, in their house a fifteen minute walk from the orphanage. Each morning upon our arrival at Papa's House and throughout the day we were showered with hugs from the young children. Many of the children outside the hostel who attended the school there brought us flowers each morning. We helped the children get ready for school and observed the morning assembly. After school we would play with the children. In our two weeks there we saw a million smiles and virtually no tears or conflict. The support and love the children give each other is truly heartwarming.
Michael's day begins at 5:00 a.m. when the children awaken. Within minutes he has little visitors at his door, anxious to greet him on the new day. After breakfast of rice and juice, the children prepare for school. Michael, along with the resident didi, Gita, and dai, Vinod, help fix ties, comb hair, dispense medicine, and give hugs. The morning assembly begins around ten o'clock with all the 90 students lined up by class (grades 1 through 5) at the school and 150 preschoolers at a nearby campus. The school assembly is for announcements and a program, run by the students where the school anthem is sung, a prayer is recited, questions for the day are posed, along with songs, poetry, and even an occasional joke. Then the students file into the classrooms. At midday there is a lunch break and then classes continue until about 3:30. Children go to school six days a week, with Saturday off. After school the children turn to their homework and then free time for play. Supper of rice and vegetables at around 7:30 p.m. is soon followed by bed. Michael makes the rounds at bedtime, spending two or three minutes talking with each child. The children, ages 4 through 15 years, share rooms with several beds in each room. Around 10:00 p.m. Michael returns to his room and tries to catch up on his email and all the business of the day. I don't know how he manages. There are constant demands on him, yet his first priority is the children. He always has time for a hug, a pat on the shoulder, and a word of encouragement. The children adore Michael. Almost every day a different group of several youngsters from outside the hostel who have been or are being helped by Michael would come by to see him.
Michael is aided by an exceptional staff of didis and teachers. Warm, dedicated, and talented, these individuals make the orphanage and school run. The children are in good hands. Indeed, Mamta, the young doctor and the daughter of the woman whose house we resided in during our stay, told us of the excellent reputation of the hostel and school. Whenever we walked with Michael in Dhapasi or the nearby towns, he would be enthusiastically greeted by children and parents.
Boo and I have so many wonderful memories of our time at the hostel. A few, in particular, seem to personify the experience. First is Mary's story. One day, Boo accompanied Michael to a small village about an hour from Dhapasi to pick up a young girl, who had been recommended for the orphanage by a friend of Michael's. This young girl had walked for four days from her village in the Himalayas with her father. [I should note that not all the children at the orphanage are without parents. Some have a parent or parents who are too poor to take care of them. For example, one little girl's father was in a bad accident and paralyzed from the waist down, suddenly unable to provide even a meager existence for his wife and children. He does what he can by trying to sell drawings, but he is not an artist and earns almost nothing. One of the girls in this family lives at the orphanage and attends Michael's school. She is extremely bright and engaging…and now she has a promising future.] Anyway, Mary arrived at the orphanage and Boo and I accompanied Michael and her to the nearby town to be measured for her school uniform and to buy some clothes (two pants, two shirts, pajamas, underwear, shoes, and a towel)--since she had nothing except what she wore. I'll always remember Mary walking back holding Boo's hand and with her other hand over her mouth, trying to ward off Kathmandu's air pollution. All this time Mary was very quiet. I wondered how she was taking this abrupt change in her young life. Immediately upon returning to the hostel, Mary was embraced by the orphans. Within hours she seemed at home, smiling, playing, and sharing in the greetings and hugs.
Another day an old man arrived at the orphanage with two young girls, his daughters. Destitute after the Maoists had burned his village and abducted his wife, the man, hobbled but with a quiet dignity, asked for his daughters to be accepted at the hostel, already at capacity. I'll never forget the man and his two daughters, Cila and Depa, ages 9 and 11, sitting under a tree at the orphanage, eating the simple meal, probably their first in days, provided by the hostel. Michael was away on business at the time, but they returned the next morning. Michael made room for the two girls, squeezing two more small beds into rooms. The father left to seek refuge himself, content in the knowledge that his daughters would be safe and provided for. Once again Boo and I were able to accompany Michael to town to measure the girls for uniform and buy some clothes. Like Mary, Cila and Depa, quickly felt at home at the hostel, smiling and joining in all the activities. Two more young lives had been transformed.
On the first Saturday Boo and I were there, we accompanied Michael, Vinod, and the 34 orphans on a picnic. We all walked down into the valley, past rice paddies and a small village to a beautiful park. Michael bought water and lunch (packets of dry noodles and biscuits) for the children who entertained themselves. After lunch we continued on to the next town and then to a steep hillside along the dirt road. One of the children asked Michael how long he thought it would take to run down the hill and up the next hill (a winding descent and tough hike up). Michael guessed thirty minutes, which seemed an underestimate to me. Before you knew it, this young boy was off, reaching the top of the hill within two minutes. Then, all of the other children, from the smallest to the oldest followed. Boo and I sat on the bank of the hill marveling at the parade of colors as the children climbed up the hill, moved along the ridge, and then returned. After an hour we began the trek back, stopping in a village to buy more water. Imagine, 34 children in the countryside on a four-hour outing and never a headcount or even an admonishment to stay together. No need, the children are very responsible and look after each other. Michael sees that the orphans enjoy an occasional treat, like a trip to the zoo, an ice cream cone, or a picnic.
In fact, the cooperation, sharing, and good cheer of these young children is nothing short of amazing. No one child owns any toys. Michael has erected a basketball goal and there is a large yard to play in at the hostel. The basketball and soccer ball, a few badminton racquets and birdies and a cricket bat and poles are shared. We brought wiffle balls, coloring books, crayons, cards, jacks, and children's books donated by friends from Davidson. Boo was amazed at how careful the children were with the books and card games. Each day, all of the crayons and cards would be returned to their boxes. The children would find ways to amuse themselves with their imaginations. One morning, for example, four little boys before school turned their backpacks around and pretended they were playing drums, marching up and down, rat-a-tat-tatting. Another afternoon, a number of children were pretending they were swimming in the grass on the playground. They would run over and dive into the grass, roll over, and stroke along the ground. Several mornings before school we would play hide-and-seek in the yard with flowers brought by the children. Another day I was working to clear a corner of the playground of weeds and debris and several of the younger boys came over to help. With so little in the way of material possessions, the children seem very content in their free play.
We were also impressed with the schooling provided. The teachers are enthusiastic and caring and the children are anxious to learn. Boo and I had the opportunity to 'teach' a few classes and were energized by the children, all appreciative of the opportunity to get an education. From the youngest, all the children are learning English. In addition to their schooling and homework, the children help out around the hostel, maintaining their twice-a-week bath schedule and doing some of their own laundry. Unbelievably cute and good, any one of these children would be readily adoptable by parents in America, Europe, or Japan. Adoption, however, is beset by logistics and not currently a viable option. Nevertheless, these children now have a caring environment to grow up and a future of promise—a sharp contrast to their earlier conditions.
The two weeks Boo and I spent at the orphanage are the most memorable and moving we've ever experienced. The kindness, generosity, compassion, and determination shown by the children and staff were overwhelming. We left the orphanage on our last day with the children lined up at the gate, with lumps in our throats and immense pride in Michael, for enriching the lives of so many.
Michael has largely funded the hostel and school with his own resources, selling his property in Florida. Numerous donations from family, friends and other kind benefactors from abroad have helped defray some of the costs. It is expensive to run the hostel and school, even in Nepal, and Michael's funds are limited. [For a summary of the costs please refer to www.nepalorphanshome.org/help.asp.] It has not been easy. In addition to the financial burden, Michael has encountered bureaucracy and corruption. His compassion, patience, and perseverance, energized by his love for the children continue to carry the day.
The next step, however, is to develop a plan to sustain the orphanage and school. Some options discussed with Michael include: establishing a schedule of tuition and fees to cover the expenses of operating the school. Scholarships would provide for free schooling for those children whose parents are unable to pay. Eliminating the preschool program, except for the year before first grade and converting the present preschool building into a full time school. Currently Michael's school is cooperating with an established school, which maintains another building. There may be a merging of student bodies into one program, which would help consolidate operations.
The present hostel building would be used in the mornings for a kindergarten for students who would enroll in grade one the following year. In the afternoons the classrooms in the building would be used for workshops (e.g., sewing, handicrafts, and assembly of solar cookers) to teach marketable skills to the older students. Eventually the school uniforms might be made here and, with progress, perhaps some of the handicrafts might be marketed on e-Bay. The assembled solar cookers might be sold locally. In the school buildings, night classes in adult literacy might be offered by the high school students. With some training, these students could develop their teaching skills.
Michael hopes to attract additional international support for the orphanage and school. As noted, numerous individual donations from around the world have been received and are greatly appreciated. Some of the major expenses, however, might require corporate and foundation support. For example, in the short run, support for sewing machines and solar cooker kits would help begin the workshops. Funding for solar lights to reduce the electricity bills and provide better illumination would also be well received. An exciting possibility would be to acquire $100 computers (see www.laptop.org). In the longer run, the plan is to purchase land and building(s) for a permanent home for orphanage and school. While initially expensive, owning the hostel and school would significantly reduce the present operating costs of rent…as well as the uncertainty of leasing. Individual donors could be honored with rooms or wings or scholarships in their names. Having permanent buildings would allow for some of the exciting investments in solar energy, e.g., installing solar panels for hot water. Already a model for running an orphanage, Papa's House could become an example of an environmentally-sound facility.
The lives of numerous children in Nepal have been significantly transformed by my brother. The 34 children in Papa's House are growing up in a home of love and support. These beautiful children and many more from the surrounding village are attending school with hopes for a brighter future. I can only imagine these children in ten to fifteen years as they set forth, beginning their careers and starting their families.
Peter Hess
June 21, 2006
Sunday, June 11, 2006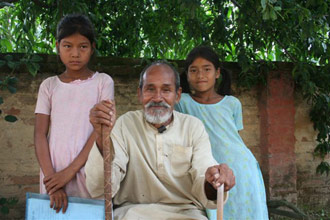 The Grandfather and his "daughters" Depa and Cila.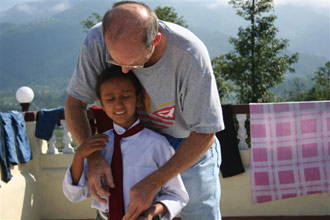 Peter "helping" Susila with her tie.
Boo helping Mary with her new clothes.
Last Sunday my brother Peter and his amazing wife Boo arrived. They have been a tremendous comfort and source of energy, optimism, and firm resolve.
On Monday we were notified that a new little girl had made her way to our NGO in Bhaktapur. She had come from a remote mountain village in the Himalayas, 5 days of travel by foot and bus. Boo and I rode up to Baktahpur to receive her. Her name is Guynuta, but I saw her as Mary and the name has stuck. Later that same day she was asked her name and I within earshot heard her proudly say "Mary." Peter and Boo took Mary to the tailor to be measured for a new school uniform and then to the clothes shop where she was outfitted. Mary is mentally quick and nimble, laughs easy, and smiles at every glance.It seems like she has always been here.
Then on Wednesday an 80 year old man came to see me with two young girls that he called daughters. I was not here at the time and he explained his story to our school principal Milan, and Binod, the young man who has become my right arm in running everything. The Maoist burned down his house and all their possessions; they then kidnapped his wife, who he fears is dead now. He hasn't any money or means of support for himself or his daughters.
He insisted that he talk with me and scheduled to come back in a day. I was very moved by this man's story the next day when he came alone to see me. They were sleeping outside in Pashumpati, a Hindu holy site, and begging for food. With all that he has been through he still carried himself proudly and with a look of determination in his twinkling eyes. Though I promised our staff before that we would not take on any more children, and have been finding alternatives to the others who have come, this man was determined that his daughters would stay with us, and they are. They are a wonderful addition to our family.
The week went by quickly; work has progressed in our efforts to get the Embassy's to help with our library, a new canvas roof for our large upper balcony is in the making, with the monsoon season beginning we need to keep an area dry for our dance classes and laundry hanging. Playground equipment was installed at the other school where Peter toils painting it as I write. Boo went to see him and bring him lunch just as 140 small children were released for a break and made a mad dash for the freshly painted slide. Peter with the skill of a very seasoned matador worked to keep the children from touching it. None of these children speak English so it would have been great fun to watch Peter stop the swarm.
Peter brings baseball to Nepal.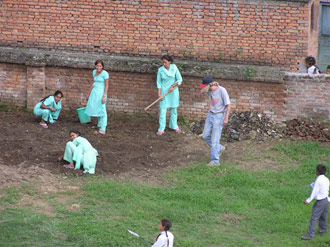 The Didi's stuck close to Peter.
Yesterday we took all the children on a hike to Tokha, a small Newar village about an hour's walk away. There we had a nice picnic and played for a few hours. These are special days for children and staff alike.
This update is very late, as is responding to a couple of donors who have been wonderfully consistent. Lately my ability to get to the computer rests only after about 10pm when all the children are finally asleep. I will try my best to improve upon this in the very near future. I am also working on a complete breakdown of the cost to raise a child in our home or send one of the village children to our school, for those interested in helping as a sponsor for a certain child.
Till then, Namaste
Papa
Saturday, May 20, 2006
The day began full of promise delivered by a painted sky at sunrise. It is a pretty serious problem that does not seem insignificant when you are able to witness the beauty and mystery greeting us each morning. I watch the dawn in quiet reflection while distant laughter emanates from rooms or the playground below. Most mornings one or more children will quietly appear standing at my side curious about what it is in the sky that so captivates their Papa. I am not able to share with them that I am in awe of the natural magnificence before us, and that it retrieves any scattered bit of purpose I may have lost in the day before. I have 34 children that have trusted me with their lives. That could be the opening line of a very thick book explaining the meaning of life. I have 34 children here that have developed a faith that I will be their sun and moon and allow them to jettison the disturbing insecurities of their previous lives and get along enjoying this gift called living. Here below are updated photos of 32 of our children. Many of the children in the original gallery are no longer with us, as many of you will recall the situation last December.
These children are here to stay, as Samjhana, one of my "daughters," pointed out to me: "Papa, I will sit (live) with you until the day of my marriage, okay?" Nothing would give me more pleasure. Some of our small children maybe will one day be adopted, but that isn't something that I any longer feel is necessary to do; we are a family, and in this house we will stay together. The two children not shown live with their mother near by, their mom is one of our Didi's. Their father left long ago, but they have Papa. Each day we are asked, or begged, to take in more children. Each time when I say no I feel farther away from success. As many of these children as I can I place in other family situations, footing the bill for their care. One of our Didi's now spends part of each day checking on the children that we have placed. A white paper report I read the other day lists 40% of Nepalese people as being seriously under- and malnourished. Most are children. We will continue to do our best to reach as many as we can, most at the source, the villages. Once again, education is the key to life, and we must be able to educate and feed them today so that tomorrow they can do it for themselves.
Three men came to see me on Friday. They said that they are trying to get help for 150 families living in a shanty town near the airport. They are untouchables, and are starving. I said that it is very unlikely that I can provide any financial support, but I will go with them and see. I will take photos and put them online in hope that maybe people will then answer the call so that I can try to help a little more. The Nepalese have an attitude that has Darwinism as a base; they will not assist these people because they feel it is their lot in life to not survive, but I feel it is the lot in life of those capable of helping to do so. To adopt theory as an excuse to do nothing is unconscionable. But now, to lighten the mood please enjoy a fresh look at our family, and if you have a desire to correspond with any one of them please write to me and I will see to it.
Namaste.
Papa
| | | |
| --- | --- | --- |
| | | |
| Nirmala | Mary | Sangita |
|   |   |   |
| | | |
| Kabita | Sunita | Anita |
|   |   |   |
| | | |
| Rasmila | Puja | Manju |
|   |   |   |
| | | |
| Bikash | Sandesh | Binu |
|   |   |   |
| | | |
| Chham | Hikmat | Urmila |
|   |   |   |
| | | |
| Minu | Anu Maya | Sarita |
|   |   |   |
| | | |
| Bipen | Sabin | Saroj |
|   |   |   |
| | | |
| Mandev | Kancha | Maila |
|   |   |   |
| | | |
| Nirmal | Bibek | Esorda |
|   |   |   |
| | | |
| Ragina | Susila | Lila |
|   |   |   |
| | | |
| Kabita | Samjhana | Cila |
|   |   |   |
| |   |   |
| Depa |   |   |
Wednesday, May 3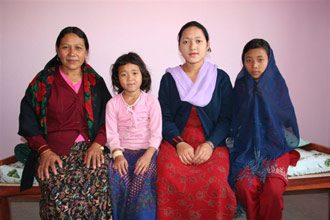 Kabita and Minu, our new girls arriving with their aunts after a very long journey.
Outside my window the rhythmic pounding of brick into soil prepares our new basketball court; a small gong struck with a wooden hammer, followed by a wave of laughing chatter erupting from quiet classrooms into the halls of our school are the sounds that have replaced the angry cries of beheadings just 10 days or so ago.
There is an uneasy truce in Nepal now; most have allowed themselves to get back to the necessities of life while the new government is closely observed by the hundreds of thousands fresh from the street battles with the king's army.
School started on Sunday. We had registered 208 students, an additional 50 came that morning to join. In our old hostel we have placed the Nursery, Lkg, and Ukg classes; and in our new facility we have classes 1 through 5. The numbers have continued to grow slightly and we are in search now for a 13th teacher. 90% of the uniforms have now been finished, 95% of the books handed out, and about 70% of the shoes.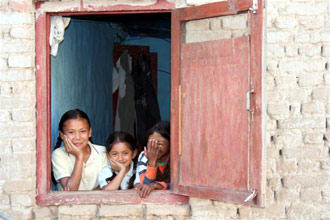 My neighbors and steadfast library patrons.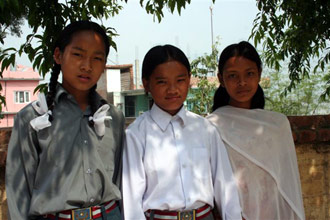 First morning of school.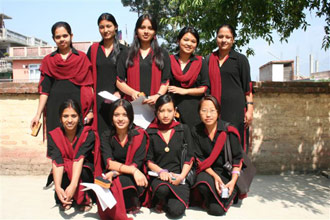 Some of our teachers.
Our teachers are looking really great in their new Kolta Salwas, our three male teachers in dress slacks and ties. Each morning there is an assembly on the playground where the kids are lined up by class. They do some stretching to a drum beat, the principal makes announcements, selected students will come to the front to read a poem or lead the others in an anthem, and then to the beat of the drum they march single file to their classrooms, all under the pleasant gaze of my neighbor girls from their window.
Our "future family room" was opened yesterday morning to welcome Kabita and Minu. They arrived around 6am after a two-day journey from their village, brought by their "aunts." Now that it is possible to travel outside the valley we anticipate the arrival of four more children, all sisters. The district contacted us about six weeks ago to arrange their coming to our home. We will be full at that point. We have had to refuse some children, and others we are supporting at another hostel, but that one will also be full soon. I look towards next year and recognize the need to find a way to help more orphaned children and displaced women. It is my hope that after two and a half years of our home and school we will then qualify for some government grants from European and Asian countries. At this writing we have a staff of 20, and 29 children in the Hostel, and 245 in the school on two campuses, and we support 20 more students at the Science Lab High School. This is all paid for by my selling off of property, and a very small number of donors.
In Nepal children are at great risk, girls in particular. Over twenty thousand a year are sold into a life of deprivation and misery for as little as what many of you would spend to take your family out for a fast food lunch. This happens because of abject poverty and the lack of education. Not only do we want to have our school and home here in Dhapasi be a great model for what can be done, but we want to start going to the remote areas where many of these children live such desperate lives with a tenuous grip on safety, and open schools with bright educators from Nepal and elsewhere. It must be at the source, where these children are sold, that we offer an alternative. Education is the single most powerful tool we have to help these people have a decent human experience. Please try to help us if you can. The world has many in need, I realize that; but with us your dollar is not halved by administrative or other fees. We are small, I am the administration, and I take nothing.
It doesn't take much to save a child.
Namaste
Papa.
Wednesday, April 19, 2006

Family picnic
Today we rise to another day of failed government. This is the 14th day of the strike, and it shows no signs that an end is near. As of last night all government ministries have closed in support of the Democratic Alliance. The blockade around the city remains tight and provisions are running very low. This is an interesting but clumsy way of toppling a king. Hardship must be inflicted upon the people in order to save the people. In order to force the king to step down and restore the new alliance, the people must be willing to forsake work, food, and water; to participate in civil disobedience by actively protesting new laws against assembly, and to stand unarmed against a militia that is attacking indiscriminately. Red Cross rescue personnel, ambulance drivers, mourners in a funeral procession, and the few remaining trekking tourists in the safe haven of Thamel have all felt the bone shattering sting of police batons. Banks have closed in support, schools are not allowed to open, shop keepers draw down their doors. The alliance has requested a cessation of foreign aid, institutions and businesses have been asked not to pay taxes, phone, water, or electric bills. In yesterday's paper the alliance stated they have requested the airport employees to walk out; flights will then have to stop entering or leaving Nepal. Curfews remain in place. The teachers in our school have continued to come each day to help prepare for our eventual opening. Parents continue to arrive to talk with the teachers, all this in the belief that this has to end sometime. As much as possible people try to cling to remnants of former routines. They adapt. Our teachers and staff now mostly walk here using back routes to avoid the main streets. The sun still brings hope in the morning with its unfailing rhythm.
Our new home
Last Friday was New Years Day in Nepal. We celebrated with a family picnic on the grounds of the Nature Club, a private facility where we swam and played for most of the day.
Our home is pretty chaotic during the days; we have workmen preparing the open lot next door, making an opening into our courtyard with a new iron gate, and refurbishing the old gates facing the road. We will be putting in a basketball half court, a small soccer field, concrete table tennis tables, and a few other items as costs allow. The workers, half men and half women, are leveling the two-thirds of an acre by hand. Other materials are scarce, so we do what we can with labor only at this point. We have 10 teachers here now, 5 Didi's, and Binod, who manages to keep all the activities flowing, new students seeping in through the gate, our own children, as many as 100 humans in the mix at any given time. We inch our way towards a goal post that keeps getting moved back further and further.
Adversity brings hardship, but it also yields a lot of knowledge about one's self. It sharpens your senses, it brings clarity to purpose. It helps to bring to the surface those things that really count in life; you begin to appreciate each other and come to know that we all have our own fears and dreams. And I have noticed that the laughter seems now to come from a deeper place within.
Just now a group 500-strong passed along the main artery that connects quiet, off the beaten path Dhapasi to Basundhara. They were chanting to sever the head of the prince.
And so it goes.
Namaste
Papa
April 7, 2006
Yesterday was moving day. We had about a quarter mile walk from home to home. I was on the 4th floor of our new home when I saw what appeared to be a line of ants each carrying things over their heads. Our children somehow found pleasure in the never fun task of moving, and we had emptied the old hostel by 2pm. From that point the children set up their rooms, and I was reminded of Natalie's freshman year at the University of Florida, the excitement of all the girls arriving at the dorm to set up their rooms. She will graduate in less than a month, and once again I will have to prepare myself for the avalanche of memories stirred when the graduates march in while Pomp and Circumstance pulls at my heart. I love my children very much and I appreciate more than they know their moral support for me while I live my life's dream in Nepal.
Puja at the zoo.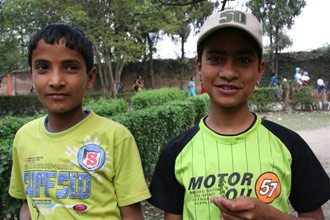 Sabin and Hikmat at the zoo.
Our "football" team.
As I write today I am awaiting the unannounced power closure. Each day we endure power shortages from 3 to 8 hours. If feels wonderful to be in our new building; it is very large and each room from the 2nd floor up has a breathtaking view. We have plenty of water from two wells, 8 nice bathrooms, and a large kitchen. The top two floors have very large uncovered areas to sit and reflect while gazing at the valley below. Our school will use most of the two bottom floors as well as our old home. Today was the third day of registration and we have 126 children registered to come: 66 of them returning students and 60 new. Everything is still absolutely free to the village children in the surrounding areas, and some of the students that have signed up are coming because of the teachers' reputation in the area. These children are now attending private schools, and can afford to pay for their books and uniforms, but there will be no other charge for them this year. We have made a deal with a local private school that will allow us to operate under their license. In so doing, our name and uniforms will be their own, and we will now proudly wear the white and grey of The Science Lab School.
We are between semesters, and took advantage of that to take the kids back to the zoo one afternoon. The last time we were the only people in the zoo, it was raining hard and all the animals were outside frolicking, and in the lake the elephants were bathing. This time, it was very hot and all the animals were in their dark caves, so it was more of a nice stroll in a park than a trip to the zoo.
Our "football" team hatched a new plan for the second game of the series with the village children. Putting in balance the humility of defeat vs the humility, to young boys, of having their big "sister" play, tilted in the favor of Samjhana getting a uniform. She is quite a bit bigger than the boys and when the other team arrived cocky and sure of handing us our second defeat, they saw Samjhana spinning a ball on her finger and fixing them with cold smiling eyes. She played with abandon, focused in a frenzied burst of enthusiasm, dust kicked high. Our boys pretty much stayed out of her way in awe or fear. But the opposition skilled at passing were no match and we lost a squeaker. I am down another 30 rupees. But after the game over cold drinks and in the absence of the victors we looked pretty darn good in our new uniforms.
The head count grows in the home. We are in a four day Bundh that has closed down all transportation in and out of Kathmandu. But after it ends we will have 4 sisters from a distant village join us, and then one girl from Pashumpati which is near by, and a local girl that has been abandoned. We have so many requests that we have started a foster care program, and also placed some children in another home that has more room and less money.
In closing, and on the note of money I want to publicly thank a very fine man and his wife who, after reading about us last Christmas in the Charlotte Observer, have sent a donation each month without fail, and have also taken the time to write personal notes thanking us for helping others, and offering to send materials or supplies. The people of South Carolina are fortunate to have a man like State Senator Greg Gregory represent them. He and his wife quietly take the time, the effort, and the money, investing it in children that they may never meet in a poor country on the other side of the planet. Their contributions can be counted in many ways, not the least of which is in assuring people that Americans have very good hearts.
Thank you all.
Papa
March 26, 2006
A hot wind has started to blow through the valley paling the sky and dusting all the new growth of spring. Colorful Saris and shawls dimmed in the sand filled air look like Buddhist prayer flags tearing away from the woman bent to the task of walking.
Water is in strong demand and very short supply, wells are drying up. The winter rains never came, and the earth has hardened. June brings the monsoon, my Brother Peter and his wife Boo, three reasons to celebrate.
Nepal also suffers a serious lack of electrical power, exasperated by the dryness. Load sharing has reduced my time at the computer considerably. Often I go to bed with the overhead light switched on so when power returns I can wake up and get some work done.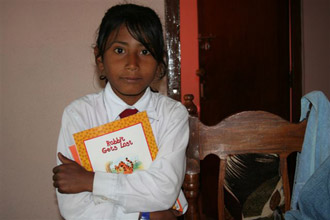 Bipana visiting the library after school
Bikki signing out a couple of books.
Candlelight has ushered in wonderful thoughts about the future and programs that need to be created. As mentioned before we have many more request for housing children than we have room for at this time. I had spoken with some women earlier in the day that asked me to take a young Orphaned boy that they had been housing, but simply could not afford to keep any longer. These are good women who shared what they had with a boy in need, sending him from one home to another until all were to close to empty. I decided that since they have room but not funds, and we have no room but I have a little money that we should start a Foster program in Dhapasi. More on that next week.
Also, I have long wanted to start a library for children. Children in Nepal love to read, but have little or no access to books. My mother was a children's librarian in Yarmouth Maine. She loved her job, and brought the world of books, and the thrill of reading to many. I have been buying large, colorful story books and letting the village children come and read them for quite awhile. But this past week a former student of mine was visiting when some children came and asked me for some books. She took a piece of typing paper and had the children write down the names of the books and their names next to it. The kids wrote with such pride, somehow this act elevated the interest in the exchange. After they left we talked about opening a library in our old building with pre-determined hours, and manned by teenagers that are always wanting to help around the home. So this too will be worked on in the coming weeks.
And finally, 5 of our older boys decided to have a soccer team, after some of the village kids told of their own team and challenged us to a match. Our boys, not exactly spastic, but not to graceful either, accepted, and game day was this past Saturday. The village team came to play, and insisted our boy's put up 30 rupees, winner take all. I asked my boys in private, "Can you guys win?" and they definitively stated "No." They were right. 6 to nothing, the village boys are to soccer what the Harlem Globetrotters are to basketball. But stay tuned.
Namaste
Papa
Tuesday, March 14, 2006
The results of a very short walk
Anu, Manju, and Puja
Yesterday was a bright, sunny and warm day here, fortunately. I witnessed my 3rd Holi celebration with a little more joy than in past years. Holi is a Hindu Festival based upon the slaughtering of large amounts of animals in search of some bad Gods that took refuge in them. The blood of the slaughtered animals is represented by colored water and also pigments that are smeared over the faces, and in my case bald head, by all the villagers.
The colored water is used to fill balloons that are hurled at pedestrians as they try to navigate the streets below. At our home we armed ourselves with close to 1000 balloons and from our vantage point well above the street entered into battle with equally well armed groups passing by.
It was pretty early in the morning when many of the family's living near our new home anointed me with red and yellow; Once marked you are pretty fair game and soon I and my clothes became a testament to primary color. The water ran out at the Home early on so at evening time all the girls came to bathe at our yet to be finished new Home inside, while all our boys took their cold water baths at the water tap outside.
We have had a great week. On Sunday Chadani and I went to pick up two new family members. Sumitra and her sister Susmita. These are charming and bright little girls, sisters. They came on the heels of our welcoming Puja into our home, Puja at 8 years old is quick with a smile, laughter comes easy to her. She made friends quickly with Manju and Anu who are about the same age. It is fun watching little people hang out together, either playing or talking.
This week we finished the selection of Teachers for the beginning of school in April. We have 8 now, 4 men and 4 women. The final choice on books will be made this week as well. Our new Home which will also house the school is just shy of two weeks from being completed. More tables are being built, as well as white boards. Chandu, the teacher in charge of the school has revealed to me that she expects 110 children to attend. We currently have 65 but in the past few weeks she has been approached by many new parents requesting that their children come in April. I have 65 uniforms already made and we will have a fitting and measuring day with a tailor very soon.
| | |
| --- | --- |
|   | |
|   | Susmita |
|   | |
|   | Sumitra |
We started with 10 children several months ago. I would watch these poor village children stand barefoot and in rags silently watching our Orphanage children in their crisp and clean uniforms march in line with me to the Private School near the Home. I knew we had to do something for them, and with Chandu's help we did. The first day of school these beautiful children came in thru the gate brushing the dust off and tucking torn shirts into ragged dresses and pants, as their eyes radiated a rare joy for this new beginning. We fixed wounds, skin problems, bad teeth, and gave them a hot lunch. They received books and copies just like "real" school children. Then we had them measured for uniforms and suddenly their posture was a little straighter. Each Friday they take home shampoo, and tooth paste and when needed new sandals.
There are many, many pleasures that I receive each day with this lifestyle, but one that never dulls is when the village children start filing in thru the gate for school. Each will come to me and say "good morning Papa" and give me a hug. How can life get any better than that?
That's it for now.
Namaste
Papa
February 28
Anu, who joined our home on February 16
Our trip to Pashupati, the Holy Hindu Ghatt
The last two weeks have been pretty quiet. During these periods we all pay a little more attention to the future, and how to best be positioned for it. We continue to receive many request for space in the Home, as well as a daily increase in the school population. The newest member of our family is Anu, a very precious little girl pictured here. Her first day she spent quietly observing, not engaging anyone in conversation but not segregating herself either. All the children welcome new children with remarkable sensitivity having been there once themselves. They seem to know best. Samjhana, one of our older girls adopted an immediate care giver role; she helped Anu bathe, got some fresh clothes on her and even cut her hair for her. The second evening after Anu moved a group of children and I were upstairs chatting in one of the bedrooms. We were all comfortably sitting on a couple of bed's just as the sun was filling the room with orange gold light. Anu crept quietly in the room and sat next to me on the bed, gradually getting closer until at last she was nestled against me.The conversation never slowed, no one brought attention to her, but she had made in her actions a statement that she was also accepting me as her "Papa."
I took four of our older children to Pashupati on Saturday. This is one of the largest Hindu Ghatts, a very spiritual and unique place, wonderful for photographers. This was the first time for all of these kid's to visit Pahupati. While there we met two young girls that lived in the area. They were anxious to talk to me and try out their English. They spoke quite well.
| | |
| --- | --- |
|   | |
|   | Daughters of the Savant |
In the course of our conversation I asked about their parents. One of the girls said that her father had a small room in Pashupati where he told people's futures. On a lark I said that we would all like to visit him. It was a great experience, her father was a very educated and spiritual man, and he proceeded to tell each of us our current situation as well as our future. I was most impressed with what he picked up on in my past and present, and that gave credence to his statement that my work with women and children will continue to grow and grow and will likely be repeated in other poor countries in years to come. I know that I am completely dedicated to and will never abandon this life, but sometimes when I look at my bank account and see the volume of people we are serving and realize how many more there are to help, I question how I will be able to do it. But this Savant has seen the future and assured me that it will be done. I smiled for the rest of the day with this information tucked into my heart.
We have a number of children in the next two weeks wanting to come to the Home. After we review their situations we will make our selections. I have ordered five more beds to be made in preparation.
Well that is it for this week.
Namaste
Papa
Wednesday, February 15, 2006
| | |
| --- | --- |
|   | |
|   | Dibbya, the landlord's granddaughter. |
|   | |
|   | A few of the girls in the unfinished kitchen of our new home. |
Nepal has such a raw and powerful energy to it. In Dhapasi we are a little bit insulated from the strife, and what remains is watching a red sun set against an old adobe style home with several women sitting on their haunches sifting rice and laughing. In the evening dogs seem to have a second wind and they chase each other about cast in the orange pekoe colors. Some children seek the last rays of sun where ever they can find them and start their homework. Unlike most places people in the village aren't terribly interested in the news. That is probably good.
I read a couple of articles this week that highlight the difference between Dhapasi and other villages outside the valley. One concerned a group of Maoist women that entered a peaceful village, perhaps also while they enjoyed the last rays of the sun. The Maoist women then killed several villagers and I guess as a message to be remembered by the others proceeded then to mutilate the bodies.
The other story concerned the Army soldiers who also entered a village that had undergone Maoist problems. First they dropped a bomb from a helicopter on an innocent villager's home. The home began to implode and caught on fire. A baby inside was crying, and a Maoist women soldier quickly ran inside to save the baby, handing her off to another before fleeing. It wasn't hers. When the soldiers landed they proceeded to shoot the men present while the wives pleaded that their husbands were farmers, not Maoist.
Oh, and I believe it was a report by UNICEF this week that said Nepal is unfit for children. The difference between the physical beauty of the people and landscape and the outrageous acts of war are disturbing.
The poor who live in the villages are the ones that bear the brunt of this 10-year-old war. We continue to get requests to board children affected by the war. We have had to put some guidelines into place as the sheer volume of people needing help is overwhelming. At the same time the children in the home are enjoying our Oasis. We also have been able to make some changes and improvements in the day school, the largest is a real nutritious hot meal served each day instead of the dry noodles and biscuits. We also serve egg, and fruits which are a treat and seldom eaten by these kid's. We have bought 37 chairs, 25 small and 12 large; and 8 tables. I think I had previously mentioned the three dry erase boards. It is looking like a school. We still provide minor first aid each morning, and on Fridays send the children home with shampoo, tooth brushes and tooth paste. Children with serious Dental need we still take for treatment.
Some of our older kids ready to file out for the bus.
At 7 pm each evening except Saturday we have a teacher come and help the 9 children that attend the Science Lab School. The kid's work hard, after school five of our children also stay for extra study as they can see the future if they do not break thru the grim and low ceiling of overpopulation, in one of the poorest countries on earth.
Our new house is coming along slowly, but the work is very well done. It is turning out to be embarrassingly ornate. They suggest another six weeks before they finish.
Well that is it for now.
Namaste
Papa
Off to School
Thursday, February 2nd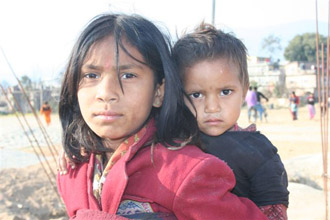 One of our village school children. She comes each day with her little brother on her back, studies and cares for him.
Our staff of teachers and didis (sisters).
Chandu is in the front.
This morning at 9:10, seven of our new children and two of our previous ones will board the Science Lab School Bus for their first day back to school in three weeks' time. Their education has been disrupted by the nefarious activities of the previous Chairman, and another self-serving family. But that is our past.
Our present course is in gear, and we feel prepared and stable enough to withstand the storms of Nepal. The Home is full of laughter. In the past few days the above mentioned nine children, all older, and I have been gathering clothes, shoes, uniforms, book bags, personal items; and spending hours taking entrance exams and talking to the school officials. They were reluctant to allow these children to join so late in the school year, but we prevailed.
The other children at the Home are all members of the Village School. Recently we had delivered the first set of chairs and tables, plus three large white boards for the school. Chandu, the Teacher in charge has rebuffed my efforts to hire more teachers to start now, prefering that we hire them to start in April, the beginning of the new session. She and the other teachers have brought about a dramatic change in the manners, posture, and interest of the over 60 children in their care.
Ignoring the threats to the Nation from inside, I would suggest our greatest challenge to the Home, Womens Center, and School is in having to make choices as to who we can allow in. It is impossible for me to turn anyone away, yet word of our mission has reached many remote areas, and just like with the last six children advance representatives from those areas are coming and asking for us to take the children in dire need from their village. Once again I have had to call upon Chandu to step forward and assist me in this. She is the one person who has the ability to make sound judgements in a very calm, quiet, and compassionate way. It will be Chandu who will properly guide us into the future and our ability to take care of all those who need our help.
Our new Home/School is moving along, the pace is slow, but the work is very well done. The first two floors are complete, the third and fourth still five weeks away.Then the grounds will be worked upon and we will make our move, while using our present home exclusivly for the womens center.
Some of the children taking a break on a hike during the Bundh.
We have been plagued by Bundhas, the closing down of all activities by both the Government and Maoist sides lately, but have tried to put these occasions to good use with hikes to lovely and quiet areas in the valley. It has been a good opportunity for the new children to get to know us, and we have all enjoyed the emerging warmth.
More to come soon.
Sincerely, Papa.
Elections in Nepal
January 21st
Yesterday was a day in which Kathmandu was under a curfew all day long. We have been under night time curfews for awhile now. Elections are coming and no one seems to happy about it. This is not the forum for discussing Nepalese Politics though.
Everything was closed and Ring Road which is named because it is the main artery around the city was void of traffic. Foot soldiers kept watch. People were advised to stay in their homes. There was to be a very large protest against the new law banning assembly.
I spent the day at the Home and at our new School/Home building which is still under construction. The weather was beautiful. In the past two weeks I have bought about 30 batmitton rackets and countless birdies. Walking thru Dhapasi now along the dusty rock strewn road you are constantly under a flying birdie.Children young and old, and parents as well are all playing, laughter is everywhere. No one seems at all concerned about the events in Nepal.
Dhapasi has an amazing power over me. When I am in Basundhara, off Ring Road, I am ready to heed the warnings of the UN and Maoist. The Maoist have claimed that they will be dissrupting the elections by "climbing onto the shoulders of nepal and banging it on the head". In other words they have stated they will begin an assult on the city on Feb. the 5th, one day before the elections. The perimeter of Kathmandu they claim to have sealed and will stop supplies from entering. I have yet to find evidence of any shortage. They are willing to call off the attack if the King stops the election. The UN has stated that Nepal is number one in Human Rights Atrocitys. They are also now saying that this latest action by the King is completely unacceptable. With this in mind I continue my efforts to tighten up the Home, the Free Day School that we have for the Village children (with over 60 attending), and the Displaced Womens Shelter. We have 17 children in the home now, with a few more coming next week. I have a staff of 3 teachers and 5 Didis, and Chaudney who helps all around.I have written guidlines and other small manuals to help them in the event I should leave until the situation corrects itself.I have absolutely no doubt that they can manage without me. Each member of my staff is female, though a male teacher is being assessed tomorrow.The women of Nepal are amazingly strong in every way. So my Basundhara mind set is all about making a clean and quick exit when the time arrives, but then as I walk to Dhapasi every intention no matter how thickly galvanized it was in Basundhara melts off and is replaced with the same sense of belonging, peace, purpose, and love that I felt the very first time I walked it dusty charming road.
The sun shone bright today in Dhapasi, birds sang, children played, women worked the fields or washed clothes and children at the water taps, and men played cards; just as it has always been. Maoist attacking in two weeks, curfews, mobile phone signal terminated, shortages, all civil rights repealed, none of this matters, life finds a way to keep on going. This too shall pass.
I am not sure just what I will be doing. I am more frightened of not being in Dhapasi than I am of any threats. However if I remain here and the Maoist do start a campaign in Kathmandu then I will be a lightning rod for the home.At the very least we will be required to pay a lot of money to them if I am there. Dhapasi has changed from a place where I started helping to who I am. It is as important to my soul as food is to my body.Time will tell, I think that all will be fine, but if a life time in Dhapasi needs a short intermission out of the area then that is what must be. I miss my family, and my new Granddaughter is waiting for an introduction.
To all of you who sent donations and words of thanks over the holidays please do not worry. Your money will still be providing food, safety, warm clothes, a clean and comfortable bed in a secure house where children can dream, and displaced women can mend. Education and medicine are doled out daily with love and tenderness.We are  a small oasis where desperation, agony, and hunger are banished. Where Hope is given.
Thanks, Michael
Problem Resolved
Sunday Night, January 8th
I am really pleased to say that today the Governments Immigration office delivered it's verdict and it was favorable. We all were elated and have renewed our dedication to helping Orphans and Women, and having the very best free school for the village children that anyone could imagine.
In the past few days we have had people come to us from the villages with news of Maoist problems, and a request for shelter for single Mom's with children and also abandoned or children at risk of the Maoist. We have room in the Home for them, and our new school/home now has twelve rooms ready for painting and then they could also be used for shelter.
Kathmandu is well protected. Each person coming into the Valley is searched. So there is no need for any worry about the safety or wellfare in our small sanctuary. We will be here for a very long time to come, I would hope that one day we will not be needed, but until that time.
Please write if you have any questions at all concerning any of the children or how you can help, or how your money would be spent.
Sincerely,
Michael Hess
Christmas and the New Year
Christmas day was a regular school day in Dhapasi but there was an excitement perculating among the children as we prepared for school on that frosty morning. I pleaded ignorance when the children would ask if I knew what day it was, "Sunday ? Yes, I think that today is Sunday" and they would say "no, no, no, today is Christmas" with a little less than declarative certainty. "Are we buying a tree?" and I would ask in return, "why would we buy a tree when there are so many trees around us?" And with eyes still containing glimmering hope they would look at one another with a mixture of exasperation and amusement and shake their heads.
We had an early Christmas with Heather and Liz thanks to Heather's Mom, Ann; and again when Maykoh and her friends were here from Malaysia, so the expectations inspite of the day were not that high. While the children were at school Chaudney and I went shopping for a tree and other small gifts.When our Free School was completed for the day and the children collected, we closed off the dining room and as our children played outside and questioned the secrecy behind the closed door, Chandu, Sita, and Chaudney decorated the tree and prepared the room and gifts.
They draped the tree in foiled chocolate coins, balloons, and candles, and as the children filed in, the tree warmed and captivated their hearts and minds.
This seems like a very long time ago in ways not just measured in days. Today is Friday the 6th of January. Early this week a knock on my door started a downhill slide into an illogical nightmare. Two plain clothed police officers requested that I come with them to answer a few questions concerning my Visa status. Without detail at this time we went from an eye opening hour at the jail to the immigration office. Again, choosing my words very carefully I should only say that today I am awaiting the final verdict on being deported on Sunday. My passport was taken, and I was given three days to prepare to leave. Then with the intervention of members of my NGO who are well connected and recognized for their integrity, beliefs, and ability to champion deserving causes in Nepal; the officials, surprised to learn that they had me as an advisor on their NGO; said that they would take another look at the situation. Yesterday, meetings were held in Nepalese fashion, and by days end, though the decision was still not delivered, things continue to look grim. This afternoon it has been suggested that they will decide. It would be counter productive to say too much at this time other than this is a very difficult Country to do good work in.
If you are reading this shy of the next update and are contemplating a donation, hold off. If things do not go well then those who have contributed over Christmas will be receiving their contributions back. My resolve has been tested many times and this time was almost broken. But when I walked thru Dhapasi yesterday morning and felt the outpouring of warmth and appreciation from all the villagers who had learned of my troubles I knew I couldn't let them down without trying my best to jump yet another barrier.
I will have a footnote to this in 24 hours.
Sincerely,
Michael Hess