It is time for me to begin the "Update." This happens when the inspiration appears, or deadline looms large. In the former case, I am sometimes delightfully pulled along in a subconscious flow, tapping away, and trying not to disturb the fragile relationship between the current, and my own thoughts, I try to be still and simply write. When this works, the ambient sounds of my neighborhood, kids playing in the streets, half-deflated soccer balls being kicked across the gravel road, vendors on bicycles with booming baritones shouting out their wares to people inside their homes, the shrieking whistle of trash collectors, will all fade away. In the latter case, feeling the pressure of a deadline to write, I am assaulted by it all.
There is a lot to share in this update. I am touched by the evolution of our children and organization and will be writing about that and more. But first I am writing this under the eclipse of Hope's surgery which will take place in Greensville, SC, the other side of the planet from me, at 6:45 pm my time, just 4 hours and thirty minutes hence.
Her operation was postponed from September, when I was present for her, due to Hurricane Florence that swept in that week. It is hard not to be with her now, but she is with her mom Anita, who has raised the bar on good mothering to a lofty extent, and her loving step-father Sam. Hope will be fine.
Hope is one of the most impressive children, scratch that, humans I know. She has never questioned her missing feet, nor has she ever complained. When she falls, she quickly offers "I'm okay" for my sake, I believe, and carries on with a smile. Though unspoken by Hope, nor showing in her face, I believe that usually present in her thoughts is her desire to walk, run, and stay in pace with the others. Anita sent me a video shortly after they moved to North Carolina. Hope had received a push scooter a week earlier and spent hours each day getting the hang of it while going up and down the wide sidewalks of their community with her mom, or grandmother at her side. Meanwhile Hope met some of the kids in the neighborhood who all had scooters as well and would ride them in small packs. The video Anita sent showed this pack coming down the sidewalk, literally downhill, a gentle but steady decline. All the kids with their colorful helmets were gliding along without a care, and then I spotted Hope in the middle, the most demanding of positions in a pack, and there she was with equal grace and calm.  As they passed where Anita was filming, Hope looked up and smiled and in that smile I saw her quiet victory. It was her moment, undiscerned by all others, but I could see and feel in her smile her pulsing with joy at a threshold crossed, and as the camera swung to catch the retreating pack I cheered from my desk 8000 miles away and felt flush with the grateful exultation one can only feel as a parent's witness to their child's moment of inner bliss, their triumph of accomplishment. The potency of such moments leaves one spent, mortality over-ridden by the spirit alone. These are the sweet flashes in time that remind one of how utterly great life can be.
Hope has adapted well to her new environment, a culture with its own rules that she eagerly accepts. She made neighborhood friends that go to her school, some in her class. To the bus stop each morning go the mothers, chatting while their sons and daughters walk side by side, backpacks in place, busy with conversation likely around "What's in your lunch box today?" When the bus comes, Hope makes the first step up with her compensating arm muscles in a swift move that belies the quick calculations she performs necessary to rise in step with the others. She waves out the window and is gone into her own separate world until 3:30 brings her round again. The walk home, as in the walk to school, brings her to independence, this brings her back to family — the two worlds that children navigate as they begin to explore their way in the world.
Anita overheard Hope's new friend one day, in the innocent inquisitiveness of small children, ask Hope what happened to her feet. This is a question Hope has never asked us, though we were prepared for it, and as thus we have never provided an answer to. "I had an accident," Anita heard her reply, simply stated as one might say, "We had pizza last night." Her friend said "Oh," and they resumed their banter. A stated fact given, curiosity filled, and life goes on.
Most likely when you are reading this, Hope will be back in school. Sam and Anita have purchased a wheelchair for Hope and made arrangements for the handicapped bus to come and pick her up. Hope has allowed herself one week only to be absent from school, this she reassured her friends when they hugged her goodbye on Friday.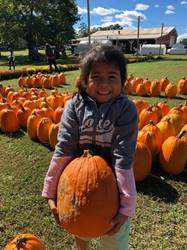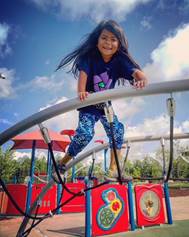 *****
Later this same day, Hope came through the operation in good form.
| | |
| --- | --- |
| Hope before walking into the OR | Hope in the recovery room |
At this Shriners Hospital the child must say goodbye to the parents outside the operating rooms. Hope took it all in stride according to Anita, and followed the process without complaint. The medical staff had high praise for Hope when they came to inform Anita and Sam that the operation was over. Back in her room Hope gives one thumbs up — she scores most everything that is going on in her day by the number of thumbs up or down.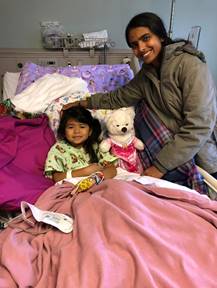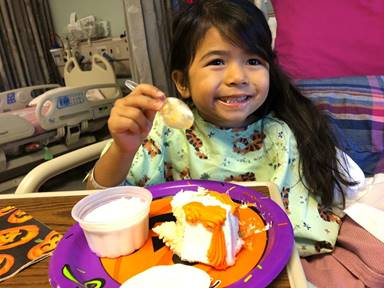 Anita did not take time to remove her jacket in her excitement to see Hope when she came back to her room. And, still waiting for Hope was a Halloween party. Shriners Hospitals are amazing places, very worthy of support.
And last, after Hope and I shared a video call, she slept, the long anticipated (by her parents) day was done, and all was well.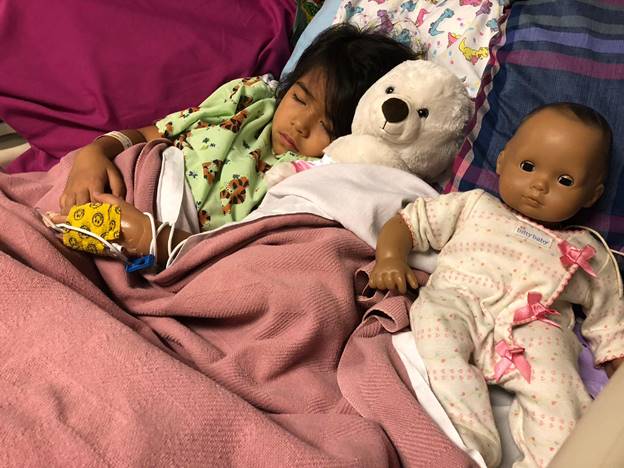 *****
Ishwor and his classmates have just completed their two years of "college." Now they will begin University. Ishwor had taken the challenging science stream for the past two years, sacrificing free time to achieve entrance to a medical science path in the university system. He sat for the exam, along with over a thousand other students and achieved the rank of 24th overall. He will soon enter Manmohan Memorial Institute of Health Sciences to earn his four-year bachelor's degree in Medical Laboratory Technology. The competition for entrance to the limited seats available is great obviously, and thus scholarships are only for the first 16 places. The top eleven win coveted seats at the Government University, the next five are granted some scholarship money from the better private schools, and the others unceremoniously vie for the best they can find.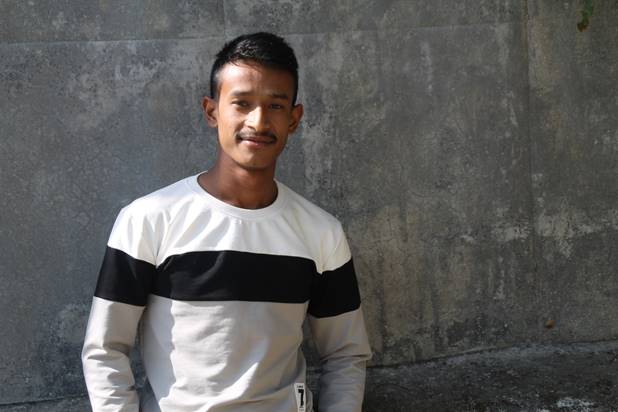 Ishwor, a fine athlete, scholar, and gentleman
*****
Also in this same class Sabina, another science student, decided to complement her studies by learning German at the Embassy here. She wishes to study nursing and wisely feels her best career move at this stage would be to do so in Germany. Sabina began her language studies a few months ago in addition to the mind-numbing coursework she had. She will qualify to sit for the visa exam in another three months, and upon passing it will be eligible for work in Germany, and then after one year's residency she would be allowed to attend nursing school there.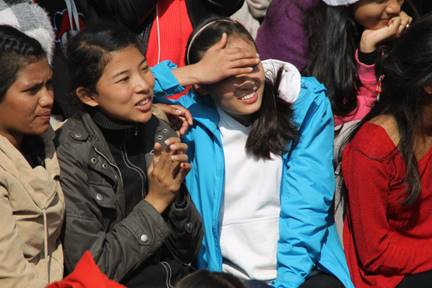 Sabina in black jacket at last February's Valentine's Day celebration
*****
Dhiraj is settling in nicely in Australia. He wrote the following letter last week:
Dear Papa

How are you? I want you to know that I miss you guys so much and there is not even a single day I don't miss u guys and of course you papa.

Life is moving on with a lot of interesting and new things every day.  I feel really blessed to have Laurie and Stan in my life and they have hearts of gold.

I work 10 hours a day and 5-6 days a week. I have made around AUD$2500 till today in a month. I work for a Chicken shop where we sell a lot of chicken and salads. It is owned by one of Stan's friends who is a South African. There are 4 Nepali boys working there with me. They are paid $14 an hour and he used to pay me around $13 per hour when he was training me. Now I am trained and work hard and he pays me $16 an hour. I have created a small family for myself with Laurie and Stan and all their family members and friends. Lots of their Family invite me for dinner and breakfast, everyone wants to see me and talk to me about my life in Nepal and changes, so it feels like home Papa. I am loving it here and excited about my university soon starting on 12th of November. I feel I am so blessed Papa. First to get you in my life. I would not have able to do this in my life and secondly all the people I have known because of you Papa. Thanks, Papa for all those strict rules in the hostel with Sam and all the house managers. Whatever I am doing is your achievement Papa.

Thanks for life Papa.

Thank you for everything Papa

Please bless me, Papa,

I Love you

I miss you

A big hug and with tears on my eyes

Love you Always

Dhiraj

Dee(That's what everyone calls me at work)
And a small bit of my reply:
Dear Dhiraj

I am very proud of you, but Australia is not the proving ground for it, I have been proud of you from long ago. Australia simply provides further evidence of why.

This Dashain you were here in spirit, remembered well, and you will never be forgotten. But you were 1 among many children not in attendance when everyone younger than me (I could have simply said everyone) sat cross legged on the mats and prepared to receive my blessing. What an absolute honor that act is in my eyes. One more of the many benefits of age, and my life among you all.
| | |
| --- | --- |
| Dhiraj taking a Sydney arrival selfie | With Papa in 2009 |
*****
Nama is an athlete with natural talent, but he has become superb due to his commitment to the sport of basketball. At Skylark he commanded the courts and gained the awareness of college programs. He received a full scholarship at Morgan College, noted more for its basketball program then its academics, which are still better than the average.
Nama has also just completed his college classes and is looking at University. This past year he did pretty well academically while playing for Morgan, as well as on the National level on the Nepal Army team. The National level of play is most impressive, and they compete throughout the year both in-country and internationally.
In addition to his on-court prowess is his off-court kindness and eagerness to help anyone in need. If ever he sees me toiling outside he will come and try to relieve me of the tools and take over. He is a quiet leader, by example, in all that he does.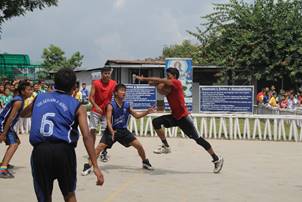 *****
This is a recent painting by Bimal. I admired it profusely, so he gave it to me. I instead had it framed and it hangs in the Chelsea Center where many eyes get the pleasure. We have as a Saturday art teacher a man with flawless technical abilities; he teaches at the Art College and paints when he has time, often commissioned. He has been teaching Bimal and others for over a year now and Bimal, a very gifted young man who loves to paint, has had his own technical level increased remarkably. What I love about his new style is how he imbues his paintings with the emotions of the people inhabiting the canvas. Bimal has a sensitive artist soul with the deft touch of a great craftsman.
*****
Anisha had been working as a waitress for several months in the late afternoons and early evenings while attending college. She works and studies hard. NOH has been supporting the babies at the quasi-government orphanage for quite some time. We thought the time had come for us to have one of our own there each day to make sure the babies received individual attention and our thoughts turned to Anisha, and when asked if she would like to do it she jumped at the opportunity. She has been there for several months now and a world of difference has resulted by it in the energy level and number of smiles the babies share. And we are feeling a lot more serene in our involvement in trying to make the best of the situation for them.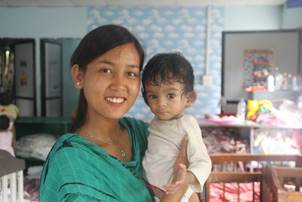 The bottom two photos show Anisha with Sarika, the little one that I wrote about in an earlier update. She is now getting the attention and touch all babies deserve…but which before Anisha were not coming her way…and now she is blossoming because of it.
*****
Our daughter Mary came to us from as far west in Nepal as the country goes. A mountain village without electricity, nor the sound even of petrol-powered mechanics. A peaceful place, but one that demands an abiding relationship with nature to survive in. I wrote a story about Mary and how she happened to come to us almost 9 years ago, leaving behind her father and little sister who was only 3 at the time. Mary often thought about her sister and over the past few months her thoughts were shared with us and we decided to try and find her. Clues were few, but tangible. The family had lost direct contact with her sister 6 years ago when a family friend said he could get her into a school in Kathmandu. They allowed him to bring her and then lost touch with their friend, and as the seasons came and went, time soon covered her tracks, and memory. But with a little effort we found that her sister was in an orphanage on the other side of Kathmandu. We called them and found the man whose family started the orphanage 35 years ago rather surprised when I let him know about Laxmi, Mary's sister. I took Mary to meet her little sister the next day, and then a couple of weeks later we picked up Laxmi and brought her to stay with Mary for part of our Dashain. Coincidentally, this search provided collateral information that Mary's father is a kidney patient here at the government hospital; he has severe renal failure in both kidneys and is on dialysis. His situation is unfortunate as he hasn't any money for ongoing treatment. But now Mary and Laxmi have had the opportunity to meet with him and their aunt, after so many years. The universe presents opportunity, but not always solution.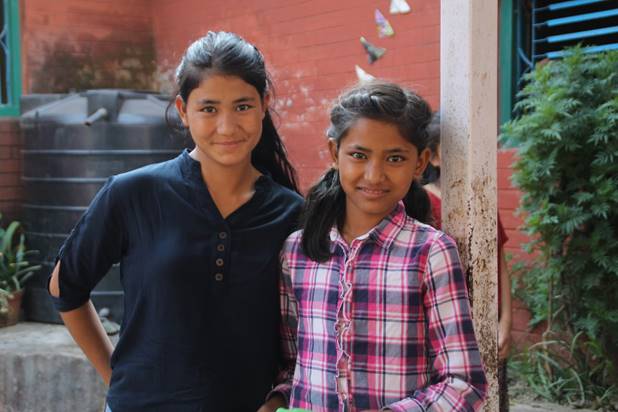 Mary and Laxmi reunited. Sisters, but in Laxmi's mind she never knew
*****
Late in the summer we turned our attention to tightening the bonds between the 250 women who attend free classes each day at our Chelsea Center and the children of NOH. Ted Seymour, a member of the NOH Board, spent a month here observing all of our programs and this idea was part of his suggestions. So, to this end we began the "Auntie Program."
One of the quaint practices in Nepal has all children calling older women "Auntie" and older men "Uncle." All adults refer to older males as "Dhaai" and older woman as "Didi", brother and sister, and "Bhaai" for a younger male and "Bahini" for a younger female. Thus everyone is your brother or your sister. It is quaint, but it serves a greater purpose to strengthen the bonds of respect and behavior among all people, and it helps to keep insensitivities at bay.
We decided to ask the Aunties if they would host a child for a normal family dinner. The response was excellent initially, but as we added some rules such as picking up the child and bringing them home again, and being absolutely on time both ways, the numbers thinned. The final count was 38 Aunties were excited to do this with the rules in place. The Aunties were advised to allow the child to participate in the dinner preparations and to strive to make them feel like family as opposed to a guest. The two rules need to leap huge cultural impediments. Time is a loose concept among the Nepalis, and "Guest is God" is a notion applied to anyone entering your house, thus serving the guest with the utmost of care and respect is a cultural imperative. But they did well on both counts and the kids and aunties had fun, which was the largest end-point. All things take time to make perfect, but we are optimistic that this is a program with great possibilities. The debriefing after was full of positive responses and setting a date for the next dinner received an enthusiastic affirmation.
Another aspect of the culture is to not demonstrably show affection, hugging is rare, and yet, to my delighted eyes, when we called out the names of the "couples" many Aunties gave their child a welcome hug. Just amazing, and I was moved to see this, as hugging is something that I know our children enjoy.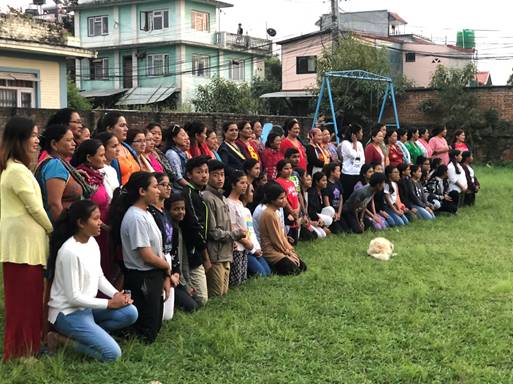 The Aunties and their daughters and sons for the evening
*****
As most of you know, October is the time when Dashain and Tihar are experienced in Nepal and India. These are 30-plus day festivals in honor of gods, families, and a small sampling of animals, the cow taking the seat of highest honor. There are two days of particular reverence and tradition, one in Dashain and the other in Tihar.
On "Dashain" families gather and after bathing but before eating, a Puja is given. The elder of the family will lead off applying "tika" to the foreheads of the assembled family who kneel or sit cross-legged in wait. While applying the tika, made from color and rice, it is incumbent to offer a blessing, then place a specially grown straw called "Jamula" behind the ear or tucked into the hair, and finally you place some small bills and coins into the recipient's hands. It is a tradition easy for me to like. It takes the Western world's seasonally spoken "Peace be with you" up a few notches.
After the patriarch completes all, then the matriarch and others who wish to do so, such as uncles and elder brothers or sisters are free to follow suit.
If tikas took the shape of countries, Rajan had the U.S. Mary, good natured as Sarita mocked a selfie.

Aakriti's World, gentle, intriguing

Mina developing into her new name "Naina"

Urmila, brilliant, kind, yearning

Kailashi, Sumitra, Sarita, alive and energized

Ashok, garland by Prashanna

Sapana, Gita, and Sarita, three special, real sisters
*****
"PAPA'S HOUSE PIES"


A love of pie baking and sharing spawned the idea that we should sell them. Pie is a new taste in Nepal; I am not aware of anything closely resembling traditional pies here, though bakeries are in a renaissance period in Kathmandu.
So, we shaped this to be a business that will grow and as it does, employ more of our science stream college and university students to give a few hours a week each, as they can afford. Their time in the bakery we feel will be a necessary mental release from study, clearing their thoughts and allow them to return fresh and sharp to the books.
We will put all the profit from this business into a special fund to provide support (rent and food) for the university level kids to be able to focus on their demanding studies. Science students attend school from 10 a.m. until 5-6 p.m. six days a week, leaving no time for earning. By participating in the pie business, they are "earning" their support with just a few hours a week according to their own schedule.
Marketing has occupied a lot of time this past month, as well as preparing the bakery, and developing new pies according to seasonally available produce. We hope to open after Tihar. Our first target will be the US Embassy where they have already posted our advertisement on their bulletin board, a local restaurant where embassy staff take their lunch, local coffee shops, and we hope a local grocer where the embassy staff shops. Closer to home we will have Pie Fridays at the Chelsea Center and encourage the "Aunties" to buy our pies, tarts, muffins, and cookies to take home to family.
As through our years of the Chelsea Center changing the educational landscape of our adult community, we hope to change the dietary taste, and bring some occasional treats into the homes of Dhapasi. Beta testing has shown this will happen; it is a great cause and a wonderful taste.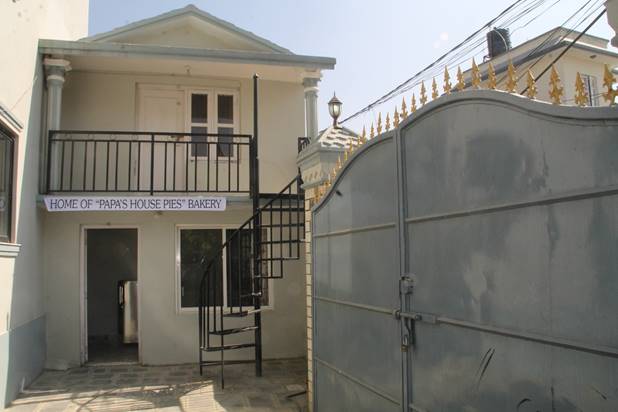 Former cow shed that we remodeled after purchasing the property and before building the Chelsea Center. It went from cow shed to college boys home one year, to office space, and now the "first" home of "Papa's House Bakery."
Asha has a career interest in baking. We sent her to a six-month course at a fine resort to open the pathway for her. They did not do pies, but her familiarity in the kitchen, her availability during the day, her having cooked with me for years at our Friday night dinners, and her excitement have made starting this business easy. She will eventually manage what will one day be another of our children's enterprises.
*****
Thanksgiving of 2013 was one that will never be forgotten. We had Hope with us, and NOH seemed to find its center around her. A time of deeply felt family unity from which all individuals prospered. Present that year was Kathy Procanik, one of Hope's godmothers. Before leaving her hotel to come to Thanksgiving dinner she invited a young man she had met, and a few others who had no plans for the day, to come with her. The young man is Jonathan Paluga. I wrote about him last year, and he deserves to be written about every year.
Moved by the way we celebrated Thanksgiving, by the children and their love for one another, their caring, and their spirit, he sent a donation and a beautiful letter describing what the day had meant to him soon after he returned home.
The next year he returned with his partner Kym. A month before coming he sent another donation which he hoped would pay for the Thanksgiving dinner, which made it a Thanksgiving Feast!
Each year since, Jonathan has increased his commitment to our children's Thanksgiving in an amount that broadly exceeds the cost of a Feast and is then applied to the educational enhancement opportunities we encourage among our children.
To me, Jonathan exemplifies the spirit of Thanksgiving whose meaning I yearly impress upon our children in a sermon they politely endure before they eat.
What Jonathan does makes possible a day that is eagerly looked forward to, as deeply to the children as Christmas, and Dashain. It is my favorite family event, as closely resembling an American Thanksgiving family dinner as we can muster with the challenges of Nepal always lurking. The gift is for us, but I have to imagine that when Jonathan and Kym sit down with their own family for Thanksgiving, that they are holding hands under the table and smiling as the blessing is given, knowing what a blessing they have bestowed upon us across the planet.
| | |
| --- | --- |
| | |
| Kym with Hope and me in 2014 | Jonathan and Kym at Bouda |
*****
SANCTUARY FOR KIDS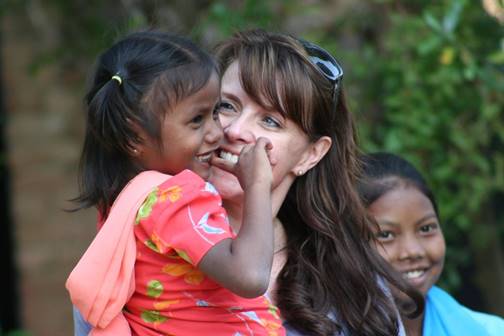 Mother, actress, director, and philanthropist, Amanda Tapping lives to give hope and opportunity to all people. Amanda has united legions of fans to have the courage to listen to their hearts and act accordingly, to find their voice, to learn they are not alone, that they can change the world and themselves through reaching out their hands to others.
How is it that a highly successful celebrity can be so honest, down to earth, available, and use her position to motivate others to find their spirit and make it come alive, with as much attention as she gives to her craft? Both are full time occupations sometimes done well by two different individuals, never both done by one.
One of my favorite photos. This is Jill Bodie who along with Amanda and Jill's husband, Damian Kindler, founded Sanctuary for Kids in 2008. Jill is a mother, a wife, a teacher and life coach with extraordinary passion for making a difference for children left behind by societies too busy to care.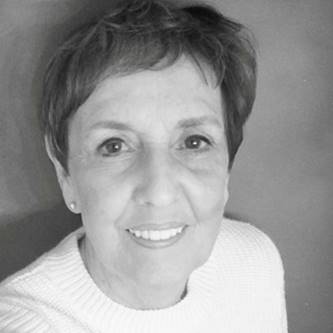 This is Sylvia Patterson, the Director of (S4K). I have not met Sylvia but through e-mails. She is the orchestra leader whose consummate skill in business guides the foundation and weaves it into the lives of far-flung organizations such as ours, while handling the myriad logistics that have enabled S4K to unite Amanda's fan base and turn it into highly successful yearly conventions that benefit attendees and beneficiaries alike.
I had an introductory e-mail to Amanda in early 2009. One of our volunteers, a gifted young Irishman, was building the S4K website at the time. He was moved by NOH and quietly lobbied Amanda, Jill, and Damian to consider making us one of their first grant recipients.
Through this, Amanda, Jill, and I exchanged several e-mails and soon thereafter plans were made for them to come to Nepal along with one of Jill's daughters, Hannah. I was at that time unaware of Amanda's fame as I had been off the grid for quite a few years here, and even previously in America I did not watch television or read about entertainment. Then one day I mentioned to another volunteer that Amanda Tapping was coming for a visit and this volunteer was incredulous, remarking, "How in the world do YOU know Amanda Tapping?!" This mid-thirty aged man pursuing his PhD in Education proclaimed gushingly, "I am so in love with her," and proceeded to fill me with nervousness over meeting Amanda.
When Amanda, Jill, and Hannah arrived I found in Amanda a beautiful and radiant woman as kind and easy as a girl next door that one had grown up with and who made you feel that nothing was special about them but their enduring friendship to you for life. As Amanda and Jill would sit in late afternoon conversations with me, their fame disappeared, I felt more in the company of two people who were special because they had chosen to live their lives in service to others, both highly intelligent and motivated, and with a great sense of humor. They asked insightful questions and would be moved to silence and tears to hear about the lives of our children before coming to us.
Once, four years ago I had an e-mail from a friend who was also a big fan of Amanda's. She said to go to You Tube and watch an interview Amanda had done in London before a large audience.
Midway in the interview Amanda was open to questions from the audience. One question was along the lines of "What was the last thing that inspired you?" a rather generic question. Amanda sat quiet for a moment, then said "Hope." She then proceeded to tell the story of our daughter and she did so through tears. This broadened into a response that included factually accurate stories of not just Hope but many of our children. The audience was breathless, the on-stage interviewer speechless. This is Amanda Tapping, an amazing human being who clearly listens and takes it all to heart.
Two years ago, Anita and I were in Boston where Hope was getting surgery at Shriners. Jill wrote to me and said she was in Massachusetts getting her daughter settled in college. She wrote that she would love to come and help us out with babysitting, errand running, or in any way we might need help during this time. Again, as illustration of kindness to all, Jill, very successful, known to many celebrities, very busy, was willing to drop what she was doing and lend a hand to simple people she knew mostly by our shared values and the long-time support of S4K for our work.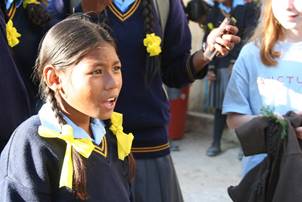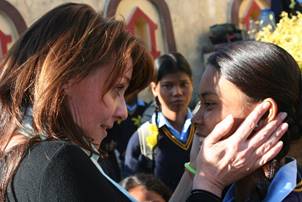 The day came for goodbye, Saraswati's face said it all. Amanda and Jill had reached the heart of all our children, every one of them, by their motherhood, comfort, listening, and embracing.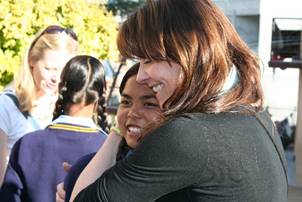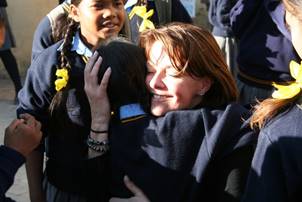 Amanda leaving each child aware that if they believe in themselves and work hard they will be everything they wish to become.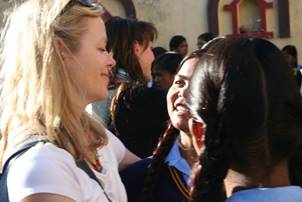 Jill letting the kids know what a mother feels like. And Hannah mesmerizing the children by her beauty, calm, and intelligence.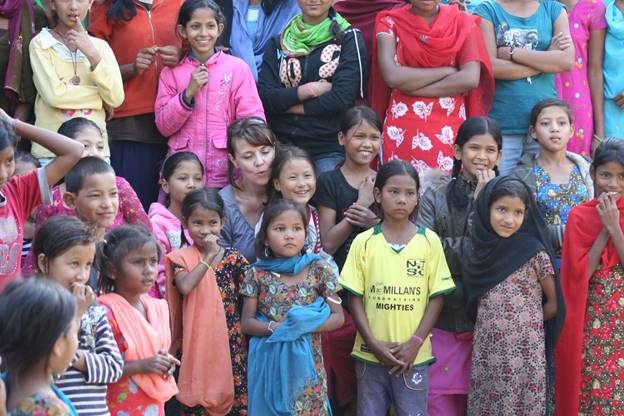 I write about S4K now as earlier this year Amanda, Jill, and Sylvia let us know that S4K will cease to exist after December of this year. They have served so many over the last ten years. From S4K we have received countless number of volunteers, individuals who have been devoted fans and participants in S4K from its inception, fine people who have remained friends and supporters. Through S4K came a wonderful Director of Volunteer Nepal, another who has for 7 years been coming and in one long stretch served as a house manager and helped manage our Chelsea Education Center; they remain close friends to us today.
The financial support of S4K has been incredible. Year after year, it has enabled education, housing costs, medical interventions--all to make the children's lives more individual and less part of a large group, special moments, security, happiness, comfort, and a validation for our work and future proposals.
To me, what this relationship has meant is all the above and more. Through these three successful women I have been made to feel deeply appreciated, to feel special, that my quiet life is more important than I see for myself. They have been friends to me, cheering me on, and letting me know they not only have my back, but my heart as well.
Thank you, Sanctuary for Kids, for your many splendid gifts.
Love,
Michael
*****
From 2010
Our children do not talk so much about life, they just live it; they do not talk about giving a gift to a friend, they just do it; they don't think about carrying the school bag of another who isn't feeling well, they simply take it; there is no pretense, no calculations they simply choose to engage everything straight from the heart.
We have choices in life and each and every one of us has so much power. If you choose to live a positive optimistic life, to help others, to love your family and friends, to think "how can I make a difference in someone's life everyday" then you will make that difference; not only in their lives but in the quality of your own. It does not take a special person or a rich person; it just takes a caring person.
Those of you who have been in Nepal with us know how precious and unnaturally kind and compassionate our children are. I have learned so much about the meaning of life and how to better live it from our children. I have learned about being patient and appreciating the moment. I have learned not to hold anger at those who have brought harm to us, learned in fact to try and understand, to empathize in an effort to discover the motive of these lonely people. I have learned how to laugh at myself, how to love and feel loved. These children are little prophets one and all who make it easy to believe that one's own life can bring remarkable change in a world that is abundantly lopsided in its equality.