Thursday, December 10
Last night I watched the sunset for a few minutes from our rooftop; perhaps it was this, or perhaps the cold wind whistling from the valley below that brought memories of years gone by like autumn leaves swirling through my thoughts. I turned my collar up against the chill with my eyes riveted on the sun sinking in orange red vapors and thought how we are witness to another year passed, this one quicker than any before it. Time passes and all we can do is to try and savor each moment. I enjoy making my rounds in the evenings, engaging each child for a few moments, talking over their day and trying to dispense considerations that will trigger some mental gymnastics; I ask questions which I hope will stretch and make pliable their minds and I treasure the look on their faces, grinning small or wide with eyes turned skyward as they search for appropriate replies. I want them to always be thinking, to develop mental muscles which will provide them the best tools possible for a limitless future; preparing them to have the best life possible in terms of self reliance is at times a sobering thought.
And time goes by, and on evenings like this I see that each passing day is of itself a little lifetime.

Puja (Pupu), December 9, 2009 

Pupu in the spring of 2005

Pupu, Anu Maya, and Manju in 2005

Anu Maya the day she arrived

Anu Maya, December 9th, 2009

Chham, December 9th, 2009

Nirmala, Hikmat, Sangita, December 9th, 2009

Nirmala, Sangita, Sarita, and Hikmat, 2005

Rasmita and Chham, Fall of 2004

Sangita, December 9th, 2009

Sangita, our first daughter, February 2004

Saroj, our first son, February 2004

Saroj, December 2009
October begins a month of high Hindu Holy Days, all reverent and full of tradition, some fun, some complex. A new set of clothes is one of the traditions that we have not always been able to follow, but this year Laurie Levine from Australia and her friend Wendy Vitalich of California gave matching donations that provided each of our children a new outfit. We had Kurta Salwars made for all the girls and pants, shirts and sneakers for all the boys. All were ecstatic, a feeling betrayed by the poker faced poses below.
Towards the end of the month's festivities comes a five-day-long worship of a variety of animals, one day being dedicated to dogs. We all eagerly looked forward to this day to celebrate our faithful watchdog Snowball. In addition to garlands of marigolds, she received special foods and lots of hugs. Snowball sleeps next to sick children who remain home from school while keeping an ear open for unfamiliar sounds at the gate. She is one small dog who manages care and comfort for the 55 children in her territory, always alert and ready for her favorite game "steal the flip flop" and avoids being caught by all the children ready to go after her.
The celebration of boys comes at the end, and ours are very patient in their obligations to sit and be fussed over by their sisters; in the mornings the girls bathe and go to the neighborhood temple to do their own "puja"; they return home and pick flowers for the garlands and others that they will chop fine to sprinkle on the boys' heads and shoulders. They also mix seven colors to apply to their brothers' foreheads, prepare plates of fruits and sweets to serve and then sit across from them while the boys self-consciously eat. Only then are the girls allowed their first nutrition of the day.
Dawn Kumari, shown here with her three sons, has been with NOH from the beginning. If anyone could compare to her loyalty and goodness it would be the rest of our staff, we are truly blessed by all of our staff. But Dawn Kumari is a no-nonsense mother to all the children, one with the softest of hearts. On the rare occasions that a small child has done something wrong she will try to look stern and ask what they were thinking, but inevitably she will have to turn away to hide her smile. She is Gurung, and possesses all the attributes of this noble people. Like Chham she is strong and brave. It is from her village area that Great Britain has drawn for the last hundred years as members of their stealth fighting force. She returned to her village a few years ago, a four-day uphill hike, and carried two of her sons and their belongings, quietly and steadily. She would never utter a complaint. She is especially drawn to the children who may have handicaps or weakness.

Bumikha (from whom I learn how to be better)
When we were assigning rooms to the children she asked that some of our neediest take the room next to hers; one child in the room who has cerebral palsy has a very special relationship with Dawn Kumari, who somehow manages to get her ready for school each day in addition to her own busy morning feeding 50. In addition to cooking all our meals, she overseas the daily laundry, house cleaning and gardening. It took me two years to think of the idea of having her teach our older children how to cook, and in doing so, providing help to her nightly. Before then, she did it all alone and never once asked about this. She simply waited for the idea to come to me. And on Saturdays when I cook lunch for all the children at our house so that she can have a break, she inevitably senses when I am overwhelmed and slips into the kitchen to help. Dawn Kumari has done a wonderful job raising her three boys and making them feel very special while taking care of so many more.
On Halloween this year we decided to have a "sports day" with a lot of fun food and games and in the late afternoon we celebrated the birthdays that took place in October.
It was a long, fun-filled day with organizational help lovingly given by seven or eight of our volunteers who happened to be in the volunteer house at the time. 1,250 vegetables momos were served, 150 cupcakes made, a few beautiful "Papa's House Special" cakes were built by Anita, and there were tons of fruits and candy. The kids found their beds early that night and fell quickly asleep with smiles on their peaceful faces.
We opened our newest home in Dhapasi in September; it has been named Papa's Gumba (Sanctuary) House. We brought 27 girls from our Lawajuni House in Narti to live here. These girls are all former Kamlari except for a few of the smallest, who are sisters of older girls we have rescued and are now themselves out of harm's way. The house is new and well laid out; though it lacks a playground, all the children use the grounds at our other homes for play. Babita Khatri, who had been helping to run the volunteer house, moved in as the head Didi, and we hired Kalpana, the aunt of some of our girls, as another live in "aunti" who serves primarily as the cook, as well as one more local girl SanoMaya for cleaning and laundry. On the ground floor we have reserved two rooms for volunteers and also have a small office, Kalpana's room, and a TV room for the Saturday film.
Nepal Orphans Home is now at maximum capacity for all considerations, foremost being personal care for each individual child. It would, sadly enough, be easy to fill a dozen homes like ours, but the time has come to close the gate and focus on the children we have, which in Dhapasi is 122. In this last group to come over we looked to reunite as many sisters as possible and achieved this with the sisters of seven of our girls and one new pair.
These younger girls are very fun to have around. We have hired a teacher to come to the house, and along with some of our volunteers and Babita, Vinod, and Anita, we will home school them until April when the new school year begins. Their English is coming along nicely and they work hard. I have never seen small children so good about sitting and reading, writing and listening hours at a time. Kali, on the left wearing the stocking cap, has her limitations, however, and after about 90 minutes she closes her book, raises her hand and announces, "I am starting to get a little bored now" in her native Chaudhary language.  Asmita in the red jacket mastered the English alphabet after three days and is already reading simple sentences. Pushpa between them is pretty quiet but has a very funny sort of observational humor that she shares with a whisper, and Juno on the right, our resident pixie, according to Anita "makes the night time so much fun"; she stayed in Anita's Imagine House to be with her sister Kamana.
I can't help myself in not taking every opportunity to comment on Gita, Rita (now called Sapana) and their big sister Sarita shown in the photo at right. All our children are shake-your-head amazing to be around, but these three cause me to wonder many times if indeed there are angels on earth.
We have a few photos missing at this time showing other reunited sisters. All of these girls have come full circle, from the older sisters being sold bringing separation of a type far greater than kilometers alone, and in some cases each separately living as a bought person to do the house work or other tasks for shop owners. Now they are together again, and like all of our children it is for life. Talk about Cinderella stories!
In closing I would like to mention some of our other staff whose greatness has been illuminated by circumstance. Vinod has been the boys' house manager for many years; he first came to me fresh out of high school having just passed his School Leaving Exam with honors. He was a neighbor living on scholarship in a boy's hostel while attending the associated school. I was impressed by his sincerity and determination to want to spend his life helping others. He gives two hundred percent at all times, and the children adore him. Vinod is from a very poor village in the Terai, the strip of land bordering India. After being with us for a year I asked him if he would like to bring his sisters to live with us and attend school. That was one of the best questions I have ever asked anyone. As most of you know Anita, the older twin sister, became the Kalpana (Imagine) house manager. She has the same characteristics as Vinod, plus an unswerving dedication to getting the last drop of blood out of every vendor we buy from. She does this with humor and every vendor laughs all the way through the exchange, finally conceding to the price she insists upon. She is loved by all and leaves the vendors happier for the encounter and feeling good about themselves for helping our home. Sunita, the other twin, came three hours after Anita; she is a beautiful girl who is tall and healthy in contrast to Anita's very tiny frame. Sunita is shy and quiet. She had a very late start in her education; recently, when some exams that she studied so hard for came back with disappointing results, she decided at 19 that a career based upon academic achievement would not be likely. So she became one of the Didis, and now the cook as well for the girls and boys at Imagine and Possibilities houses. She works with an admirable efficiency, constantly in motion, and creates time out of thin air to turn her sights on gardening and special cleaning projects that previously never were touched.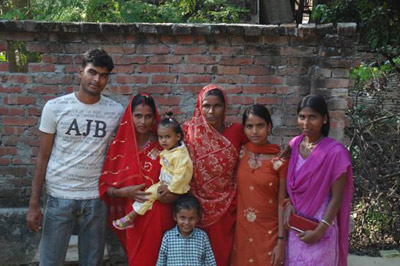 Vinod on left, older sister Binita and her children, their mother, Anita, and Sunita
During Tihar they decided to go home to be with their family for a few days. While there they found their grandmother's health had greatly declined. They are all very close to their grandparents. They spent three days sitting with the family, with special attention given to their grandmother, making her comfortable and humored in a dozen small ways. Shortly after their return to Dhapasi they received word that their grandmother had passed away, and according to custom she was cremated only hours after. They maintained constant good cheer around the children, reserving their tears for the night. After 12 days they returned to their village for the Puja celebrating their grandmother's 13th day of passing. Vinod had his head shaved and wore a white doti as tradition guides. They have rich memories of their grandmother and can be found laughing now at some of the moments they recall. The Terai has changed little in hundreds of years, and least changed are their grandparents who, like most very poor village people, hold tight to tradition as the refuge in a demanding, hungry, and sacrifice-filled life.
To Janki Mahato (the grandmother) and Gopali Mahato (the grandfather) I offer this humble tribute for the care and guidance given their grandchildren which made each of them uniquely kind individuals who pass on their lessons to the children of Papa's Houses.
That's the news for now.
Happy Holidays to you all.
Papa, the staff, children, and Snowball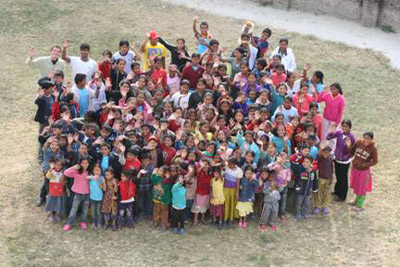 Monday, August 10
It is all too easy to overlook the remarkableness of some people. Hari Nepali is a good illustration; he is one of those who in his quiet way keeps the roof of a small society from sagging by his constant cheerfulness and good energy. Hari spreads himself out well; he is always there in any group, a little on the periphery, watching and smiling. You don't always know he is there until your gaze is drawn to the emanation of joy from the little guy whose smile is contagious. Hari was part of the six boys and six girls that Nepal Orphans Home rescued from a small orphanage abandoned by those in whose care they had been assigned three years ago next month. All 12 of these children have contributed so much to Papa's House and are exceptional in many ways. Some are very talented in sports, or school work; some in overcoming physical challenges with humor and determination; Hari is a natural at building others' confidence with an encouraging smile in the most sincere way. Ask others what they would like to be when they grow up and you will see their eyes, like a magic Eightball, bring "doctor or social worker" hazily to the surface; ask Hari, and, his grin widening a bit, quickly replies, "bus driver!" I can see and hope that one day Hari will be our bus driver; Hari will shepherd our Papa's House children where they are going, swinging the door wide open from his seat and smiling his Hari smile down upon the next generation of Papa's House children stepping up and into his carefully driven bus.

Hari Nepali, future bus driver for Papa's House.
Last Saturday our Snowball was taken early in the morning to the vet to be fixed. She had spent a long night without food and feeling confused, while Anita, who has become her mom, spent an equally long night wishing she could make her understand and giving her some comfort. When morning broke and the doors to the Girls Home swung wide, Snowball raced out to see the boys and make sure they were all accounted for. Vinod and Hikmat were waiting for her to finish her rounds so that they could take her to the doctor. Vinod started his motorcycle and Snowball raced over, stretching high to ask where he was going; Hikmat got onto the back of the bike and asked Snowball if she wanted to go for a ride, and she danced on her back legs reaching up for him, and then they were gone, Snowball cradled in Hikmat's arms, her nose into the wind and ears flapping, thinking what a wonderful day this is.
In less than a year Snowball has stepped up to become the children's great protector and comfort giver. She is infinitely patient and diligent in her role. With over 50 children and staff always around, and then another 50 children, staff, volunteers showing up at different times of day, she knows exactly who should be there and who is new to the mix.
She spends her days at the one corner of the house where she can observe the gate and who is coming and going; and when the day is done she retires to Anita's room after seeing the boys and Vinod are safely in their home.
Vinod and Hikmat returned at 10 a.m. with an anesthetized Snowball, a towel tied around her waist. Anita took her and sat on the steps to the Girls Home and held her while she became a little more alert. After a while Snowball made her wobbly way the short distance to her corner and resumed her vigil, while children and staff kept a watchful eye on her. She slept for a while until the gate knocker clanged and Snowball raised her gauzy head and gave a drunken growl, ready to defend her family.
To you, Snowball, and to Hari; this update is in your honor.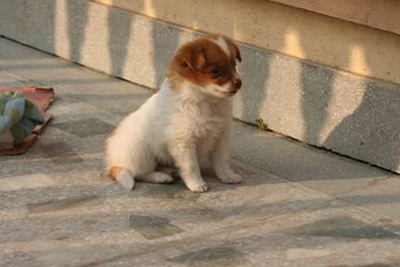 Snowball last Christmas

Snowball sitting with Anita post operation.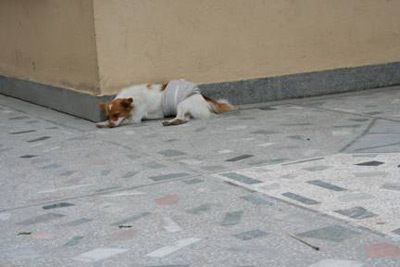 Snowball resuming her command post.
August has been eventful and heartwarming at Papa's Houses, with many volunteers bringing thought-expanding ideas with laughter to the children; others bringing gifts of love from their own homes in the way of small laptops, or the money collected by friends to purchase things not finding their way into the budget. Our volunteers are the cream of the crop; when you meet people like this you are given assurance that no matter how difficult the times may be that things are going to be fine. I know that the world is really okay when I am around these kind, talented, and generous humans. Laura Handy is one of many recent volunteers who exemplify this; a teacher from Washington State, she had only a brief amount of time to give, but left lives changed in her wake. Her friends raised money that she brought for us to use in a way we felt best. If you recall our effort to make a basketball court in the previous update, that came to a roadblock when the cost of materials for the cement, etc. was a little out of reach. Laura suggested that the money gifted by her family and friends be used for that, and so it was. The money covered not only materials, but a crew of men to finish the job for us.
The children spend a lot of free time playing basketball together now; this is a gift that will give for many years to come. Laura spent part of her time in Narti at Lawajuni, our home for ex-Kamlari girls. She left a group of girls stimulated by the notion that their lives are to be shaped by their own desire and hard work with the assurance that we are 100% behind them in the effort to insure they have a happy and independent life. Laura was touched by one new girl in particular, Gita, and returned to Dhapasi full of wonder about her life.
Another volunteer, Lauren Yanks, an instructor and writer from New York, is still with us holding writing workshops at three schools in the area. Lauren has boundless energy and is busy sharing her talent for drawing out the creative instincts in all children. When she discussed coming to Nepal Orphans Home as a volunteer with her friend Alan Marker, he decided he wanted to do something as well and donated four mini laptops from his computer shop, Alan's Affordable Computers and Repair. We are very grateful to Alan for this.
Vinod has established a schedule for computer lessons, eight children per day, four in the morning before school and four after school.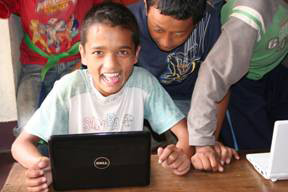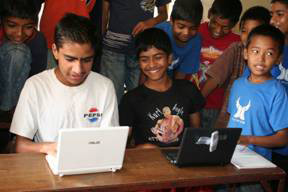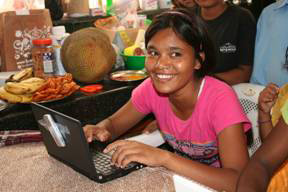 Jesse Bach, a member of our Board of Advisors, just completed his second tour of Nepal Orphans Home, where he invigorated everyone he came in touch with. He worked tirelessly teaching the children after school, before school, and on their free days. Jesse spent most of his time last year in Narti and returned to Ohio a changed man. He set about gathering support for our work to rescue the Kamlari girls and bring about an end to the practice. He rallied Cleveland behind him and through their support has raised money and awareness to help free the Kamlari and provide for them in our homes. Jesse celebrated his 31st birthday by taking all 102 of our Dhapasi children, all of our staff, a few children whom we help out from the neighborhood, and a handful of volunteers, to the movies. He reserved the whole cinema hall one morning, as well as four buses to take and retrieve the children. A video of this can be found on YouTube.
Jesse taught the children by using rap music and dance; his lessons were always packed and I would find the children repeating the songs long after the lessons had ended. He is an amazing young man who has decided to devote his life to making a better one; he is a man of enormous talent and heart.
| | |
| --- | --- |
| Jesse with Sita | Jesse with the children |
Alecia Westphalen is the 18-year-old daughter of our Board of Directors member Marcie Westphalen, who appears in many places in this journal over the years. Alecia recently left after her second visit with us, a 6-week tour across Nepal. Last year she fell in love with our children and Vinod, and spent a long year of daily Skype calls to them. Her return was the essence of emotion. She kept a blog while here that can be absorbingly read here.
| | |
| --- | --- |
| Jesse, Laura, and Alecia in a micro taxi | Marcie and Alecia welcomed back by Vinod |
There is a village named Gundu about an hour from Dhapasi. I first visited it three years ago and fell in love with the fresh air filled with the sound of birds singing, and trees rustling. It is very small in population with a lot of open space, sitting pretty high up 20 minutes above the industrial section of Bhaktapur. I felt then that this would one day be a perfect place for us to have our campus, and I feel even more so now. I have been an infrequent visitor there over the years but each time my feelings are more confirmed. While Jesse was here I asked him to go for a walk about Gundu with me so that I could get his reaction as well. The village has grown a little and now the high school-age students have a bus bringing them to and from the school 25 minutes downhill in Bhaktapur. A few new buildings can be seen, but for the most part it remains frozen in time. I had arranged for a friend of ours there to inquire about land that is available. I estimated our campus to need a minimum of 20 ropini or about 2.5 acres. That is a size that cannot be purchased there in one piece; the land is divided into anas, 16 for every ropini. The locals have worked the land for generations and all own small portions and would not collectively be interested in selling. We found two plots, though, that would meet our needs in a much better fashion. In the heart of the village there was a flag-shaped 8 ropini with some frontage on the road. This would serve for the school, the volunteer house, the woodworking shop, other vocational workshops, and the "Cleveland East" Yoga center (more on that in a later update). Then further away, roughly a 20-minute walk, we found a 12-ropini parcel sitting at the base of a hill. The land there is very fertile and this would be a wonderful compound for our Homes (Boys and Girls), our agricultural building, pasture land for the cows, a large area for our vegetable and medicinal plant gardens, our dining hall, and our library/recreation room that would have a small stage and an art workshop. This has been a dream of Nepal Orphans Home for several years. It will remain a dream but we will actively pursue making it a reality as this year progresses.

Our road would go between these buildings

The walk from the school to the home site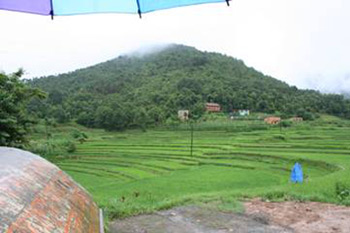 The home site just beyond the first pole
Every other Saturday has become grass-cutting day at Papa's House. Fridays several of the girls will swap homes for the night and then early on Saturdays the boys and girls from the lower homes will arrive and we will start cutting grass. This is done with a curved 8" blade on a short handle. We have 13 of these, and those girls with the most grass cutting experience trade off their use while all other children collect the cut grass in rice sacks and dump it over the hill behind the house. Many of the smaller children tend the dirt ground behind the house with sweepers. The boys do most of the carrying as they were never required to cut grass in their earlier lives. If we start right after tea we will have the field looking manicured before the gong is sounded for morning rice; the girls form a line shoulder-width apart and duck walk across the ground cutting away. They do so cheerfully and with pride, like everything in their lives.
| | |
| --- | --- |
| Ramila, Anita, and Sita sweeping dirt | Jenny Rai and Sita clowning around |
|  Sunita | Kanchan |
Last Thursday was a day in which sisters celebrate their brothers by tying a piece of thread around their wrist and offering a tika and flowers sprinkled over their heads. The girls from Papa's House marched down to the lower homes in late morning to perform this puja and have tiffin after, in the company of the boys and girls there. Today is the first of several days in the next couple of weeks when girls and women will fast all day while performing rituals in hope that the Gods will provide good and long lives to their male family members. Females in Nepal seem to do all the heavy lifting as well as making spiritual sacrifices for the good of their male counterparts. I am very proud of the way all of our daughters honor these traditions while at the same time becoming intellectually aware; and I am very proud of all our sons who have risen to a commendable sensitivity to the burden of their sisters.
Two weeks ago we went to see our children in Narti and returned with three wonderful surprises for our Imagine House girls, the 26 girls we brought back to Dhapasi last winter.
Sisters, all that remain of two families, have been reunited. You will recall the opening of the last update, a letter from Rita who stayed behind in Lawajuni, to her sister Gita sitting with us in our Imagine House. Well, now they do not need to write letters to one another. Rita had some kind of epiphany and asked if she could come to live with us and be with Gita. Rita had told her sister in the letter "Little sister we have cried too many tears together and we will cry no more." Rita hadn't then considered the possibility of her move to Dhapasi and the tears of welcome it would bring forth from both herself and little Gita.

Gita and Rita at Papa's House last Saturday
And the other family reunited, the K.C. sisters, was made possible by the return of Bimala, the eldest sister, bringing together four sisters for the first time in eight years. Srijana, Asha, and Gita came to Dhapasi with the first 26 girls, but Bimala was unable at that time to also come.

Bimala, Gita, Shrijana, and Asha; together at Papa's House on Saturday
And finally we included one more person for the trip back to Dhapasi, the latest girl to be rescued and brought to Lawajuni in Narti. Here, in behalf of our volunteer Laura and her family, I present the very warm, shy, loving, and ever smiling, Gita.
In closing, I found Rita reading a story to Gita in their room the other day and quickly captured the moment to share; Rita's face says thank you every time she sees me. This is all made possible by your continued support. These are real lives, real emotions, and real little people who will grow up to make this a better world. Thank you for your compassion.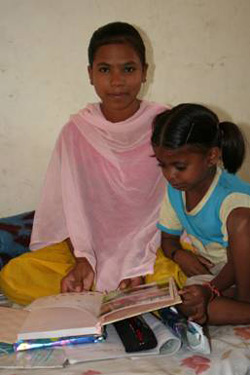 Namaste.
Papa
Monday, June 15
The love of two sisters was eloquently illustrated recently by the following letter, translated closely from its Nepalese. Rita, the author is an incredible little girl that I have written about several times before.
"Little sister, this is Rita. I have given to Papa this for you from me. Little sister I have you in my heart in all time, I have your photo under my pillow and in the morning when I wake I first look at you and say good morning my little Gita, and at night before I sleep I look at you and say meet me in my dream sister.

Gita I asked of Papa to love you like the father you do not have, and I asked Anita Didi to show you love like a good mother. Little sister we have cried too many tears together and we will cry no more. I am sorry that I can not sit you on my lap and hold you like a mother should, I am sorry that we can't sit together now. You will be strong without me; you will do good in the school so you will grow to be someone. You have many sisters and brothers now, this is your family.

Please do not cry ever for me; take this photo and when you need me look at me, close your eyes and feel my touch, see my smile, smell my hair and I will be with you.

Love from your sister Rita."
This letter, the apple and orange that I had given each of the girls for a treat the day before, and a warm hug and kiss on the cheek, her way of reaching for her sister were given to me in Lawajuni by Rita, the morning I left these precious girls and started back to Dhapasi.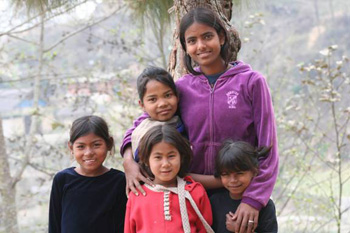 This is Gita on the right with Anita's hand covering hers. All four of these girls are from Lawajuni and were part of the 26 girls Anita and I brought home some months back to our Papa's Kalpana House in Dhapasi.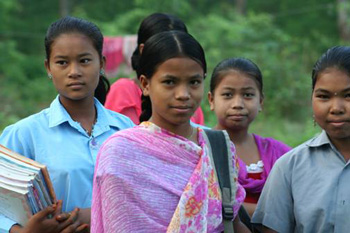 And this is Rita, center on her way to school one morning.
I spent last weekend at Lawajuni with our wonderful 53 girls; another six new girls have been brought home in this past month; each of them in a particularly acute stage of need, compelling Krishna to make the decision to bring them in. We are once again at capacity.
In spite of the austere lifestyle present in Lawajuni it is a very happy place and my three days passed one heartwarming minute on top of the next.
We purchased 30 metal storage boxes for all the new girls as a defense against the many mice who have been dining on the few clothes they own; and book bags so that they might have one other place to keep something of their own together. On my first morning the rains came hard and the girls stood collected under the narrow roof overhang, waiting for a hint of a break before running the 300 yards across to the school building. They had no umbrellas. Life isn't so easy for them and when umbrellas, boxes, and school bags can fix small problems they become big and joyous events to these girls.
The evening of my arrival we ate around the fire outside and talked with the darkness and damp heat of night heavy upon us. Lawajuni is in the jungle region of Nepal bordering India; it is one of the poorest regions in Nepal. The country had recently risen from the 18 hour per day load shedding, no electricity, to the carefree six hours currently imposed; all except this poor region. For some reason it continues here; amazing how a people with a history of being trod upon can't seem to escape it. But these girls never complain about it, or about the rain they were having to run through and remain soaked to the skin in class, about the teachers who seldom take the time to attend to their class, about the mice eating their only kurta salwar, or about the lack of a parent to care for them, to love them, to keep them safe and comfortable and feeling special. They have never complained about the lives they led before we brought them to Lawajuni. These are strong girls who look only at the good of the moment, and what others might not see as good, they do.
Nepal Orphans Home had recently received wonderful donations of hair ties and clips, books, clothing, costume jewelry, art supplies, and puzzles that I had brought with me. The girls felt a very different life when we distributed these; their smiles and excited squeals filled the room. They felt connected to an outside world full of mystery and promise. What seemed like an enormous amount of goods gets spread pretty thin with 53 girls, and it was humbling when afterwards the girls would come to me and express so much gratitude for what ended up being a few hair ties and clips, maybe a box of crayons or a coloring book, and possibly a t-shirt not quite tailor fit. That is the nature of these wonderful little girls.
The girls have continued to give superlative care to the four Jerseys; this is a pretty big task that eats a lot of time and requires patience and strength. The two calves are now big and strong and many times would gallop off against the wishes of the three or four girls going along for the ride at the rope's end, laughing and shouting at the runaway calf.
The milk from the two older cows is sweet and abundant, and the milk sold back to the dairy has met the veterinarian cost and refurbishing expense of their unruly offspring. Soon it may provide the revenue for additional Jerseys to be purchased.
Our garden grows large and green and accounts for all the vegetables needed; and we have made some inroads to getting a medicinal plant garden started, thwarted earlier when our volunteer botanist was unable to get to Narti because of the two-week long Bundh. My optimism is solid; with time Lawajuni will be a self supporting home, and from which the girls will follow either academic or ad vocational interest. They will become independent and strong women who will help to see Lawajuni serve future orphaned girls of the Terai. We have a long ways to go, our next big hurdle the acquisition of land and building our collective style farm, but we will get there as assuredly as we have reached this stage; with the help of our donors and volunteers all things are possible.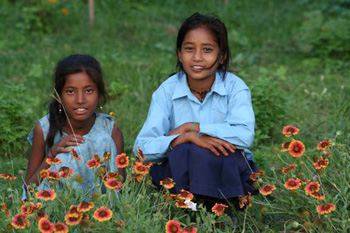 Juno and Aruna at Lawajuni
In Dhapasi all are well. We had a period of a few weeks when the flu ran its whirlwind course through the homes, but all have returned to health.
I am not sure where time has gone; seems like yesterday we were at the end of the year Sports Day events held at the Kathmandu Police Academy by the wonderful school our 99 Dhapasi children attend, The Skylark English School.
All the children had an exciting time competing against one another in a fun variety of silly and serious events. Chham, as usual, would not be beat in any event, and in those tandom events, like the wheelbarrow race in which the runner had the teammate's legs around his waist and used his hands, Chham simply elevated his partner to the point where his hands never hit the ground and ran like the wind. It is not that one day Chham will be somebody; Chham is somebody now.  He is the sweetest young man, as well as the strongest, most determined, and quietest. He loves helping the smaller children and they adore him. If I was hanging from a cliff, I would do so unnerved if Chham had my wrist. It is Chham who carried four eggs in his hand for a three-day strenuous mountain hike from his village as a gift to me; the most treasured gift I shall ever receive.
We are going to begin a new format for these updates. Starting at the end of this month we will have an update for all the events that have taken place concerning the NOH family for the preceding month. We will include information about the great volunteers who have shared time with us, about donations of gifts received, features on some of our 152 children, board member activities, and a general overview of life in Dhapasi, Narti, Dhumrikharka, and Votetar. We will clearly present a linear view of our lives and the effect that you all have on our children, and staff. A notice will be sent to our volunteers and donors at the time of posting the update and if you would like to be on that list please send us your e-mail address and you will automatically receive the alerts. This promises to be an exciting and complete read each month, helping to bring all of you much closer to our heart beat.
In closing I want to share a few photos taken in the past few days of our children helping us to make the new basketball court. We did not ask for their help. Vinod, the boys house "Sambhav" (Possibilities) manager; Anita the manager of the girls "Kalpana" Imagine House and I decided to do the work ourselves to save the several hundred dollars quote we had received. On Friday we managed to get the post and backboard raised. Early on Saturday morning the 26 boys and 26 girls conspiratorially met and started clearing the ground where the concrete court will go. The work was hot and difficult, the ground holding tight to roots and broken bricks long ago buried; I had a call from Anita suggesting I come to the home to "see this." I arrived to find all the children working in perfect harmony, little children working together combining undeveloped muscles with ingenuity to clear the earth; neatly stacking debris and going back for more, backs and hearts bent to the task. They worked until lunch and after lunch Anita asked if they wanted to sit in the fanned coolness of the study room and watch a film and all of them said no, let's get the basketball court ready for cement.
We are now ready for the cement and on our next "Holy" day, probably Saturday if another Bandh doesn't come first, we will mix and lay out the cement. There is great pride in the children's knowing that we can, as a family, make it happen.
Namaste
Papa
Friday, April 24
We have always focused upon our children in the update section and another is still forthcoming, which I am very excited about; however NOH has a few other projects in Nepal that we are very proud of and we think our readers would like to know about them as well. NOH created Volunteer Nepal a number of years ago in an effort to attract compassionate volunteers with an interest in sharing their skills in the many Nepalese communities that are somewhat out of the way and forgotten, as well as helping in our own four homes. In our www.volunteernepal.com site we featured the volunteers of 2008.
Almost two years ago NOH was introduced to two communities in the hill section of Nepal in a district called Ramechhap. One of the communities — Dumrikharka — is a three-hour straight uphill hike from the district seat of Manthali. The community there is made up of 90% Dalit caste; Dalits in the Hindu order are "untouchables." Laws were placed on the books several years ago banning prejudice in all practices, but unfortunately people's learned behavior is harder to mandate, and this age-old system is far too entrenched to give way. This wonderful community has been forgotten by the government, and as the people are Dalit they must rely upon themselves to get by. Outside jobs for Dalits are limited to the type of work where one would not come in contact with higher caste; Dalits are not even allowed to carry goods sold in stores to higher caste, as anything touched by a Dalit may not be touched by upper caste. We found in Dumrikharka a community of extraordinarily warm and deserving people laboring under the harshest of imposed conditions.
Dumrikharka Village Renewable Energy Program
Peter Hess, the president of NOH, began collaboration with FOST (Foundation for Sustainable Technologies), a Kathmandu-based NGO  through e-mail with its founder, and decided that Dumrikharka would benefit by implementing the cooking fuel technology in concert with retrofitted cooking hearths in the people's homes.
During his last visit Peter met with FOST and purchased some of the equipment necessary for this while learning firsthand about the many technologies FOST has developed. Shortly thereafter we had a volunteer application from Ethan Smith, a young man from Oregon with degrees in industrial design and sustainable planning and design, who asked if we could place him and his partner Ashley Sullivan, who has similar degrees, for a period of four to six months. Some might call this serendipity.
We arranged for Ethan and Ashley to attend many workshops with FOST and they ended up developing a close personal relationship with the founder. Soon they were ready to go to Dumrikharka along with a staff member of Volunteer Nepal and introduce simple technologies that have been life changing.
We set up a dozen of the village women as a co-op, and Ethan and Ashley taught them to make cooking briquettes out of waste materials easily collected and mixed with other organic debris. The mix is pressed and the resulting briquette is dried for later use. NOH bought two presses and two cookers for the co-op and supplied the initial money for all the necessary implements to begin. The idea is that these 12 women will collectively make briquettes and use them in their own homes. Surplus briquettes will be sold in Manthali or to other villages and the income from that will go to supporting the school. Eventually a very robust cottage industry will be in full swing and NOH will be able to wean its support away from the school, and the village will become a prosperous, self-reliant, and proud one.
Sustainable energy for cooking ushers in health, as the briquettes are comparatively smoke free, and by retrofitting them to their cooking hearths all the smoke is now directed outside. It is also eco friendly as the limited amount of trees are spared now.
Here below are photos taken by Ethan Smith during their work with the elected village co-op.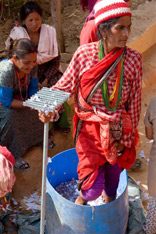 Dumrikharka Family Life
Much like early pioneers in American life these folks are working with the land in order to make something for themselves, but with the additional hardship of being ostracized and having to battle the prejudices of one of humanity's oldest religions. Again, NOH is very proud to be able to work side by side with this wonderful community. The following photos were very touchingly taken by Ethan Smith.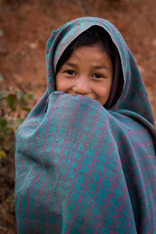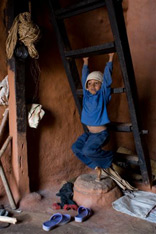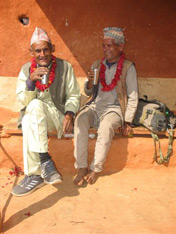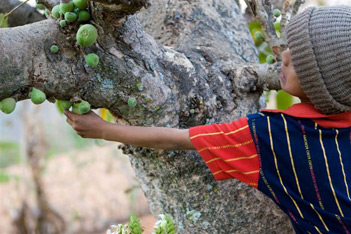 School Life in Dumrikharka
The school receives no government funds and was without any up to date books, benches, teaching aids, and had a teaching staff of four local young men and woman receiving very little for their efforts. The Board of Directors at NOH decided to become involved with the school. We paid a group of local women to make uniforms for the 100 or so children then attending the school; we bought books, teaching aids, benches, copies, pencils, erasures, etc.; we subsidized the teachers in order to help them to afford to become better devoted; and maybe most importantly we started a hot lunch program enlisting more of the local women to conduct the program.
The children in the school were undernourished and a little malnourished, and this program substantially improved their nutrition and ability to concentrate in school. The children have had a much healthier year, and school attendance is very high now; we have almost all of the 140 school-age children attending regularly.
With the few simple measures initiated by NOH, made possible from our donors and funds from volunteers, we have been able to help this village help themselves. It has not taken long, and the effect is easily measured in the invigorated spirit and the sense of accomplishment in the entire village, from the very young to the village elders. This remains a popular placement for volunteers, the effect of which further raises the village pride in hosting these volunteers and learning English from them.
The following photos were once again exclusively taken by Ethan Smith and Ashley Sullivan.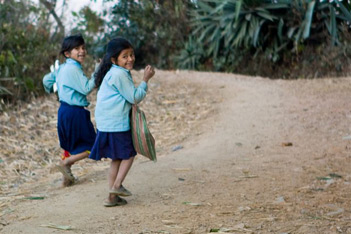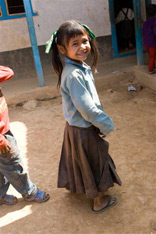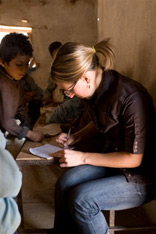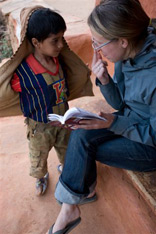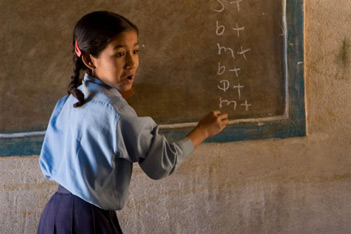 In closing we want to thank Ethan Smith and Ashley Sullivan for their very heartfelt work with Volunteer Nepal, and the extraordinary execution of it in Dumrikharka. These guys have made a profound difference not in the lives of one or two but in a whole village. In a few days they will be returning to Oregon, Ashley to pursue medicine and Ethan returning to his freelancing in sustainable planning and design.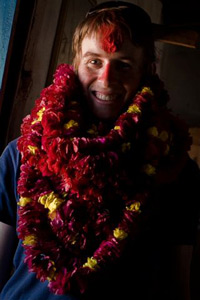 Thursday, March 12
Wanting to leave your home in the hope for something better is an idea many think they are at ease with even though letting go and trusting in the future takes a great deal of faith and courage; but when the moment comes to look your friend in the eye and say "farewell, I am going to leave you now" it is always requires poignant determination.
Nepal Orphans Home recently moved our 24 boys into their new quarters on the same grounds as their previous home shared with Volunteer Nepal. We then found a wonderful house to rent midway between our two Dhapasi Homes and completed the installation of volunteers there; turning our attention then to the old Volunteer/boys home for the arrival of 24 of our girls from Lawajuni in order to alleviate the over crowding that by necessity had taken place while we attempt to rescue as many as we could.
Anita Mahato, our senior most girl, had come to a crossroad in her academic career about a month ago and decided not to further pursue school. After a month of deliberation she chose to accept the position of "Girls Hostel Didi;" she would run the new home. Many of our Lawajuni girls knew Anita from previous trips she had made there, most recently taking two volunteers over to teach. She is a wonderful young woman with great patience, love, and humor guiding her approach to child care. So on Saturday morning, February 28th she and I, along with Randi Miller, a new volunteer from New York, boarded a large rented bus and began our journey to Narti. The bus was old and loose, a night bus of the lonely Delhi-Kathmandu run, but its fading from an earlier glory now made a match with our budget. The trip over was pretty much uneventful, two small flare-ups bringing a halt to passage along the highway, but both rather quickly resolved.
We learned at these stops that a bundh was scheduled to start on Monday morning that would block all movement for three days so it forced us to abbreviate our stay in Narti and leave on Sunday afternoon.

Anita comforting Asha, who would not be going to Dhapasi
We arrived late and in the dark the girls at Lawajuni could make out the lights of the bus as it stopped on the highway to let us out. They came running surefooted in the night to greet us and breathe in the reality of the bus that would soon carry some of them a little further from their recent emancipation.
We had two new girls in the crowd who had been rescued since my last visit, one just the day before. Amrita and Aruna stood back a little, still fresh in the bubble of change; pleasant and wide eyed, quick with their smiles, taking in the chaos of our welcome. Soon our many bags were collected by the girls and we headed towards the single bulb that slightly illuminated the shape of home.
All too quickly the next day passed and the exhausted screech of air brakes announced the bus had arrived and it was time to go. The final list had been made during the day, always a very difficult and sad task. Arm in arm all the girls walked towards the highway and the moment of truth.
I read out the names of the girls to account for all while these precious little souls offered final tearful hugs to their friends and one by one climbed into the bus. Lawajuni was their first home after being rescued, it was their incubator where they comforted one another and took their first uneasy steps as free humans, alone but for all the other girls with similar histories; the bonds made among these girls is strong.

Difficult goodbyes between the 24 going and the 38 remaining.
Rita third from left with her arm around another.
The three-man bus staff was an impatient lot, completely lacking in sensitivity for the moment. The driver began blasting his horn for us to begin; the relief drivers pacing next to the bus slapping its side occasionally like a cowboy would a cow to get it moving along. I was the last to enter and as I turned to climb the stairs, Rita, older sister of Gita who was cheerfully on the bus, unexpectedly came and quickly kissed my cheek, tears streaming down her own; and said thank you for taking Gita and letting me stay. Rita had calmly explained to me that afternoon that Narti was her new home and she wanted to be there to work with SWAN and have the Kamlari practice stopped. Rita was part of a committee from Lawajuni who came to Dhapasi for a few days last month and had an audience with the President of Nepal to petition him to support a bill outlawing the selling of children. She is a thirteen year old child activist with all the muster of a 50 year old life long crusader. A Kamlari for many years, she has never had a childhood and has passed this opportunity for one in order to fight for the rights of other young girls; but she would not allow her little sister to miss out on learning what it is like be a daughter at Papa's House. This is the stuff these girls are made of; anyone would be proud to know her.
The bus crew shared a large area sectioned off from the passengers and once ensconced never looked back at their "load." The old bus groaned off with a weight these guys would never feel, the weight of lives in transition. A couple of kilometers later we were up to speed when a slight voice rose above the din of a thousand metal parts shuttering free from their berth. "Papa, I have to go to the toilet." This was the first of 1742 "Papa's" I would hear through the long night. I asked if she could wait until we had at least three minutes of road behind us; suddenly feeling a little uneasy with the idea of tapping on the door of the angry crew's cabin so soon after reaching cruising speed, and asking them to stop.
It was a cold night, and Nepali children are not conditioned to movement. "Papa" has a different sound depending upon the emergency, but getting ready to vomit has it in an upper octave and I would race to the source of sound and fight open the jarred shut windows not always in time. Curtains snapping hauntingly by the cold wind, a few small fluorescent overhead lights colored our surreal cocoon in an eerily blue light as the unlit mountain passes lurched us side to side; girls waking from slumber and calling my name just seconds before losing it. Fathers develop hearing like that of hawks, and the plaintive cry of a daughter, even in the deafening din of the bus, is as clear to them as a small injured mouse might be to the hawk flying hundreds of feet overhead.
On the second roadside break, all the girls stepped off the bus like drunken sailors, and I stood at the stairs helping them and counting; I came to 26. How could this be with a list of 24? I had verified the presence of the 24 who were on the list, but never had counted to see if we had stowaways. Two precious little girls, innocent in their 8 year-old reasoning, had snuck aboard. Once all 26 were back on the bus I would set my sights on a tree in order to be opportunistic, but inevitably the miscreant crew would start to pull away forcing me to do an awkward gallop towards the open door, cursing their existence.
At midnight we stopped at an open "restaurant" where they serve dhal baht, and only dhal baht, in huge portions. Our girls did not want to eat, but all 26 did want me to take them, three at a time, to the outhouse way behind the establishment where the family owners lived. After the fifth trip past the disbelieving eyes of the wife/owner she asked, "Well, they eating?" And when I meekly said no, just going to the toilet, I was offered her most melting glare. With four more trips past, the tension built as the staff sat with dirty aprons smoking and watching sullenly.
A fresh round of vomiting soon gave way to a pretty deep sleep for all the girls. I careened like a pinball to the back of the speeding bus with its hell bent driver, trying to close windows against the cold blackness; then returned to my seat with Anita and dropped off into my own oblivion.
Silence and stillness woke me two hours later and the familiar site of Basundhara on Ring Road, where we should be turning to make the one and a half mile bumpy road ride to Dhapasi; only these guys had decided they had driven enough and we would be walking.
The stillness felt too serene, too calm and quiet; protest never entered my mind. I welcomed back my tinnitus, the constant, out of synch orchestra playing in my ears. We woke the children and gathered their small bags containing their earthly possessions and stepped out into the refreshing embrace of a calm semi moonlit night. It was 3 a.m. and the excitement of being near straightened out limbs and put some perk in the children's step as we marched up the hills towards Home. I called Vinod and asked him to be ready to open the gate, and 20 minutes later a small beam of light reached our eager eyes as Vinod stood scanning the road.
At the gate Anita ushered the children into their new home and said her own farewell to me and the child she was leaving behind. She was a young woman now, an adult member of our family, big sister and mom to 26 little girls. Three years of braiding her hair daily, helping with homework, caring for her when she would be sick, comforting when sad or afraid, and not realizing how quickly time tumbles into itself when a moment like this new chapter stops one in their tracks, she has grown up now and taken on a grown-up's life.
I continued home alone and quietly made my way to my room, unpacking and having a cold bucket bath, making coffee and waiting for morning to wake my children.
The new children and our girls in Papa's House saw one another during the tiffin break from school at the girls' home for the next four days, but did not get a real chance to meet. We planned a welcoming on the following Saturday at Papa's House for the new girls and the 10 boys who were never properly welcomed in the same manner eight months earlier.
Our girls were looking forward to meeting their new sisters when time would allow for play and relaxed conversation. I said for the welcoming I wanted them to make two lines by our gate and when the new children arrived, they would file through the lines and to a table where we set up a bowl with tika, another with flowers, and a third with chocolate bars. I asked Gita to give each child a tika and Dawn Kumari a flower and the candy. Our volunteers came up to photograph and be a part of it; and curious neighbors stood along our walls watching. Anita was walking the children up from their home while our kids stood quietly in line, thinking I suppose about the children and how they might feel. I stood at the gate and when little Gita's smiling eyes and toothless grin came around the corner leading the procession I opened it wide. The children filed in looking a little shy; the children in line were in still observation, but when Gita reached the table with all the children in a long line behind her the Papa's House girls broke into a huge applause that purchased uncontrolled smiles from all the new children.  It was a very moving ovation, followed by the new children facing each line and bowing in Namaste.

Gita with Sunita leading the new children in the gate.
This was a great day of play with the children free to explore and make new friends. Saturdays will always be family day and all our 97 children will be together at Papa's House.
I will leave you now with some random shots from that most memorable of days. This update was placed in front of the still unfinished end of the year review that I have been trying my best to complete. I hope to find a way this next week to finish it so please check back.
With great appreciation for our small group of very loyal donors, and all of our volunteers for helping us to give a good life and family to our children. And with the fervent hope that our donors will one day be able to meet their Nepalese children, I bid you, Namaste!
Papa

A rooftop shot not quite fitting everyone in.

Our 26 new girls and SnowBall, our family dog.

Our 10 boys from many months before now properly welcomed, but always loved.
Tuesday, February 17
They say that 1,000 deaths is a statistic and one death is a tragedy. In talking about girls who have been sold into slavery in Nepal, some of those who keep records have suggested 40,000 in the few years since anyone cared enough to track it. This can be a mind numbing figure; 40,000 human beings born female in a horribly impoverished country are traded and treated with all the emotional intensity one would apply to livestock. Nepal Orphans Home is committed to helping to abolish this practice.
Last month I introduced you to eight Kamlari girls who we were able to rescue and bring to our "Lawajuni" (New Beginnings) Home in Narti by the kindness and largess of people in Toronto, Canada, who came to the annual Christmas "Possible Worlds" fundraiser put on by our own board member Toni Thomson, the award-winning documentary filmmaker.
At this time I would like to present the "Cleveland 15" who were rescued in response to the extremely kind people of Cleveland, Ohio, who answered the call of Jesse Bach, a 2008 member of our Volunteer Nepal family. Jesse went to Lawajuni, where he taught English and lived with the girls for a month. Jesse was profoundly moved by the hearts and minds of the girls he came to know so well, and learning of the hundreds more still enslaved, he made me a promise that he would not rest until he has helped us bring an end to this practice. He has been good to his word, and in December held the first annual "Imagine" benefit with the aid of Jonathan and Candace Koslen, as well as many others. Since this event Jesse has managed to further inform and inspire and is looking at a return trip to Nepal this summer in the company of a few more volunteers.
And here now is the balance of girls who have been rescued in 2008 by SWAN after the commitment by Nepal Orphans Home to house, educate, clothe, feed, and restore to them their dignity and help them to have a new faith in the family of man. There are no statistics here, just individual humans much like you and I when we were children; but as it was written, these children have suffered the loss of parents and had to deal with unconscionable inhumanity. If you could sit with one of these children for an hour; share  their laughter, thoughts, interest; and feel their kindness and complete lack of anger or hatred; listen to the beauty of their observations and be drawn into their eyes and soul by precious smiles and utter gentleness; then together we would find the way to make enough homes so that all these little girls could know what it is like to have the love, care, and support of a real family. This too, I believe is written.
An update on our boys and girls in Dhapasi is now in the works and will be posted soon.
With a heart full of gratitude to all those who have helped our children,
Namaste,
Papa
Friday, January 9
I would like to donate this update to the 53 volunteers from 12 countries who spent between two weeks and five months each with Volunteer Nepal, the volunteer arm of Nepal Orphans Home. Each of these good people showed the strength of character to step into the unknown and work alongside some of the most gracious and beautiful people on earth. They came to teach, to train, to improve facilities, to heal the sick, comfort the lost, befriend the hopeless; to be temporary Moms and Dads, big brothers and sisters, and they did so with kindness and love.
They came a little uncertain, eagerness mixed with apprehension, and they left with a new sense of pride and accomplishment. They dug deep within themselves and found what they are made of. They saw how the universe works, how so many have to battle the forces of life just to eat each day; they felt the joy of young girls freed from indentured servitude; they received the smiles of remote village students being taught English by a foreigner; they were moved by the hugs of gratitude from the young and old where they served in medical clinics; they were touched countless times by the poor who smilingly prepared and shared their small evening meals with this volunteer from places they will never visit. Volunteering is life changing for all parties involved. We are extremely grateful to each of these fine people for their effort in behalf of Nepal Orphans Home.
Nepal Orphans Home is very proud to present our eight newest girls freed from indentured servitude in the last week of 2008. These eight bring the total amount of Kamlari girls rescued in 2008 to 62. We are able to do this with the help of many: SWAN International, a local Tharu NGO that has worked tirelessly against strong tides of opposition from those who profit from the practice; from the wonderful support of our donors who specify this as the target of their contributions. These eight young girls in particular owe our ability to free them to The Possible Worlds benefit held before Christmas in Toronto by Toni Thomson, the award-winning documentary filmmaker. Please see the update on her benefit below and the Imagine benefit in Ohio, also held in behalf of the Kamlari girls previously rescued and those who will be rescued shortly.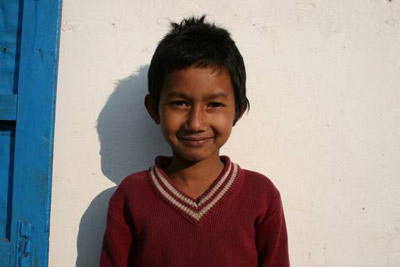 Srijana K.C. 8 years old. Fatherless, Mother unable to care for her. Not Kamlari. Youngest of four sisters rescued.

Asha K.C. 12 years old. Third in line of the four sisters. She was Kamlari for four years.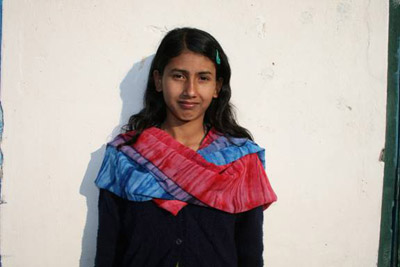 Gita K.C. 13 years old. The second in line of four sisters. She was Kamlari for five years.

Bimala K.C. 15 years old. The eldest daughter. Kamlari for seven years.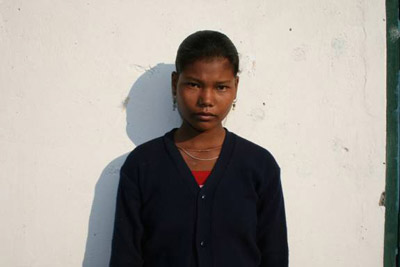 Rita Chaudhary 14 years old. Mother died, Father sold her. Kamlari for 2 years. Wants to be a social worker.

Ranjita Chaudhary 12 years old. Both parents alive but very poor, sold her one year ago.

Junu Chaudhary 10 years old. Parentless. Doesn't recall how long a Kamlari, but very long time.

Sushma Chaudhary 13 years old. Father died and mother sold her.
Doesn't now recall how many years it has been.
I will be going to Lawajuni on Monday the 12th of January. Upon my return we will post pictures of all 62 girls and also will offer a year-end update on our 71 beautiful boys and girls in our two Dhapasi homes.
Until then. Thank you very much!
Sincerely,
Papa
Monday, January 5 – 2nd Annual Possible Worlds Christmas Party
Another special event was held in Toronto, Canada on December 4th — the 2nd Annual Possible Worlds Christmas Party! Despite challenging economic times, all those who attended generously opened their hearts and embraced the incredible efforts of Nepal Orphans Home, jumping at the chance to be a part of such an important event to support our Lawajuni project — freeing more young girls from child slavery in Nepal. It was a very successful event with a great turnout, lots of unique silent auction items and live music, including impromptu sessions with Wicked Grin and traditional Erhu musician Wu-Jian, as well as a surprise visit from world renowned baritone saxophonist David Mott. It was a very special night for a very special cause! Thanks to all for their heartwarming support.