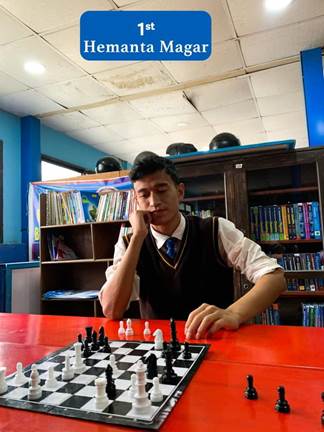 Hemanta (Hem) shown above in blue being welcomed to our home by Sujan in 2013, and in the photo on the right having won a college chess tournament in July of 2023. Hem is a Computer Science student now in his second year of study. His older brother Tilak came to us in 2008 and he is now in his fourth-year bachelors' program to be a civil engineer.

Tilak in 2009 and in April 2023
We are very proud of these guys, both very hardworking, caring, and kind.
********

On the left Rajan and on the right Khemraj celebrating Bhai Tika in 2010
| | |
| --- | --- |
| Rajan on the first day of school, 2009 | Khem at a Saturday picnic |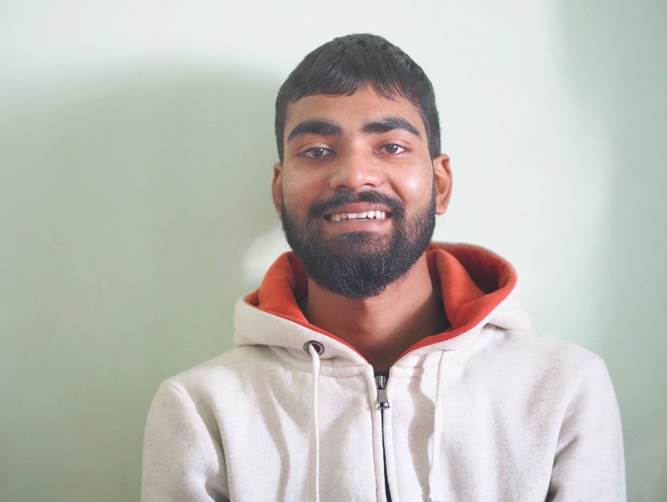 Rajan, now in his first year of a two-year IT degree program in Toronto
And Khemraj (center, wearing sunglasses) after a successful eye clinic he put together in Kalikot district where he was born and spent the first few years of his life before coming to NOH. After college Khem spent a few years working on a hydroelectric plant in Solukhumbu District (home of Mt. Everest), saved his money and then quit to begin an NGO he named "No Limits Nepal" primarily serving his home district. Thus far he has managed to remodel a school which was in shambles and provide for the children's educational supplies, bring doctors for a health clinic, and most recently bring eye doctors for an eye clinic. Now, due to the high incidence of mortality among women and babies in his district, he is focused on building a birthing center that is safe, warm and sterile where the local women will feel comfortable giving birth with visiting OBGYNs that he manages to induce to come from hours away. We are very proud of Khem, as we are of all of our children, many of whom have been inspired to pass on their own good fortunes to others in need. In blue next to Khem is Philip Freeman, a longtime volunteer with the now closed NOH program Volunteer Nepal, lending his heart and hands to No Limits Nepal.
********

Hari on the left and Dhiraj on the right, and in this second photo, MaryKate with Dhiraj
In 2007 we had a volunteer named MaryKate who became known affectionatly as Mary Mom after she inspired us to rescue twelve children from an abusive home for children. She then helped us manage a newly leased house for these twelve and soon after many more. This photo with Dhiraj was taken in March of 2008, when MaryKate, after six months of lifting the spirits of all our children, but in particular these twelve children, said goodbye and returned to her Connecticut home. These twelve young adults now still refer to her as Mary Mom, as the angel whose love, kindness, and attention helped deliver them from a nightmare to a dream-like paradise. Sadly MaryKate passed away from a long illness a few years after her life-changing Nepal visit without being able to return, but exchanging letters with the children for as long as she could. None of us will ever forget her; she became a good friend friend to me. Though many years younger, she was a wise old soul who believed that reaching out to help children should always come first and the logistics will work themselves out afterwards.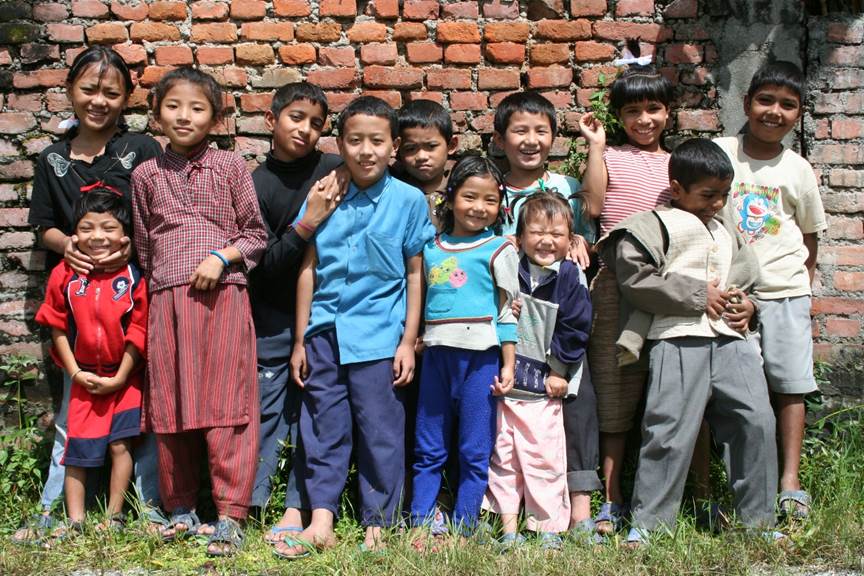 These are the children MaryKate and I were informed about by a concerned neighbor of the home. These children, among whom now are a college professor, employee of the year at a top Australian IT Firm, a second-year nursing student in Germany, and soon to be graduates in engineering, social work, computer technology, and hotel management, had their life trajectory sharply changed by MaryKate's love and can-do attitude.
********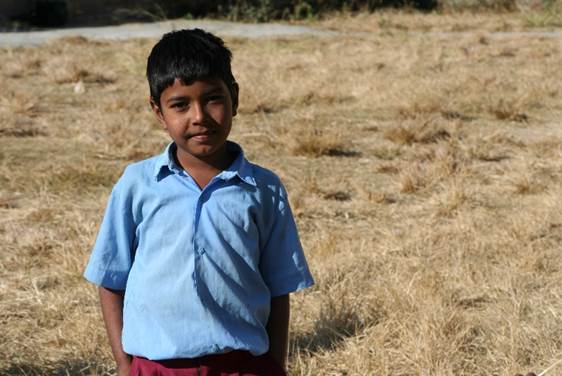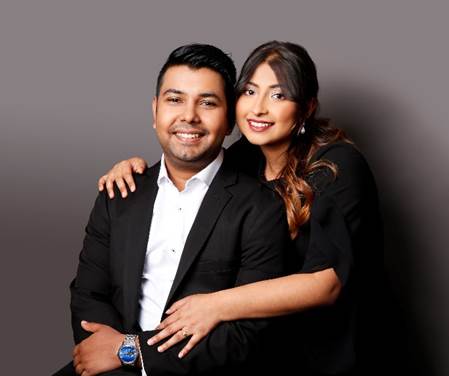 Dhiraj, as mentioned in the MaryKate story, found on the extreme right in the previous group photo, has recently married his long-time partner Khusbu in Janikpur, Nepal. They returned to their home in Sydney, Australia where he works for an IT firm. Dhiraj continues to keep a caring eye on Papa's House and has set a great example to many of his brothers and sisters there.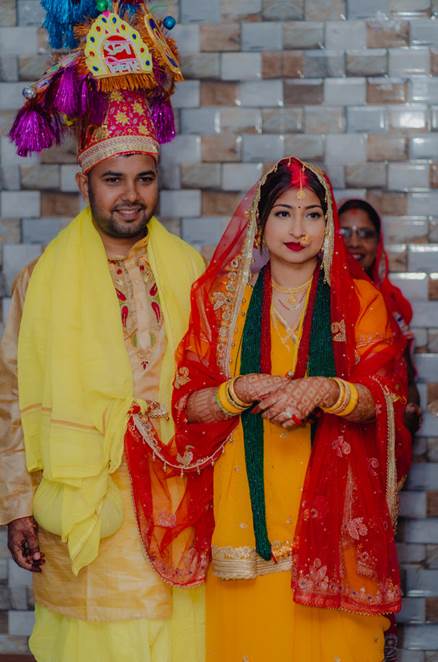 ********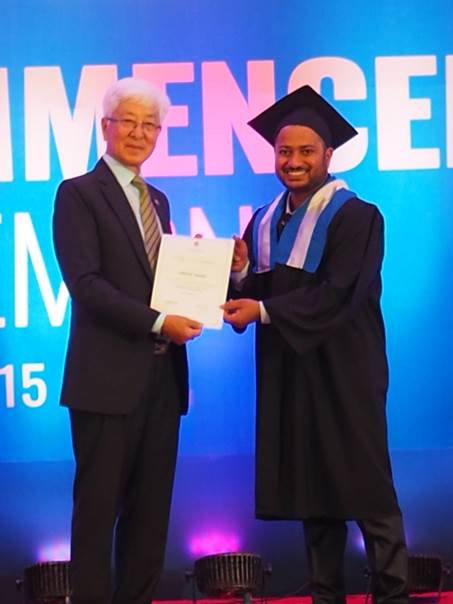 Ashok, another of Mary Mom's kids, graduated from Thames College with his degree in IT and was hired at Kathmandu's most impressive new college. Ashok taught for many years at our Chelsea Center and has long remained a great mentor to our children.
********
Three NOH Board members have spent time in Nepal this year. They do so at their own expense and always bring many boxes of books and other supplies. Anne McCadden and Elizabeth Early have been a part of NOH for many years. They have been responsible for, among other things, deepening our relationship and support of the Goldhunga Home for the Blind over the past 10 years, spearheading and securing the future of our art program at the CECC which has been successful in developing a lot of interest and talent over its many years, helping with our literacy programs at the CECC with many donations of specially requested books for the children, and supporting our programs with Kanti Children's Hospital cancer ward.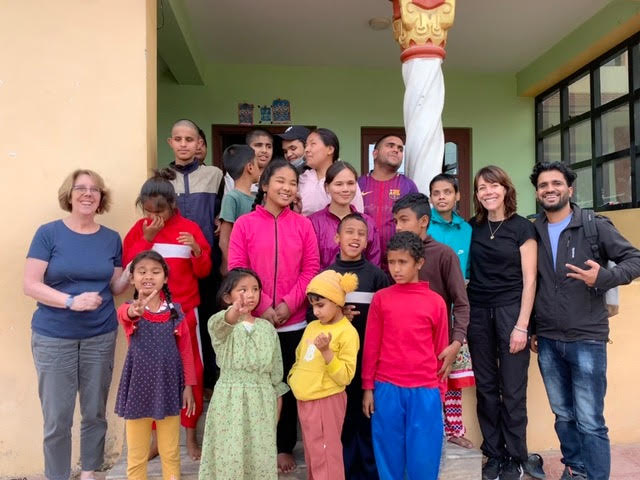 Liz on the left, Anne on the right in black next to our son Rabindra who has managed our relationship with the Goldhunga home for many years.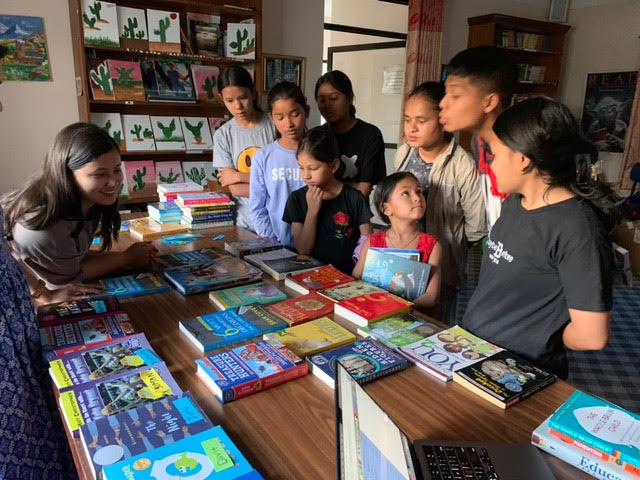 Papa's House children looking over some of the books Anne and Liz brought with them this trip.

An evening of reading organized by Anne and Liz at the Chelsea Center Library.
| | |
| --- | --- |
| Liz, Anne, Sunita Pandey and our art instructor Indira | Discussing students' work |
Anjul, one of our daughters and her artwork which Anne decided to purchase. Our art teacher Indira is a sensational artist himself, with his work hung in galleries around Kathmandu. He has been inspiring our children for about 6 years now.
********
Carola Drosdeck, Vice President of NOH, made a spring visit to Papa's House as well. NOH would not be nearly as influential in the lives of many hundreds of children and adults as it is without Carola's tireless support since around 2007.
Her frequent trips to Nepal are a moonshot in air miles, and, like Anne and Liz, no trip is ever empty-handed. Carola has a great personal connection with many of the children that range from the newest to those who have completed college and begun their independent lives. A retired career teacher, she now lives in Michigan in between Nepal visits. She has championed reading with the kids and because of the countless handpicked books that she has brought and distributed to the kids at the Chelsea Library, we have many who have become avid readers. Her work with our novice teachers at the Chelsea Center has helped turn them into confident, effective and popular adult education teachers. She is a favorite among our adult women, children, and staff alike. Known affectionately as Auntie C, our gratitude for her runs deep.
The Chelsea Education and Community Center remains cooking on all burners, increasing its student population outside of Papa's House for after-school educational help and with a couple of very innovative collaborative initiatives that enhance the relationships among students, teachers, and administrators alike.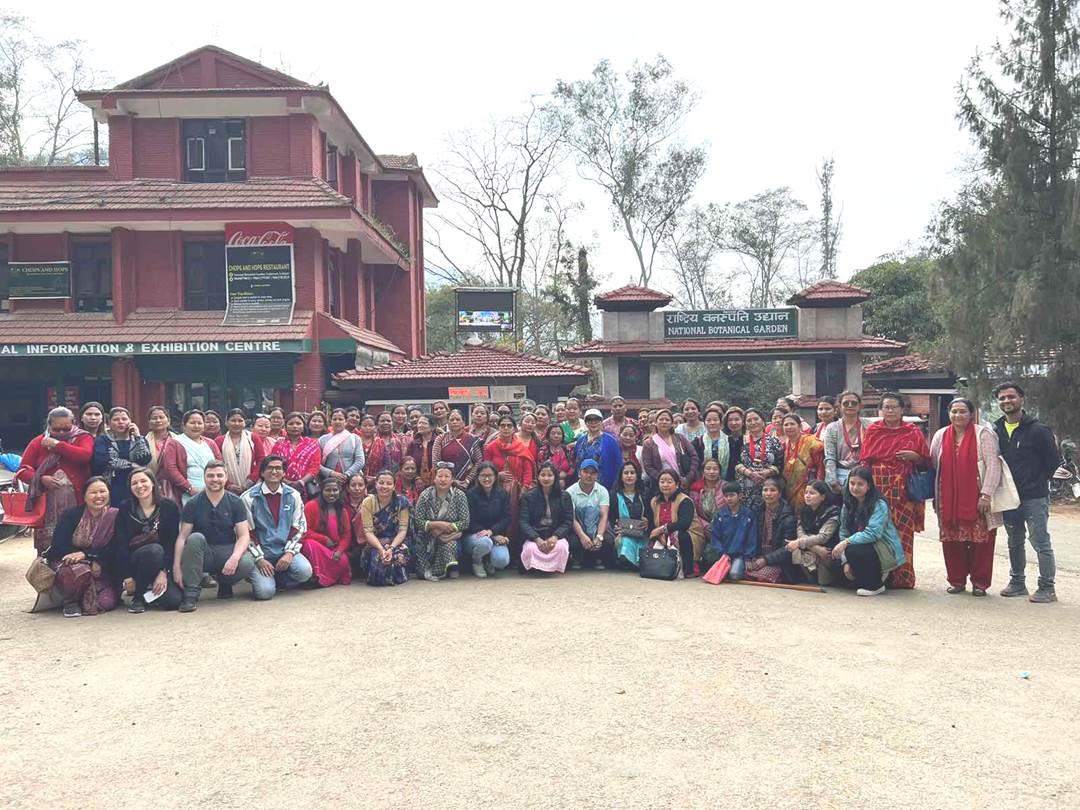 At a recent picnic held at the National Botanical Garden attended by our teachers, staff, and beneficiaries of our adult women's education department.

An annual picnic was held to celebrate Women's Day.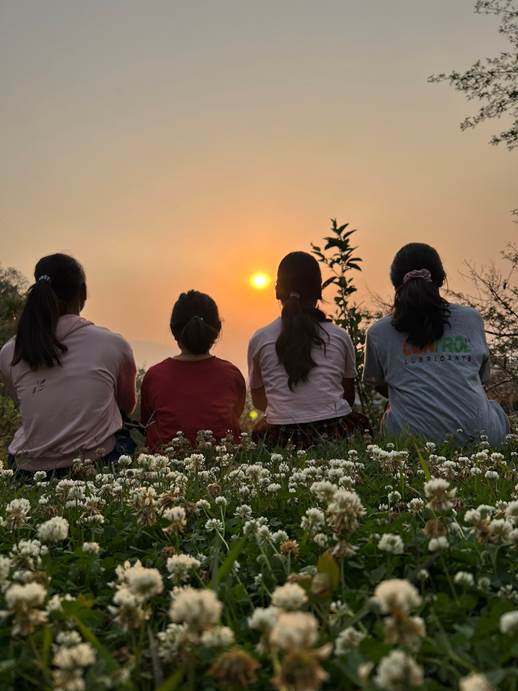 An evening walk after supper to watch the sunset, a perfect ending to a long and purposeful day.
(These and many event photos by Gita Bista, daughter and Papa's House photographer)
********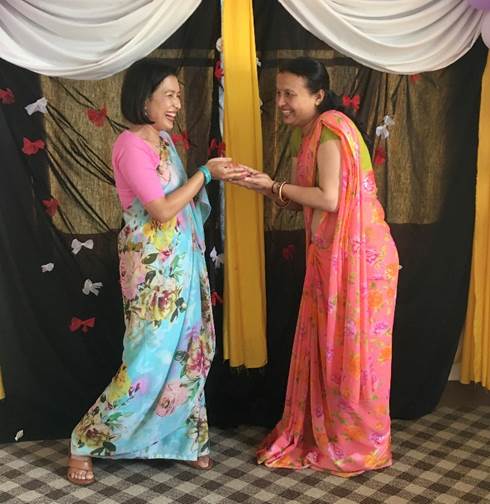 In June the transfer of Directors took place in a key exchange ceremony at our Chelsea Center
Sushmita Thapa on the left received the keys from Sunita Pandey who has spent the past 10 years working for Papa's House in a number of positions culminating in the Directorship six years ago. We will miss her calm and professional approach to guiding the children, staff, and our many outreach beneficiaries. Sunita had the good fortune to win the Diversity Visa in 2022 which allowed for her family, after careful vetting, to immigrate to the United States. She left with sadness as well as an excitement for the family to begin this new chapter of their lives.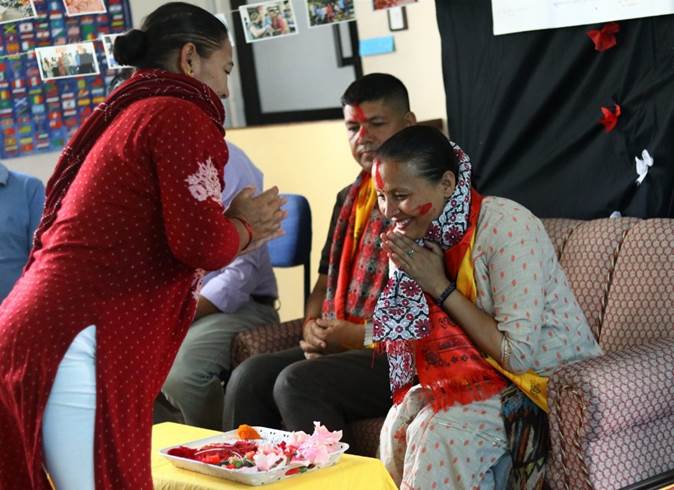 Sunita Pandey alongside her husband, being given Tika by Papa's House first staff member in 2004, and still a house mother today, Dhan Kumari Gurung.
Sushmita Thapa came to work for NOH in 2008, hired to be the Director of Volunteer Nepal. She did an outstanding job of growing the volunteer department into what became the number one volunteer organization in Nepal. Most of our volunteers were graduate students, teachers, and young professionals, and in getting to know them inspired her desire to return to school and get her master's in gender studies first, then a master's in psychology. Sushmita has spent many years working with children and women's issues and helping their awareness and voice in Nepali governance. She specializes in counselling children. When we learned from Sunita Pandey that she would be leaving, we called Sushmita. We brought her up to date on our Chelsea Center and the work it is doing with women, and our desire to begin counseling programs and some ideas in holistic education psychology. With our increasing focus on the Chelsea Center, we thought she would be the perfect person to become Director of Papa's House and lead us into our third decade of serving children in need, our outreach programs, and the Chelsea Center. After a brief deliberation she called back and said that she would be delighted to take this on.
Sushmita called a friend that she has worked with over the years, Jessika Maharjan who holds a master's in Gender Studies and a bachelor's in development studies. Jessika assumed the role of Assistant to the Director.
********

The final honor by Sushmita to outgoing Director Sunita Pandey
Sunita and family have settled in Frederick County, Maryland where she is currently being vetted for a teaching position in the county school system.
********
In early summer many of our older children, those still in college or having graduated, organized a picnic. It has always been a pleasant daydream to think of the day when all our children reunite. They do a good job of staying connected with social media, and those remaining in our area of Kathmandu see one another frequently. But now with some of our children in Japan, Germany, Croatia, Tanzania, Malta, Australia, Portugal, and, just a few days ago, Finland, as well as the US, our Papa's House diaspora grows.
********
On Monday the 14th Urmila left Nepal to take up life as a student in Helsinki, Finland studying International Business. She is a licensed Dental Hygienist and late last year was offered a high paying job in Kuwait teaching student dental hygienists. She was tempted but turned it down with the hope that she would be accepted into Arcada University of Applied Sciences, and in late spring she was.

Encouraging and supporting the dreams of our children has always been goal number one.
********
A quick update on our son Bimal: his summer spent working as a mentor in a Charlotte, North Carolina school has come to an end and he will be returning to Davidson College as a Junior, possibly in a double major of Economics and Art. He is doing a very fine job academically and has won awards and recognition in several areas at the college.

Bimal shown here with a mural he did for the school where he was a student mentor.
********
And to conclude our Summer of 2023 NOH update, we would like to take a moment to say thank-you and good luck to Prashanna Bista, our outgoing Director of the Chelsea Center. Prashanna was hand-picked by his predecessor Hillary Bernhardt. He began as a young man full of energy and spirit, an academic with a history of success, and quickly established a relationship of trust with all his teaching staff, and the women and children who attended classes at the Center. He was passionate about education, inspiring his staff to strive for excellence, and helping our children find their best selves through their own hard work and his compassionate mentoring.
During his six-year tenure with us, Prashanna completed his bachelor's degree in physics and began a master's in psychology. He was keen to apply what he was learning to teaching methodologies, always looking for ways to reach individual children and inspire their "eureka moment." Prashanna met his soul mate through the CECC and they married. Along with marriage, Prashanna's spiritual side was quickly evolving, and he created many You-Tube videos accordingly. Please find his channel here:  https://www.youtube.com/@self-awareness5818. One day Prashanna began to feel that he might have given everything he had to give to teaching, and though the level was high, he said he felt it would be disingenuous to continue if he could not bring new ideas to the table. So, he has decided to return to school and seek a PhD in psychology with a special interest in educational applications. NOH has had the great fortune in attracting very special people to take on the Directorship of the CECC. Under our current administration we are confident that this will continue to evolve even beyond the unique center it is.
Our sincerest thanks to Prashanna. Good luck and Godspeed.
Papa