I just returned from Nepal, where I spent my days doing maintenance, mostly painting, and my evenings with the children. They remain the same happy souls as ever, just bigger and a little more serious in some cases, at least among those who have let the internet take them outside our walls and wish to talk about it. It is a little surreal to see your children after a year's time has passed. I would watch them and think how they had grown, such a sneaky thing for them to do.
The young boys' voices were cracking an octave's scale, and comical looking hair could be found sprouting from upper lips, with which they knew not what to do. These little boys appearing as young men begged me to wonder what other secrets they possessed, what new knowledge had they acquired in my absence, what confusion might they be living in. The girls who suddenly became teenagers in that same year snuck that in on me as well. After 17 years of growing with these children, it was startling to see what happens when you are away.
In all our letters over the year, not one child said to me, "You know Papa, my body has changed so much, I am taller, stronger, and I am more confused than ever," but when a line formed after I came through the gate and the children shyly looked into my eyes and awkwardly hugged me, they let me know exactly that. Hugs tell a lot. The youngest children, those living light and easy, give exuberant hugs and they are the best. The middle years run a gamut between shy and giggling to others who offer quick and strong demonstrations of new maturity, and our older children hug me in a show of their advanced age, some respectful and reserved, tinged with a curious sadness, and some with open heartfelt enthusiasm.
Our older children all seem to be very comfortable in themselves. They have begun to carve their identities at school and in work, in marriages, and as mothers, and they meet my eyes as equals in possession of their lives and independence. They are discovering what it means to be an adult, and I caught a glimmer of irony in the smiles of some that told me they have learned that we always told them the truth as we prepared them over so many years' time for this day.
When I left them all and returned to my room to unpack, I felt the weight of having missed a year of eye-to-eye conversations, of checking in with them and asking how they were; the loss of a year of laughter, of soothing anxieties, of healing wounds or comforting sickness; and a year of learning and teaching, of sharing and helping in these, my children's lives. There is no making up for that, and the happiness and laughter we all just shared in our reunion was turning for me into a viscous sadness as the night descended.

Priya (facing the camera) and Manisha
Saya had arrived just after I had left; I was her first foreign encounter, and she was cautiously intrigued.

Pretty applying Mehndi to Samira's hand

Shristy

Samira

​Anjul and Zoya (note the Mehindi)
This year the Dashain/Tihar celebrations fell entirely in October.

​Kite flying is one of many traditions enjoyed during Dashain

Papa's House Director, Mrs. Sunita Pandey

A pensive Priya, now a teenager

Saya and Zoya having received their blessings

Dawn Kumari, house mother since 2004, giving Tika
Seema and Mary, both of our College House
Gita, one of four sisters, with us since 2008, and young sisters Saya and Zoya on a call from their village.
*****
In other exciting October blessings...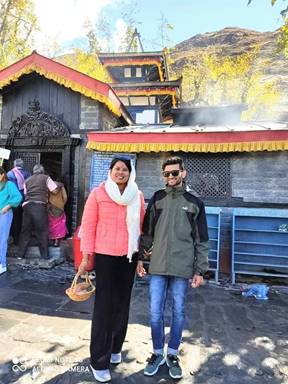 Our House Manager since 2012, Anita, married and traveled Nepal with her husband for a honeymoon.
And...
​
I met our married daughter Sarita's son, for the first time. Mother Sarita and son Allal are both doing wonderfully.
*****
​Three years ago, Nepal Orphans Home had informed many of the outreach projects that we had been supporting for many years that we were going to begin to begin to wean them off of our support, and with each year we reduced that support.  When 2020 came around we had pretty much stopped the support for most of the projects. We continued to pay all the school fees for 38 children who live in our village, and we continued with some support for the babies at Bal Mandir, for the children with cancer at Kanti Children's hospital, and the Ronald McDonald-type housing for the parents of cancer patients. And of course, NOH continues to support the Goldhunga Blind Children's Home.  But in late March when Covid began closing businesses and schools, the income ceased for many organizations. After a few months of business and industry closings, many of the people in our village also fell on very difficult times. So NOH began renewing our support and being a good neighbor to our community. Our own income from Volunteer Nepal ended with the arrival of 2020 and we found ourselves turning towards our savings. Pretty much from late March of 2020 through the present time, Covid has changed the way everyone lives. Our children have been isolated in each of our houses from their brothers and sisters in their homes, and school has been entirely online. Only recently with the arrival of October, the government has eased restrictions and though mask-wearing remains a mandate, all but schools had opened. But in a Hallelujah moment, on Wednesday November 10th, the schools finally opened back up for in-person learning.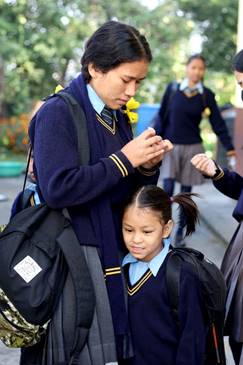 Kids walking to school first day and Purnima helping Saya with her ribbons
| | |
| --- | --- |
| Kajul and Ranjana | Pushpa and Purnima |
 The above school photos were taken by Gita Bista.
In stark contrast to our children on their way to school, and who will have tea and biscuits after school before heading to our Chelsea Community and Education Center for two additional hours of teacher-assisted help with homework and advanced lessons in computer, math, and holistic education are the following children: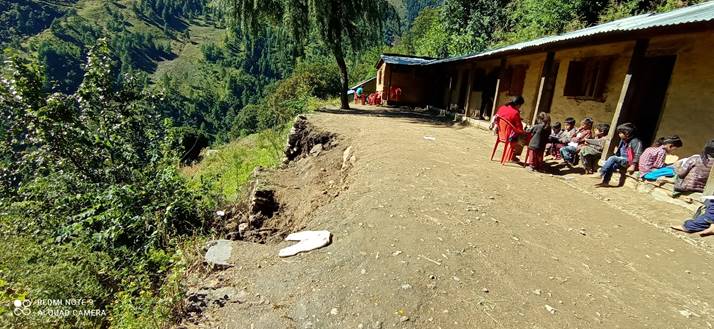 Early this week Bipin Singh, elder brother of our daughter Mary Singh, sent these photos to me and shared a situation that can be at least partially remedied. This is Mary and Bipin's village, and this is its only school. It is high in the mountains and quite remote. Winter is about to descend upon them; already the nighttime temperatures are near freezing. There are 50 students in this school, 15 in kindergarten, 12 in class one, 8 in class two, 4 in class three, 5 in class four, and 6 in class five. You can see the erosion that has decreased the "playground." Bipin has reported that the children have no socks or shoes, only their sandals; they lack winter jackets, gloves, and stocking caps. There is a shortage of pencils, pens, paper, and erasers. We are on it. We are arranging to have these things purchased and distributed, hopefully by the time this update is being read. Our children are fortunate to have found their way to NOH where we have such a personally invested donor base, and from that we will continue to share, as we can afford, our good fortune.
Thank you one and all,
Papa