This early fall update brings news of new chapters in many of our children's lives. We begin with two summer weddings:
| | |
| --- | --- |
| Bimala when she joined us in 2007 | And Saroj in 2004 |
| Bimala with her groom | Saroj with his bride |
Bimala said yes after a long courtship to a college professor. He has his master's degree and, while teaching, is working towards his PhD. He has encouraged Bimala to continue in college at least to the master's level. His nontraditional perspectives on marriage, and those of his parents were enthusiastically embraced by us all.

Attending to their sister: Gita on the left, youngest sister Srijana, and Asha
These beautiful and remarkable young women have brought great joy and the warmest of moments to Papa's House over the last 15 years. They have set the standards for hard work, helpfulness, kindness, and inspiration to all the other girls.
And our son, Saroj, has not stopped smiling since the February day in 2004 when I had the good fortune to meet him. Saroj is a very creative, kind, and comforting young man. He excelled in Taekwondo but has such a gentle and quiet disposition. After he completed his education he worked with our Volunteer Nepal department for many years, winning high praise from the volunteers that he would usher to and from their placements. One in particular, Eliza Heerboth, found something more in Saroj's excellent character and sincerity. They felt an attraction that has stood the test of time. It was recognized as love long before Covid existed, but then having survived two years of Covid separation, they finally were able to be married last month with Eliza's parents and aunt present in Nepal for the wedding.
Both Bimala and Saroj will always be remembered by the younger children for the guidance and love that their role as big brother and sister enshrines.
*****
| | |
| --- | --- |
| Dhiraj helping Ishwar | Dhiraj at graduation from Federation University in Australia  |
Dhiraj was a precocious and charming young man, and somewhat sensitive to other's frustrations. He always smiled and reeled them back to calmer waters. Infinitely patient, curious, and with a work plan of being indispensable to the boss and his colleagues, has led him to early accolades in the business world. Graduating from an Australian college for computer technology a year ago, he joined Systemnet in Sydney as a Systems Engineer, and last month was awarded Employee of the Year with over 1,600 billable hours delivered to the company. Not a bad debut for a rookie. Dhiraj will be returning to Nepal for three weeks this fall to spend some time in his birth village where he has commissioned a house to be built for his mother. He has shared that he is also looking forward to spending time in Dhapasi with all the brothers and sisters who remain there, and in Papa's House.
*****
| | |
| --- | --- |
| Sapana as a young activist in 2006 | and stomping grapes in 2022 |
We have always encouraged our children to have dreams and believe in them. These dreams are dusted off occasionally, adjustments made, and as our personal journey through time and life require sometimes the old dreams are replaced with fresh new ideas. Sapana was at twelve an activist. She wished to dedicate her life to the abolishment of the Kamlari practice, of which she and many scores of other girls that NOH rescued and provided homes for, were a part of. She protested in the streets, at rallies, and after quite some time they were granted an audience with the Prime Minister of Nepal. That was in 2010, and months after that meeting, the practice of Kamlari was legally abolished. Sapana then allowed herself to relax and move from our Lawajuni Home (in Narti of Western Nepal) to Dhapasi, and begin again, in earnest, her education. She graduated from college as a business major and worked three years in finance.
But during her work years her new dream became simply to secure a visa and be allowed to leave Nepal, to find what is around the next corner. Her dream interrupted by two years of Covid, Sapana finally landed at the Casa dos Varais in mid-August, perched on the banks of the Douro River in Lamego, Portugal.  There she joins our daughter, Anu Maya, in learning the ropes of running a winery with its own established label, and whose grounds offer accommodations for international guests, in an 18th century family estate. Sapana's education there will consist of learning Portuguese, how to grow grapes and see them mature into fine wine, how to set a sophisticated table and serve patrons to the manor bred, giving tours, and to learn what she can about running a family business such as this. This will be a long commitment, but she will in time, receive a residency visa that opens all of the European Union to her future dreams.
*****
More Dreams
| | |
| --- | --- |
| Chham, came to us in 2004 | Deepa in 2006 |
Chham received his bachelor's degree in social work in 2019 and is now on his way to Australia to do his master's degree in the same. Deepa finished her bachelor's in 2018, worked as a teacher in Nepal, and then went to London where she is earning her master's in social work.
*****
Brother's Day Celebration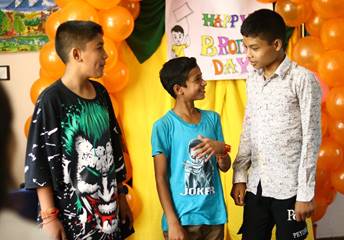 Mrs. Sunita Pandey, our director, watching one of the skits written, produced, and acted by the children
NOH has always celebrated "Brother's Day" — along with all of Nepal — and "Sister's Day," a celebration known only to us. The gender-playing field in Nepal is assuredly biased towards the boys. But our boys have always worked to level that with love, and respect given daily to their sisters, and once a year in a grand celebration.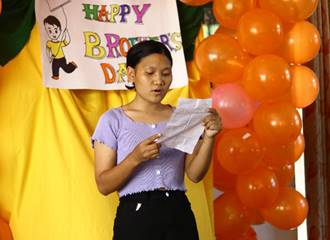 There are speeches, dancing, and games meant to bring out the silliness in us all, and a great meal.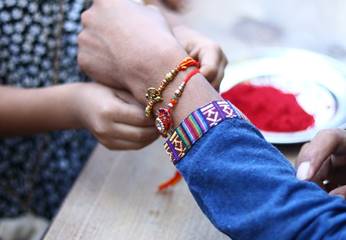 Rakshabandhan (sisters tying a bracelet on their brothers as a blessing and their commitment to being brother and sister for life) and, on the right, the amusing price of admission for the brothers.

A few of the older boys who came and photos from the year of their first brother's day with NOH

Ashok: Four-year degree in Computer Science

Lalit: Last year of a 3-year degree in Computer Science

Ishwar: 4th and final year Medical Lab Tech

Tilak: 3rd year Civil Engineering

Rabindra: 4th year CPA

Nama: Basketball aficionado and entrepreneur 
in Croatia


​Ram: Degree in Culinary Arts
 
And still a few more we have welcomed into the world of adults:

Sharmila, in 2006, has graduated from college and entered the Police Academy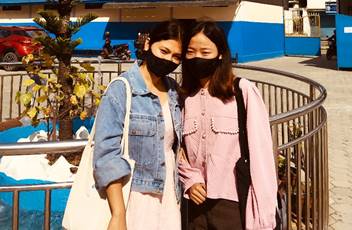 Best friends in 2005, Apsara and Bhumika still live together and are best friends today. Apsara on the left has a bachelor's in information technology and works for Innovate Tech, primarily as a video editor, and Bhumika, also with a bachelor's in information technology, now works as a content writer and a graphic designer. They plan to work for two years in Nepal and then apply for their master's in business technology in America.
*****

Sisters, Juna and Kamana, at our Narti home in 2008
Today Juna just finished her second year of college with straight A's and has entered a bachelor's in computer science, while older sister Kamana is a local teacher and has been attending a German language course and will soon be on her way to Germany to join three of our girls who are in different years of a work/study program there for nursing.
And just a few more to share who have made interesting choices: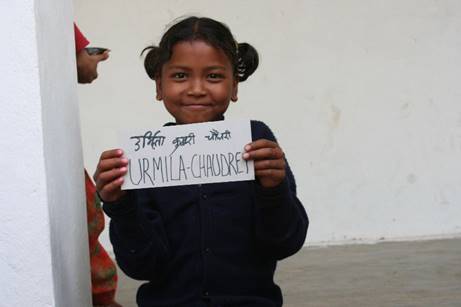 Urmila: Dental hygienist, will begin Nursing School this fall at Park University, Missouri
| | |
| --- | --- |
| Kamal: Teacher and 3rd year Business Management | Sandhya will be attending college in Japan |
| Anisha learned German and will do a work/study program in the Netherlands | Khusbu: Bachelor's in Hospital Care Management |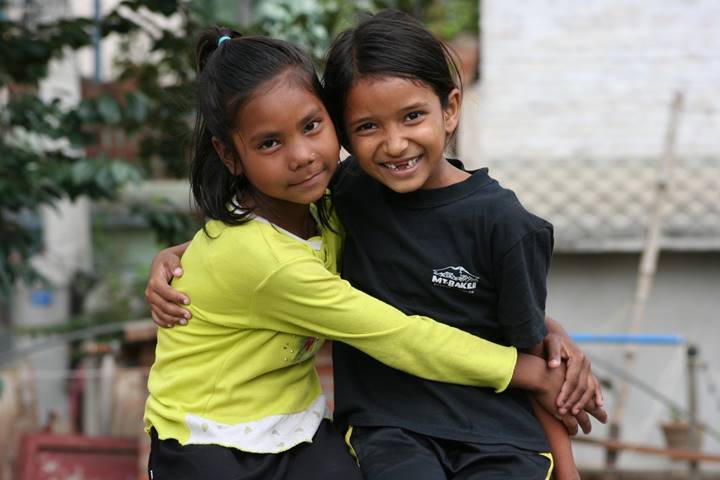 Kailashi, always an avid reader and writer, is a Humanities major and will become an English Lit. Professor Muskan is doing her Bachelor's in Hospital Care Management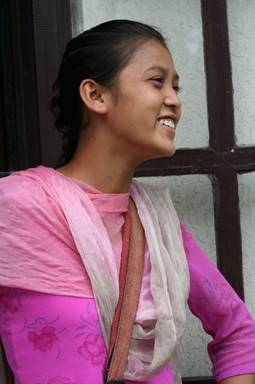 Mary, Bachelor's in Business Administration, and Sima who came to us in January 2012 is now learning German and will soon be going to Germany as an au pair
*****
Kajul and Suman, both in class nine presently, were recently selected to attend a three-day National Taekwondo Tournament a day's travel from Dhapasi. Suman won three matches and earned a silver medal while Kajul won two matches and earned herself a bronze. We are very proud of them.
| | |
| --- | --- |
| Suman in 2012 | Kajul in 2012 |
| Suman at the award ceremony | Kajul on the right |
*****
In closing I would like to give a very special thank you to Amanda Tapping, acclaimed actress and director. We met Amanda in 2010 when she and Jill Bodie came to visit NOH in Dhapasi after a few months' correspondence. Amanda and Jill spent several days with us and filled the children's hearts and minds with their incredible warmth and humor. They had formed Sanctuary for Kids Foundation and took us in as one of their beneficiaries. Despite a grueling schedule with their professional lives, they managed to hold yearly conventions that were annual meccas for their legion of fans and provided great support for their chosen charities.
In 2018 Sanctuary for Kids retired as a foundation after a very successful farewell year. But Amanda's loyal following was not ready to let her go, it was then that GABIT was formed. I believe this stands for 'Get Amanda Back in Town'. Their first convention had to be postponed due to Covid, but two weeks ago it was held in London and was a huge success, earning further and very unexpected funds for their charities.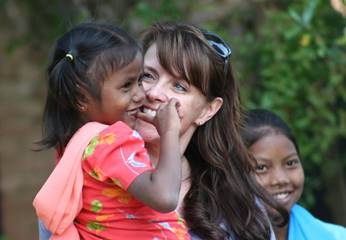 In 2010, Amanda among our 120+ children, each of whom received her individual hug, photo, and enriching smile. People like Amanda Tapping, Jill Bodie, and all the people who created GABIT and work so hard to help others, are true luminaries in today's world.
Thank you very much,
Papa