November 27, 2011
Bumikha has led our children to school and home again every day for the last several years. But this year we noticed the walk seemed to tire her, and she would arrive at school labored and sweaty. However, as is her character, she would still be smiling broadly as she high-fived me before entering the gate. Bumikha has cerebral palsy (CP). In the six years that she has been with us, she has improved from a child not walking at all to our leader, and we always thought it best that she be mainstreamed. Then at the urging of some of our volunteers trained in physiotherapy that we had placed at the SERC School, a wonderful private facility for children with CP and others with physical and speech disabilities, our Volunteer Nepal Director Jehan Seirafi took Bumikha for an observation. Bumikha had a wonderful time and made quick friends with many. Upon the doctor's comprehensive and enlightening assessment and Bumikha's desire to attend, we enrolled her.
A few days later a small school bus came to our gate to pick up Bumikha for her first day, and all the children from my house were with her to send her on her way. This was in September and Bumikha has done really well at the school, learning many things that will help her to become independent as she grows older.
Bumikha returns home excited to share her day each afternoon, and anxiously awaits the bus's arrival in the morning.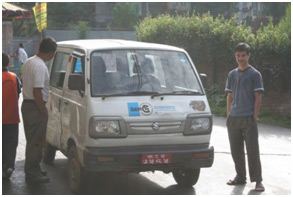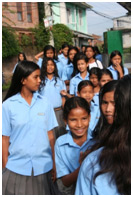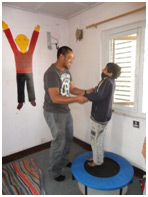 Bumikha saying goodbye, some of the children walking her to the gate, the SERC bus and driver,
and on far right a great Volunteer Nepal Volunteer Norman Rodriguez working at SERC.
*****
In the last update I spoke of Mary who had just come to us. Mary is doing wonderfully; she has shown great talent with arts and crafts, sewing, and knitting, and is a really good dancer. She has many close friends in our Sanctuary House, managed by Gita, and is doing very well in school, receiving praise from her teachers for her manners and intelligence.
Mary on the right with Muskan
*****
The little house that we leased next to our grounds has proven to be a wise move; during our Dashain and Tihar break from school it was used constantly for lessons as well as Sirkka's room.
We were able to take a lease on the small plot of land next to the house where we now have a bountiful garden. One Saturday the children built a bamboo fence cutting all the bamboo from our own back yard. While some worked on the fence, others were preparing the soil and removing debris. As of this writing we have drastically reduced our vegetable purchases, instead visiting the three gardens before each meal for spinach, lettuce, broccoli, cauliflower, turnips, and cabbage, along with lots of herbs.
*****
Laurie Levine, author of "Blessings and Gratitude" and a long-time friend of Nepal Orphans Home, came through once again this year in helping us to purchase the children's Dashain Kurta Sulwas; we are most appreciative of her kindness. The boys all receive a set of new clothes and the girls their Kurtas a week before the Dashain holiday begins.
*****
On Saturday, September 17th, the children of Papa's House inaugurated the very first "Sisters Day" in Nepal, an event which we will hope to find practiced nationwide one day soon.
The boys of Pratap's Possibilities House put on a 2.5-hour-long program that was six weeks in the making. They gave up their free time each afternoon for 90 minutes of practice to perfect an afternoon of song, dance, drama and comedy to the very enthusiastic appreciation of their sisters. In addition they prepared a multi-course Nepalese meal and served the assembled crowd of sisters, staff and honored guests.
The boys applying "tika" to the foreheads of all their sisters while offering each a blessing.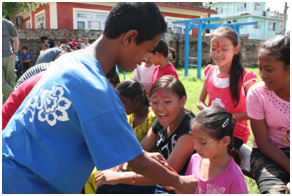 After the "tika" they tie a friendship string to each girl's and guest's wrist.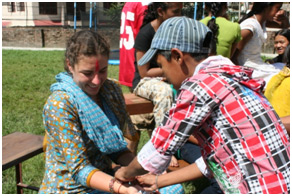 And then the performances began to very enthusiastic applause. There was dancing and singing:
The girls prepared a list of requests that were dropped into a hat and the boys all chose from the hat
and had to improvise what they read out: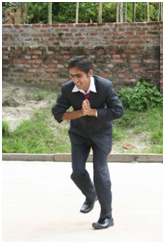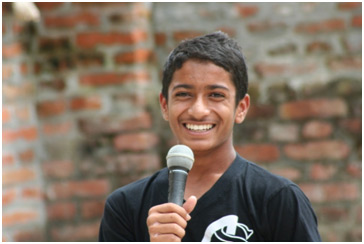 The list included Hikmat having to "hip hop" dance and Ashok having to propose marriage.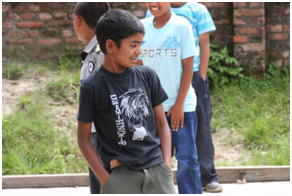 The smaller boys performed to a few Michael Jackson tunes.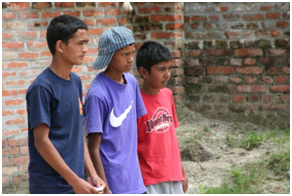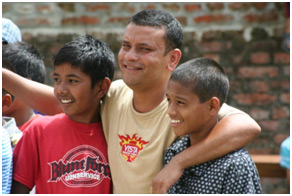 And the bigger boys put on a wonderful drama written by Pratap Dad.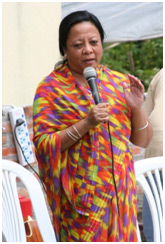 Saroj danced, Pratap crooned and our Honorable Skylark Principal blessed us all.
*****
Each day can be both an eternity and a fleeting moment. The Dashain holiday is a time which has a shadowy ponderous presence in my thoughts much of the year and as the summer ends it ambles towards me capricious and jaunty. This year we had fewer children wishing to return to their distant villages and fragile bits of family, but good children all, we still managed to reunite around 80 of them. The last 30 days before the holiday we all feel the pendulum of time marking our hearts, drawing us near to the inevitable parting. And then suddenly it has come and children begin to trickle out the gate with quiet acceptance, long last looks and waves before rounding the corner from our sight. The last group to leave is the girls we send back to Narti where our good friend Krishna Chaudhary of SWAN waits at our old home Lawajuni with assembled brothers, uncles, moms or grandparents for our chartered bus. On the final morning we wake at 4 and have the girls assembled outside 30 minutes later to walk a half mile to meet the bus. It is a somber time when boarding the bus, when those leaving give hugs and long last tearful looks to the rest of us in the predawn light while the crew lashes down their luggage on the roof. Then the bus growls to life and the driver, indifferent to our hearts, lurches forward and the children's distance grows until they are seen only in our mind's eye. Much of our staff has already left for the first two weeks of this month long holiday. I look into the inquisitive faces of the 15 children left in my house.  The moment calls for a change of heart, to let them know what a great time we are going to have this month, and so I quickly take to the front of the line and call out "walk this way" as I lurch forward like Quasimodo in the semi darkened street towards our home. The first creeping of daylight brings soft shadows of numerous small Quasimodos diligently following me, and a few older girls bringing up the rear while praying the neighbors remain asleep.
*****
We named it our "Dashain Learning Camp" and after weeks of organization, the first bell was about to ring. Anita Mahato, who had been delegated to manage the month long camp, felt the attention of assembled teachers, volunteers and the children waiting her word to begin.
The children had all selected four subjects they wished to take each day, which consisted of five hour-long periods. The day began with basketball at 8 coached by Sam Isherwood who has been several years with us working in the Volunteer department. Three periods of math were taught by the Skylark math teacher and Tom Mayer, a volunteer from San Francisco; English and English handwriting by Lou Poynton, a great friend and volunteer from Australia whose fascinating and worldly wise son Wil flew in from Russia for the week and helped with math and offered captivating commentaries on life. Sirkka Turkki from Finland taught quilt and pillow-making, which expanded to side bags and knitting. Kylie Penneck from Australia taught art and English, a local dance instructor taught dance, Jehan Seirafi taught three exciting and window of the world opening classes of computer. Manon Pruvost and Elodie Lionette came from France and taught drama, mask-making, handwriting and art, and Pratap taught guitar, while various other volunteers came to help in between placements. This was an unmitigated success that the children loved; the days were full and fast-moving and the children's minds chock full of new ideas and understandings they were anxious to share in the evenings.
| | |
| --- | --- |
| Sam coaching basketball | Sirkka, her room filled sunrise till sunset |
| Manon with a puppet drama they performed | Samjhana, if not dancing then with Sirkka |
| Wil with his mom Lou | Sabu our dance instructor with a few girls |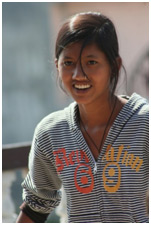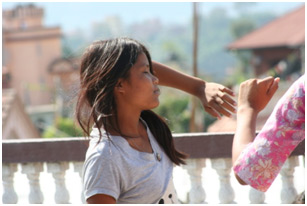 From top left: Anisha, Samjhana, Gita, Asha, Sapana and Lalita during dance class.

Jehan in two of her very popular classes, and her husband Shane helping teach while visiting us.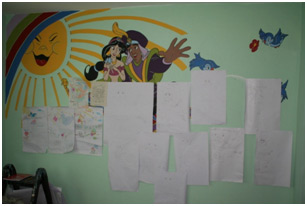 Kylie Penneck starting her mural and posting some of her students' fine work.

Manon and Elodie conducting drama class


Tom Mayer teaching math


Anita Mahato teaching Binita handwriting


Lou Poynton teaching English and handwriting

Sirkka saying goodbye to Anita and Pratap on her last morning before returning to Finland.

Some of the creations the kids made under Sirkka's talented and loving eye.
*****
We try to schedule twice yearly visits to our local dentist who sends an advance team to check teeth and schedule visits. We then take the children 4-5 per day and walk the 20 minutes to the Dentist Chakrapath office for anything from cleaning to root canals. Each visit seems to lower the amount of cavity-filling or other work needed beyond routine cleaning.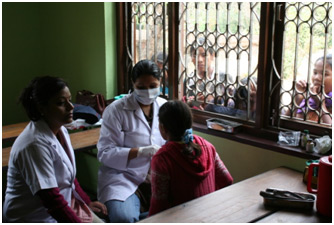 *****
Bhai Tika comes during the Tihar festival. It is the last day of 5 that worship birds, mammals, little brothers and Laxmi, the Goddess of Wealth. It is a fun and festive week, the night of Laxmi Puja being particularly long and colorful, with lights or candles illuminating the night in abundance. Business and media all cease while everyone revels; it is interesting to note the empty shelves everywhere both before it begins and for a few days after the close of Tihar, when the wheels of commerce begin a slow grind back into production. During Bhai Tika, our girls serve the boys, and after the puja when the girls are allowed to eat, the boys in turn give a small gift to each.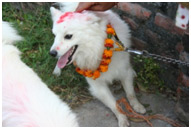 The wonderful dogs of NOH have their day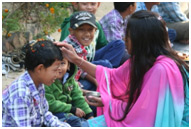 Followed by the boys, some shown here being honored.
*****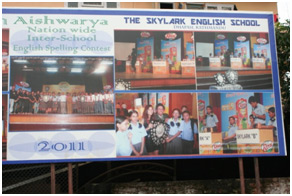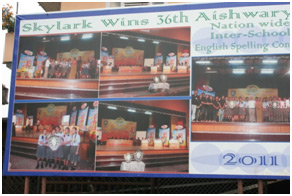 This year Skylark English School won the Nationwide Inter School Spelling Championship. The children on the two winning Skylark teams work extremely hard along with their very dedicated coaches. The children and staff of Nepal Orphans Home are immensely proud of Skylark.
*****
And this pretty much wraps up another update. Today, Sunday, the 27th of November, the children have begun their first term examinations. The houses all grow quiet with concentrated efforts; I hear light switches clicking on at 4:30 when I rise, and older children are still studying when I insist they get some sleep long after all our neighbors and their dogs have retired for the night.
The exam period will last for two weeks and then we will start decorating for Christmas. The children all made their Christmas list a couple of weeks ago, and once again I was touched by their humble requests. Christmas is a very special time at NOH and this year many former volunteers and friends from many continents have let us know they wish to spend their own Christmas with us and will be arriving a few days beforehand to share in the joy and help the staff prepare. I have a plan and hope to be able to teach the children the words to a few Christmas carols. On Christmas Eve we'll start a new tradition with an early evening outdoor sing along by candlelight before all the children return to their homes with their house parents and their own Christmas Eve traditions. We will be sure to film this and get it online for you all to share.
Thank you for taking the time to read this update.
All my best,
Papa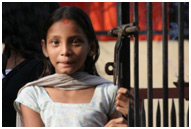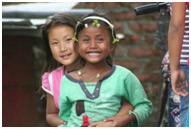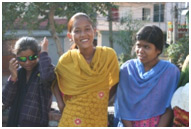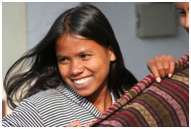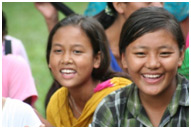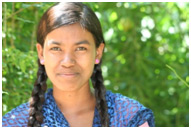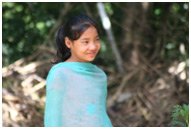 August 12, 2011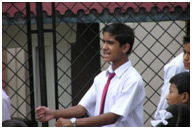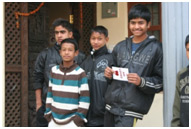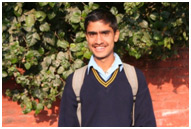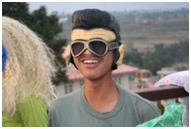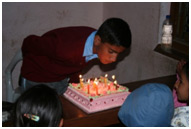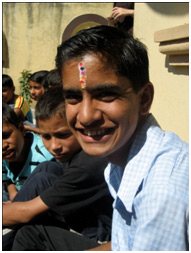 The above photos represent but 15 days in the life of a young man who came to Nepal Orphans Home in late 2005. Hikmat had been taken from his village by the Maoists and sent to a training camp to become a child soldier. He and a few others escaped one night and made their way back to their village. His village, along with the town where his uncle lived, were facing many problems with the Maoists; each family was required to give one child to become a member of the "People's Army" and his uncle, who was the principal, lost his job when the Maoists closed the government school.  Hikmat's uncles gathered all their children and one night left for Kathmandu looking for a safe haven. When Hikmat arrived, the eldest child with four cousins in tow, I was struck by his mildness and sensitivities. The story of his conscription and escape was incongruous with the frail boy before me with very earnest eyes and a nervous hopeful smile.
In each photo you will see that he is smiling; he does so because he loves so much and he wants those around him to always feel his own hope, his friendship and his appreciation for life. Hikmat has over the years allowed his quiet hope to become confidence, as he became certain early on that he had a home and a family, and nothing would interfere again with his dreams. As Hikmat shed his shell he began entertaining us with song, humorous dance, and polished performances in plays he had co-authored.
The odds were long against Hikmat ever achieving his intellectual potential, with his village education inconsistent and then interrupted at such a young age. But Hikmat persevered and set a course that determined he would rise above any obstacles in his path and he has. Hikmat is one of three of our children to enter class ten last year and only one of two to sit for the difficult School Level Certificate Exam. Hikmat passed the exam in the first division, an admirable accomplishment in an exam that had a national passing rate this year of 54%.
Just as for all of our children, we would have insured that Hikmat attend the local college of his choice; however, thanks to the wonderful initiative of his friend Alecia Westphalen posting a cause on FaceBook to help raise funds for Hikmat, his first year of college has been financially nearly met.  Alecia's posting was something she did on her own, born from her growing affection for Hikmat over the years, and NOH appreciates it very much.
On Wednesday, July 27th, all the children and staff of Nepal Orphans Home rose while Dhapasi was still deep asleep, slipped on rain ponchos and stepped out into the drumming rain, forming a 130 member procession to the Boys' House gate in order to walk Hikmat to college for his first day. College begins at 6:00 here and Hikmat's college is a 30 minute walk for a robust teen.
The staff members each offered Hikmat a tika and a few words of encouragement; some gave praise for his hard work, others letting him know that wherever he goes, we travel with him always, this morning literally.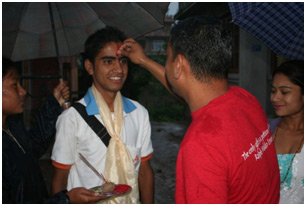 Due to the consumption of time thus spent, and our little Bumikha's difficulty in achieving distance greater than the Skylark school, it was decided that the boys alone, along with Pratap, his wife Devika, Vinod and Alecia would walk him all the way to school. We began together and at crossroads to individual homes bid farewell to the big brother, little brother, and son we all love.
At the arrival to the gates of Southwestern College, the assembled mass brought the attention of the security guards and faculty alike who came to see what should muster such a crowd. On Government College campuses crowds always mean protests which are very common, so certainly the administration present on this first day feared the worst. But those fears were quickly dismissed when they saw the quiet smiling family before them. They asked with curious good nature, "What is this all about?" and Hikmat spoke up and said, "Sir, these are my brothers who have walked me to school today."
And with that and firm handshakes from all, Hikmat entered the gates alone and began his slow walk towards adulthood.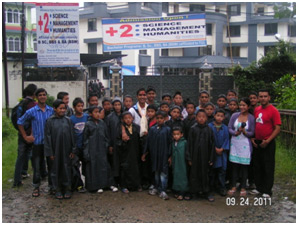 *****
And continuing in the "first" department, Kamana is our first child to break a bone. The dinner gong had sounded and Kamana was getting a last jump in on the trampoline with another girl when, achieving a new height, they landed in less than splendid form, Kamana on the bottom with her arm askew.
We summoned Pratap who came with a taxi and transported her to the Teaching Hospital where they splinted her up and admitted her for a few days before deciding to pin the arm. Kamana did fine with the operation and returned home several days later. Pratap and Gita had split shifts of day and night for around the clock companionship with Kamana for her entire stay. She is quite well now; I change her cast twice a week so that she can wash and scratch for awhile, and on this Friday she will see the doctor and learn when the pin can be pulled and she can have her arm back again. We have added a couple of trampoline rules since, which should insure another accident is a pretty remote possibility.
*****
Nepal Orphans Home has had a summer full of incredible volunteers, all worthy of volumes to be written and countless photos displaying their generosity of time and talent for our children and the many placements we have across Nepal. Our www.volunteernepal.com  website will soon be under construction in order to do just that, but I would like to share here a few of the accomplishments undertaken in our own backyard.
"Before" shots taken from the front gate at Papa's House with Liz, Anne and Bob.
A small house next to Papa's House, that had been a noodle factory in one incarnation and lastly housed four different tenants, became vacant after the monsoon began and the leaking roof sent the occupants packing. The house owner repaired the roof, but did nothing about the ruined plaster ceiling and walls. We decided to lease the house which was done at a very reasonable rate, and took possession of it just when Frank Molinek and his daughter Sullivan arrived as volunteers.
Frank with Anisha on the left and Sullivan, and Anne McCadden with her art project participants
Frank has been a friend to NOH for many years, once buying a Jersey cow and calf for our Narti home, and he accepted the challenge of turning this sow's ear into a warm and inviting home in which we envisioned having a library, an art room, a guest room for volunteers and a office/store room for NOH.
Frank initially worked alone, but upon the later arrival of my cousin Liz Early, her daughter Elizabeth, my cousin Anne McCadden and my younger brother Bob Linscott, received the extra help to finish the task in a matter of three weeks. The end results are much greater than hoped for, and the children are having a wonderful time using the house.
View from Papa's House balcony and some children doing an art project last Saturday morning.
We installed a new gate and raised the entire wall for ease of access and added security.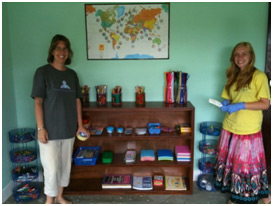 Art room on left and Liz Early and her daughter Elizabeth preparing for the grand opening.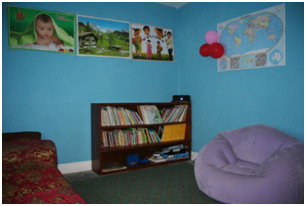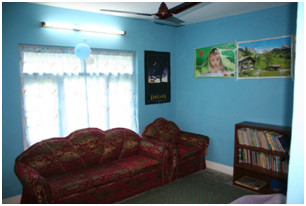 The library and music room, with two exciting air chairs (one shown in purple) donated by Bob Linscott.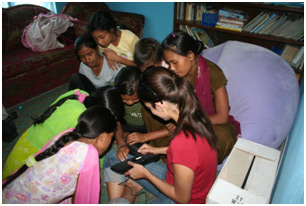 Jehan Seirafi, our Director of Volunteer Nepal, teaching the girls how to use our donated iPod.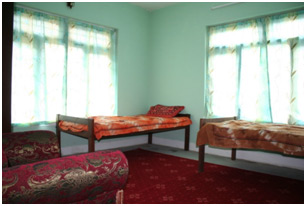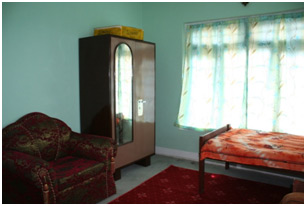 The guest bedroom for long term volunteers wanting to work with our Dhapasi children.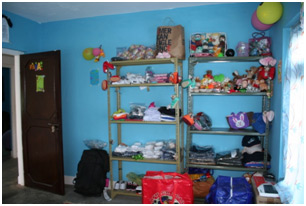 The storage room/office combination.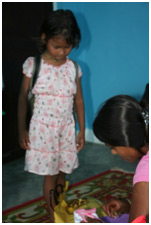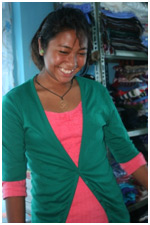 Anita helping Samjhana, Rupa and Santa try on some clothes donated by Laurie Levine in the storage room.
*****
The first term results were given last Saturday. Our children performed well, drawing great praise in all cases for effort if not always for the marks. The children with us the longest continue to inch ahead in their progress, but among the newer children we were very pleased with the excellence exhibited by quite a few. The children pictured below ranked number 1 in all the school in their respective classes.
Placing first in their respective classes are the following:
| | |
| --- | --- |
| Ishwor Shrestha 86.22% | Samjhana Tharu 100% |
| | | |
| --- | --- | --- |
|   |   |   |
| Apsara Basnet 93% | Rupa Chaudhary 94% | Khusbu Kadayat 94.83% |
Placing second in their respective classes:
| | |
| --- | --- |
| Kamal B.K. 82.5% | Shrijhana Thapa 95% |
| | | |
| --- | --- | --- |
| Sita Timilsina 91.56% | Sangeeta Kumari 93% | Kanchi Tharu 99% |
And placing third in their respective classes:
| | | |
| --- | --- | --- |
| Sumitra Devkota 88.4% | Asha B.K. 90.88% | Anisha Chaudhary 88.8% |
| | | |
| --- | --- | --- |
| Sunita Thapa 92% | Yashorda Khadka 92% | Himal Sahi 78.89% |
The children of NOH all work very hard at their studies and show admirable self discipline; a few of the children above jumped classes last year and still managed to outshine the rest.  In rewarding their achievements we have added one category for the rooms with the highest percentage.  We add each room member's individual score and divide by the number of children in the room;  the room with the highest percentage gets a bakery made "Black Forest" cake. Many of the better students give gladly of their own time in the after dinner  homework session to help their smaller or less comprehending roommates and we felt room pride and accomplishment should be rewarded.  The generosity of spirit manifests itself throughout our homes, making the environment spellbinding.
*****
In mid July we welcomed Wendy Sherrin to our homes. Wendy is a filmmaker from South Africa specializing in commercials. Her client list includes international companies of instant recognition to everyone in the world. Though she had never previously been to Nepal, a Nepalese doctor played a pivotal role in Wendy's life when she was a teenager. She has never forgotten him, but lost contact with him 16 years ago. Wendy has been waiting for the right time, a stew of many ingredients, to come to Nepal and try and find this doctor. She also wanted very much to work with us after becoming familiar with NOH via the website, and our year's correspondence.
Wendy never shared too much about her work, at least about the commercial success she has enjoyed, and when she offered to do a promotional film about NOH, I did not think too much about it. A few days after her arrival we sat down and I listened to her explain the ideas she had to do this film, which I had honestly sort of forgotten about. She had already immersed herself in volunteering and I felt this was her focus.
But when she started talking, I realized she had been acutely aware of her surroundings since her arrival, and had been observing our daily habits as only a seriously creative professional would. Her ideas were mesmerizing and her sensitivities immediately comforting. She sees the amazing joy in our homes and the effervescence of the children, and this is what she wants to share on film. In addition, she will travel to areas that NOH supports, such as the Dalit village school and local areas where we lend a hand to children and others in great need. On her dime, Wendy flew her friend and camera person Anne Lowrie into Nepal to help shoot this film. Wendy met with a Nepalese film crew and director here and had a great day exchanging professional information. She has subsequently hired two of their camera people for a couple days of filming this weekend when she felt added camera angles were necessary. She makes schedules and adjusts them, spends several hours each night digitizing the day's shoots, searches for locations with Vinod where she can get the best shots and camera angles to film our walks to school and other activities. It is all very impressive, and all a gift from her. She spends Saturdays with us and has given her own camera to the children on these days with basic instructions and tells them to simply shoot away.  She has filed all of their shots, and has found some amazing and fun talent among our children.  In addition to all this, after dispatching Anne and Vinod for film prep work, she spends before and after school time tutoring the children of ASHA Nepal, our good friends just down the street. There are a few children there who have been quite introverted and troubled, but who have since blossomed like calla lilies at Easter. Wendy is a unique person who is touching many souls here and altering many people's way of seeing the world.
We will keep everyone informed as progress on this short promo film is made.
Wendy with Bulmikha one Saturday at Papa's House, and below photos taken by children.
| | | |
| --- | --- | --- |
| Pushpa | Ramila and her little sister | Saraswati |
| | |
| --- | --- |
| Hari | Anu Maya and Rojina |
*****
We recently held a writing contest for all the children, inspired by Wendy's wish to get to know the children better. We asked them to write about their lives now, in the present and what they see the future to be for them. After reading these, we have found it impossible to deny any of them a prize; each piece is as unique as the child themselves.  Each is full of passion, emotion and appreciation for NOH and, in the case of our younger children, written with smile-producing humor, and honesty in beautiful simplicity.
I have selected parts of a few of them for you here.
"My name is Sapana Chaudhary, in my life I want to be like Papa, I want to also do like his work, I get a good chance to study and live with Papa but others are not getting good chance to study and live happily. I want to rescue Kamlari's and give them good education for their life. Who never has seen school and a book I want to make their life shining like the sun and twinkling like a star, how Papa has made my life like a sun and a star. My aim is not so high like others but my dream will come true if Papa will be with me; I want to make others life like mine."

"I am Sabina Tamang. I read in class 6, I am 13 years old. In our country there are rich persons also but they are not helping us but our Angel Papa is helping, we are getting good love, care and what we want. I love all my sisters and brothers at Papa's House. My aim is to be a social worker, by this aim I will help poor people like me in need, I will establish a hostel like Angel Papa, I will teach that we should do good things for people and we should help each other. I will love always Papa's House family, I want to thank from all my heart to Papa. Sabina"
"My name is Kanchi Chaudhary. I study in class nursery. I am five years old. Before I was not happy but now I get everything in Papa's House. I love Papa's House I never forget Papa's House."

"Hello, my name is Sunita Thapa. All human beings take birth on this earth, some people are so much lucky that they can get whatever they desire and some people are so unlucky they don't get to even know their parents and so unlucky was I. Fortunately I have now a cute place to live and lovable person to love and caring parents like Papa. Here my life has changed a lot, I am feeling like I'm a fairy in a fairy tale and for this I whole heartedly thank Papa, and now I am going to study hard and show all what I can do. My aim is to be a successful singer."

"My name is Rabindra Saniyal. I read in class 6. I live in Papa's Boys Possibilities House. There are so many friends in our house, I love so much Papa. I am getting so many facilities when I came to Papa's House, he is giving everything for me such as good education, care, love etc. He is my mother and father because my own parents did not care for me. I wake up at 5:00 am and we go for a walk then after milk and biscuits I have to study all subjects. After school I have homework to do at evening. My aim in life is to be a Doctor and look after sick people and care for them. Papa is making my future bright. By study hard I will be able to help poor people. Pratap Sir looks after me in home, he is also most kind and helpful man; He loves so much to me and I also love him a lot. I love Papa and his house so much that I can't write in this paper. I hope God bless and love him."

"My name is Ishwor. I like to read astronomy and geology books. I am very very happy to sit in Papa's House. My future plan is to be a great scientist. When I become scientist I discover different kinds of universe that is found in space; I will give the people extra new knowledge about the universe. I will help the people by giving knowledge about the universe."

"My name is Kabita Mahato and I am fifteen years old. At first I lived in my village, I have a lot of work instead of going to school. They used to send me to the field to graze cow and goats. I don't get good facilities at all. I don't get good food to eat or clothes to wear. No one listens to my feelings there. In the village my life became so difficult; I don't get good care or love because I am so poor. They called me black and said no man would ever marry me. When I was 10 years old I came here and my life was changed. When I saw Papa I became so happy on that moment. I have dreams and now I will work hard at my study and my dreams will come true."

"My name is Juna Pariyar. I study in class 2. I am seven years old. Before I was cleaning clothes, pots, dishes and not going to school. But now I don't have to clean anythings. I don't have to work. Now I am going to school. I get everything in Papa's House. I came to Papa's House and I am so happy. My aim is to be Doctor, I want to help poor children. The end."

"Hi, My name is Dhiraj Yadar. I read in Skylark English School, it is very nice, I read in class 7, my best subjects are science and math. I think that life staying in Papa's House is better than the heaven. Sometimes we go and play cricket, it is wonderful too. I like Papa's House along with all the children, Papa and Pratap sir. They are so friendly with me. The food of Papa's House is like food of 5 star hotel. It is very delicious and wonderful. My aim is to be an astronaut as I want to go to the moon and be the first Nepali astronaut. I have received letters from the famous astronaut. I want to be a kind rich man and be a man like Papa."
*****
I want to take a moment to introduce our newest child Bhaiballa Singh. She is from Humla in the Mustang district in far western Nepal, an area sparsely populated and very difficult to survive in.
A little girl of 9, she arrived after a four day walk and bus trip with an older cousin. She had not eaten much and had vomited plenty on the bus. She was pale, disheveled, clothing worn thin and very quiet. All my attempts to speak to her were met with a quiet look into my eyes, and then her cousin said she did not know Nepalese, only her mother tongue. She wore a tattered shawl covering her head and body though it was a warm day. I wish that I could have taken her photo, but I chose not to make her more uncomfortable. Her name, Bhaiballa, is a very old fashioned name never heard in these parts; it roughly means "carrying little brother".  Two of our house managers, Anita and Gita, were with me and they said she would be laughed at by children in school with this name. And so I asked her cousin if she would be interested to start her new life with a new name and, when asked, Bhaiballa smiled a little. An image of Mother Mary as a child for some reason came to me, and I asked if "Mary" would be nice and she smiled again. Anita and Gita agreed that would be good; we once had a "Mary" who after many years was able to return to her mother far, far away, and we all miss her a great deal.
After school when we met to bring the children home, Mary was there. She had been bathed and new clothes given to her; she ate also and took a short rest. She took her place in the line belonging to the house she will sit in, our Sanctuary House. I was standing near enough to hear when one of the older girls from my house walked over and asked her name; she asked in several dialects until the light came on in Mary's eye and I heard for the first time her voice as she proudly said, "Mary".
*****
We began this update with a story about Hikmat; I think it is fitting to end with excerpts from his "novella" reply to our writing contest.
Hi, it's me Hikmat Adhikari but most of my friends call me Hiku which I love to hear. I am 18 years old and study Science in college.

When I was little I used to dream about going to college and when I used to see rich peoples children going to college my eyes used to be full of tears when I would see my families poor condition and my sick mother. But I never showed a drop of my tear to my parents as I knew they would be very sad. Hiding my pain in my broken heart I would pretend and try to be always laughing. At the same time Maoist were making problems in our village and I would think that for poor people God never loves, we had to blame our bad luck on ourselves. Days, months, and years past and life was becoming harder even and then one day the Maoist took me. That time was black time for me.

All the darkness was there in my life, all the darkness and on those days I was thinking that ok, this is it, I will not be alive any more……..I escaped from the jungle and my uncle brought me and my cousins to Kathmandu and found this heaven. Many people go to temple and worship God and they pray for the God to send them to heaven after death but I am already in heaven before death. This Papa's house is heaven for me.

Pratap sir is a person with a broad and open heart. He never can see others in pain, sometimes I think OH! I had done some very good work in my previous life so that I could get Pratap Sir as my hostel in charge! He gives me lots of advice on what to do and not to do and his wife is also very kind to all and never knows to be angry and always puts a smile on her face.

We have meat twice a week and eggs on Friday and it is a special day because Pratap makes food items which he calls "Dad's Special."

So now I am really happy and my life is going so perfectly and smoothly and I am studying hard to get success in my life and to help others. I want to study medical science and see if I can become a Doctor. I want to stand on my own two feet and do better and better work. I am really happy to get lots of help from volunteers and thanks to all for all the help to us from my heart.

We boys all have our own story for being here but we forget about that. The house of time is a temple and Papa is the God for us without whom we are incomplete and we love him more than ourselves and will be still in the last hours of our lives. He is "FM" for us, which means he has given the love of both father and mother.

Hikmat Adhikari
I apologize for the many references to Papa in the children's writing; I think they thought I would be one of the judges. What a great life this is! I used to be a little cavalier about getting older, always thinking I am in no hurry to die, but when the time comes I will go merrily. For now, I can't imagine a day without these children and strive in every way I know how to prolong my existence.
All my best,
Papa
June 3, 2011
 "Aunti" Kylie has returned to Papa's House! Kylie Penneck, the daughter of Richard and Marilyn of Australia, returned last week bringing a trampoline. This is a wonderful family who has spent time with us in Dhapasi.  Kylie lived in Papa's House last October along with Sirkka Turkki, helping me to care for the children during Dashain while the staff was on holiday. 
Thursday morning after the children went to school, Kylie, Sam, Vinod and Anita assembled the trampoline, tried it out for safety (they claimed, though their laughter rising to my desk indicated a very long testing period) and excitedly waited for the day's end for the children to have their first "super ability" experience.
We appreciate the huge effort Richard and Marilyn went to on our behalf, buying, assembling, repacking, and shipping the five very large packages to Nepal. Rescuing the trampoline from customs required our good friend Ram, co-owner of Nepal Social, to become involved and with his creativity and persuasive charm allowing it to be released for a small King's ransom but less than predicted.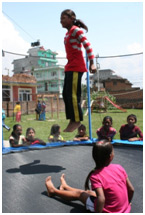 *****
 In April we had a weeklong visit by six students of Aiglon, an International Baccalaureate boarding school in Switzerland, chaperoned by Bill O'Conner and his wife Sallie, which followed up a visit one year prior by Bill and other faculty members. Through the effort of Tamara Saltzman, an Aiglon mom, former volunteer and great friend to NOH, a mentoring program has been initiated between groups of NOH children and Aiglon students who will spend the year online together. The Aiglon group will help the NOH group with homework and awareness education while the NOH students in return bring their own awareness of the reality of life to the truly wonderful Aiglon students. The Aiglon students held fundraisers throughout the year generating enough money to purchase 6 computers and internet connections for two of our homes. Part of the objective with this year's visit was to have the Aiglon students begin teaching our children on the computer in preparation for the online mentoring, but as our 16 hours per day load shedding schedule worked out we never once were able to open the computers for these lessons.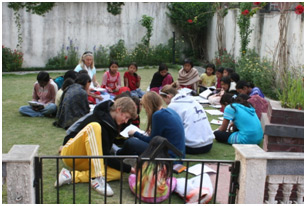 Time was not lost, however, with after-school study sessions together and evenings of stargazing with a very beautiful telescope gifted by the Aiglon students. On their final Saturday with us Bill, Sallie and the students organized a delightful sports day to the merriment of all.
To learn more about Aiglon and to read about their experience with NOH in their own words please click here.
*****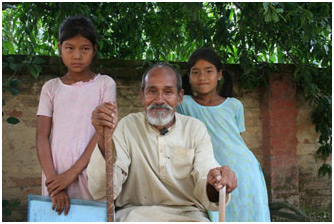 Depa, her father Man Bahadur, and Sila
On Sunday, June 11th, 2006 I wrote the following, which can be found in the archives of this website's updates section.
Then on Wednesday an 80 year old man came to see me with two young girls that he called daughters. I was not here at the time and he explained his story to our school principal Milan, and Vinod, the young man who has become my right arm in running everything. The Maoist burned down his house and all their possessions; they then kidnapped his wife, who he fears is dead now. He hasn't any money or means of support for himself or his daughters.

He insisted that he talk with me and scheduled to come back in a day. I was very moved by this man's story the next day when he came alone to see me. They were sleeping outside in Pashumpatinath, a Hindu Holy site, and begging for food. With all that he has been thru he still carried himself proudly and with a look of determination in his twinkling eyes. Though I promised our staff before that we would not take on any more children; we have in fact been finding alternatives for the others who have come; this man was insisting that his daughters would stay with us, and they are. They are a wonderful addition to our family.

Sila, little brother Roshan (in our care for four years) and Depa, May 21st 2011
Now five years later I am pleased to write about Sila and Depa. They have grown to be remarkable and poised young women who share a room with Susma on the first floor next to Dawn Kumari's. These three girls rise every school morning at 4:45 to help Dawn Kumari make the hot milk and biscuits that greet the children at 6:15 and to cut and cook the vegetables for the morning rice. No one has ever asked them to do this; it is just the way they are. On non-school days we have a rotation of girls who in teams of two help Dawn Kumari to cook, serve and clean up after each meal. These three over the years have recognized Dawn Kumari as their mother and would prefer to work alongside her in the garden than to watch a film with the other children on Saturdays. Sila and Depa excel at Tai Kwon Do and will this year become black belts.  They have rarely missed a session in the past 5 years. They often help the TKD master teach Susma and the other 15 children who began last year.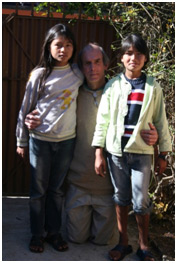 Depa, Papa and Sila in 2007 and Depa in 2009
The girls' brother Roshen had been placed into a boys' home which was pretty rough on him and we were finally able to bring him into our family in 2008. When we did this the children's father told me with a spry lightness and a little laugh, "Now I am free to die."  In the past few years he has become sort of a Holy Man; always a deep thinker and very bright man, his time spent still at Pashumpatinath and his own very difficult travails have brought about this deepening spirituality. He will appear at our gates early on Saturday mornings every few months and sit in the company of his children for a few hours, listening intently, always smiling and chuckling, gently dispensing encouragement against eating meat or being lax in their studies and to give thanks.
Upon greeting him I sneak some rupees into his coat pocket and as we gather some chairs in a sunny spot if it's cold, I encourage the girls to ask him many questions about his life; but he knows the same tricks and keeps them talking, his eyes merrily dancing at the sound of their voices. When it is time for him to go he asks the girls to call to me and when I walk him to the gate he never fails to tell me "you are doing a good job raising our daughters" and blesses me.
*****
And about Susma, always such a light in my life — when not helping Dawn Kumari or practicing Tai Kwon Do she will be found studying in order to maintain her position as first in class even while skipping grades to advance and accelerate her education. Her brother Ram is number two in the same class. Susma speaks so softly that I sometimes strain to hear her, she is gentle and shy and protective of her heart. Susma's goodness is so pure that I will not be surprised to see her follow the footsteps of a Mother Theresa. She often keeps part of her dessert treats from Friday nights to give to Ram on Saturday, and while on Saturday all the children are at play she sits alone and watches Ram for awhile, encouraged by his enjoyment with the other boys before returning to her room to study.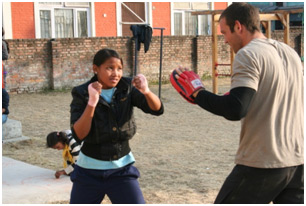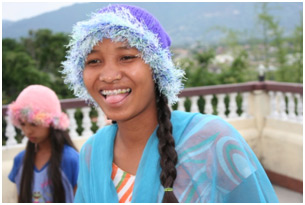 Susma learning to box from Jake; Ram applying a "Tika" (blessing) to Susma;
Hikmat, Ishwor, Ram and Saroj; Susma modeling a handmade stocking cap
*****
In our last update I offered a public farewell to Sangita who was less than a week away from flying to Singapore to work as a Nanny in the home of a very kind young professional couple made known to us by our dear friend Kathy Kirk. Many have written to ask how she was doing and they all learned long ago that one morning we received an e-mail from the couple which instead of containing her e-ticket and visa explained that her visa had been denied. Sangita was crushed and felt the oppressive weight that so many other really fine Nepalese do when refused entrance to another country. It was not easy to find the words to lift that weight from her heart, "It simply wasn't meant to be,"  "A better opportunity will come along"; these platitudes rang hollow when suitcases sat in the corner and goodbyes already had been spent.
After two dreary days of introspection, one morning after silently helping me braid hair and get our girls ready for school she finally asked, "What am I going to do now?" She was ready to dust off and begin again. Of the few options I saw available to her she chose working in our Volunteer Nepal department where she remains today.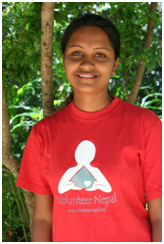 She is a well-liked staff member who teaches the volunteers Nepalese and also takes them sightseeing and works on their behalf to remedy their many needs. She has had her universe expanded vicariously and remains in contact with many of the departing volunteers. But it is sad for me to watch her always saying goodbye to people her own age who have the freedom to travel anywhere in the world while she remains captive to Nepal.
*****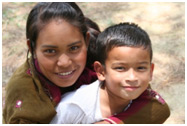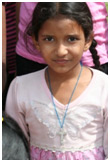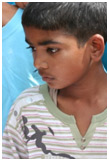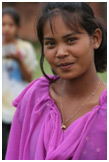 Tomorrow's leaders today at Nepal Orphans Home
*****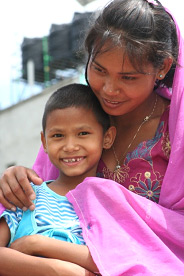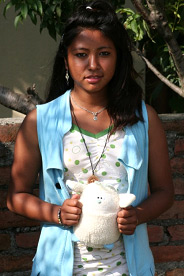 Kanchi sitting with Sangita Chaudhary; Rupa center and Kusbo on right have been brought to Papa's House in the past month. Kanchi from Bardiya by our association with the Kamlari Rescue Association while Rupa and Kusbo through CAP Nepal and ASHA Nepal two organizations we are close with who rescue and rehabilitate women and children who have been trafficked, as well as the children of these women. They are holding handmade dolls brought to us by Catherine Lan a member of Tingting Peng's recent Yoga Trek for NOH.
Kanchi and Sumjhana (shown on left with Gita) have become fast friends while Kusbo and Shrijhana above seem like they have been friends forever. They have settled into Anita's House where I made two sets of bunk beds, while Kusbo and Rupa are treasuring the accommodations and company at Gita's House.  
*****
The morning came with charcoal grey skies deepening to black amid thunder startling like a sudden slammed door while lightning pierced the earth. I sat in a room of children, their voices hushed. The room would suddenly go electric white and they would clench for the percussive vibrato rolling thunderclap seconds following. I considered that today we were to celebrate those whose birthdays came in April, while outside our ground had turned into an ankle deep holding tank. Last night the children in my home slept under the stars on the upper patio. At 9 pm cooling breezes brought distant rumbling and I asked the children if they thought they should go down to their rooms. "I think the rain is coming," I said, and they all replied, no, it will not come tonight because we are sharing the stars, and they were right.
At 9 am I had a call from Glenn Detrick, a business man and professor from Washington University in St. Louis, and his Malaysian friend Lilly.  They had arrived and were at the volunteer house waiting for me, so with umbrella taut against the deluge, I hopped from brick to brick, tossed a few feet apart by Dawn Kumari earlier in the morning, to the gate and higher ground where I then walked over to meet them.
When a loved one dies we say goodbye many times each in our own personal way. Glenn lost his daughter Chelsea almost two years ago and has come to Dhapasi to say goodbye to her once more. He had been drawn to Nepal Orphans Home some years ago, he can't remember just how; but he frequently read about our family in the updates online and decided to come to visit us and share a meaningful part of Chelsea with our children.
The electricity was out and so in the rumbling dark stillness of the volunteer house living room, Glenn and Lilly revealed some of the educational gifts they had brought for the children and the pleasure they had received in gathering them and then after a pause Glenn said there was something else that he had brought. In his carry-on he had packed 29 beanie babies, Chelsea's collection. He opened the bag and withdrawing one he talked with emotional joy of the many moments that he experienced with her and these stuffed animals. He said that he would like to give them to our girls and for that he had made this trip.
Though the rain continued I suggested that we walk to Anita's house where, counting the Friday night extra sleepover girls, she had enough children present to all receive one. As we snapped open our umbrellas the rain started to slow and by the time we reached Anita's it had stopped and sun began slicing through the smoke grey sky. The children were waiting to greet us, all smiles and hugs, and we went into the dining room.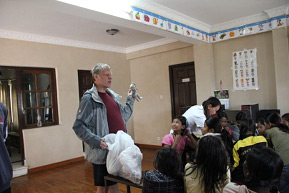 After a few minutes of introductions Glenn asked if he might distribute the dolls to the children who were by then sitting at their benches. Pushpa was the first to receive a doll. She immediately hugged it and asked what it was, and Glenn said, "This is Chelsea," and then Juna asked what her doll was and Glenn said, "This is also Chelsea."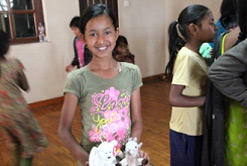 When all the children had one, Sam, who had been taking pictures, asked the children to gather together for a group photo. Glenn stood with me watching as the kids wiggled into place. When they were set Sam said, "OK, hold still, on three, OK, one, two, three!" and at that moment all the children raised their dolls into the air and in one voice, without prompting, called out, "CHELSEA!"
That instant resonated through Glenn, who was standing next to me— another farewell to his daughter Chelsea whose name was raised high, and whose presence was plainly felt in the loving voices of 32 Nepalese girls.
This is Nepal Orphans Home. Many have come here from very far away with their own special needs. Often I think how it is that the children have brought us all together, that the children are the center of a small universe known as Nepal Orphans Home whose gravity has changed so many lives. Because of the great Yoga folks in Cleveland, the fine people in the town of Davidson, North Carolina, Amanda Tapping and Jill Bodie of Sanctuary for Kids, and individuals represented by colorful pushpins on the world map, our children have been given their lives back, they have been given freedom and opportunity, and the love of a close family; but they have given us all, in many ways, much more.
From Papa's House in Dhapasi,
Namaste
February 25, 2011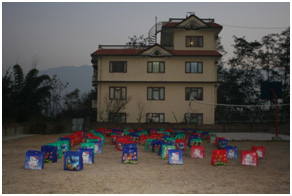 Christmas crept slowly into December, the thoughts of the children each day pulling in the slack until the conversation and storytelling all had the same taut theme: "Christmas is coming!" We have a wonderful time with Christmas, the day's eventual arrival a tumultuous climax to a fine and slow build. This year there were fewer volunteers present so Vinod and I managed the placement of Christmas bags on the frosted predawn lawn, each one settling on top the iced grass with a tinkling crunch. The last bag I carried over contained a special gift for Dawn Kumari which I placed in the gleeful awakening arms of Pramila, Sangita and Lalita.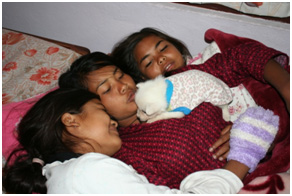 Dawn Kumari had a sneaking suspicion that something was up when she opened her secret Santa gift of Dog Biscuits before the opening of the Christmas bags, and the second clue came when her bag kept tumbling over and all the children called to her to catch her Christmas gift before it got away.
The children's Christmas lists this year were very humble.  Each asked Santa for 5 items which ranged from clothing to photo albums, printer paper, photo frames, dolls, dictionaries, and remote cars and batteries. Stockings were bulging with art supplies, face wash for older girls, brushes and combs, chocolates, gifted earrings and small stuffed animals or tiny dolls.
Smiles were in abundance and a few nervous moments as the children waited to be called upon to give their secret Santa gifts. In the first week of December the children drew names from a bucket revealing to whom they should make a gift. They really put their hearts into the task and created some very beautifully rendered Christmas wishes for their secret recipient. Christmas Eve in our home was a festive watching of Dickens' "A Christmas Carol" with George C. Scott and eating chocolates, followed by my reading of "Twas a night before Christmas".  Aided by the lack of electricity, sleep came quickly and deep for all.
****
In January our long time friend and former volunteer Gwynn Alexander returned with a plan to take Chham to Kayak school for 14 days on one of Nepal's best known rivers. Gwynn is an accomplished paddler who has traveled far to experience some of the most noted rivers and thought that it might be fun to expose Chham to the sport. Chham loves the outdoors and has been eagerly anticipating this trip for many months as we reported in our last update. Gwynn surprised us all by arranging a day of rafting down the Trisoli for 16 of our boys who were willing to brave the cold air and colder water, the early morning departure and long ride for a new adventure. The boys had an incredibly good time and since then have regaled us all with some of the day's moments.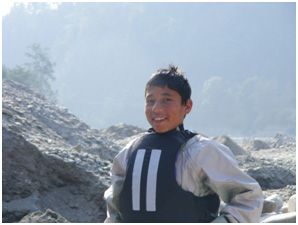 Gwynn and Chham set out on the 1st of February for their time on the river and returned the evening of the 13th looking weathered and hardy. The company that took them has issued an open invitation to Chham to call anytime that he would like to go out again and have said that they would happily offer him a position as guide in training for all aspects of their business, from the river to trekking to mountain guiding. April will be the month that Chham will put his options in order and set a course for either continuing in school or learning to be a guide. We will let you know what he decides.
****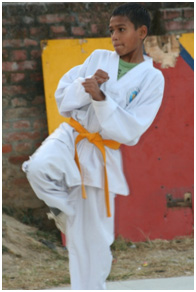 The 16 children who began Tai Kwon Do last year continue each morning without fail and have passed their first test and now wear yellow belts.  My hat is off to them all; many are the mornings when it is very cold and dark and yet I have never heard a single grumble.  They rise quickly and are on the basketball court ready for action when the Master comes in. Our four original children who now have over 4 years of morning training have recently been awarded their red belts, Saroj now wearing a black stripe on his. The Master yesterday divided the 16 into two groups of eight and has assigned two of our older children to each group to help teach.
Apsara Basnet, shown below, is number 1 in her class at school earning a mark of 97%. She loves Tai Kwon Do and reminds me each night to come quick in the morning to wake her for class and according to her sister Kabita, Apsara sleeps so restlessly on the nights before class that neither get a good night's rest. Class begins at 6:15 while the other children are just going down for tea huddled in shawls and jackets, stocking caps and mittens.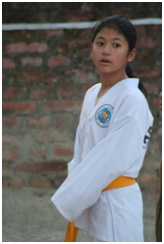 ****
In early December we learned that two of our girls who had failed to return from the month-long Dashain holiday due to sickness had been sold again. We had been waiting for word from them that they were well and ready to come back so we investigated when it was overdue. I sent Vinod Mahato and Jake Hickey, a former 5 months-long volunteer who had returned after Christmas, to go and find them. They were able to track down one of them, Sunita Thapa, twin sister of Anita, in Nepalgunge, a small but bustling town along the highway near the Indian border where she was bought to work at a hotel/restaurant establishment. Along with Sunita was her older sister Muna and another pair of sisters, Shrijana and Punima Thapa, 13 and 10 years of age. All were very thinly dressed and working in the cold air washing the plates and cooking equipment of the restaurant. Sunita was surprised and excited to see Vinod and Jake and relieved to know she would be returning to Papa's House. Shrijana and her little sister Punima asked if they too might come. They are parentless but have one sister, a mere child herself at 16 who was already married but whose husband had abandoned her, leaving in her care his ailing mother. Vinod called to ask if we could also take the others to which we of course agreed, but unfortunately the 16-year-old sister said she couldn't abandon her deserting husband's dependent mother, so she has remained in Nepalgunge.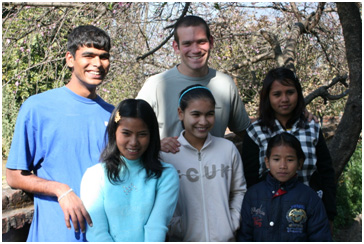 Left to right: Vinod, Sunita, Jake, Shrijhana Muna (back row) and Punima the day after their return.
The girls had a severe case of chilblains on their feet and a very well developed case of scabies which took almost a month of daily treatment to cure. They started school right away and have become earnest students and pleasant additions to our family. Despite a couple of leads which proved false Vinod and Jake were unable to find our other daughter before needing to return to Dhapasi but we have left word with people in the area that we will come and get her if anyone can locate her. Dashain is a holiday in Hindu culture that encumbers children to return to any family they might have and so if our children ask to go we arrange to take them. We meet and have their guardian sign for the girls and we also send staff and a bus to pick them up on a prearranged date. This year things did not work out very well and most of our children have stated they have no desire to return to their villages. 
****
Three weeks ago we were requested to take in a new little girl named Sandiya by an organization we work closely with ASHA NEPAL. Sandiya is an endearing 9 year old who has quickly impressed her teachers, resulting in advancement in class. Sandiya has moved into Anu Maya's room, where Anu Maya has taken her under her loving and knowledgeable guidance in sweet ways. When I make my rounds at night I usually find a book waiting on Anu Maya's bed which she reads to Sandiya after I have said good night.

Sandiya at study hall with Punima                           Anu Maya, one of our first children
On Friday the 18th of February Anita Mahato, the Imagine House manager, and I flew to Bardiya to look into the possibility of opening a new home for Kamlari girls there. We are working with Man Bahadur Chetri, a very fine man who has been playing a lead role with Friends of Needy Children (FNC) for the last eight years and was the recipient of an ASHOK fellowship in 2008 for his work with indentured children. Man met us at the airport and together we drove to Gulariya, a robust little town 90 minutes from Nepalgunge. With Man's effort, among that of others, the government has decided to help ex-Kamlaris  go to school with a 1500rs stipend each month. The 1500rs covers school fees, books, uniform, and must provide for food as well, with nothing built in for housing. In Gulariya there is a large and well-run school with expansive grounds and a student population of 1400 which includes the college level. Gulariya is the district seat and teaching workshops for the entire district's teachers are periodically held at this school. Man Bahadur had arranged a meeting for us with the school management committee. We learned that the school has enrolled 19 former Kamlaris but hasn't a way to house them. Currently they all reside in a small and leaky rented house, a five-minute walk from the school. It is the school management's desire to see NOH open a new home on the school grounds so that these 19 girls and more meeting the building's capacity would be free to come and attend the school.

Left: View of the school grounds; Right: Papa on left, Man Bahadur to his left and School Management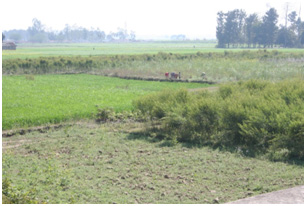 Left: An unsafe building where they would like the new one; Right: View from behind this building.
After surveying the building that would need to be razed we walked to the girls' home and spent some time talking with them. It had been requested that we take one little girl back to Dhapasi with us. She is Samjhana Tharu, a 6-year-old orphaned girl who had one sister sitting in the hostel. Samjhana had been placed temporarily in the hostel but would not be allowed to stay, as she was not a former Kamlari; however, they feared she was now at great risk to become so. After spending some time with the girls I was asked to return to the school office to further discuss business and so Anita stayed behind to be with the girls. She gave the didi some money and asked her to go and buy some food and other things the girls needed and settled in getting to know everyone. Anita has such charisma with girls; they all adore her.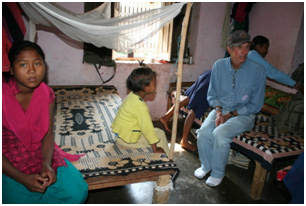 Left: Meeting Samjhana; Right: Chatting with a few of the girls

Left: Ready for takeoff; Right: Samjhana and her sister when it was time to go.
We arrived back in Dhapasi around 7:30. I took Anita and Samjhana to Anita's house, where we decided Samjhana would spend Friday night. I walked back to my house in the darkened streets, and with fingers learning to see from so many hours in the dark unlocked the gates and made my way to my room. I washed and then with flashlight went down to give medicines and talk to the girls. You know it is a family when you have been gone for just the day and yet the eyes that greet you sparkle with happiness to welcome you home.
Below are some recent photos of the new girls.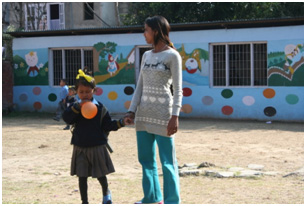 Samjhana Tharu at the end of her first day of school and with Anita.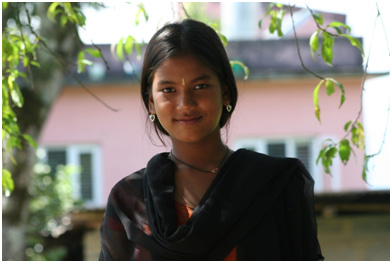 Bimala on left who has taken Samjhana into her room and care and Punima now at home here.

Jake teaching Shrijhana how to box and Sunita with our new puppy "Sweety"
We started planning a Valentine's Day party in mid January, a first for us. I was sharing this information in a letter to our Board member Toni Thomson who is also the founder of Possible Worlds, a charity in Toronto, Canada. Toni wrote back that Possible Worlds would love to underwrite the party, which greatly expanded our ideas. We invited all the teachers and all the students that are boarders at the Skylark school, which required the school to close at 12pm. Everyone arrived at 1pm for a nice tiffin followed by games that ranged from academic quizzes to donut eating. The children, close to 200 in number, were required to make five Valentine's cards, two to be given to children they thought maybe did not have many friends, and three to whomever they chose, providing they be anonymous. These were collected a few days before by our incredible volunteers Alicia Fish and Minyoung Kang, who made personalized bags for all, stuffing the bags with chocolates, a decorative rose and a "You Are Loved" sticker by Possible Worlds. When the volunteers discovered that some children had no cards they created ones for them.
In addition to the cards all students were asked to vote on a list of 10 superlatives out of which our children were voted the winners of seven. Performances were given by many students on both sides and the day ended with the distribution of the gift bags. With great appreciation to Possible Worlds I leave you now with some photos of the day.

Left: Who wants to be a millionaire audience; Right: Ashok Roy, "Smartest Student" (Papa's)

Left: "Most Ambitious" Dhiraj Yadev (Papa's);
Right: "Most Likely to Reach Their dreams" Dhiraj Yadev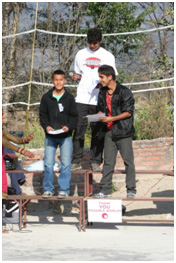 Left: "Most Likley to Succeed in Business" Hikmat Adhikari (Papa's);
Right: "Skylark Princess Lalita Chaudhary (Papa's)

Left: "Happiest Student" Hikmat Adhikari (Papa's);
Right: " Most Likely to Marry First" Sangita Chaudhary (Papa's)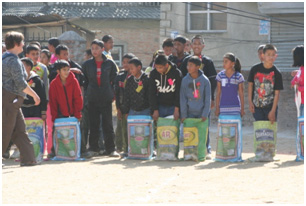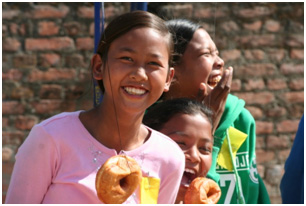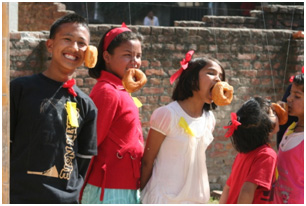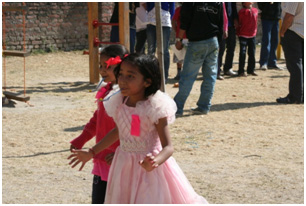 Gift bags awaiting distribution at day's end; Thank You Possible Worlds!
****
Sangita
"At school the children were beginning to arrive. I have been told there are 500 children ages 3 to 17 or so in the school. All eyes seem to be on me, wherever I look. A group of maybe 20 children encircle me talking among themselves but they are keenly observant of my every action. As I move, this group moves, too, always keeping the same distance, like a well choreographed dance; and as I go for more water they surround me at the tap. They consist exclusively of girls between the ages of 10 and 14, they have wonderful smiles and their eyes sparkle with merriment and wonder. They stand two or three deep. One girl in particular is a little taller than the others and seems shyer. I could sense her watching me and caught her eye. She smiled and held my glance with her calm and very old eyes. I had the extremely rare feeling that I knew this person on a spiritual level and that her soul knew it also; yet her soul was in the being of a simple, shy, 12-year-old Nepalese girl. I felt a wonderful comfort, a reunion of sorts, but on a deeper level that brought perplexing joy each time our eyes met, and though this next statement will expose me to the ridicule of non believers, I had a sense that I was brought together again with a daughter without consciously knowing that I had one. But my soul did. "
Seven years ago this month I came to Nepal and volunteered at a government school in Trisoli, a village 3.5 hours from Kathmandu. I kept a journal and the above has been excerpted from an entry in that journal from around the 8th of February. I was speaking of Sangita Darji, who has been with me since and has been everything a father could ever want in a daughter. Time has certainly proved my intuition that she was meant to be in my life, and for that—and for the existence of Nepal Orphans Home, which may or may not have happened had I been in another place or time—I thank whatever forces brought us together.
Sangita has never complained about anything; she has always endorsed all my notions. It would be easy to think that when she returned with her brother Saroj to Kathmandu with me seven years ago that she might think this was her new family, but as it grew with my inability to say no to children in need she was always helpful and supportive, even though our quantity of time together was diminished. Soon, instead of sharing me with her brother, she shared me with 130 other children.
At Christmas time two years ago we had a couple volunteering with us from Sweden. They were musicians and took to Sangita right away. Unbeknownst to me Sangita wrote a song, and they helped put the words to music and then taught Saroj to play the guitar part of it. They went on to arrange for Sangita to record the song at a professional studio, which they paid for. I was then informed about the studio time and asked to accompany them for the scheduled time. I inquired about the song she wrote only to be told it was a surprise. Along with us that day was another man my age, Martin, a writer from the UK. When they had Sangita and Saroj set up in the sound booth they did a run-through, but the people at the boards had their speakers closed and listened on their head sets, so we on the outside looking in could only watch but not hear a thing. Once the sound checks were done and they asked if they were ready to try it they opened the speakers into the room where Martin and I stood. They cued Sangita and Saroj and then I heard the technician say, "'I will always love you Papa,' take one."
Sangita's voice came flowing through the speakers and filled our room with a daughter's grateful love for that which I had done right and for what she saw in my heart. There were no verses on having to share me, no words expressing maybe not getting all she might have had she been my only daughter, no rhymes about waiting for me to say goodnight and talk to forty others before reaching her room at night; there was only the sound of unconditional love. She did it in one take, and when the last chord was sounded the technician at the control board turned to look at me with a beaming thumbs up. Martin put his hand on my shoulder, his eyes wet, and said if he was me at that moment he would measure his life as an unmitigated success.
I don't think that I have given Sangita as much as she has given to me; I had never thought of it in these terms before. Sangita has had a job offer from friends of a wonderful friend of NOH. The job requires her to move to Singapore, where she will be the Nanny for this young couple expecting their first child in April. They hope to have her arrive in another six days. A contract is signed and we are awaiting the visa and flight tickets. This is a difficult time for me; these seven years have not been fair to me in the speed in which they have passed. Sangita is 20 years old now and is ready to be independent. This job, which will pay well, should have its greatest rewards in other ways. It will allow her to be on her own and she will be living in a much different world; she will be witness to a world of young wealthy business people taking the world by storm by day, and raising a loving family by night.
How little any of us would have imagined this seven years ago; time indeed waits for no man, so make each day important and let your children know every day how much you love them, not just with words but with your heart, with small gestures and with sacrifice for them.

Sangita in her school dress, the very first I took of her; then also seven years ago Sangita and Saroj behind the school.
Above, Sangita and Saroj washing clothes in the cold Trisoli river.

Sangita from two years ago taken by Aunty Boo and with an over exposed Papa last summer.
Would I like these seven years back again, in a heartbeat. Part of helping your children is also knowing when to let them go, no matter how unready you are for it. Sangita will do fine. She is ready.
****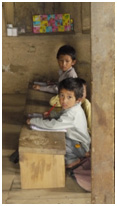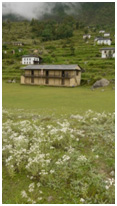 The photos shown here are from the Sherpa school that Nepal Orphans Home helps to the best of our ability. It is located in the mountains in view of Tibet and run by a local monk.  This is a five-minute walk from the monastery that NOH has been sending volunteers to for a few years now. The school does not charge any fees and the monk with limited funds has a very hard time convincing teachers to work in an area so remote. One day he came to Dhapasi and asked if we could meet. He explained his problems and inquired if we might help. "There is a government school in your village," I pointed out to him. "Why do you feel this school is neccesary?" He replied with all that I needed to hear: "The government school will not teach about the Tibetan culture, it will not teach of our rich history, it will not teach our language, it only will teach to be Nepalese and our culture is slowly evaporating." We are able to help them  largely by the volunteers that we send there as part of the fees we charge. This is one of several outreach programs that NOH has undertaken that we are very pleased to be a part of.
****
Recent Family Photos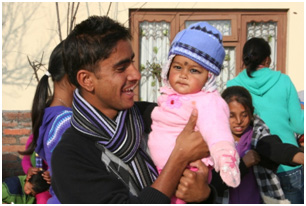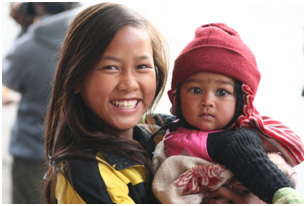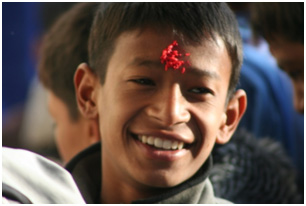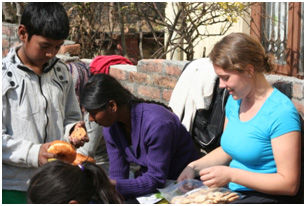 On the day that all of these photos were taken we were treated to homemade chocolate chip cookies brought from Raleigh, North Carolina by Alicia Fish when she returned after spending Christmas with her family. They were a delicious treat and a remarkable testament to our incredible volunteers' creativity and sacrifice for the children.
That wraps up this update. With our very best to all,
Papa, staff and children of our Nepal Orphans Home family