Monday, November 29, 2010
Chham returned from his Dashain vacation this year repeating what has become his tradition of bringing me eggs from his elderly mother's chicken. Five years ago Chham returned from visiting his very remote Gorkha village and proudly presented me with four eggs that he had carried in his hands during a mountainous three-day hike back to Papa's House. I felt then in receipt of the most precious gift ever, and it still touches me deeply.
With Chham's gift in mind, I went to our garden early in the dew drenched morning and cut fresh spinach and some herbs.  At noon I cooked the spinach, and that evening, after putting the children to bed, I cooked a five star yak cheese and spinach omelet by candlelight. Never has a tastier meal been more appreciated.  Our children are refreshingly creative in the way they show affection.
In January one of our volunteers, a kayaker from Canada, will be returning for her third visit and will take Chham to Kayaking school for 12 days. Gwynn Alexander asked if we had anyone interested in doing this and Chham came first to mind. At 16 in Nepal, he is considered an adult and he has a pretty tough time of it in school, though he applies 200% of himself to the task. In April the school year ends and we will be giving Chham the option of continuing in school or following his spoken passion and become a trekking guide under the wing of Tashi our resident Volunteer Nepal guide. Guides make a lot of money and the position offers many opportunities; additionally Chham always worries about his mother and this would allow his being able to care for her financially and visit on occasion when taking volunteers to a placement near her village. We will let you know in the spring what he chooses to do.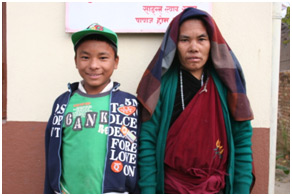 Sarita and Chham 2005; Chham and his mother 2007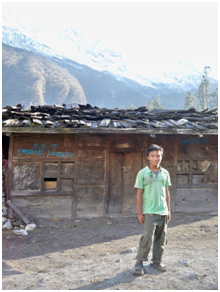 Chham summer of 2010 and on the right in his village during Dashain 2010.
Dashain this year was extraordinary. With the reduced number of children at home we had them all stay in Papa's House so that our staff members were able to take their own pilgrimage back to their villages. The children endured my cooking with their usual graciousness admitting only once to an experiment gone astray;  I was getting a little cocky in my thinking my dhal and ideas were the best and one morning I added fresh chunks of apple to it which I reasoned would be a recipe that one would read and think, wow, I never would have thought of that! But in this case it would have been with good reason.
Helping me with the children we had two incredible volunteers living with us. Sirkka Turkki returned for the month of October, her third year with us. Sirkka is a woman with few peers.  A very gifted artist, author, university and medical school lecturer, and dramatist, she is living a life full and rich with purpose, a life any human would be proud of. Everything Sirkka does, she does with zest.  She provides her own food from her spell-binding gardens, that people all over Finland come to walk through, and by fishing in the cold and abundant water near her summer cottage. She writes and sketches daily, thinks constantly about life and how it can be improved for all of the family of man.
Her door would open at 5 a.m. and the room would be a constant shifting of children as the sun's movements skewed the shadows of Sirkka in the busy workshop where a new dress and side bags were made for every child.  Here children learned to make their own creations as the entry fee was picking up a pair of knitting needles and learning to knit, while Sirkka told stories and listened to the children's laughter or lent an ear to each child's lowered voice conversations. As the sun sent late afternoon golden light and large shadows against the far wall, Sirkka would suggest that it was time for tea for all. She made sure in her quiet and focused way that every child, no matter how small, felt important and greatly appreciated. In Sirkka's laughter and twinkling eyes each child felt responsible. Sirkka lived identical to the children on a two inch thick mattress and eating rice and vegetables twice a day, and she exuded warmth and utter satisfaction with each passing minute.
"Sister" Kylie took the room next to Sirkka and balanced out all the children's needs and wishes. Kylie Tilver would be the perfect nanny; this effervescent 30-ish Australian RN knows children and what they think and like. She presented each day with a well structured routine of school lessons, computer training on her oversized and magical laptop, letter writing skills and wonderful art projects. Music time was when she played the guitar and taught the children songs like Skip to My Lou, which still haunts me at times. Our dining room became the art room and hundreds of posters were created by the children; often Kylie, a very gifted illustrator, did line drawings upon which the children would color. Kylie also brought software to turn photos of the children into coloring pages, so each child could have themselves and friends in a coloring book to color. Kylie is tireless and after supper would continue for a few hours talking to the children and sharing stories with them before saying goodnight.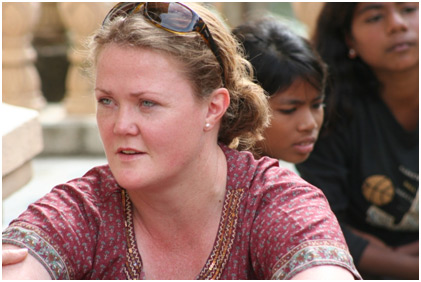 Both Sirkka and Kylie took small groups of children out on field trips. Sirkka chose the zoo and treated the children to sightseeing and nice lunches; Kylie opted for what she called "girly" days and took them to a spa in the tourist district where the children were pampered with facials and manicures, while soaking their feet in something special. Ideas like these are so absolutely foreign to the children's concepts that they still express disbelief that such places exist.
Now that school has begun, Kylie spends her days painting murals at a baby orphanage where we have been placing volunteers for a couple of years. She arrives at Papa's House in time to help the children with homework and then play outside before supper, the children disappearing but to my ears as darkness quickly falls around them.
During this month-long spell we had many guests come to witness and feel for themselves the joy and wonders of our home. Laurie Levine, author of "Blessings and Gratitude" and "Spiritual Medicine" and her friend Lou Poynton flew in from Australia to spend two weeks with us. Laurie and I have been corresponding for two years and during this time she has shared our story with many like Lou. Laurie has been very committed to the children of NOH and friends of Laurie have sent supplies, clothing, and two iPods with them to us. Laurie arranged a waiver from Qatar Airlines for extra baggage and thus packed several large trunks full of these donations.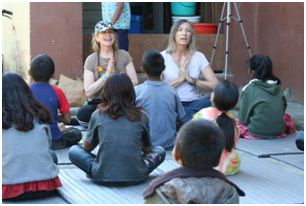 Lou touched us all with her warmth and humor; she is a quiet magnet.  A few days after she returned home I received a very eloquent and touching letter summarizing the effect our home had on her. She made a huge impact on the few staff that had the good fortune to be present during her stay. Over the years NOH has brought together some of the finest people I have ever met.
One evening when I was cooking dinner I smiled to hear so much amiable chatter in our dining room. It was full of guests, volunteers and children. While refilling some plates I panned over this eclectic crowd: we had as guest a German engineer who also came to visit after a year's correspondence, his son and a Nepalese friend of theirs who is in his employ; Sirkka from Finland; Kylie, Laurie and Lou from Australia; Tamara from Paris, a long time friend of NOH who brought her teenage daughter Hannah and two of Hannah's friends; and we were awaiting the arrival of Tingting from Hong Kong,  a Master's graduate of MIT returning to Papa's House to celebrate her birthday in the company of our children. All these people had left their buttoned down jobs and professional statures, and flown to Nepal to experience the children of NOH.  There was a lot of love and joy in the room and I wondered which of our children could have ever imagined such a thing, or for that matter how could I?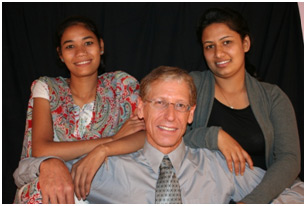 Andreas with Urmila and Sunita; Andreas' son Florian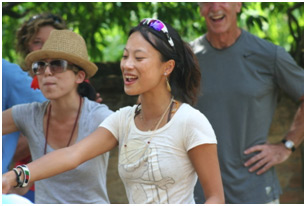 Gabrielle, Tamara, and Hannah; Tingting in an earlier visit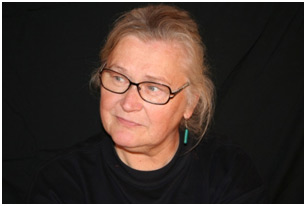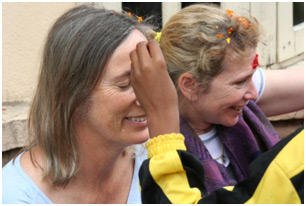 Sirkka; Lou and Laurie celebrating Tihar
Nepal Orphans Home recently had the long awaited pleasure of a visit by Jill Bodie the executive director of Sanctuary for Kids (SfK), along with her daughter Hannah, followed a week later by the founder of SfK, the gifted actress and star of TV shows Sanctuary and Stargate SG-1 Amanda Tapping. Sanctuary for Kids has been a great patron of NOH and in whose name we christened our Sanctuary House when it opened in 2009. Please read of this visit in Jill and Amanda's own words at http://sanctuaryforkids.org/whats-happening/nepal-blog.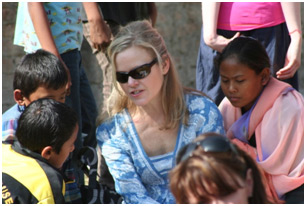 We take a lot of pictures at Papa's House, especially on Saturdays when we are all together, at school functions, special moments such as birthdays and Tai Kwon Do testing, along with all the mundane moments candidly caught and saved for the children. Each child has their own file saved on an external hard drive, thousands of these moments compacted together, the history of a family. When time allows, we have the children review their photos and choose those which they would like printed out for their albums or enlarged and laminated for their walls. It is always fun for me to think about the selections they make. This past week the children have been handing me newspaper wrapped photos from their early years when they had a family. These photos come dog-eared and thinned by daylight over the many years of the child holding and staring at them. There is a similarity to all of them, a stiffness and wariness by the camera's target; a slicked down preparedness with always some detail left to better reveal the life actually lived. This morning Gayatri handed me a very weary looking family gathered in their small room; three generations, six individuals happening to be together, but each looking very much alone in their battle with life. There is a sense of resignation in each face, even the babies. This photo is unique in its honesty; it has the purity of a disaster photo. It eloquently sums up my desire to try to help people. There are several reasons why this despair hangs so heavily in the room, why they are unable to get any traction in life, and it helps us to understand why the Kamlari system exists. These individuals were born with hearts and souls like us all.  They are not bad people, mean or uncaring; they are simply illiterate and lost in desperate circumstances, without any map for life. I believe it is important to be helping them to develop one, to give them hope.

Gayatri's family when she was a baby;  Gayatri taken in Narti in 2008
We welcome to our family Pratap Chetri, his wife Devika, their son Priyangsh and their 5 month old daughter. Pratap has been a friend for a couple of years and has an extensive background in education, from the developing of schools in remote areas to the maintenance and administration of the same.

Devika holding Prianshu and Pratap with his hands on Priyangsh; Nirmala, Vinod, Sangita and Lalita
Vinod, who has been the boys' home manager for several years, had decided that he wanted to join the volunteer department where he has filled in when needed, a position that I had thought of for Pratap. Pratap found the idea of being the manager of the boys' home a better fit for himself and his wife, so after these two talked it out, they were both happy to switch roles. Vinod is very excited in his new job at the Volunteer House and has quickly made the house sparkling clean and is cooking terrific meals for the volunteers.  He also gives Nepalese lessons and is the volunteers' cultural guide around Kathmandu. Pratap and his wife are a very welcomed addition to the boys' home and compound shared with Anita's Imagine House. Having Devika in the home has also quickly had a positive impact on the boys.
This morning when we were braiding hair and getting ready for school we were discussing Pratap's little 5 month old baby who everyone is quite fond of, and I asked the girls, "Would you like to have a little baby in our home also?" and Kabita quickly said, "Yes, go to the baby orphanage and bring one back" to which Pupu looking incredulously at her demanded to know, "And how will she get milk, are you going to give her yours?" which set me off giggling for quite some time.  Pupu in her innocence was being serious and then she asked me, "Papa, what happens to orphan babies with no mother, what will they eat?" and I let her know about infant formula which provided another "ah-ha" moment in her life.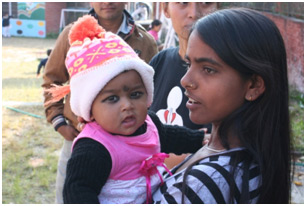 Kabita and Pupu Nov. 26th 2010; Prianshu (the baby) and Anita Nov. 26th 2010

Our Papa's House boys playing on the Skylark School basketball team. From left to right:
Ram; Ishor; Nama; Mahendra; Asok; Bisna; Gorkha; Kamal; Khemraj; Rabindra; and Danda
The school team gelled really well this year with a season's winning record of 75%. In the season final school tournament they made it to the semi finals before meeting their match and losing a closely contested game.  However they were voted by the tournament directors the "Most Sportsmanlike Award," a very nice trophy on display at the school. We are really proud of these guys for representing NOH with both talent and personality.
We celebrated October and November birthdays on Saturday the 27th. Under Anita's direction, Asha, Gita, and Bimala KC who are three of four sisters, and Sapana and Sarita, two of three sisters with us, filled, frosted, and decorated 130 cupcakes and 5 large fruit cakes. My suggestion of using strawberry syrup inside the cupcakes was not well endorsed but grudgingly allowed with a warning of impending cupcake disaster by Anita. Sure enough her predilection came true when we tried lifting the soggy but good looking cakes from the pan and into waiting palms. As time goes by I will hear less of this idea of mine, but when it is finally no longer sneaking into daily conversations it will be time to celebrate December birthdays and a fresh round may begin again. Be that as it may, these two-napkin cupcakes made for many happy palates.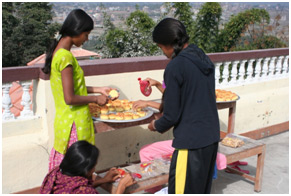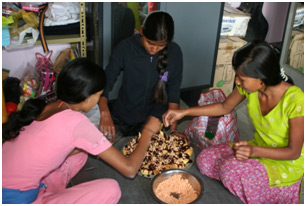 The day had started shrouded in a cold grey London style fog but by 11a.m. the sun evaporated the last of it leaving a cloudless blue sky and pleasant warmth. It is fun for me to watch the group dynamics; like all families, the children slide in and out of close bonds sort of rediscovering each other, checking back in after a stretch of not talking so much. With over 130 children it is hard for them to have interaction all the time with all the children, but they are acutely aware of and appreciative of every member of the family.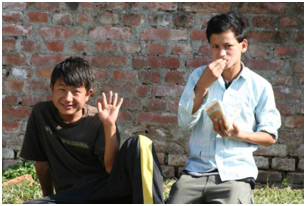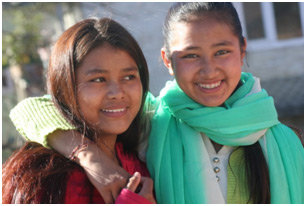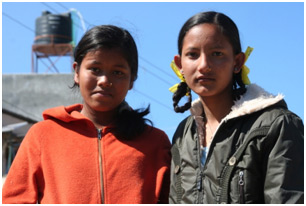 And below a few of the celebrants and their post-cupcake smiles.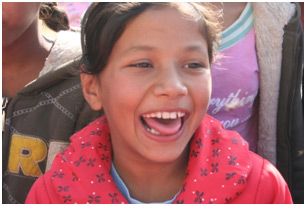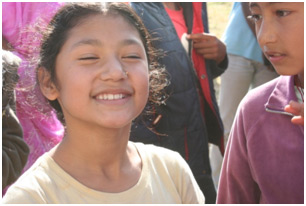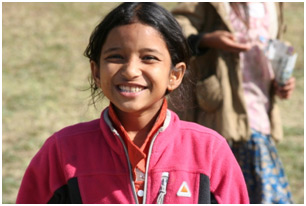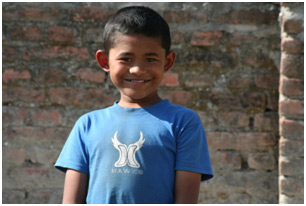 In a recent correspondence with a former volunteer who became a friend, Sam Maize wrote a line, "I still find many days and lectures filled with daydream thoughts of Nepal." Sam lives on a farm in Canada, somewhat safely distant from city life. His comment pleased me and led me to think of all the people who have come to NOH and subsequent to returning to their lives have written similar observations to me. As these many people will attest, there is something here that gets inside of you and makes itself known at what has been written to be both humorously inopportune as well as opportune times.
Sam's mention of a lecture and the opportunity he feels many in Canada squander caused me to write the following back to him:
Lately I wrestle with the idea of what is right for people, our children in particular. Should I be imposing western ideas of success on them, or is it best to achieve for them the lessons more to do with learning to love and find happiness in life itself? They know these well now, but I fear as they get older and feel directed to a life of doubtful pursuits this might change. Would it be better to teach them to appreciate the science behind the nature, so when they walk through a forest they are knowledgeably and intimately attached to the environment and life cycle and interdependency of what is below the surface and that which they see growing above and how it is magnificently designed to support and sustain all life, their own included?

Is it enough to teach them to read well and then set them on a reading path that would open, guide and nurture their own thinking?  Would it be best to train them in art and art appreciation so they can express themselves in color and form and to understand why some works of art have so inspired thinking humans for many hundreds of years?  Should we teach the children how to tap into their spiritual selves and to actively develop what to most of us is a constantly morphing sense of spirituality? Should we teach them the resources provided by nature to the discerning student? Should we be teaching them to build a shelter, to learn to bargain in a manner suitable to both parties' sense of satisfaction? Should we teach them to listen to their hearts, to trust that this is the only organ they can get pure counsel from?

Should we teach this or should we stress an academic education intense and accelerated to make up for the lost years they spent working for others instead of going to school? Should we be doing this and preparing them as best we can to enter a corporate or professional world, the byproduct of which affords them more opportunity to be able to reject that lifestyle should they wish?

Do we have the time to teach vocations and general knowledge on being a human today and to offer them an intense and focused academic education without diluting both to the point of mediocrity?

The responsibility of these children's lives weighs heavily upon me at times; we are making choices for them that certainly shape their futures. We do our best each day and I think we succeed very well, but in our long term planning we really need to consider wisely a custom approach, and not necessarily follow blindly the accepted procedure of our (well my) own generation.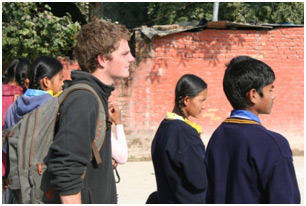 Sam attending a school basketball game.
This past weekend I asked that all the children's letters to Santa be completed. They each are told to suggest five things that they would like to have, listed in order of desire. Except for a few children without any concept of cost, children who as contestants on The Price Is Right would have viewers yelling at the screen, the lists are quite humble. Many of the children have asked for printer paper for homework assignments, even though they know we provide it to them anyway; bedroom slippers and thick warm socks for sleeping appear often as do clothes in general, with "pants and t-shirt" which to them is one item with a blind eye towards the "and".  Humorously some of the rooms where small and big children both share I find "nice radio" on the small children's list. Dictionaries made the cut for a dozen children, a few of them writing "Big" first.  A number of girls below ten have asked for "hill sandals" which to them means a sandal with a heel, an image of which causes gentle laughter among big girls present when I question the author.  One of the boys who is 13 asked for a remote control car while his 9 year old roommate, who he helped with his list, asked for nine batteries and a battery charger. One boy wrote a beautiful letter in which he stated that Santa has always made him very happy and he can change anything on the list and surprise him, but one thing he really wants is more "knowledge" and added "if you could make my mind work faster." Sweet sweet children we have.
I regretfully admit that I still have not found the time to de-ornament the tree from last year. The tree sits, no longer attracting a look from anyone, in a corner of our TV room. I will soon get this done so the children can have their special day of decorating the tree and dining room as they did last year.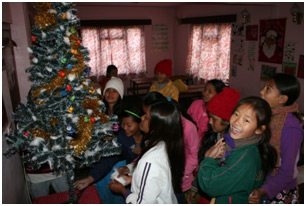 We have already begun to share memories of Christmas past and the excitement grows. Our traditions have become a part of the children's life tapestry; they will carry these with them forever. The amount of love and excitement during this holiday is indescribable; everyone has secrets, and the smiles and sparkling eyes charge the air.
Have you ever been sitting at your desk working for several hours and realize the cold air is getting to you and you get up to go to the kitchen to make a pot of tea and on the way your eye spots the phone charger and you realize it might be good to charge your phone and so you return to your desk to get the phone and on the way you see a pair of pants that you forgot to put in the wash bucket so you say, before I forget again I will do that now and as you take the pants to the wash bucket you see there isn't enough laundry detergent so you go up to the didi's area to get some detergent and along the way you run into the dangling clothes line that you had promised to fix that morning and here it is afternoon so you think I best do that now for the didi will need this line after school, and as you return down empty handed from the didi's wash area to get tools and line you are thinking about the contract you were supposed to write, outlining the new didi's responsibilities and pay, and you think I can do that really quick and get it to her before she leaves today, and so you sit at the desk and start writing the letter and then you think, gosh it is cold, I need to make some tea? I tell this as I have come to realize that in my house all the children's thought cycles seem similar and to culminate in them standing at my desk to ask for something. I sometimes ask them "what made you think to ask me of or for this now" and their answers usually involve seven or more states of separation with finding me the end of the process.
Yesterday after our tiffin and birthday celebrations were over the other children went home and our children began a two-hour study period, those with good grades in their rooms, those needing extra help in the study/dining room. These girls enjoy greater latitude in movement as freedom's key is the attainment of good grades and they usually find the freedom appealing enough not to slip back.  Halfway into this period one of our daughters, a painfully shy 14 year old girl, who, despite her dark skin, manages to noticeably be blushing most of the time, came to me and said in a voice quieter than the roar of my tinnitus; "Papa, I need a bra." By my third request for her to repeat it she had the tint of a fine burgundy and the attention of some of our children needing extra help. Minaskshee is a hard working and gifted student and she studies in her room of four with one other, while the other two study downstairs. When I asked Minakshee why does she have this need now at this moment, she recited her own drawn tale of studying about Gandhi's Salt Movement which brought up her thoughts on nutrition, which then spawned a consideration for her own nutrition and if she was growing properly for her age, which then reminded her she had been needing to ask me for a bra for many weeks and decided before she forgot again to just come now. We left together for the storage cabinets in my kitchen where we found the choices were somewhat limited, and the smallest we had I suggested might be a little big but she should go and try it anyway. About thirty minutes later when I was fully committed to thoughts far removed from this earlier encounter, Minakshee stood before me again and whispered, "Papa, they are fitting!" This being one of a hundred moments of out-loud laughter I am gifted each day with these innocent children treating their new English in their own unique cobbled-together fashion.
And with that I am thinking it is quite chilly and it is time for that cup of tea. Thank you to all readers of this for your good wishes and support of these rich hearted children of ours.
Namaste
Papa
Monday, September 13, 2010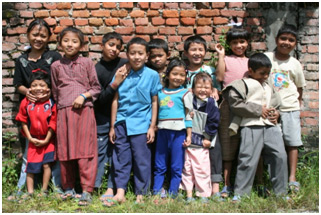 This September marks three years since a young man met me as I walked our children to school and strongly urged me to go and see about helping 12 children he was very concerned about. I left the children at school and went with him reflecting as I did that 3 years prior to this I found our first orphanage similarly. When we arrived I indeed found a very inhospitable situation. Bhulmika front row in red did not walk; the other children were gaunt and sick, their eyes tired. The photo on the left I took three weeks after we had Vinod move into the home; the kids finally slept with a sense of security and happiness began to return to their days. Finished were their beatings, their hunger, and their plans to run away together after the couple in charge of their welfare passed out, an every night occurrence. As you know now, Bhulmika leads the line walking to school every day, Ashok, Purna, and Tilak are senior boys and room captains, academic achievers and standouts on the Skylark basketball team; Diraj, extreme right, our future scientist/astronaut; Hari, rear center, short with blue shirt, quick with a smile is everybody's favorite uncle at 12 years of age; Rajan, front row right with blue shirt still exploring the dazzling mysteries of life with excited eyes. Yeshorda and Sabina flanking Bhulmika entering with grace the new world of being young woman, and Sumitra behind Rajan, a very happy tomboy and room captain to three of our smaller girls.
Looking back our taking the children in and renting the house now managed by Anita and adding two stories to the small building on the same grounds for the boys home managed by Vinod seems like simply the engagement of a well oiled cog of the wheel of Nepal Orphans Home, looking back smoothes out the wrinkles and helps to blend seamlessly our history. But in fact, taking on more children at that time, without the facilities or finances to be doing so was scary; however when children are in desperate need and no other options are available you simply move ahead and do what needs to be done.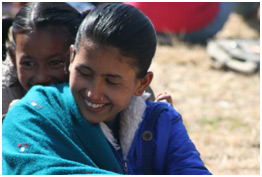 Looking ahead, last Wednesday was a holiday from school so we rented 5 buses for a family picnic on what we hope will be the ground where our campus will one day be built. Those who have been reading the updates will recall the one dated Monday August 10th 2009 in which we showed photos and offered a description of land we were very hopeful to buy in a small village in the valley called Gundu. There we found 12 and 8 Ropini plots (about 2.5 acres) separated by a 5 minute walk. What remains to this day very hard to fathom but that land would have cost us over $400,000.00; a figure so impossible we of course walked away. We continued looking and watching as land prices steadily increased anywhere in the Kathmandu valley; this is a phenomenon even in the poorest nations on earth, like Nepal. There is going to be a city with a draw for all the countries middle and upper class and this is the Kathmandu valley. There is a finite amount of space available and the demand is huge. We have leases on all our homes now, but when they expire we will be faced with a sheer wall to climb to renew them. So with the help of very trusted Nepalese friends, dozens of properties were discovered and studied but the criterion for our campus was always compromised; then several months ago when we learned about 24 ropinis or 3 acres in Anikot, a village of 16 families just outside the Valley sitting high and proud in pristine breezes.
Wednesday morning at 5:45 the buses arrived and we loaded 135 children, two dogs, staff, volunteers, 30kg bags of rice, 10kgs of vegetables, dahl, biscuits, tea, two tanks of cooking gas, two cook tops, huge kettles, plates, forks, cups, water and washing tubs and were on our way by 6:15; the kids' excited conversations and bits of songs in English and Nepalese falling from the windows as we cut our way through  the early morning traffic and into the relative open road 45 minutes from home. Each day for the last three weeks it has rained sometimes quite hard all day; but this morning the sun was warm and bright and the skies pale blue.
In the splendid country air our buses purred through serpentine hills making good time. We reached Dhulikel a small town on the "highway" which is perhaps the only town in Nepal with a planning committee; it is clean and well laid out. It was here that the 5 buses pulled off the road and the drivers demanded a renegotiation of the contract. We had another 18km yet to go, but they claimed we had reached our destination, and they were quick to point out that being Fathers Day in Nepal, they were not in the mood for being benevolent. Trying what is for me a new approach to reach an accord with them, I remained cheerful and expressed sympathy and appreciation for what they were doing for our children, and by this we reduced by half their new demands and the convoy proceeded.
Thirty more minutes and my frustration drained away in the good cheer of our children as we left the highway for what would be another 4.5 km along a dirt road up into the hills. The buses were the true width of the road which under the onslaught of monsoon had become running streams. We made it less than a quarter mile before the road sagged under the rush of water and held firm to the under carriage of our front bus. Smiling meekly at our driver, I helped our children to leave the bus and make a line a little further up the road where it was drier.
It was evident the buses had met their match, so we decided to walk to the property, delaying our picnic for a stop we had planned for the afternoon's return. We left the drivers crouched down scratching their heads surveying the situation.
The sun warmed the red clay mud mix as our flip flop wearing children toed their way stone to stone through the muck before we started our ascent into the hills. The sound of the country, the birds and rustling of trees the intoxicatingly fresh air thick in our lungs kept our pace steady. Rounding the first bend I heard the slow whoosh and gurgle of a mountain stream running clear and cold over a rocky bed 30 meters down on my left.
At around 3 kilometers we passed some members of the 16 families who call Anikot home. They smiled and chuckled as our 5-minute-long parade passed them by, one child asking, "Where are they all going to sleep?" to no one in particular.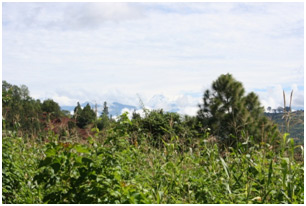 Another fifteen minutes and we had arrived. Our land was to the right of the road but presently obscured by corn several weeks from harvest.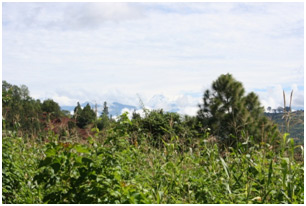 Marching around the last bend before our land (left); Reaching the valley after our descent (right).
To the left a water tap, a flat piece of ground and shade trees beckoned the children to sit, drink, and share gentle looks of "Has Papa lost his mind?" From the road, the view over the land included majestic mountains rising into darker blue sky and covered in snow. I drew strength from this, the children saw a long climb into nowhere, beautiful land for sure, but Nepal is a beautiful country. I saw our home, our dream, our foundation, a huge milestone, the threshold into the future. As I recently described in a letter to a friend about our campus becoming a reality and my new role in it,
"I will focus on writing and teaching in the classroom; playing basketball with, teaching Yoga to, and running with the children. I will become a grandfather with contemplative dreamy eyes rocking slowly on his front porch overlooking what we have done while children desiring an afternoon's chat rock next to me. On the rolling terrain of our campus I will watch lanky teenage children who came to us still unstable on their feet strolling to class with books on advanced physics and organic chemistry cradled in their arms, and sticking from a rear pocket a dog eared paperback edition of John Updike or John Irving; of Cervantes, Emily Bronte, Jane Austin, or Alexander Dumas."
Our campus will be a magical place, a village unto itself. It will be our Home as well as our springboard into being able to help other children across Nepal. As envisioned, our campus will be self sustained in every consideration, and with our own school, our children will become compassionate leaders in every walk of life.
Nepal Orphans Home has been able to put away about half of the $143,189.00 agreed upon price for the land. The twelve buildings that will make up the campus will account for another $696,608.00. This figure is quite tentative, not all the information necessary to realize a closer approximation is in yet. We have very gratefully received over $70,000.00 towards the building and furnishing of our Sanctuary House on the campus by the "Sanctuary for Kids" foundation. We hope to begin a capital fund drive soon. At that time, a complete description of the campus will be listed. We have received a truly amazing offer from a noted New York Architect, Adam Kushner to help design the campus and that work has begun. If any readers are in a position to help with the land purchase or campus cost, it would be greatly appreciated. Rooms on the campus, like the library or computer center, the music room, the art room, the science labs, the greenhouse and others, will all be available to fund and a plaque made noting the room as being built by the generosity of your name. The campus is designed conceptually to attract teachers from the international community; it will earn a stellar reputation and be a model studied for years to come.  Being on the ground floor of this will become part of a donor's legacy which will live on indefinitely. NOH has always belonged to the donors and that will never change; many people have contributed what they could from time to time, and in conjunction with our Volunteer Nepal program we have been pretty successful.
We hope to pass papers on the land before October ends, and though people smile at my optimism, I believe that we will find the help we need in order to begin to build the campus by February of 2011. My Dad always told us, his voice soft and confident, "Things have a way of working out," I have seen that to be true over the past 6 years. It has been a struggle always, but "things have worked out."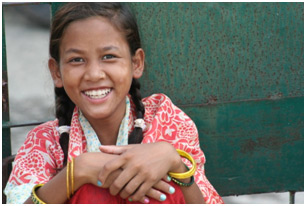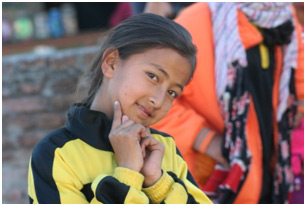 ******
My cousin Liz wrote me a nice letter recently in which she concluded that she was very proud of me, and I found the following episode a fitting rebuttle to her kind comment.
One morning two weeks ago the children were all at home. I had retreated from their company about an hour earlier to attend to some work at my desk while they remained playing on our ground. I was immersed in my work when I heard excited squeals and the congregate calls of "serpa" or  literally "serpent."
My hearing is not good, but acute when danger lurks, and now my ears were perked, stretched high for more information. I knew that Dawn Kumari was on the playground, so I had little concern for the children; she is Gurung, from the tribe that is famous for their stealth ability, with hundreds being made members of an elite British Royal Army fighting squad. She is fearless and tough as nails; she only smiles at me when I have found her funny bone with a comment, and then she tries her best to hide it. She has been with me as cook and caretaker of our children from the earliest days of our work in Nepal. I noted this current crises as an opportunity to exercise heroism or use my hard of hearing as an excuse; I decided my actions warranted adequate deliberation, so after another five minutes when the squeals in the yard turned to a chorus of ooh's and aah's I went down and feigned surprise to see the children encircling Dawn Kumari who was busy crushing the "serpa's" skull with a brick.
The small children remain impressed with me; the older ones I think know my limitations. I have to admit it was hard to watch the finality of the battle between didi and snake, and for that maybe some small token of heroism can I claim.
One of the reasons our homes function so smoothly is we all have our strengths and weaknesses and together we cover all bases; but dragon slayer is not to be found in the short list of attributes I bring to the mix.
Over the years wildlife will occasionally make an appearance. This year's monsoon has brought three very large snakes, including a cobra, into our midst; in years past leopards have shown up in Dhapasi. These occasions still surprise and remind me that we are sharing this land with beasts from long ago.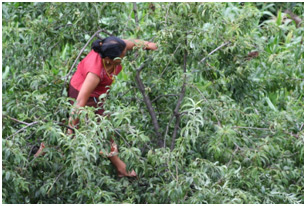 Above, Dawn Kumari attending children's day at school and at the top of a very high tree
capturing a small fruit enjoyed by the children but refusing to drop to the ground for them.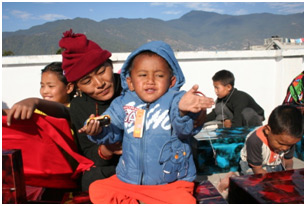 With her three boys last Dashain and on the right with her youngest at our first home in 2005.
******
We celebrated Teej yesterday, Saturday the 11th of September. This is a festival in which married women offer prayers and fasting in exchange for a blessing upon the heads of their husbands, and young girls will do the same in hope of the God's finding them a good husband. Most of our children take the day simply as a fun one when they get dressed up and go to a nearby temple at sunrise, and after they watch other women in their best Saris dancing freely together in the streets, laughing joyously, and carrying food and water as gifts to be placed at alters which exist as often in a Nepalese neighborhood as pine nuts in a good pesto.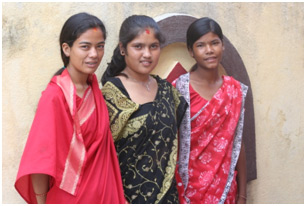 Bimala, Puja, and Urmila (left); Binita, Bipana, and Rekha (right).

Our Kalpana House manager Anita and kids (left); Anita and Sanctuary House manager Gita.
******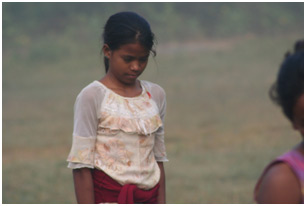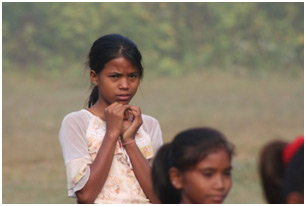 This is Rita, we speak of her and her sisters Sarita and Gita often. I took these photos days after she was rescued and brought to Lawajuni, our former home in Narti. Recently I asked two of our children to respond in writing to a few questions, the results I thought were worth sharing with you.
To the first question, "What is the happiest memory of your life before coming to Papa's House?" Rita replied in writing, "The day that Papa came to me and asked me to come to sit in Kathmandu." It should be noted that she refused to come at that time and close to a year would pass before she would come. She sent her little sister Gita but said it was her job to stay in Narti and help other girls to not be sold.
Asked "What has been your sweetest memory after coming to Papa's House?" she did not limit her response, but led off with "My first day of school, I had a dream to go to private school in Kathmandu which was fulfilled by Papa. Being in school on the first day and getting chance to make new friends is a great pleasure. Studying at school coming to home to have own tiffin is any unforgettable happiest memory ever."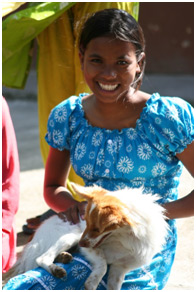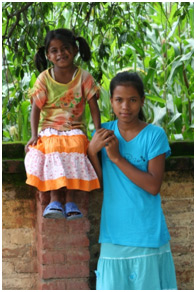 This is Rita about a month after she moved into Lawajuni and this is Rita last September after she had changed her name to Sapana, which means Dream. And this is Sapana with her sister Gita just after joining us in Dhapasi. Sapana works very hard in school and is always found reading and studying. She received an 81.8% grade for her first term this year which she was very apologetic for against all our assurance of how proud we were.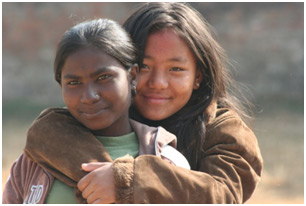 This is Kabita Mahato. Kabita came to us 4 years ago in late spring from a village in the Terai. This is the strip of Nepalese land bordering India where life is difficult all the time. When she came she spoke Hindi and Maithali only, Nepalese was a foreign language. She tended cows and sometimes worked in people's houses, she was raised by the villagers to believe that she would never have a husband, that no dowry would be enough to have a man marry her because she was so "black", and if that were the truth, she had no father who could have provided one anyway.
I quickly saw in Kabita ambition unlike that in most people; though she is shy, quiet, and reserved I noticed a wonderful sense of humor exhibited each day when she would observe things or gently tease her older roommates, Anita the Kalpana house manager and Anita's sister Sunita, one of our didis. Last week I asked Anita who she thought was the smartest girl in her home and she quickly answered Kabita Mahato. She has jumped classes and her English is natural sounding and comes quick and easy.
I asked Kabita, "How many languages do you speak and which is your favorite?" and she replied, "I speak four languages and my favorite language is English because it is the most important language in the world. The English language is used in each and every step of our life and we should also teach our young brothers and sisters the same."
I also asked her, "What do you dream will happen one day for Papa?" and she wrote, "I dream one day for Papa to be able to make our houses on our own land so that we can all stay together and there will be a big garden, and our school, and we can play together and make fun and Papa will be very happy on our land and one day we will make Papa the happiest person in all the world."
This one day she speaks of happened long ago.
Peter and Barbara Hess conducted some wonderful interviews this past summer where the children talked about their hopes and dreams. I will be posting those alongside the children's pictures on this website as part of the overhaul we hope to make for the site in the next couple of months.
******
A rainy day goodbye celebration to Jesse Bach lovingly offered by all the children and staff.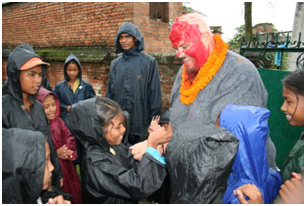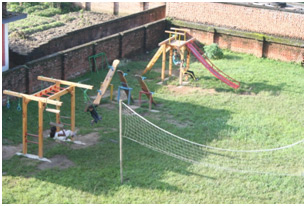 Jesse Bach from Cleveland, Ohio, one of the advisory board members for NOH and a great guy has worked very hard in the Cleveland community to raise awareness of the plight of the Kamlari and the work that NOH does to alleviate this. His latest effort resulted in "Yoga for Freedom," a two week Yoga and Meditation tour of Nepal including Narti, where our Lawajuni Home began several years ago. 15 very wonderful people signed up for this tour, knowing that part of their fee was going to NOH for the educational, food, and clothing support for 1 ex kamlari girl living at NOH for 1 year. In addition to this wonderful donation the YfF group raised enough cash to have Jesse build the playground that you see pictured here. They each gave up valuable luggage space in order to bring hundreds of pounds worth of books, earrings, everyday needs, coloring books and art supplies which they distributed to the children on a day long picnic and swim on the last day of their tour.
Friends of this group who are Yoga instructors and have worked with Jesse for a couple of years in fund raising for NOH also came and stayed in Dhapasi in order to spend time with the children and teach Yoga to them. Jennette Zimmerman, Candace Koslen, and Marni Task are also professional photographers who captured the exquisiteness of simple moments in the children's lives. Many of these have been posted on their Facebook pages as well as on the NOH Facebook page. By having these 18 people organized to come all the way to Nepal and see firsthand the work of NOH means the world to us. The children were touched and had one of their finest days of the year by the kindness and open hearted expression of caring this group gave at the picnic.
******
It has been 5 years since 14 of our children started Tai Kwon Do classes. During this time they have braved very cold presunrise workouts and  extremely hot summer workouts. They have silently endured a much slower  progression in rank as the their master was under the impression that I would not allow the children to spar in competition due to my stance on non violence. I felt very bad when I learned of this not so long ago. Out of the original 14 there are 6 remaining; all the others had very good reasons that guided them toward the decision to stop their lessons, their studies being the most prevalant. Now the 6 have been given a very enthused green light to enter competition; it will be difficult for me to watch, but knowing the children as I do, I think they will be just fine. Saroj and Chham in particular I worry about, as these two very gentle boys who have honed their talents and strengths may not have it in them to direct their ability for fear of hurting their opponents.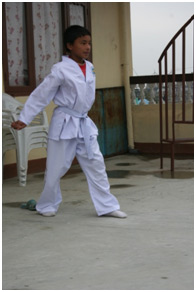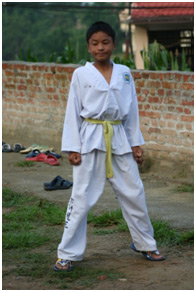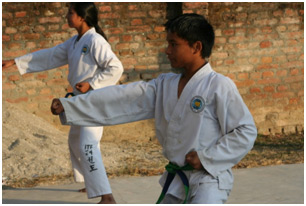 All the children are currently Blue Belts, except Saroj, who has a higher notch of color on his.
Now we have opened up a new class which will meet three days a week. We asked all who wanted to commit a minimum of one year of attending class without fail to sign up for a week of tryouts. Space available was limited to 16 of the thirty trying out. The cuts were made on Sunday and the chosen ones are very excited. We will photograph their progression as we have the others.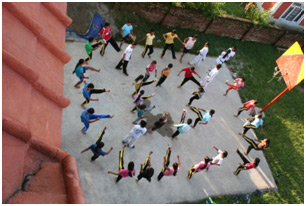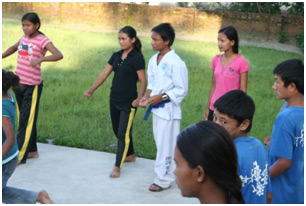 ******
October 8th begins the month long celebration of Dashain and Tihar. At present the children are involved in midterm exams which will take close to two weeks, but they are all thinking a lot about the approaching holidays.
This year Terri Bahr, one of the Cleveland 15 who came for the Yoga for Freedom trip, has provided all the money for the girls to have a new Kurta Sulwar and the boys a new shirt and pants to wear for the holidays. Terri initiated a very successful fund raiser after returning home to Cleveland; this is truly an extraordinary group of people that we hope will return often to enjoy the company of the children they have so generously embraced. Below are a few of the children after receiving last year's Kurtas.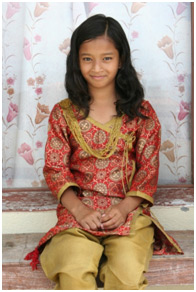 ******
Last Christmas we had many wonderful volunteers here that I wrote about. They helped make the Christmas day a very special event for all of us. Their extreme good nature and sense of fun was put to the test at 4 am Christmas morning when we had 150 metal trunks full of gifts and 150 packaged blankets to carry from the volunteer house to Papa's House grounds, and assemble for the children to see when they awoke.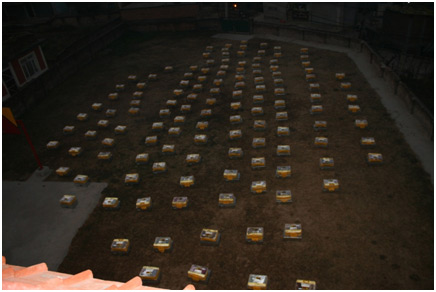 One of these volunteers wrote to me last week expressing confusion and some grief over the reaction of some of her friends and others who would argue that it is wrong for westerners to go to other countries and do what we are doing. These people are surely intelligent people and are able to offer reasonable and considerate intellectual support for their feelings. My volunteer friend has been here, she has seen what we are doing and she has seen what happens to those we can't reach; the people she spoke of have not engaged in helping others presumably at home or abroad, so they really don't know what it is like to save a child and, it can be argued, give that child a life.
I wrote back, "The reaction from your friends is ok, don't be frustrated; we know that if we were not here doing this that these children would still be sold and living in miserable conditions; we are here because others are not. As much as I love these children and as happy and purposeful a life they have given me, I wish their lives had been better and they never needed us. We also have missed out on a fair amount of funding from churches when I am unable to tell them that we teach the gospel and are raising the children as Christians. Maybe neither side of the aisle understands, but it isn't important; we are simply trying to raise these children as we would our own, to be good, compassionate people, and being with the children, we are sure it is the right thing to do."
Children the world over need help. Children every day are sold, they are malnourished, used and abused, they are given life and then denied physical and mental nourishment, and worse, affection. Most adults could not cope with the lives these children must try to endure. One can intellectualize all they want that it is wrong to help, but I suspect, and certainly hope, that if these same people stumble across a child in need, they will stop thinking, stoop down and lend that child a hand.
This is the little girl no one helped, and I fumbled my opportunity and she was lost. That was in January 2004. And though never found, she continues to lead my way today. Her life had great meaning, though she didn't know it; but for her, hundreds of children have been saved and given a good life. I write in the first person, but please be very aware that it has been many years now since it was "I." We have the very best Board of Directors and Advisors anyone could hope for. They all commit much to the sustenance of NOH and with firm gentle hands keep it well guided. And we have assembled a loving staff, family who are completely capable of taking over without a hitch if ever required.
Thanks to you all,
Papa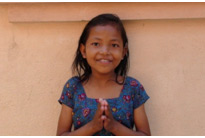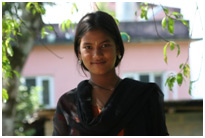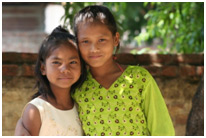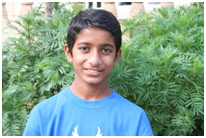 Tuesday, February 23, 2010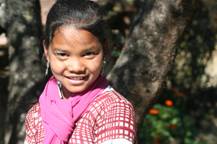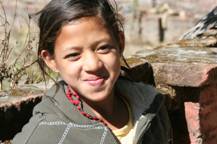 What is my life going to be about; what is it going to take for me to feel happy — I mean the happiness that involuntarily springs from my heart and courses through my veins? Is this something we should expect from life, something that will come at some point?
These are questions that started to haunt Palden Schmidt as he drove home each evening after a day of fulfilling the expectations of the advertising company that hired this rising star from Michigan State University with a fresh business degree. Palden at an early age had achieved many accolades and rewards for his efforts and had risen to a level of prosperity enviable to many, but though he had all the goods of success he still felt a little hollow.
Much to the disbelief of his colleagues, Palden submitted an application to the Peace Corps, and upon acceptance decided to leave the fast track and spend six months with us in Nepal before starting his Peace Corps assignment. We arranged for him to teach English and put together a boy's basketball team at the Skylark School where our children attend. Unknown to me at the time Palden wasn't sure if he even liked children; but he was ready to turn his life upside down and see what would happen.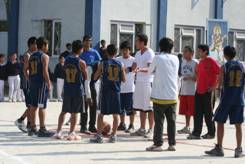 Palden applied himself to his coursework in a practical and caring manner, always prepared and always available to his students; he encouraged his students to ask questions, rewarded them in fact to do so with his smile and appreciative answers. His classes became inspired conversations; at night when I would go to say goodnight to my children, they would say, "Did you know..." and then with the fervor of keepers of a newfound knowledge share with me what they learned that day. After school he took a group of boys, eager but undisciplined in the art of basketball, and built a solid team with heart for the game, boys who on occasion ended up beating the talented teams from schools with established basketball programs because they played with heart, with love for the game, and they never gave up. Palden gave 100% to the children at Skylark each day; on Saturdays and other non-school days he and the boys on the team would go for a long run and then practice together for many hours, the boys not wanting the day to end.
In Palden's last month he would often share with me his concern that time was running out and that he wasn't sure how he would be able to leave. In his last week Palden started working on a speech that he wanted to give on his last day; in the mornings when I would see him before school, he revealed that he did not believe he would be able to deliver the speech, that while writing it he realized what the children had come to mean to him. On his last morning when I met Palden at the gate he was clearly torn; but when he entered the schoolyard and became swept up in the joyful mundane moments of the children he glowed again. This is the magic of these children.
At 1:30 an assembly was called and Palden gave his speech. He started off fine but then he left the prepared text and started talking about sharing each day with these children, and finding his life merging with theirs and awaking one morning and realizing the excitement he felt with the days beginning was the answer he had been looking for, he had found what happiness was, and the exhilaration keeping his happy heart pumping was something that no amount of money or fine cars would ever replace. At the back of the assembly 14 young boys quietly wept, so too the children from his classes who had been taught to ask questions and to think, and so did the principal and many of the teachers who Palden taught to find joy in teaching instead of simply dispensing information and formulas.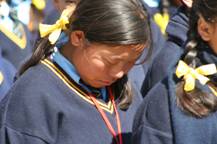 In Dhapasi, dusty slow Dhapasi where electricity is unavailable most of every day, where things are broken and water insufficient, where one is not insulated from heat or cold; where politics close schools and shops regularly, in Dhapasi far from skyscrapers and penthouses, clean water and air, entertainment and choices, Palden Schmidt found happiness springing from his heart and coursing through his veins.
* * *
The children of Papa's House play a lot of basketball; the girls in my house never tire of the game. One night Cila told me, "You know, Papa, the Head Mam's sister was telling us today that the Skylark Hostel girls would beat us in a game of basketball, and I said I don't think so, Mam." When I asked why the Mam felt this way, she replied, "The Skylark hostel girls are bigger and more talented, she is telling us." So I asked, "And what do you think, Cila, would it be fun to have a match against them and see?" And Cila just smiled her answer to me, her eyes dancing in images of her driving the lane. So it came to be; a date was made and the game would be held in front of all the school, prior to Palden's boys playing in the semi-final match in a local district school tournament. The children are all friendly, but there has been a small rivalry between the boarding students, sons and daughters of better off parents, and the children of Papa's House since the first day we entered the school grounds. This was not created by us nor given energy by us, but in sports and academics the boarders have always had a little bit of an attitude of superiority.
I asked Sam Isherwood, one of our returning volunteers, if he and Vinod would try to teach the girls some rules of the game to get them ready, and so it was.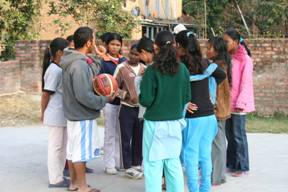 As game day approached we learned that the Skylark Hostel girls would have uniforms, so we tried to find matching t-shirts for our girls to wear. The girls without tennis shoes borrowed from others who had them.
Game day arrived. At lunch time with all our children around to wish them luck the team changed into their game clothes, and as a family we all walked back to school, 124 children strong.
Entering into the school grounds, I was surprised to see the size of the audience and the formality under which the game would be played. Our girls noticed that one of the players suited up for the game had graduated the year before and was currently playing college ball. They asked what I thought and I said, "It doesn't matter; she is one girl, you are a family, go and have some fun." And they did. They didn't talk much before the game or during it, they never complained about referee calls, they never got rattled or angry. They played for each other and for us on the sidelines; they out hustled, out shot, and out passed the Skylark hostel in a very lopsided display of what a family can do.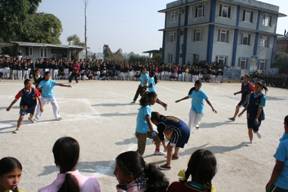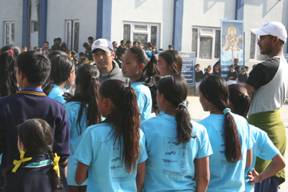 Christmas at Papa's House this year was better than ever. With each passing year the children get more enthused about the songs to be sung, the decorations to be made, the tree to bring out and decorate on a Saturday morning, and the making of small gifts for each other's secret Santa. They share stories of Christmases past, of watching a Christmas film the night before and going to bed trying to sleep with one eye open as Papa instructed; and the waking to stockings bulging with fruits and candy.
This year we had many volunteers who wanted to return from their placements in time to be with our family for Christmas. The volunteers really made things special, from the storing of 135 metal boxes and all the gifts to be packaged in them taking up space in their home, to rising at 3:30 on Christmas morning and delivering the boxes in the biting cold and dark and spreading them on the large grounds of Papa's Harmony House; they smilingly produced. Sirkka Turkki from Finland was here for her second time, and in addition to many beautiful garments she also made 135 stockings for the children, real Santa-type stockings large enough to challenge the filling of them.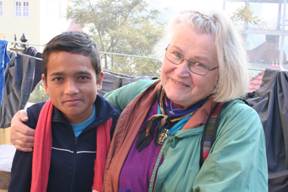 Sirkka working with Bhulmika, who has CP.
On the last Saturday before Christmas Sangita Darji took out the Christmas tree, and with a little help, beautifully decorated it behind closed curtains in our dining room while children outside eagerly sought out small openings in the curtains to see what she was doing.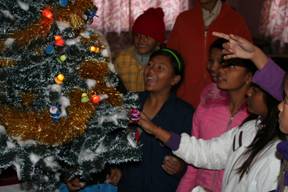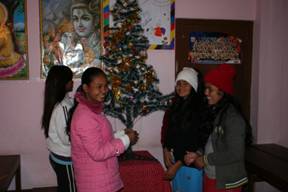 Sangita in white jacket with, on right, Sangita Chaudhary, Tara, and Bipana
"We Wish You a Merry Christmas" and "Dashing Through the Snow" echoed from hallways and inside rooms. Many questions from our newer children about Christmas and who Jesus was were fielded by older children, and the idea of celebrating the birth of the Christian God settled easily with them and helped make some sense out of "Oh Little Town of Bethlehem," the words of which they had learned. All the songs sung in English with their thick Nepali accents were patently hysterical and touching at the same time to hear.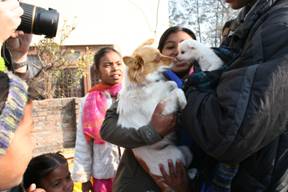 Clockwise from top left: Christmas morning 5 a.m. on the grounds; Lucky, our Snowball's gift;
Snowball meeting her brother for the first time; exchanging secret gifts.
Anita and Vinod, the managers of Imagine and Possibilities Houses, were helping their children to keep a secret from the rest of us. The children on their own accord had decided to put on a Christmas pageant with a play they wrote, directed, and acted in, as well as dancing and athletic performances. The play was about the life of a Kamlari, from being sold, to working for cruel people, to being rescued and moved into Papa's House.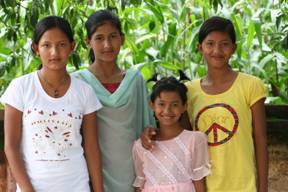 Left: Bimala, rescued in 2009, reenacting her time as a Kamlari. Right: with her sisters at Papa' House.
It was a very moving tribute to all of you who have made their lives safe and full of hope.
Christmas and other religious holidays were recognized by the Nepali government this year, and each religion's holy days are shared days off by the people of Nepal. In accordance a new multi-storied shopping center celebrates Christmas in a big way, with a beautiful tree and visits by "Santa" and other universally recognized characters. We took our children in small groups to see all of this as part of what will now become more of our Christmas tradition.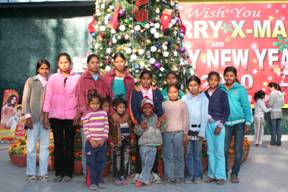 * * *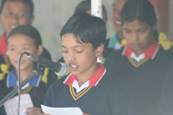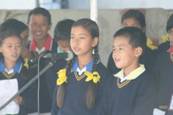 Left to right: Ramesh, Apsara, Anu Maya, Yeshorda, Sandesh, and Bhulmika
Our children are doing well in school, with about 30% receiving top scores; 50% pulling Bs and Cs; and the remaining 20% having a difficult time learning the new language in which all their classes are taught. Most of our children missed out on several years of school but have shown that desire is a great equalizer. The school year starts and ends in April, and we are pretty certain that all will pass with everyone doubling down in their final term's effort.
* * *
Valentine's Day felt different this year, as our girls and boys are getting older. A week before February 14th the children filled all their free time in the making of Valentine's cards and creating paper flowers and hearts. They expressed their affection for their closest brothers and sisters and staff alike. Small hands painstakingly serrated the edges of a piece of construction paper upon which they glued a photo of a film star or model cut from the newspaper and wrote, "Happy Valentines Day Papa, I Love You"; the smallest of children with big hearts wanting so much to share, to express what it is they feel in their hearts when all the talk is over; and older teenage boys and girls with serious cards ending with "I love you… thanks Papa"; two words that give meaning to life.
A family's story is that of a million mundane moments shared; ours is epic.
To our many supporters I pass on what is rightfully yours: "I love you… thanks, Papa."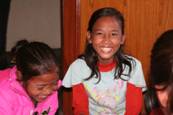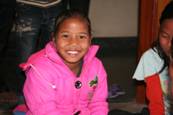 Namaste from the children of Papa's House