We have had some good news lately from some of our older children. Khem wrote to tell me that he had just gotten a job in a hydropower project as an accountant in the district called Shankuwashabha (a neighbor district of Mount Everest).
Khem went on to share how nice the village folks are and how beautiful it is there. He explained that everything is going well and his boss has now become very friendly with him. Khem is twenty-four years old. Like most, he entered college unsure of what he was interested in, but he studied business and did okay. After college he started his own trekking business. His ideas and ambitions were good, and he threw himself completely into wanting to become his own boss quickly, but the competition is great in the business of trekking and his lack of experience proved to be his undoing. We suggested that he join a top outfit as a guide and work his way up the experience ladder and then try again. And then the bottom pretty much fell out of the industry; this was still long before the virus, but trekkers were becoming scarce. So, he closed his business and considered his future. He decided upon marketing and asked us to send him to a one-year Google-based marketing school. He was hoping to freelance with his newfound knowledge, and that is where he was before this latest email.
Some of our children, the boys mostly, are all anxious to step up onto a ledge and begin to fly as soon as possible. I understand the desire, for I was the same. Other boys have taken a slower approach, staying in school, and acquiring more knowledge with their eye on an advanced degree. They are still in school, but they feel confident and secure in their growing appreciation for their chosen subject and path in life. Not one style suits everyone, and we encourage in all the children from a young age to find their own style. We are there for them, a constant support that allows them the freedom to experiment and experience life a little more easily.
One of our older girls just announced an impending marriage. She is quite happy; her fiancé is a member of the Nepal Army. This daughter studied science in school, and then decided she wished to go to Germany in the Au Pair program. The year before the pandemic began, she studied German at the institute and had achieved her passing marks. She was awaiting the visa and looking for a position when the virus interrupted everything last March. Sangita will be the fourth of our marriage-age daughters to marry during the pandemic.
The virus has clearly impacted everyone's life to varying degrees. None of us are the same today as we were on March 26th when we separated. We have children who have discovered new interests and talents and they have broadened their perspectives accordingly. One other daughter who remained with us during the pandemic has progressed with her love of reading to the point where she is completing one or two books every week. She began selecting books from my own stock. Our conversations reflect the developing of her philosophy of life. To share with a young adult is wonderful and privileged, and her appreciation of novels that I have enjoyed makes me very happy.
Many of our girls with access to a smartphone have been expressing themselves on TikTok. I have been amazed by the creativity expressed there. They show confidence, joy, and a lot of dance talent.
Many of the children have been doing online classes managed by Prashanna and our Chelsea Center teachers. Prashanna has also supplemented the academics with "Life Coaching," teaching the kids to think creatively, to see themselves as the unique and powerful humans they are, and to set goals and learn how to work towards them with an action plan.
Some of the college children, those attending the college for IT, for example, have continued their schooling nonstop online, while others have not had that advantage and have lost a year's time. This is frustrating for us all.
Our daughter Urmila had just one semester left to complete her Dental School's first three years. She is anxious to resume. As many might remember, Urmila received the highest score in the Dental School entrance exam three years ago. She will be fine, but she is nervous about her exams after an eight-month absence from school. Urmila returned to her village and lives with her aunt. Life has been hard; they live in a clay house with a thatched roof. There is field work to be done every day, and she has shouldered many family responsibilities that previously existed, but the reality of which was unfelt by her while living with us. The daily care of an adult with serious illness has been foremost. But we speak several times a week and it has been apparent that the weight of these responsibilities has enlightened and broadened her understanding of human nature and has made her even more compassionate.
| | |
| --- | --- |
| | |
| Applying Tika during Dashain 2018 | Urmila, after Dental College admissions test, in 2017 |
The limitation of movement during the pandemic has called upon our children to consider life beyond what they were focused on at home and school. It has opened our children's eyes to how large life really is, and the infinite possibilities that exist for their choosing. This is to say, that they have discovered with new eyes, that life in the village has possibilities as well as life in Kathmandu or even another country; that they are not limited but for their imagination in what they wish to do with their lives; that there is no urgency to life; that indeed they will miss so much if they do not slow down and look around them, and notice the beauty in the smallest things; and how that beauty is always present, but unnoticed in their rushing about. And in so doing, love has happened, not just as in a boyfriend for some, but love for life, for friends, for the universe, for education, for understanding, and for expressing themselves in different ways. Their lives and the world are miracles made fresh every day.
My take is that this forced time-out has been, when the calculations are done, a good reset for us all. And this brings me to account for myself.
During these many months of COVID lockdown, with the bulk of our children being gone, I have missed them terribly. Emailing, texting, and speaking on the phone only somewhat soothes the hurt. This has been my life for the last fifteen years.
With so many of the children gone my days were filled with painting the interiors of our homes and buildings, soaking up the energy in the rooms of the children. The energy I felt each day led me to recognize more about this time in my life.

The first Papa's House children 2006
Fifteen years ago, a friend took me to an "orphanage" that needed help in Dhapasi, a village in the northern outskirts of Kathmandu district. I found a small, rundown house with two dozen destitute children. Malnourished, in poor health, and not attending school, the children were forced by the owners to beg on the streets. I assumed management of the home, renovated the building, and began Papa's House to care for the children.  
The ensuing years have been good. Many children have grown up in the nurturing environment of Papa's House. I have always felt that we are a really big family, with each child's joys and fears, smiles, accomplishments, failures, anxieties and laughter, future plans and work to achieve them deeply felt by all. Nepal Orphans Home has been fortunate to have dedicated staff caring for the children.  We have expanded our mission to include Volunteer Nepal and the Chelsea Education and Community Center and we have provided assistance to many others in Nepal through NOH Outreach.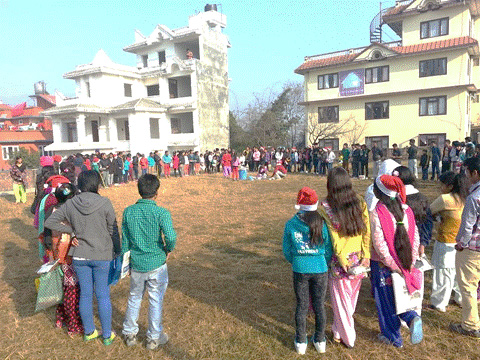 Celebrating Christmas 2019 at Papa's House
Reflection of this brought some relief in thinking that it might be time for me to return to America and tend to some of the dreams that I have, ideas that have been shelved knowing that one day, when an appropriate time had come, would be dusted off and eagerly begun. In the last month I have thought about living near Hope, being able to visit my children and grandchildren and being near to my family, and these thoughts have brought a lot of smiles to me, and I have made plans to further those commitments, and those plans have comforted and rewarded a somewhat parched soul.
I would never leave if I thought that doing so would in any way compromise the future of our children and our community outreach. I have worked daily with our Director of Operations, Sunita (Mrs. Pandey, to me) for over eight years now. I trust her and I know she has a good heart. While I am away, we will continue emailing and discussing many things, as we do now. In addition to Sunita, we have Prashanna, a young man with impressive maturity and depth, directing the Chelsea Center. We also have the commitment of the NOH board. With the board's decision to increase the autonomy of Papa's House over the last few years in the making, we have been able to help Sunita to be fully prepared to manage. The government's relationship with Papa's House grows with time, and Sunita has earned the respect of the government in a way that is unparalleled in the Social Welfare Sector.
I came to America on October 11th, though it feels like a year ago. I spent some time in Maine visiting the small town of my childhood. It remains essentially the same. When I wandered the street that I lived on starting at the age of ten, I was drawn back to that time in my life, 57 years ago. It was an exciting and comfortable feeling. As I stood before the houses of our neighborhood it felt as if my younger self stood next to me gazing, sharing the memories washing over me. My recollections came crisp and clear as they were through the eyes of my present self. This transformative experience was replete with all my senses sharply lived again. Memory after memory came to me, and when it began to wane, I was feeling, most sharply, the passage of time and an acute sense of how much time might be left to me, and how I was going to spend it.
To be honest, from the moment I left Kathmandu on a plane to Doha, where the attendants were wearing hazmat suits with masks and glasses, and the passengers sat with masks and face shields, truly a dystopian moment, I have felt lost. I thought that I would feel excited for returning to America; every other time I did, but this time I felt like I was leaving my children behind.
I have come to try and know what I will do now in my life. The conflict that I have felt to do what is right between my own family in America and my family in Nepal has been a constant and somewhat unsettling companion for the last sixteen years.
I am now in North Carolina. It is wonderful to be near my family, and to be with Hope. Some of you who have been reading our Updates since the fall of 2013 know the profound relationship between us. Hope is my miracle girl who fills my soul with cheerfulness and a sense of purpose, of wellbeing, and a desire to be watching over her and contributing as much as I can to her happiness. She is a little girl now; she will be eight next year. She has developed intellectually; her knowledge of life, and the facts from school with her desire to discuss it all with me, fills me with a longing to remain by her side, to watch over and admire her life, and to bring it joy every day, to help her explore and wonder, for as long as I am able. Hope has an incredibly happy life with her Dad Sam and Mom Anita. I hope to add another dimension to that.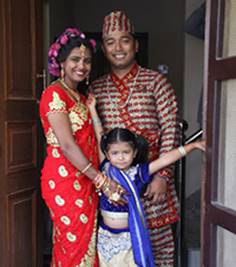 Anita, Sam, and Hope at their July 2018
wedding celebration in Dhapasi
That said, I am not sure at this moment when I will return to Nepal. I have rented a place for a short term just down the street from Hope. All I can say is time will tell.
Nepal Orphans Home has been my life since I first came in the late summer of 2004. Everyone who is reading this has become a friend who has known me through NOH. The million moments that I have shared with our children have had a profound impact upon my life. And they always will.
I am looking for a rural acre, close to Hope. I wish to build a small house and a larger woodworking shop, to grow my own vegetables, to walk barefoot on my property, to sit on my porch, to collect my memories on paper, and to be a daily part of Hope's life, in person, while now being a daily presence in my Nepali children's lives only on WhatsApp and through emails.
The NOH Board knows of my thinking not to return in the foreseeable future to Nepal and they have been resoundingly supportive. Mrs. Pandey also knows, and she too understands. We are in almost daily contact and she discusses her observations and shares her thinking as it concerns managing Papa's House activities in Nepal. This will not change regardless of where I am located. I know her instincts and capabilities and she will continue to do a fine job.
I am not sure if this revelation is important to anyone, but you are an extended family, and it was important to me to share it with you.
All my best,
Papa

On main grounds outside Papa's Samanjasya House 2014