The making of men and women.
Something that everyone who visits the homes of NOH will remark upon is how close a relationship the children have. Our older children are always available to play, talk with and listen to the youngest children. They know how to share the moments, to be inclusive, and to feel what their brothers and sisters are feeling. They know when to play the fool and when to take seriously the mood of the moment of the little ones; you will as often see our teenagers hanging out with our smallest children as you will see them with each other. Our older children help to make Nepal Orphans Home a happy and nurturing place for us all to grow up in.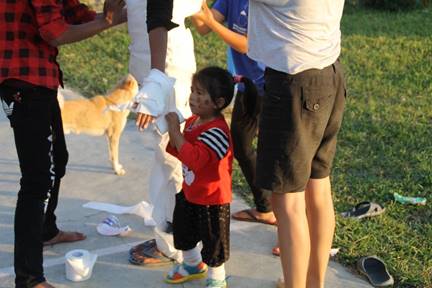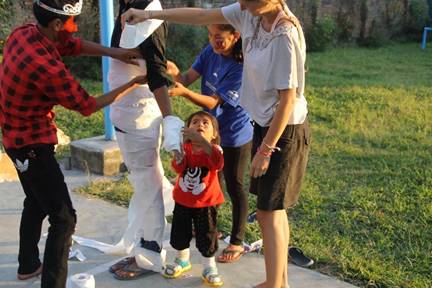 "Never is a man as tall as when he will stoop down to help a child."
CECC Building
| | |
| --- | --- |
| | |
| As seen from the boys house balcony | From the street |
Our new Chelsea Education and Community Center has once again resumed a pace which will allow the opening of its doors by early spring. The month of October is a holy month and work is slowed to between a crawl and nonexistent.
The building is going to provide a space where individuals will recognize their potential and have the guidance and tools to achieve personal greatness. Education is the key to all that is important to the human endeavor, and here its collective energy is ushering in a dynamic change in our community.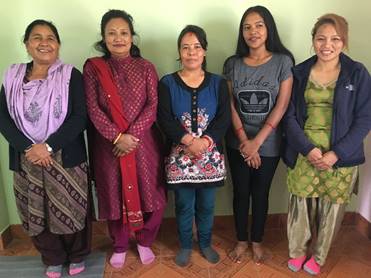 Parbati, Tara, Minu, Sabitri, and Sabina make up our Women's Council. These women bring to the task a combination of experience and tradition, the spirit of young women yearning to be heard and those who straddle both. They meet with our Chelsea staff every Friday afternoon to discuss the CECC and our community. They suggest workshops that they feel would be helpful or enlightening, and discuss ways in which the community might better serve the individual and how we might play a small part in making our world a bit more just and equitable.
*****
Outreach
The NOH Outreach means a great deal to the staff, our children, and the Board members of Nepal Orphans Home. We are very proud of the dedication to this and the result thereof.
Sanjeev Dahal shown here with support money and an agreement with Mrs. Mina Thapa who is the founder and director of Mother-Sister Nepal, an NGO serving the women of remote Sindhupalchowk as well as caring for children who lost both parents in the earthquakes of 2015. This is one of two orphanages that would not be able to provide optimum care for the children if it were not for our help.
Kanti Children's Hospital
Our work here varies.  In some months we are able to grant wishes to the children such as the one described in the last update.  In addition, Saroj and Himal, two of our college and post college boys, work in this outreach program, and have been taking children who are feeling well enough out to fun places for the day.
We also help when needed with buying pain medications, chemo treatments, and necessary testing. These occurrences are when children's parents have absolutely no means to provide any sort of medical treatment. Without prepayment for medical care the service is not given.
We also celebrate a lot of birthdays with the children and provide enough cakes, balloons, and other treats to turn the ward very festive. Early last month we arranged for "Clowns without Borders" to put on an afternoon performance attended by most of the hospital.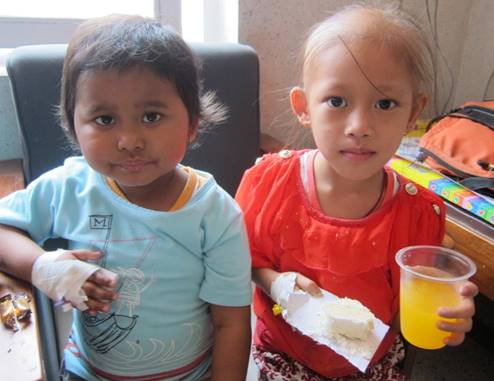 Ramechhap
| | |
| --- | --- |
| | |
| School building site about one year ago | The first floor, of two, walled in, June 2016 |
| | ​ |
| The foundations beginnings Jan 2016  | One of the makeshift classrooms |
The village of Dhumrikhaka is an area where NOH has been helping for the past 7-8 years. Their school was heavily damaged in the first earthquake, but then completely lost in the second one two weeks later. The village sits two and a half hours' hike (for the young) up a very steep mountain. It is a small village of very limited means. We have supported the school there with teacher salaries and a hot lunch program for the 80 to 100 (on average) students in the school. This is also a very popular destination for our volunteers. The people are lovely.
Life there is exasperatingly difficult. If you were curious by the construction timeline, it is because they have so little water available that mixing concrete has to have water set aside over a period of time before they can do it. We have encouraged the village elders to get a price on having water delivered from a boring down below using lift stations; this would provide all the water needs of each household in the village from a single tap. We will do our best to pay for having this done in the next few months. NOH is building the school and we are hopeful now to have a completion ceremony in April in time for the start of the new school year. 
Bigu
| | |
| --- | --- |
| | |
| Post earthquake, all but one building lost | Four of the 80 Buddhist nuns |
| | |
| The new house and kitchen | The Lama and head administrative nuns |
The destruction was complete in the earthquake.  They lost every building save the one in the above photo which sustained severe damage. Immediately after the quake, NOH provided emergency funds for tents, blankets and food. Then after a plan was decided upon and they wished to move everyone to Kathmandu, NOH was there for them. Now is the time when all have returned and construction is going on quickly in an attempt to get under shelter before the snow flies. NOH has committed a substantial amount of money for the construction.
Bigu sits on a mountain top, a bus ride and two days' hike from Kathmandu. It is a very spiritual place and a favorite also of our volunteers who teach, help with maintenance, or work in the gardens or kitchen. Several years ago my son had his wedding performed by the Lama and attended by all the nuns, from seven years of age to eighty years old.
NOH has been involved with Bigu for seven years now and we look forward to our next generation carrying on with it.
These are a few of our ongoing outreach programs which we believe strongly in.
New Staff

Shreya, Hillary and Sanjeev
In our newsletter you will have been introduced to these wonderful new hires. They are exceptional people with hearts set on making a difference in the lives of many.
Shreya is our Volunteer Nepal Communications Director, Hillary has been hired to be the Director of our Chelsea Education and Community Center, and Sanjeev is our new Director of Education and Outreach Programs. 
Sisters Day
| | |
| --- | --- |
| | |
| The older boys doing a self-choreographed skit | Ram sharing his passion for singing |
| | |
| Young boys dancing | Priya after receiving Tika from her brothers |
| | |
| Kajul receiving her blessing | Anisha feeling honored by her brothers |
This was the 4th annual "Sisters Day" celebration which happened on September 17th. The program is completely put on by the boys and includes a fine meal that they have prepared and served for all the girls. It is an occasion which further galvanizes our family's togetherness and helps make it a little smaller with the blessings from all the boys to all the girls.
Tihar
| | |
| --- | --- |
| | |
| Dog day and our Tinky and Lucky are honored | Cow Day, Laxmi Puja |
Tihar is a five-day festival with each day honoring a different deity. The third day honors dogs. The fourth day honors cows and is called Laxmi Puja. The Goddess Laxmi will come to every house and business to bring wealth to it in the following year. Mandalas are created by the entrance and painted footsteps lead to the house's interior Puja room.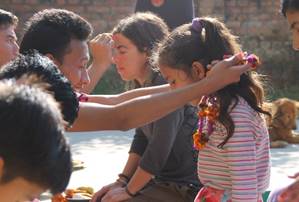 During Tihar the fifth day is when brothers are honored. They receive flowered "mallas" and carefully applied Tikas from all the girls, then in return they offer the same to their sisters. After this the first meal of the day is broken together.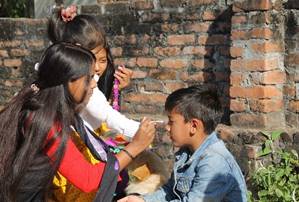 Dashain
Dashain is a period of reverence that spans three weeks. There are certain days within that are sacred, and on these days families come together in ritual. Kathmandu is a ghost town for a few lovely days as most return to their village birth place.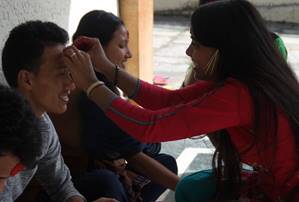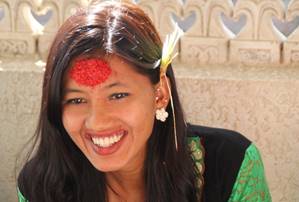 On Tika day a banquet is prepared the day before. In the morning the women all bathe and do Puja alone, and then all the children gather to receive a blessing. The elder is the first to offer Tika, and a blessing to every person younger, which in my case is most of Kathmandu. This then is followed by our senior staff.
| | |
| --- | --- |
| | |
| Manisha | Aakriti and Gita |
| | |
| Srijhana, Hope and Hope's doll | Sandesh, Tilak, and Bimala |
| | |
| Urmila |  Manisha and Mina |
| | |
| Priya | Aakriti |
In addition to the Tika and separate blessings to each member you also apply "Jamala" a special type of wheat grown for this occasion only, into the hair.  When all is done the banquet is served and after that the day quiets down to walks and resting. Each community will erect a "Ping" three very tall bamboo pieces forming a tripod from which a heavy rope and swing is attached. Children play on these for several days leading up to "Tika" day but at sunset on that day these are removed for the year. 
Saroj taking the boys to the Fun Park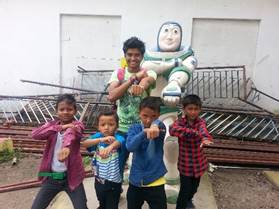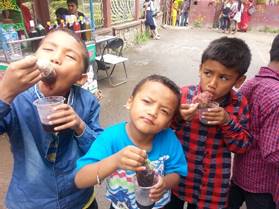 Suman, Sanjiv, Davit, and Sandip, the fabulous four enjoying a day at the Kathmandu fun park courtesy of our elder son Saroj, who is also a part-time manager in their house.
Saroj and his sister Sangita were the first two children of NOH. Sangita is now 25 and living on her own while Saroj at 22 is an all-around help with the outreach department, volunteer department and co-manager of the boys. I think he is one of several of our children who will lead the next generation of work done by NOH.
| | |
| --- | --- |
| | |
| Sandip and his alter hero | Sanjiv and Suman sliding |
Halloween Nepal style
With deep gratitude to Hillary and volunteers Amanda and Romina, the kids had a very active and fun Halloween party.
Apple bobbing
 and frightening décor by the children
The children made their own costumes from whatever could be found

I think we had the only jack-o-lantern-worthy pumpkin in Nepal. Manisha, tongue in cheek, making the "trick or treat" rounds.

A "mummy"-making contest
And the mummies. 

Then Hillary led a brave young group in learning "The Monster Mash" while Hope tried to keep up.
Sports Day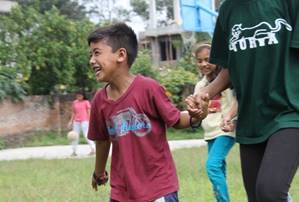 With many events designed by our volunteers that were meant to challenge dexterity, endurance and the ability to perform while laughing hysterically, we had "Sports Day."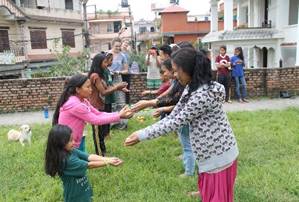 My Girl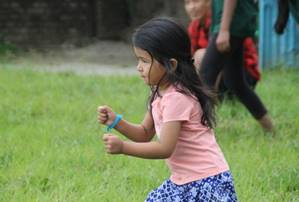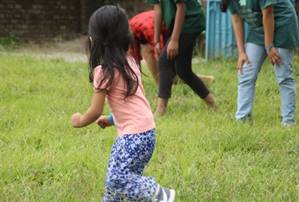 Hope unquestionably enters every contest with determination and fun
| | |
| --- | --- |
| | |
| She is a keen observer of body mechanics | To Manisha, winning is being with her friend |
Hope has brought us all heightened sensitivities. Being around her leads us to recognize our own potential and strengthens our resolve to be better people and to work hard to acquire the skills necessary to make a difference with our lives, and to know that it does matter. 
Every morning Hope stands next to me to welcome each of her sisters and brothers as they enter the school gate, and I have learned that in the blue moon when I am not present she stands alone to do so.
Hope has been patient with my tendency to hover around her in protection, but lately she is asking me to give her space and allow her to fall, just like others do. It has been the hardest lesson for me coming from her, but I have witnessed that she recognizes her abilities and is as careful as the situation demands it to be. Most importantly I am allowing her the requested space to grow.
*****
We will soon be celebrating Thanksgiving. I have been quietly making this our most significant celebration of the year. Last year the nation was held in siege by politics that closed the border to trade and thus we had fire wood only with which to cook and nothing to cook beyond rice and dhal. Last year, in advance of Thanksgiving, a couple of donors contributed towards a memorable feast; as it turned out, what we lacked in food was made up for with sharing our feelings. So this year we still have last year's contributions and some new ones and the day will long be remembered as much for the meal as for the reflection of what abundant blessings each one of us has to be thankful for.
I hope that your own Thanksgiving brings with it the appreciation of pure love for one another.
Thank you.
Papa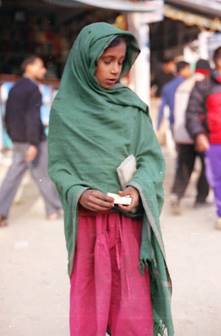 ​11 years ago, a child alone, bereft of hope, my inspiration. Now, full of Hope.