I begin this update a couple of days shy of Tihar, the caboose of this month-long train of festivals and celebration. I hope to conclude it by Wednesday, Laxmi Puja, the pinnacle of the festival of light. It is a day carefully prepared for by every household no matter how humble. Laxmi, the Goddess of Wealth will be guided into the home or business by a pathway of small candles beginning at a Mandela painted outside and culminating in the room where money is stored. In my first few Tihars, candles were all that was used and its low flickering glow under lighting the faces of those gathered offered a reverential stillness and beauty to all. Now Christmas lights left on through the night drape many homes and businesses, and our pre-dawn walks, when there is power, are in a dazzle of blue and green energizing the otherwise gentleness that beckons before dawn. 
| | | | |
| --- | --- | --- | --- |
| | | | |
| Aakriti and Santoshi | Sujan | Muskan | Mary |
Nepal goes from one calamity to another, never collecting its breath between. We are shortly about to enter what may arguably be our most unforgivable crises in recent history and it seems too late to stop it. Ignoring the task of rebuilding Nepal and taking care of its people in the aftermath of the back to back earthquakes, the government focused only on writing a constitution which alienated the simple folks who toil in back breaking labor in the fields along the border of India that feed the nation. They are, by way of average estimates, 40% of the population.
In response the people have left the fields and massed at the border, closing the trade routes from India, the sole provider of petroleum products as well as medicines and most of the staples a small landlocked country depends upon.
Because of this, the shelter and food supplies the people of Nepal's higher elevations have been waiting for since the earthquakes have not been able to get delivered by the foreign relief agencies accepting this life saving task from a government otherwise engaged. Many people are about to enter a nightmare of freezing temperatures without the shelter, food or supplies to last till spring.
Meanwhile in Kathmandu and along the industrial belt, the lack of petrol, diesel and cooking gas has brought the nation to its knees. There is no abundance of wood for cooking and no mechanism for delivery of products, no diesel to run generators which power everything from hospitals to grocery stores to the internet. School buses will cease to run and public transportation becomes scarce and overburdened. The shutdown has been very effective, but thus far has only brought about a match of will. The new government of Nepal has dug in its heels against altering the biased constitution and the Mahadesi have grown stronger in numbers with unofficial support of India.  Meanwhile we learn to do without, a lesson valuable in countless ways. Necessity brings evolution in creative and satisfying ways.
| | | | |
| --- | --- | --- | --- |
| | | | |
| Salina | Sabina | Ranjeeta | Kelasi |
A little over three years ago Vinod Mahato, big brother to Anita and Sunita, left the only home he had ever known and boarded a plane for America to marry his girlfriend of many years.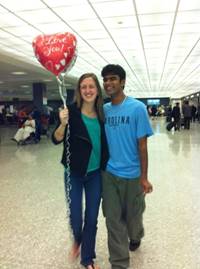 Vinod's long goodbye, here with Anita and 34 hours later his arrival in North Carolina.
Vinod and Alecia fell in love when they first saw one another in Dhapasi in 2008. Alecia, along with her mother Marcie, were volunteering; it was Marcie's second time with us. Both Alecia and Vinod were determined to complete college and graduate schools and exhibited tremendous patience over the following years while trying to arrange Vinod's visa. Vinod left here with a 10th grade education, but once in America set to work. He received his GED and began college. His grades have always been excellent and he has won the hearts of school administrators and has earned awards and scholarships. He is now at North Carolina State University as a junior  majoring in Business Administration. Both he and Alecia have kept their eye on their goal, lived frugally, balanced several jobs with school and study, and somehow have sustained the energy to arrive where they are today. Vinod came to work for NOH nine years ago as my indispensable right hand. It would be a wonderful journey to have them back with NOH after their academic goals have been met.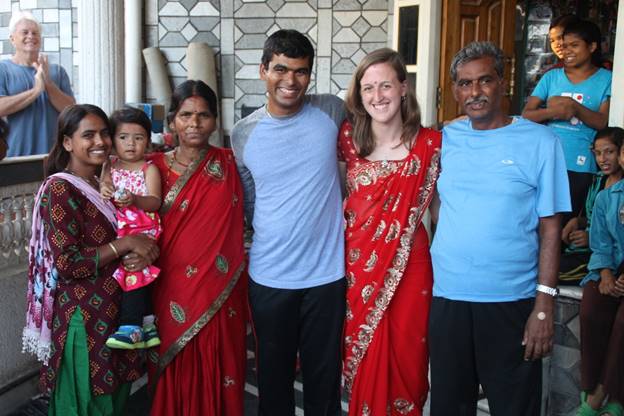 ​Vinod and Alecia returned this past summer for six weeks, shown here with Anita and Hope, his mother and father. 
This past July we assembled in the early morning drizzle to offer our blessings to the children on their first day of college. We have only three this time around, but next July I will be writing about 12 more going, and a scant 20 months hence 20 more bound for college.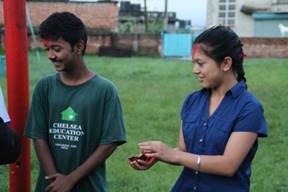 Dhiraj who will study in Science; Kabita in Business, and Lalita in Hotel Management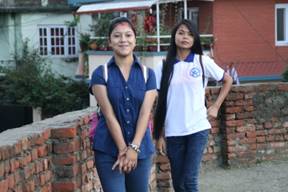 ​
As they approached the gate to leave, I felt compelled to record this important moment in their young lives. They were so small when they first came. I am happy for them, I remember this moment in my own life; but these moments are surely bittersweet. I think Kabita in the second photo, shot with my long lens, is telling Lalita, "Yep, Papa is still watching us."

Sarita when she arrived
On August 13th we welcomed Sarita, shown here with her mother, into our home. They are from Gorkha. While our older son Chham was in his village after the quake he learned about Sarita and how she lost her father and brother in the earthquake's landslide which wiped out their entire village. Chham's village suffered the same fate, as well as Dawn Kumari's, my first employee. Sarita's extended family has suffered many deaths and her mother's health is very poor. Chham interviewed many people to make sure that all he had been told was completely true and then called me and asked if we could take her in. When Chham returned, he did so bringing them with him. The mother then left to return to her village where she has absolutely nothing and must start over again with other surviving members of her family. NOH and Possible Worlds together have sent a relief package with Chham to build a small home for his mother and contribute towards a small school for the children so that they can begin to return to a pre- earthquake routine while the adults try to rebuild their village.
| | |
| --- | --- |
| | |
| Junu, Samita and Sarita | Sarita flashing the peace sign with Sanjeev |
| | | | |
| --- | --- | --- | --- |
| | | | |
| Sumi | Apsara | Shanta | Khusboo |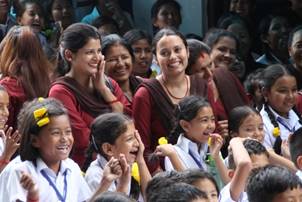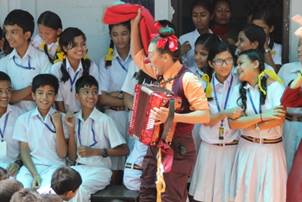 We were contacted shortly after the earthquake by "Clowns without Borders". This is an international group of volunteer clowns who last year traveled to 50 areas steeped in conflict, like Syria, in order to give the children a few hours in which they can forget about their lives and have peace and laughter fill their hearts. Through many e-mail exchanges I learned a bit about the individuals who came to us, and I was so impressed by their full time occupations and accomplishments in contrast to their dedication to this cause. After their performance they spent a few hours with us over lunch and I could not have been more honored or humbled by their sincerity, kindness and compassion. Incredible individuals with an incredible organization, this day helped to further separate all of us from our not so distant past; the laughter was uncontrollable and the memories lasting.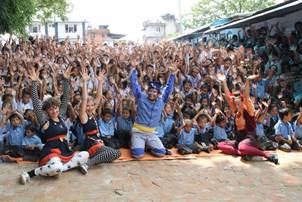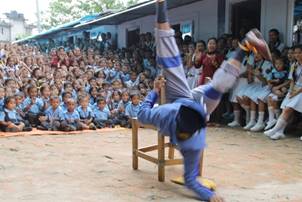 ​
| | | | |
| --- | --- | --- | --- |
| | | | |
| Santoshi | Sita | Gita | Gayatri |
Teej this year was held on September 16th. This is a celebration for women; they dress in their very best after a predawn bath, fasting and prayer. The married women pray for the long life and good health of their husbands. I had thought that the single women and girls prayed for an eventual good husband, but that thought has been corrected this year. I don't know what they pray for; their participation may simply be festively inspired solidarity. From dawn to the dark of evening, married women in groups will be found endlessly dancing at neighborhood temples, then return home to break their fast and sleep. Below are some of our daughters in celebration of Teej.
| | |
| --- | --- |
| | |
| Sunita | Kolpana |
| | |
| Seema and Sarita | Prity and Hope |
| | |
| Santi | Saraswati |
This year we had a special guest for Teej. Dr. Helena Teixeira, a semi-retired eminent plastic surgeon from Portugal with 30 years' experience in burn care, came to us as a volunteer. We had arranged for her to spend her time with our good friend Dr. Shankar Rai who began a hospital several years ago to help burn and cleft pallet patients regardless of ability to pay. These two distinguished surgeons learned much from each other during a month's service together. Further, our daughters all had a chance to relax in her company and absorb some of what it takes to be such a fine role model.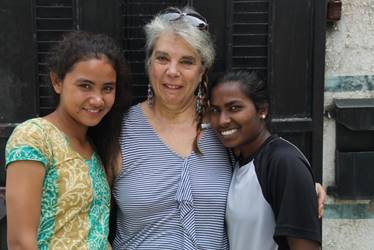 Rita, Dr. Teixeira and Kabita
The above photo breaks between stories are the girls of Sanctuary House.
Sanctuary House was named after the wonderful charity Sanctuary For Kids which began several years ago from the inspiration of Amanda Tapping and Jill Bodie. They had heard about us from one of our volunteers, a dynamic young man from Scotland who was helping Amanda with her website. His praise was rewarded with a visit to NOH by Amanda and Jill which culminated in our being selected as one of the Nepali charities they wished to support.
| | |
| --- | --- |
| | |
| Amanda surrounded by her smallest fans | A precious photo of Jill receiving a hug |
| | |
| Amanda with Mon Kumari | Kanchan, Jill and Sunita |
The above photos were taken in early November 2009 during their week's visit. Shortly into the New Year we were informed that they wished to help support our work. They provided a grant that was intended for the first Papa's House on our future campus — a home for 26 girls we had rescued earlier in the year. We had brought the girls to Dhapasi and opened a new house for them and they have continued to support these girls every year since. Thus was born the name "Sanctuary House."
NOH never was able to buy the land we wished and planned for; it was simply too expensive and the original grant remained untouched all these years in our bank account. Then a few months ago we learned of a great house on a double lot that was supposed to be available for lease. I went to speak with the owners and they said they would not lease the property, but would sell it. They were charitable in the price they offered to us and I passed this along to the NOH Board of Directors who approved the purchase. I wrote to Amanda and Jill about it and asked if perhaps we could use their original grant for the purchase and they wholeheartedly agreed.
We had been looking for a new house for the boys after the earthquake, as well as for the Sanctuary girls. We found an ideal house for the girls a few months earlier and so decided to give our first owned residence in Nepal for use of the boys.
Thank you, Amanda and Jill. Please discover the special work being done by Sanctuary For Kids.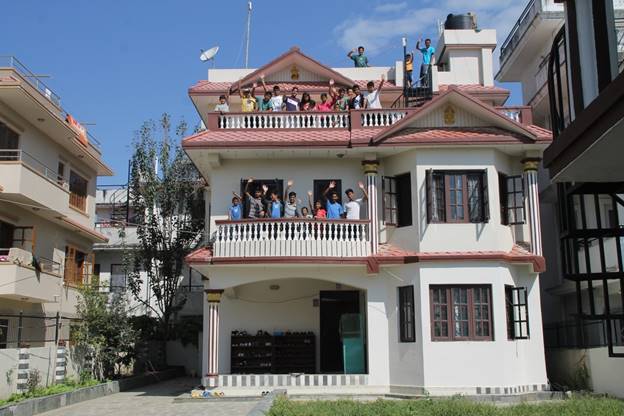 The Boys of Possibilities House
| | | | |
| --- | --- | --- | --- |
| | | | |
| Sanjeev | Davit | Sandeep | Suman |
The Chelsea Education Center (CEC) was renamed the Chelsea Education and Community Center (CECC) when we began teaching English to the women of Dhapasi close to 5 months ago. One hundred and twenty women attend daily classes of fifteen each. These women are dedicated students who can be seen looking up from their homework in front of their homes or in their shops to say "good morning," smiling infectiously as I pass by.
After the Tihar holiday ends we are starting to teach an online math program to 65 more women, many from the English classes. The course has been designed to introduce them to computers, allow them to practice simple English and to learn domestic and small shop accounting.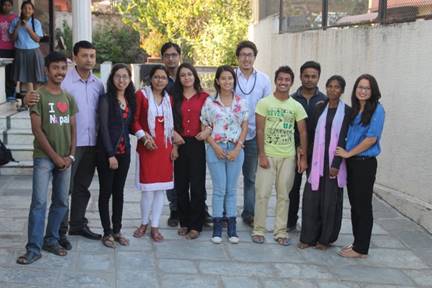 ​
The staff of the CECC. Missing is our daughter Kabita Karki. She, along with yellow-shirted son Ashok, teach English from 11am to 3pm after they have finished their college day which runs 6am till 10am. They are of course paid faculty and are very popular among their students.
We have a new batch of 18 Taekwondo students who recently received their yellow belts after six months of preparation.  Our original group had lost its longest attending students, Saroj and Chham, when they decided to quit due to college scheduling problems. The remaining 16 tested a couple of months ago to receive their black tip and their next grading period, in another 8 months, will earn them all black belts.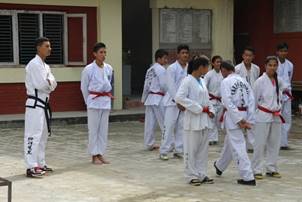 ​
Waiting their turn, grading for their black tip & new group before earning their yellow belts.
We began Taekwondo as a daily morning practice in 2008. The children have shown a strong commitment enduring predawn sessions in the cold of winter and heat of summer as well as time lost to early morning study, but they all are achievers and handle all aspects of life well.
Our sewing group has been working hard. They stay busy making all of the children's uniforms and kurta sulwars and they have dabbled in design of clothing that emphasizes originality. We had applied for a grant to have our children make all the uniforms for the Ramechhap School we support, but lost out for this year. We are presently working with two former volunteers from Switzerland and Germany who spent time with the girls and have ordered 10 "original" kurtas. The girls finished them and they are now with me waiting sending.

Sunita wearing one of her designs.
We are selling these in a market making price of $10 plus shipping. The girls keep all the money and pool it to help grow their business. Please consider making orders. The array of fabrics here is quite good, many of the designs ordered from our volunteers were with the idea of pullover beach wear or après beach with jeans. To order, please simply write to me with questions and style suggestions. We use a sizing chart for western women found on the internet, but will happily work from your own measurements.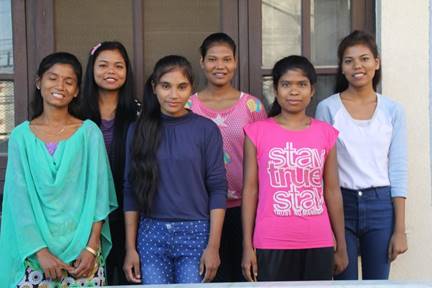 ​ Our tailoring group: From left Sunita, Lalita, Sanu, Puja, Amrita and Kamali
Missing from the photo is Samjhana who remains in school and works only on Saturdays. Amrita and Puja have been hired by our tailoring instructor to work in and manage her second shop. Sunita and Kamali help us at tiffin time by running the sales counter at Café Hope, our school café; Sanu augments her tailoring income by taking care of my house and garden every other day and Lalita goes to the shop at 11am after her college classes finish.
| | | | |
| --- | --- | --- | --- |
| | | | |
| Ramesh | Mahendra | Ram S. | Tilak |
August 29th was "Brothers Day". The girls organized a day to make all their brothers feel special, appreciated and loved. It was, as always, a fun day with singing, dancing, theater, games and laughter. The girls prepared all the food for a many itemed lunch eaten picnic style on the grounds at Papa's House.
| | |
| --- | --- |
| | ​ |
| Ram and Sushma | Sangeeta and Saroj |
Two of our many real brothers and sisters in our family, but the children all have a deep feeling of fraternity with one another.
| | |
| --- | --- |
| | |
| Dawn Kumari acting the role of stern mother | Suman, Sanjeev, Sandeep and Davit |
| | |
| Hope applauding | Manisha and Samjhana dancing |
| | |
| Hope laughing during the play | Sanjeev and Sandeep in discussion |
| | |
| Some older girls dancing | And some younger girls waiting to dance |
Jennifer Hyett has been a returning volunteer for several years. Her primary work here is with "Our Children's Protection Foundation," a small orphanage near us that we have been helping for a few years now. This past visit Jennifer brought her mother Elizabeth who is 100% Scottish determined and kept up a heady pace of work both at Our Children's and with our children. Some of the most rewarding times she spent here, for our children, was in knitting with them. We love volunteers like this and would encourage other retirees to consider the same.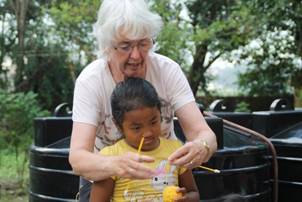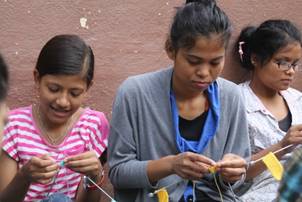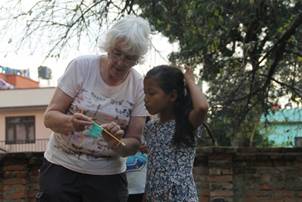 ​
| | | | |
| --- | --- | --- | --- |
| | | | |
| Khem Raj | Purna | Kamal | Himal |
Sisters Day came on October 3rd this year. The boys outdid themselves in planning and performance. It is really nice to see how the boys, on their own, put together a program, practice it for a month, older boys helping with dance routines and skits by the younger ones, and everyone truly admiring the individuals' effort.
| | |
| --- | --- |
| | |
| Davit and Sandeep as characters in a play | Ramesh applying Tika to his sisters |
| | |
| Junu, Samita and Manisha | Combined effort of the boys |
| | |
| Ram C. | Prity |
| | ​ |
| Davit and Nargish | Sanu, Urmila and Pramila |
| | | | |
| --- | --- | --- | --- |
| | | | |
| Ishwor | Roshan | Rabindra | Nargish (Didi's daughter) |
Our Book Club has had the leadership taken on by Deb Norton and Jacqueline Crowe, two Australian women whose husbands are in Nepal with the Australian Government. The club meets after school every Tuesday and Thursday. The children are discovering the love of reading and becoming good readers in the process. We really appreciate the time, love and effort these marvelous women are giving which goes well beyond the classes themselves, but into the heart of our homes.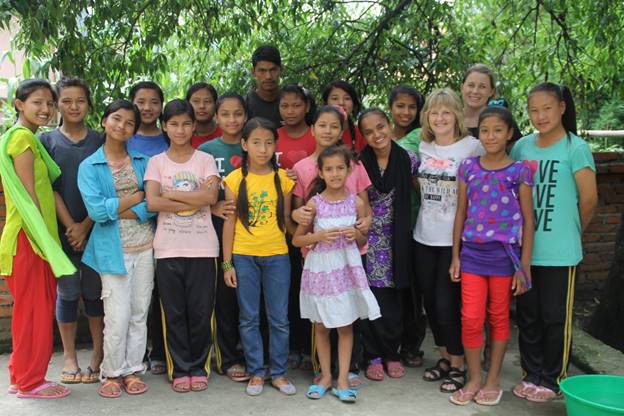 ​The Book Club. Deb Norton in white with Jacqeline behind her left shoulder.
| | | | |
| --- | --- | --- | --- |
| | | | |
| Saraswati | Anita | Sima | Kamana |
On the morning of October 16th 55 of our children boarded a bus back to their villages in Dang district, a 12-hour ride into a simple, farming, mud hut, hand-to-mouth existence from which they came what seems a lifetime ago. With the previously mentioned petrol problem, we had a very difficult time chartering a bus; it took days for the owner/driver to accumulate the necessary diesel. For the first time in 8 years I did not go with the girls; I was unable to find petrol for the scooter and in Dang no petrol existed either so my work there would have been impossible. In the days before, we managed to get thirty-five other children back to their far-cast villages.
| | |
| --- | --- |
| | |
| The "Sea Princess" arrives in Dhapasi | Suman, sad and anxious, Ram resolved |
| | |
| Girls getting settled in | Some girls in last looks as the engine starts |
It is never easy to say goodbye; the closeness of the family is expressed on these mornings in tears. Going back to their villages is a personal choice. They are often not appreciated and are made to feel a bit alien in a family fractured many years before when they were sold, a family worn down since by severe poverty, illness, alcohol, illiteracy, and death further hardening them as their numbers dwindle. To me it is a hallmark of our children to continually return and quietly roll up their sleeves and help where they can while often under the disparaging comments of a non-nuclear family bitter in spirit.
| | | | |
| --- | --- | --- | --- |
| | | | |
| Sunita | Geeta | Sushmita | Gita |
We celebrated Dashain on October 22nd sharing the day and traditional Hindu feast with several of our volunteers.  A much smaller family, we had a light and warm time together, but each of us lost at times in thought of those not with us.
| | |
| --- | --- |
| | |
| During the blessing and Tika ceremony | Prity playing "ping" |
| | |
| Maila and Rabindra | Volunteer sharing photos with Manisha |
| | |
| Geeta on the ping | Samjhana |

Asha, Bimala, Srijana, Anita, and Geeta
​Four amazing sisters with Anita
| | | | |
| --- | --- | --- | --- |
| | | | |
| Sarita | Anisha | Sarmila | Asha |
A day at the zoo, October19th. The animals, we found out, sleep at midday.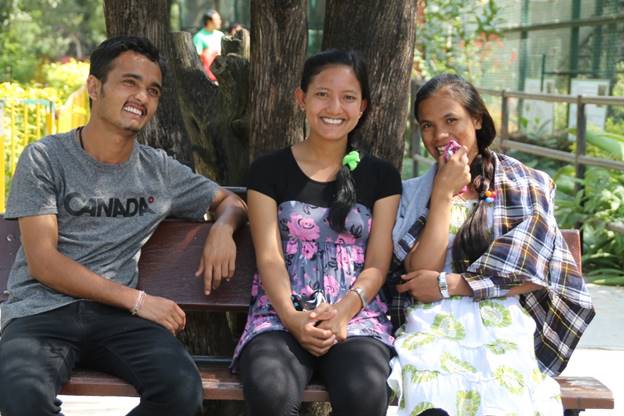 Kamal, Bimala, and Sapana
| | |
| --- | --- |
| | |
| Volunteer and Manisha | "Wow" most often heard from Hope |
| | ​ |
| The Aviary | VN Director Eileen and 10 month volunteer Kelly |
| | | | |
| --- | --- | --- | --- |
| | | | |
| Samjhana | Juna | Prity | Kausil |
November 12th
Today we had an arranged visit by Chris Ellis, a Sydney Australia Emergency Room Doctor, who had met Deb Norton and was eager to come and teach a course in first aid. The information was comprehensive and covered everything imaginable, delivered in a very lighthearted way which the kids and I will remember for a very long time.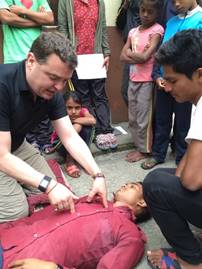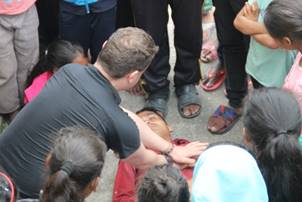 ​
Our patient Kamal had a pretty bad day suffering everything from a common cold to brain infections, diarrhea, vomiting; he was burned and choking, had a severed artery, a cut vein and he was in an auto accident near the end. Thank you very much for your wit and wisdom, Dr. Chris Ellis.
| | | | |
| --- | --- | --- | --- |
| | | | |
| Amrita | Rita | Man Kumari | Nirmala |
Children's Day was held on September 15th at Skylark School. Among the day-long festival there was a costume contest.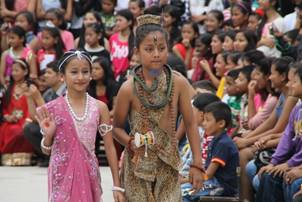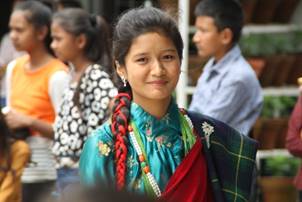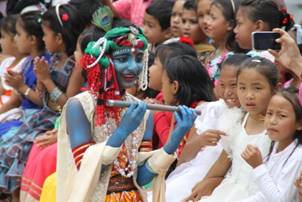 ​
The children dressed as characters in Hindu scripture or in their native dress.
| | | | |
| --- | --- | --- | --- |
| | | | |
| Kabita | Asmita | Srijana | Sandhya |
| | | | |
| Hope Angel | Bimala | Pushpa | Sapana |
The girls of Imagine House
And below the managers of the three houses shown above.​
| | | | |
| --- | --- | --- | --- |
| | | | |
| Anita Mahato | Cila Regmi | Deepa Regmi | Sam Isherwood |
Anita, Imagine House; Cila and Deepa, Sanctuary House and Sam, Possibilites House. The three girls came to us as young children and grew into this role, Sam has been working for NOH for around 5 years in different capacities and makes an extraordinary manager for the boys.
Missing from these story breaks are the girls of Harmony House, known here as Papa's House, and those of our college boys' house. All the children's photos and names can be found in the gallery here on the website.
Nepal Orphans Home received an incredible outpouring of donations after the earthquakes, designated for earthquake relief. We were deeply touched by the faith in us to properly distribute these funds as directed by the donors as well as by the sheer display of kindness and compassion from several hundred donors. We have left to distribute the funds earmarked for rebuilding the school in Ramechhap, though a lot of other Ramechhap relief was immediately dispatched after the earthquake. The school rebuilding has been a long process, but now with the monsoon over, the engineering for the school finished, and the government's position on school rebuilding participation noted, we will begin construction.
Thank you very much.
All my best,
Papa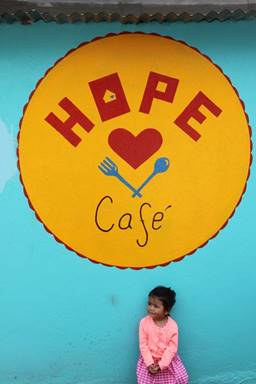 ​