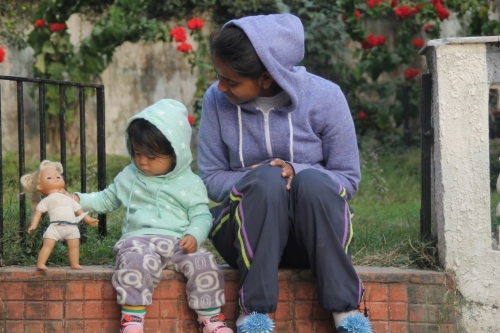 Hope and Anita after a recent morning walk
Fall slipped in as gently as it could — its shorter days edging out the sunlight in late afternoon. Jackets, sweaters and hoods, hot tea, braiding hair as girls shiver in the early morning mist with a faint glow of sun high above the thin grey sky; evening study wearing jackets, stocking caps and shawls, sitting close to one another with pneumatic knees generating a little warmth slightly vibrating the benches, thoughts leaving the page and floating up to their warm, blanket-piled beds, they glance at watches.  Early morning bathing in cold water matching the frigid air brings gallows humor, smiles and laughter from the girls whose long hair lay slowly drying on towels thrown over sweater and shawl-covered shoulders wicking out the water. This is winter in Kathmandu, not for the faint of heart or the humorless, descriptions no one would ever apply to our children. 
******
******
This year Dashain and Tihar consumed all of October. It was longer than usual with our annual bus to the Dang district leaving on the 26th of September and returning on October 26th.
The bus trip over was wonderfully uneventful and we arrived around 8am.  Almost all the guardians were present and within the hour the meeting field was cleared of all but myself and my scooter. I sat with some biscuits and juice and felt the quiet and ghostly energy of our children. The sense of relief at having 67 less loved ones to be responsible for and to have some freedom of movement if but for a few days was generous but in conflict with knowing that I have entrusted others with those same loved ones and they are in the kindest description cavalier in their care of our children. Little did any of us suspect then that a few of us had just said goodbye until I try and find them next year. We learned near the end of our holiday that two girls had gotten married and would not return, marriages made in great haste and without any sense to them, not even the power of love at first sight could help explain this abandonment of all reasonable thought. This is part of the culture and not fair game for western judgment. All we can do we are doing for these children and we have to be satisfied that during their time with us they have learned a great deal, they have had childhoods, they have felt what a loving and happy family feels like, and they have been prepared as much as possible to avoid the snares that lie waiting for the uneducated. Still, traditional thinking is part of their being and the pressure of the village is strong. Those girls returning to Dang are all former Kamlari; they live in villages that are usually quite small and spread out over maybe 40 square miles, and many of them require a long walk from the road to reach. Regrettably, the villagers fail to recognize the value of their returning kin and work quickly to try and assimilate them again into village life. Conditions are difficult, work is long and hard each day and they live hand to mouth. With each passing year I am less confident in my thinking as to why the children return to their village, and so are they. When the holiday is over and I sit waiting to see the children and guardians appear at the fields' edge, the children are carrying their heavy bags and walking ahead of the uncle or aunt, brother or cousin or sometimes mother; it is a neglectful procession towards the bus as it was away from it a month earlier and my heart goes out to my children. When they get back on the bus they find community in saying never again, they smile and grow excited to be returning to Dhapasi and like so much in their previous lives they dust it off and leave it behind.
We came back to Dhapasi with a few days of holiday remaining to scrub up, wash clothes, regain health, rid hair of lice, decompress and prepare for school. In those days the children smile, laugh, embrace each other and the life they have. They reset and begin again.
******
******
For those of us staying in Dhapasi for the month, we had a relaxed and good time. Each day had the mornings filled with scheduled classes in math, knitting, tailoring, reading and basketball, followed by lunching together before returning to their separate homes for afternoons spent as they desired. 
| | |
| --- | --- |
| ​ | |
Most of the staff took the month off while house managers took 2 to 3 weeks. Anita Mahato was called to her village early due to the declining health of her grandfather. He had asked for her and when she arrived he grew stronger basking in her company. When he was again ambulatory and feeling much better Anita returned to Dhapasi. A week later she was called by her father and told that her grandfather did not wake up that morning. Anita left later that day and remained in her village for the following 13-day rites of passage. 
| | |
| --- | --- |
| ​ | |
| Recent photo of Anita's Grandfather | ​Anita's family 4 years earlier; Anita in center |
During her two trips home I had the pleasure of sitting with her girls and Hope. We had a wonderful time, the girls cooking breakfast and I relishing the dinner duties where I tried to cook a different meal each evening. With each creation I found the girls to be gracious and funny diners. During this time I was treated to 24 hours a day of Hope and we loved it. She has always been such a neat little person developing new capabilities seemingly by the hour.
Of our boys, Sam had only Himal, the boys' house captain staying behind. We arranged for him to work with Volunteer Nepal for the month. He learned a lot, traveled to some placements and was a great help to the staff and arriving volunteers.
We scheduled 8 field trips during the month with my favorite being a morning at the National Gardens, a sprawling Eden-like landscape surrounded by mountains. The well-manicured grounds and botanical gardens are a paradise away from the dirt and frenzy of Kathmandu. We brought binoculars that had been gifted over the years and went in search of birds under Sam's guidance. Truly a splendid day, warm and quiet where all the senses were treated well.
We had an NOH board member Carola Drosdeck here for the month with her son Tyler, who spent a couple of weeks as well. Tyler is an artist, musician, mechanic, philosopher and great guy who made quick friends with Himal and provided a lot of maintenance work as well as fun and friendship to the children. 
​
Carola with some of the boys and Tyler after receiving his Dashain Tika
Carola lives in Cleveland, Ohio, where she has just retired from 30 years of teaching. She has been working with administration and planning for NOH, primarily in our Volunteer Nepal, department for many years. This was her third trip to Dhapasi. This year she reinvigorated our reading program (which had been created by volunteer Chloe Carrucan as part of her master's program), while helping our class ten children daily in math and science. She conducted health workshops for all the girls (which followed their yearly physical by an extraordinary young Japanese Gynecologist named Erika Takahashi). Carola organized the libraries in each of the children's homes, worked closely with the Volunteer Department and spent time with all the children individually. Also here during the Dashain period was Yoav Deri, a longtime friend of NOH. Yoav brought his daughter and her boyfriend as well. Friends of the Ambassador to Nepal from Israel, Yoav and his children were called into duty after the tragedy on Annapurna. They spent the better part of the week working phones at the Embassy. 
| | |
| --- | --- |
| ​ | |
| Himal during Dashain with Santa | Yoav Deri at our Dashain Puja |
| ​ | |
For many years our friend Kathy Kirk from Australia has been holding fundraisers for NOH. Kathy, who is a manager with Oracle, has had some fun ideas getting children in her town involved with NOH and worked hard to ensure their success. She returned after several years to spend the holiday with us and brought her granddaughter Chrissie shown on the left next to our daughter Gita. Chrissie was a pure joy to have around, a really bright and sensitive girl who deeply felt the love and open hearts of our home. Sadly Kathy lost her mother a few weeks before her trip here; her mother's kindness has warmed every one of our children and staff during our long winters. Her mom was a prodigious knitter who spent her days making blankets, shawls, stocking caps and mittens which Kathy always managed to find another Australian to carry over to us.
| | |
| --- | --- |
| ​ | |
Louis Spencer is a new friend to NOH. Louis had recently retired from almost 30 years as a teacher at the ARAMCO School in Saudi Arabia. He learned about us from our close relationship with some of the teaching staff and students who pay us an annual visit. On the right above is my very good friend and pen pal Lou Poynton holding Aakriti. Lou manages the time to come each year which always delights the children. She has a special way with all people and the kids are drawn like magnets to her warmth, humor and understanding of being young at any age. Lou's two daughters and son have all spent time with us. Lou's is a wonderful and dynamic family of unique and very caring individuals.
​
​
Laurie Levine, author and active NOH Board Member came for a quick visit with her friends Narelle and Maureen. Laurie has developed a very close bond over the years with Samjhana and Apsara, the two girls on either end in this photo.
******
******
Our college kids are doing well. The seven who started this year recently received their first term results.
​
​Deepa started after the first term,
​her results will come in the New Year
​Ashok was 7th
​
Sushila was ranked 14th
Lila ranked 5th
​
​Rajina ranked 2nd in her class
Cila at her college and on a basketball scholarship came in 2nd in her freshman class. She told me yesterday, with a grin, "Papa, I am going to be awesome," in reply to my congratulating her on a job well done.
​
 ​Yeshordha came in 6th
 ​Ashok seen here with the middle of three generations of the family-run local grocery store

Yeshordha back row, far left and Ashok back row third from left in black
After school Ashok works for our local grocer while Deepa and Cila help the younger kids with their homework. Yeshordha, Sushila, Rajina and Lila attend vocational classes and help out when their schedule permits, at our café.  We are very proud of them all.
​
 ​Yeshorda, Rajina, Lila and Sushila upon arrival and Cila and Deepa in their 2nd year with us
******
******
Some of the students in our Chelsea Education Center's music class went to a recording studio recently to record a song that they had been working on. They had a fun day and learned a lot. Their music teacher is hoping to get them some further exposure on local media.
******
******
"A Profile in Courage"
I have in private letters written about the woman pictured above. These photos were taken the other morning when a few of my girls and I went to visit with her. We brought clothes for her three children and a bed with mattress, pillows and blankets. She had been living with her mother who moved out of the small earthen-floor room taking the bed and cooking gas cylinder with her. Her mother, a petite thin woman gives the appearance of being regal, her few clothes always neat and carefully worn, a pearl-like necklace always in place, her shawl symmetrical; she moves slowly with a practiced composure and listens with hands folded together like a queen, her gaze upon you quietly indifferent. She seems to be living in a gauzy nightmare, royalty trapped inside the existence of a pauper. Her daughter Dil Kumari is crippled. I am not sure if by polio, but her legs are bent in a way that makes her standing posture appear as though she is sitting on an imaginary chair; she walks with knees like angled pistons, chafing past one another, ankles touching the ground, supporting herself with a walking stick, her baby on her back. She has two other children, daughters 4 and 7.
The other evening when I went to the Chelsea Education Center to retrieve the kids from their second class I found Dil Kumari and her three children sitting on the stoop. It was dark and cold, the baby was cradled close to Dil's chest but with his bare feet dangling. His two sisters sitting next to their mother in button-less rags; the baby was sick and they had come to the pharmacy for medicine and then to the CEC to meet me. Dil's spirit seemed deflated. Her mom had moved and taken her meager possessions with her. From where she sat with her children staring quietly at me, they had only a short walk down a slippery rock strewn path to reach their 10' square room, but with nothing other than a straw mat on the floor to greet them, there would be no joy in arriving. It is cold out, the baby is sick, the children's wide pearl black eyes quietly searching their mom's face for comfort. No lights, no water, no toilet at home, no cauldron full of hot porridge even to warm their belly; a crippled mother alone with three small children depending upon her to comfort and feed them, but a mother now abandoned by her own.
"Hope's Fund" has been supporting the family for a long time now. Dil Kumari's mother, for many months threatening to move out, finally made good on it. We have tried for as many months to find clean rooms with water and a toilet to move Dil and her children into, but the people of Dhapasi seem to have run out of rooms, so we continue our search. We provide school fees and school supplies for the daughters, all the food and cooking gas and two-burner stove as well as medicines for Dil, but it is not enough. One of the striking things about Dil is her disposition, she always smiles and seems cheerful, and she is always kind and thoughtful. Only once before had I seen her break down, the sadness sudden and powerful, trembling her frail body to the ground.
Dil has asked me on a few occasions to please take her children into our home, but each time I have gently refused, instead offering support for them to stay together. I fear that if we were to take the children, Dil would give up. I don't know if I am making the right decision.
"Hope's Fund" began when a number of people held fundraisers in her honor. More money came in than what Hope's immediate needs required and so we have we used it to help others with special needs such as Dil Kumari, Namda a blind orphaned girl attending college, and a small home with 10 blind children living in it. The latter help includes medical treatments and food for the home. In the course of the medical treatments we found one young girl a candidate for a corneal transplant which she successfully had almost a year ago now.
Sustaining these efforts and wishfully expanding upon them will require added fundraising; if anyone is interested in helping to support these causes and others that target help for the disabled please let us know.
Meanwhile for Dil and her children we will try to find a good set of rooms, rooms where the sun is able to enter and warm them, rooms with a real door that locks, clean rooms where the children can feel real shelter and some hope.
******
******
Today is Tuesday the 25th of November. Three weeks ago I had what seemed a good idea that we should celebrate Thanksgiving. After lunch one Saturday we assembled all the children and some of the visitors we had, and in an impromptu talk I told all the children the history of Thanksgiving with little concern for historical accuracy, creativity assisting the point I was trying to make, that this is a day celebrated in America in which all people look inward and reflect upon their lives and what they are thankful for and turning that into expressions of care for others. We had in our midst a family of Bhutanese refugees who had relocated to America where they have made good and become contributing American citizens, and unknown to me as I spoke of the generosity of the Native Americans we had a full-blooded Navaho listening. Only after the meeting broke did she reveal this to me; she is from the Chin Le reservation in Arizona, a place I visited a couple of times in the years that my brother Bob taught there.
Anyway, I added to my narrative some of my favorite Thanksgivings with family and the sprawling feast before us, and how often I draw upon those special memories. I suggested that we would be doing the same. I have to start making things tomorrow; we have, by the way, no ovens and the kitchen in which I will produce this meal (with plenty of conscripted help) has three gas burners, two small and one large upon which food for a potential 180 will somehow come together. A vegetarian feast trying to replicate Thanksgiving, all from scratch, from stuffing to pearled onions, candied yams, green bean casserole, garlic mashed potatoes, mushroom gravy, rolls and butter. Chocolate bars and oranges for dessert. What will save this day is what is most notable of our home, the children and staff, the love and care, the good humor and sharing that exist here. What will make this meal special is surely not going to be the lukewarm lumpy food, but the love that produced it and the idea of family and the overture to serve, and the heartfelt thanks that each of our children will give for this day as they do every day. Some pictures recently taken in closing.
Happy Thanksgiving to all of you.
Love, Papa