CARING BEGINS EARLY AT NEPAL ORPHANS HOME
SUNDAY APRIL 26th 2015. HOURS AFTER THE DEVASTATING EARTHQUAKE.
OUR DAUGHTER HOPE COMFORTS OUR SON SUJAN.
THIS IS WHAT WE ARE ALL ABOUT.
Six years ago, on Saturday, April 25th, just before noon, a catastrophic earthquake struck Nepal. It brought out the absolute best of our children. These extraordinary times confirmed our family's closeness. Before the sun set that evening, and while aftershocks repeatedly rumbled, we were already in action helping our local community and organizing missions to send food, cash, blankets, and tents to the communities we supported in various remote areas of Nepal through our Outreach Department. While fear and despair brought inertia to the community, our children began the clean-up process, preparing the way for rebuilding the collapsed perimeter walls and the interior damage done to some of our homes. They worked hard and cheerfully while neighbors sat watching, full of fear with the aftershocks, and puzzled by our children's attitude and abilities. This was one of the many NOH Hallmark moments that we have experienced in our 16 years.
| | |
| --- | --- |
| Assembled in the yard outside Papa's Samanjasya House immediately after the first earthquake  | Two days later, the clean-up begins |
From the time that a child comes into our home they realize that they have become part of a large family where everyone truly wishes to help each other to have a better life. From the oldest children to the youngest, all are recognized and listened to, respected, and cherished. The foundation principles of health, education, experience, and happiness, attained in a holistic manner permeate our environment. Dreams are encouraged and supported by all for one, and one for all.
In this update I would like to share the interesting lives and achievements of some of our older children. Those chosen have not done "better" than any of our other children; this is just to show how the lives of a few of the children are faring in the world outside our walls.
Himal:
I have been in Australia now for just over a year. Between work and school, it has been a busy one. I leave home at six in the morning and return around midnight. I am taking my driver's exam next week. Being able to drive will free some of my time.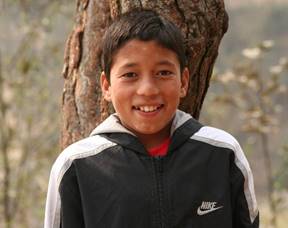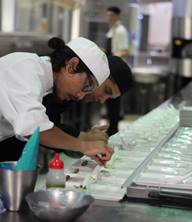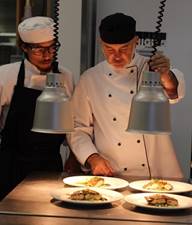 I am studying in a Culinary Institute in the Sunshine Coast, Queensland, Australia. I came to Australia to study IT, but there were many roadblocks for that, and many people advised me to try for acceptance at this college, as it was the best option for me to remain in Australia. I have enjoyed it; this is a profession in high demand. I am in my third semester and will graduate in December. I have a good job at a restaurant called "The Green Zebra" I had never considered this line of work; I have always been dedicated to IT. I have considered applying again in IT once I have paid off my school loans and saved some money. We will see. I have been learning a lot from school as well as from work. I have made many friends. I am pretty tired, but also very happy to be living in Australia.
Sumitra: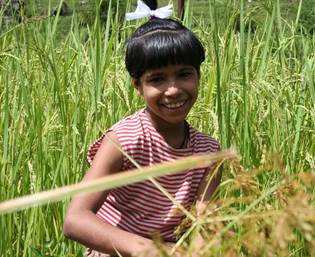 This month I will test for my black belt in Taekwondo. I have to break a brick as part of the test. Yesterday Papa was telling me, "Your body can handle this; it has the strength to do it without any problem, but it is in your mind that you will succeed. If you imagine yourself smashing through the brick it will be done; if you have any doubt in you, if you hesitate, you will only hurt your hand. Believe in yourself Sumi, I believe in you, I know you will do this." I know that I will do it; I believe in me, but more, I believe in Papa.
The above quote was lifted from a story that Sumitra wrote and is published on our website from July 2017, titled "A Day in The Life of Sumi." I highly recommend reading it. Sumitra is still breaking bricks, at least figuratively. Sumi recently applied to St. Xavier's College in Kathmandu. It is the most prestigious and one of the oldest colleges there. Its halls are truly hallowed from the passage of those who have shaped Nepal over the years in a variety of fields. St. Xavier's has a 3% acceptance rate. She was accepted into a four-year bachelor's program and had her orientation on March 10th.
AnuMaya and Puja:
 
AnuMaya on the left, and Puja on the right
AnuMaya left for Portugal in late 2019 to train at the Casa dos Varais-The Varais Palace. This esteemed estate has been in the same family for hundreds of years. The positions are few, typically inherited through the retirement of lifelong staff. A wonderful friend of Nepal Orphans Home, world renowned photographer Rui Peres, whose friendship with the Casa dos Varais encouraged the family to hire AnuMaya.
Learning Portuguese, learning proper European manners straight from "The Remains of the Day," and learning to conduct tours of the winery are just a few of AnuMaya's accomplishments.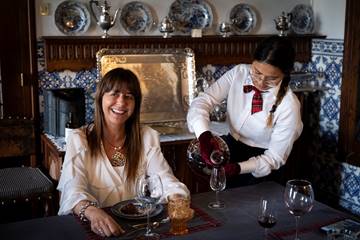 ​
AnuMaya has won the hearts of some of the oldest families in Portugal. So much so that one frequent guest of Casa dos Varais, the Portuguese Minister of Labor, has asked if NOH might recommend one of our girls to her, and another highly regarded old family who own three palaces, have interviewed and signed contracts with two of our college graduates who are awaiting the end of a lockdown in Portugal to begin their new positions.
Puja:
Puja studied Humanities in college in Kathmandu, while also employed by our Chelsea Education and Community Center as a teacher for the community women, who adored her. She applied to college in Sydney to get a bachelor's degree in social work. Her boyfriend had left a year earlier to also study in Sydney. Puja was naturally accepted and arrived in Australia in November of 2019. She quickly found work in a family-owned restaurant chain, and soon became the one employee they kept when Covid struck and in-person dining was prohibited. She has done very well in school, and she and her boyfriend decided to marry. They both have exhausting work/study schedules,but are able to pay their university fees and live a happy life together saving for the future and making wonderful memories.

Puja and Papa's House Mother, Dawn Kumari, at Puja's going away celebration
Sabina: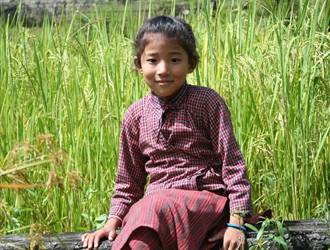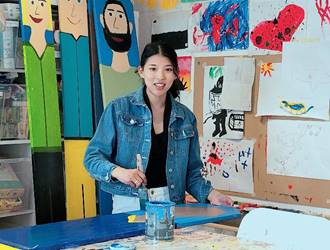 Sabina has several interviews coming up, the first on April 27th at Nordwest Hospital in Frankfort Germany, to enter the School of Nursing. She has always been a trailblazer. A quiet girl, she has had, from a young child, her future plans in laser focus.
I am currently living in Eltville, Germany and hoping to build my career here. I am doing my voluntary years duty at Organization Bethanien Kinderdorf. It is one of the largest Children's Homes in Germany. It is really fun to work here with the children. Sometimes observing their behavior, I miss my wonderful childhood at Papa's House. I will be working here for six more months and then I begin my apprenticeship in a three-year nursing program.
Sabina learned German in 2019, and then passed her two exams and her interview with the German Embassy. In October of the same year, she signed a contract as an au pair and left for Germany. She completed her one-year contract and then went to work for a state-run orphanage, a position she interviewed for and won a couple of months shy of her contract's expiration. This is a required one-year employment to qualify for college in Germany.
Sabina was our first to go to Germany; two more now have gone, one of whom is featured below. Sabina and many others of the older children of NOH maintain a Saturday night Messenger Forum and discuss their present lives and share their many memories growing up in Papa's House.
Kaushila:
One of Sabina's closest friends growing up, Kaushila also wants to be a nurse and found Sabina's path one that seemed to offer her the best opportunities. So, on January 1st of 2021, she found herself meeting Sabina upon arrival in Frankfort, along with her very loving new Host Family.
It's been three and a half months since I came to Germany. Currently I am living in Steinen. It is on the border between Germany and Switzerland. I am living with a family of four. My primary responsibility is the care of Marie, who is eight. She loves Nepali music and learning Nepali dance. She has already learned ten Nepali songs. She also loves going to the playground. The family is so friendly, soft-hearted, and understanding. I am lucky to have found them. Lockdown is again starting here. I will be with the family only a year and then, like Sabina, I will enter the FSJ, the volunteer commitment, and that will lead me to my Nursing three-year apprenticeship. I am so happy with my life.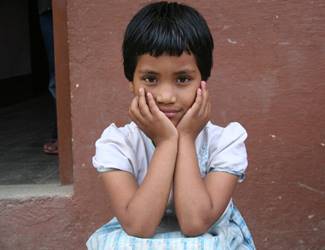 Kaushila at Papa's House at the same age as her charge Marie is now
Bimal:
Bimal is an amazing young man. He understands the nature of the mind and has put into practice the ability to imagine what he wishes in his life and to visualize and manifest it. He works extremely hard towards his goals.
He spoke very good English when he came to us from a remote mountain-protected village at the age of 10. He could dance, act, and paint. He was always smiling and full of energy. He sold his first oil painting to a museum curator from Ohio in 2015 for $500. He was happy but took it all in stride. Despite many accolades he has remained a humble young man fascinated with life.
In Nepal, "high school" is finished after class ten. College is next for class 11 and 12. After class 10, he quietly applied to the only college in Kathmandu that had an IB program. He surprised us one day with a letter of acceptance and a full scholarship, and a stipend to help pay his cost of living in a room near the campus.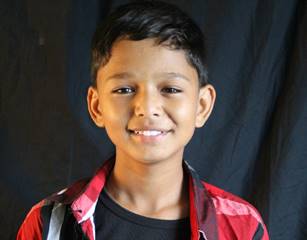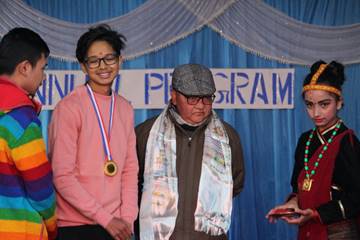 He excelled at school in academics, theater, and art. He had always set his sights on college in America, and with the help of Tanya Nair, the former NOH Director of Transition, herself a graduate of prestigious Davidson College, he applied to the North Carolina school and won a 100% scholarship. He will be arriving on the Davidson campus in August. Bimal is a gifted young man, who will make a big difference in the world one day.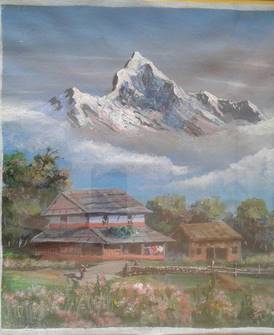 One of Bimal's paintings
Bimal painted this in 2020 and gave it to me as a gift. In turn, I had it framed and hung it in our Chelsea Education and Community Center, where it is daily appreciated by all.
Gita:
I am Gita Bista.  I am completing my plus 2 major in Humanities at Herald College. At the same time, I am a part time photographer for Possible Worlds Foundation and Nepal Orphans Home. Photography was always an interest of mine going back to my introduction by the NGO "Searching for Neverland," which ran a three-week workshop for NOH in 2013. It became my passion in March of 2020 when the lockdown began. I split my time between photography and oil painting, which I found one served the other. I have been taking photography courses, meeting other photographers, and I began my own photography page on social media (Cherish Every Moment).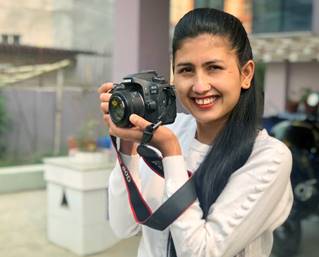 Gita in 2008 when first coming to Papa's House and today as the NOH staff photographer
Gita, along with her three sisters have been with us in Kathmandu since 2008. Prior to that they lived at our Lawajuni home in Dang. These are four, very special girls. In 2019, Gita met our Director of the Chelsea Center, Prashanna Bista, and as the name implies, in early 2020 Gita asked me to give her away in a beautiful wedding ceremony. She and Prashanna are the embodiment of soulmates and held by all the children with the greatest of respect and admiration for their teaching, profoundly deep love, and the manner in which they live.
Dhiraj: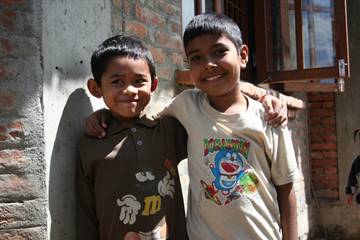 Hari, on left, with his best big buddy Dhriaj in 2007,
and Dhiraj with his deeply pensive stare a few months later
I am Dhiraj Yadav, living here in Sydney-Australia for over 2 years and 8 months. I am studying for a Bachelor's in information technology, currently in my last semester to be conferred soon a bachelor's degree. I work for Systemnet, an IT company here in Sydney as a "System Engineer."
I plan to stay here and get my Australian citizenship and continue working for the company and maybe one day to become one of the partners.
I have an amazing family here in Sydney with Stan as my dad, Laurie as my mummy, who I first met at NOH when I was very young, I am literally one of the most blessed and luckiest men alive.
I have learnt to appreciate everything in my life when I was growing up at Papa's House and I have learnt to love and respect everyone around me from Laurie and Stan and what it means to be human from Papa.
I hope one day I can make you all very proud.
Dhiraj is another of our children who is exceptional in every world they inhabit except the world of children of Nepal Orphans Home. He began his early school years with a fascination in science and dreams of becoming an astronaut. Along the way he became interested in computers, and while very young he excelled at it under the guidance of Ted Seymour, one of the Board Members of NOH. Soon he was instructing his brothers and sisters in programming basics and on his own and with continued guidance under Ted, continued to acquire a great understanding of how to program.
Always happy and easy going, he continued to work hard towards getting accepted at a good IT university in Australia. Very grateful for the support he received there from our board member, Laurie Levine, and her husband Stan, he made them proud by excelling in his work and being continuously recognized for his kindness, mentorship, and excellence by his employer and the community in which he lived. When Puja arrived in Sydney, he was the best of brothers to her, always finding time to help her find her way around that new life, to find work, and to make sense of the dizzying life she found herself steeped in. Dhiraj has asked if I might be able to attend his graduation, and I have assured him that it will be one of my happiest days of the last 16 years.
Friends, supporters, staff, and our wonderful Board members have every reason to be very proud of who our children have become. They have taught all of us lessons about life that we would not have learned without them; lessons that are of the highest value, for they are about character and what should be the ultimate aim of every human being in their lifetime:  to be kind, compassionate, honest, helpful, and to live with purpose. NOH is truly a beautiful example of how a small group of people can make a huge difference in the many lives that become a part of its orbit.
Mrs. Sunita Pandey is doing a great job as Director of Operations of Papa's House NGO. She has a lot of support from our staff and the NOH board. While another lockdown has just begun due to the spiraling India infection rate, those of us who are unable to be present now have faith that this too will be weathered in fine form.
Our newest children are well on their way in following the footsteps of some of the young adults mentioned in this update who were also once five or six years old at Papa's House, just as they themselves are now.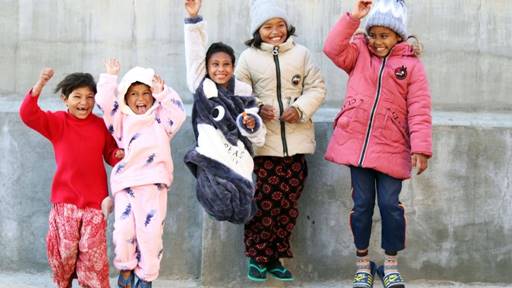 The newest girls at Papa's House: Zoya, Saya, Shristi, Sarita, and Angel