The end of the year is quickly approaching in Nepal. On April 14th, the New Year, 2076, will begin. Schools have wrapped up and preparations are being made in the lives of our children as they follow their personal paths into independence. As some begin college, others are graduating, and starting careers, some of them are choosing studies at universities in Nepal, while others are awaiting entry into other countries for further study. One son leaves for Toronto on the 12th, another daughter has been admitted into Arcada College in Helsinki, Finland where she will join in an International Business program starting in August.
The children living in Papa's House, formerly known as our Harmony House, have now moved to the Chelsea Center Annex, a large home we acquired in 2016 and soon after built the Chelsea Center on the same property.
| | |
| --- | --- |
| Moving Day! | Chelsea Center Campus, Annex behind |
We first leased Papa's House in the summer of 2005, a two-story building with a dormitory style layout. We asked the homeowner to add two stories to it and soon settled there, 30+ in number. We leased a large patch of land in front of it that had been used as a dump by the locals. We cleared the land, smoothed it out and built a retaining wall with a front gate around it. This became the Papa's House grounds, the center of our universe.
| | |
| --- | --- |
| Christmas Morning | Sending Love |
In 2022 we lost the lease to the ground to the demand of housing construction and shortage of space. It was a good run, hallowed grounds upon which our children played, revealed dreams, studied, made best friends forever, put on plays, celebrated brother's and sister's days, where promises were pinky finger committed, and children found character in themselves and others, the place that silently witnessed personal evolution, from being a  five-year old bouncing a basketball with both hands to dunking the ball and receiving a full scholarship in college. It is where many in our neighborhood fled during the earthquake, after our wall and gate collapsed; it is also the resting place of a couple of our beloved dogs. It was there that on Christmas Eve candles would be precisely laid out to reveal a message when simultaneously lit from the children's candles after dark, and by whose light Santa arrived on the roof of Papa's House, in 2017, to the astonished and misty-eyed children looking skyward after hearing him bellow out Merry Christmas! It was our "Field of Dreams" where every Saturday the children from the five homes of NOH would congregate for lunch and play. It is where we grew as individuals and as a family, and it is now unrecognizable but for in our hearts.
| | |
| --- | --- |
| | |
A simple message that year, each light of the tree, a child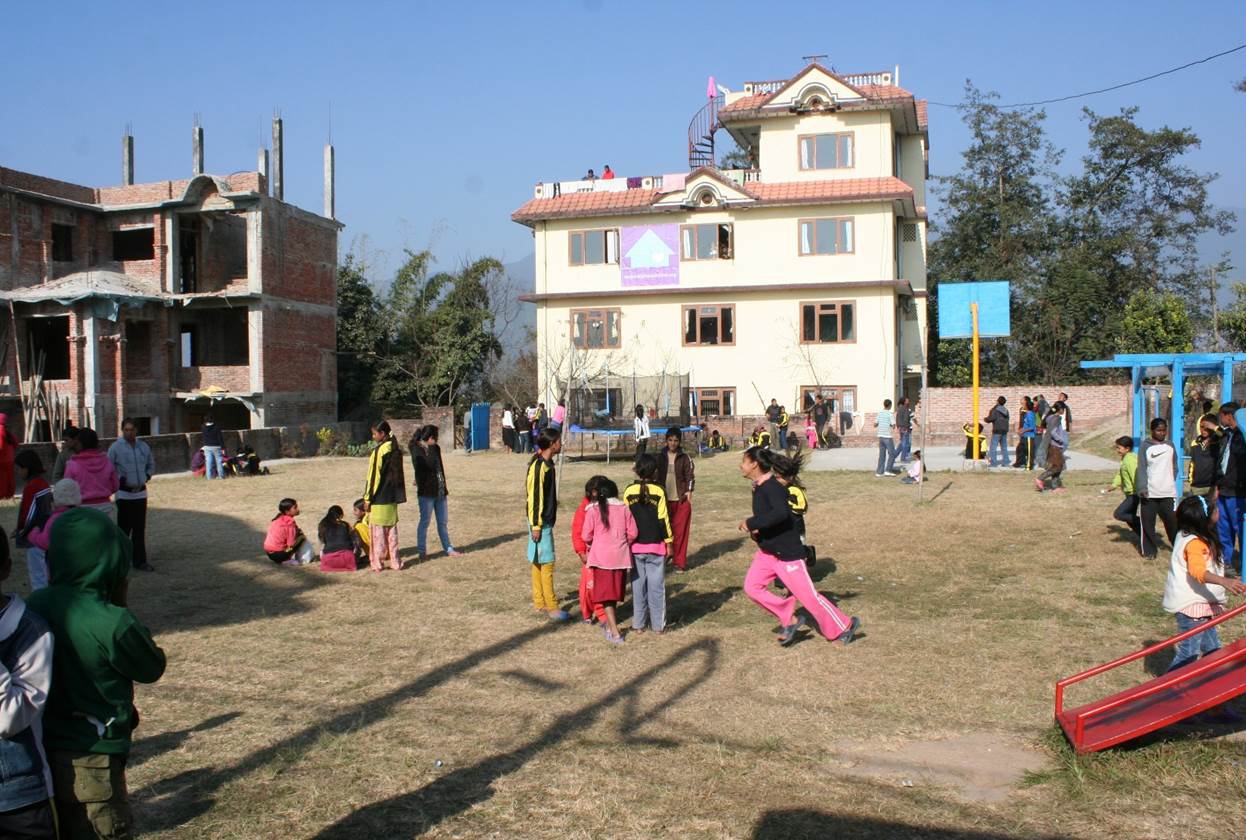 And today, April 9th, we bid our last goodbye to Papa's House, the building, after 18 years.
The children and staff have moved to the Chelsea Annex which has been the boys' home in the past, and most recently the home for many of our college children. Now in this iteration it will be home to the Papa's House kids who are still students below college level, while our college children all share NOH stipend-supported apartments nearby as part of their transition into independence. And the Chelsea Education and Community Center campus becomes the new center of our universe.
This is meant to be a brief newsletter to commemorate a building and a piece of land that inhabits the lives and energy of a hundred and fifty plus children, staff, and volunteers over an eighteen-year period.
But before bringing this to an end, I wanted to share an update on Hope. For those who remember her, and those who never knew her, The Story of Hope's origins can be read by clicking on the fundraiser link at the end of this section.
| | |
| --- | --- |
| Hope tuning in | and studying up |
| 2nd Birthday with a Cinderella cake | and "The first time ever I saw your face" |
Hope today lives in North Carolina with her mom, Anita, dad Sam, and Richard, her adorable young puppy. She will be turning 10 years old on April 30th. She is a kind, funny, smart, compassionate young girl who makes friends easily and keeps them for life. She has developed extraordinary skills as a gamer, is learning to be a good cook, and worries a lot about environmental missteps with things like oil leasing grants where polar bears struggle to survive.
Sam and Anita both have full-time jobs; Anita is a beloved day care schoolteacher, Sam at an auto dealership in the detailing department. Sam leaves for work when most people are still sleeping, so he can be home to meet Hope's bus after school, Anita goes in to work after taking Hope to the bus, and then Sam, Hope, and Richard pick up Anita when her day is done at 6, and they rejoice in being all together.
| | |
| --- | --- |
| Marriage in Nepal 2018 | Easter in Apex NC 2023 |
They have been working on Hope's adoption since their arrival in the United States in 2018. It is a long and very expensive process. They have the happiest of lives, but as with any young couple starting out, it is hard for them to save enough money to keep up with the adoption expense.
Anita's brother Vinod and his wife Alecia have established a Go Fund Me page on their behalf. Most of our Newsletter subscribers know Sam, Anita, and Hope from their time in Nepal with NOH. If you are interested in possibly helping them out, please visit their Go Fund Me page.  
Happy Nepali New Year everyone.

Hope leading her classmates in the morning prayer, 2017