Recent Events, June 7, 2022
We are eager to share some recent events. In mid-May a fundraiser took place in an East Melbourne, Australia suburb known as Mt. Evelyn at the private ballroom of Gary and Stonnie Jefferies. This is the 6th year that the event has been held since its inception after the Nepal earthquake of 2015, although we missed doing this in 2021 due to the pandemic.
The gala event hosts floor shows and open ballroom dancing by the attendees. Elvis has made an appearance each year and is always the most anticipated performance.
Local merchants provide the food and supplies as well as raffle items, and with the ticket proceeds NOH received $6,368.56 this year, to bring the six-year total to $40,000AUD.
Alan Norton and his wife Deb volunteered with us in Dhapasi beginning in 2014 and they have made numerous trips since, teaching and mentoring our children. They became very impressed by the children and over time have developed sustained relationships with several. They shared their times with us in Nepal with Gary and Stonnie, Deb's brother and sister-in-law, and that is when the G&S Ballroom, well known among the Melbourne dance community, decided to host an annual fundraiser.
Having a funded business incubator was our targeted use of the money and the proceeds from the events have funded the start-up of "The Brother's Café" at Skylark School and in subsequent years "Hope's Café," "Papa's House Bakery," and "Tasty Treats," an ice cream and momo shop, were also supported. Young entrepreneurial adults from Papa's House received interest-free loans from the NOH business incubator fund to begin their businesses and then made repayments over the years to return the seed money. Money was also made available for expansion. Many Papa's House children became employees of the businesses, learning many skills in the process. Over the years, more than a dozen other young adults from Papa's House have had internships in the hospitality and culinary arts sectors.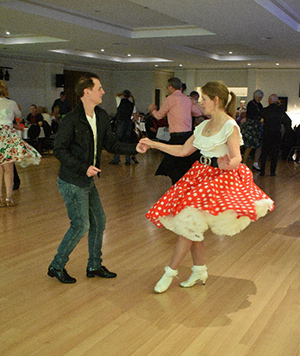 Elvis is in the house!

Gary, Stonnie, Deb and Alan
We are immensely grateful to Gary and Stonnie as well as Deb and Alan for their dedication to the children of NOH over the years. They have made a lasting impact on the character and direction that many of our young adults have taken.
*********
In other news, an increasing number of our young adults are studying or working abroad. 
Sumitra Devkota has just received her visa to study in Australia. She has been attending St. Xavier's College in Kathmandu while working as a teacher at the Chelsea Center. She will attend Melbourne University and study psychology.
Sarita Chaudhary, after a two-year Covid wait, has left for college in Japan. She is adjusting to life and studies at the Saelu Gakuin University in Okinawa.
Kaushila Shrestha is working at the Aja Gartenhaus Home for the elderly in Frankfort, Germany. In January, she will begin Nursing School there.
Sabina Tamang is in her late first year of Nursing School at the Schule fur Gesundheits-undkrankenpflege, in Hamburg
Debika Neupane is in her first year working at the Munchen Klinik in Munich. She will join Kaushila in Nursing School in January.
Also, on deck for going to Germany are five other older girls in different stages of completion of their German Language proficiency examinations.
Urmila Chaudhary, having completed her degree in dental science and presently working as a hygienist in Kathmandu, has received a scholarship to Park University in Missouri in the fall, where she will study nursing.
Bhumika Rai and Apsara Basnet have just graduated with their bachelor's degree in IT and are taking a short break while searching for job opportunities.
Papa's House young adults can expect support for the tuition and fees for their college and university studies, in Nepal or abroad, subject to satisfactory performance. Young adults not on a university tract can receive support for vocational training and internships. Young adults choosing to work abroad with a secure job are supported with their international travel fees and initial living expenses.
For those young adults not attending university or vocational training programs, and ready to leave Papa's House, live independently and seek employment in Nepal; NOH supports with funds for starter bank accounts for their transition, which might be also used for apprenticeships or to start their own businesses.
And life goes on…all made possible from the generous support of our friends around the world.
Thank you.