The last three months have seen many changes in the lives of our children, long-held dreams coming to fruition, new paths planned out and begun. Our family possesses a vibrant sense of energy, pumped up and sustained by witnessing the accomplishments of individuals and recognizing the results of their efforts toward goals which were born as fragile dreams, but piece by piece became solid realities.
Lalita, Sandesh, Ram C., Ram S., and Ramesh receiving a Puja from the family the day before they left for Beijing to work as apprentices in Hotel Management. They spent two years in college here in Hotel Management, then attended a Beijing-affiliated college in Nepal for six months of further training and Mandarin lessons. They will be in China at one of many four-star hotels as apprentices for two years. They receive room and board, and a generous wage. They have classroom time each weekday followed by their shift, but have Saturdays and Sundays free. The college has an excellent placement program upon graduation.
*****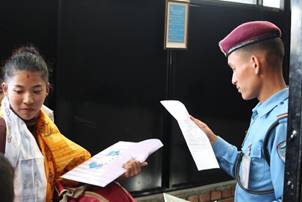 ​Sabina at her Puja and at the terminal entrance where we had to let go and wish her Godspeed.
Sabina came to us when she was seven. It seems as if she always knew what she wanted to do with her life. She kept a steady focus on school—in attitude, behavior, cheerfulness, and generosity (with both time and energy) for others.  She is going to be a nurse. She is now in Germany having completed a German Language course and signing a contract with a wonderful family to be their au pair. She lives with the family, works 30 hours a week in care of their two young sons, and attends a school for advancing her German. After one year she is eligible to attend college and will be granted a resident visa to study and work. There she will become a nurse. We have five other girls who will be following her to Germany in January.
*****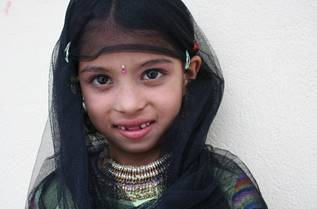 And then there is Pupu who has kept us laughing for the past 14 years. She would find humor and a perfect delivery for it even if we were walking to the gallows together. Cherished by everyone she has met in her life, she will remain forever in our hearts.
| | |
| --- | --- |
| I was honored to be often imitated by her. | Dawn Kumari, her Mom for all these years. |
Puja, who I have called Pupu since her arrival, was accepted into college in Sydney, Australia to study Social Work. She left us on Thanksgiving Day in the company of our son Dhiraj who himself was accepted into college for IT in Sydney eighteen months ago. He came home to visit us during our month of Dashain. When Dhiraj first set his sights on Australia, he was encouraged by Laurie Levine and her husband Stan. Laurie has been a part of the NOH family for ten years. Once Dhiraj was accepted, based upon his excellent academic records, Laurie and Stan who live in Sydney, helped him to make connections. They introduced him to a friend who has a small restaurant chain and the rest was made possible by Dhiraj. His attitude before going to Sydney was to never say no. This applied to his work ethic and he proved himself indispensable to the restaurant and has made an excellent income which has allowed him to pay for his own college fees. Stan and Laurie treat him like a son and are very proud, as are we, of his accomplishments. We will next meet in February of 2021 when he graduates; he asked for my attendance and I will find a way to make that happen.

​Mina, Laurie, and Dhiraj
*****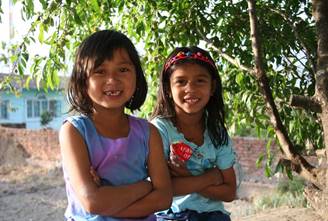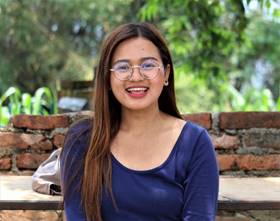 And Anumaya! Anumaya came to NOH shortly after Pupu and they became instant best friends. I have written about them several times, one of the more memorable stories was how Pupu used to terrorize Anumaya at night. Pupu would climb into bed with Anu after she had fallen asleep and begin to whisper ghost stories complete with sound effects which would bring Anumaya groggily awake to Pupu's story's crescendo. Her heartbeat beyond measure, she would realize it was only Pupu's work by the laughter emanating from Pupu who would be hiding under the covers cackling away.
Anumaya, who has always had a penchant for organizing anything and everyone, will be leaving us December the 10th. She was chosen among four of our children to become part of a small staff at an 800-year-old Portuguese family estate whose current generation of owners have a celebrated wine orchard and guests from all over the world. The owners are exceptionally kind people whose staff has been unchanged for many decades. They were eager to reach out to our children and offer this opportunity.  Once Anumaya has settled in, they are anxious to present the same offer to other children of NOH in the making of the next generation of their family staff. We have our dear friend Rui Peres to thank for the introductions and a year's worth of navigating the immigration requirements.
*****
| | |
| --- | --- |
| ​Himal, second from left | Rabindra, tallest in photo on left, offering a blessing |
The day after we celebrated Thanksgiving, Himal left for Maleny, Australia, near Brisbane.  Maleny is a small town, unique in many ways.  For instance, by their own ordinance, the businesses close at 4pm each day so that everyone can be with their families and attend community events like little league games. The town is very invested in their school system and two years ago they reached out to NOH through our Volunteer Nepal branch and asked us to arrange a two-week stay with us, volunteering in remote as well as local placements. As I recall there were twenty-four who came, ten adult chaperones among them. The two weeks forged an incredible bond between our Volunteer Staff and themselves, so much so that the Maleny group raised enough money to invite the VN staff to Maleny for two weeks in a cultural exchange a year later. Himal was among the staff who went, and he fell in love with the town and its people, and they with him.
Himal has been working towards acceptance into an IT College in Brisbane and to qualify for a visa once accepted. It has taken a year of setbacks and disappointments that would have stopped an ordinary person, but Himal is not that. Unflappable and eternally optimistic, he prevailed.
In the photo of the boys above are ten success stories. This photo was taken the day over a decade ago we took the boys into our home from another orphanage that the government had shut down. Each of them has been a pure delight to raise. From the left, Mahendra is now in the Hotel Management College and will leave for China next May. Himal is next, followed by Khemraj who almost two years ago started his own trekking company here in Kathmandu. Then is Kamal, who has taught at the Chelsea Center for the last two years and is now going back to University while working part time. He has raised four of his poor young cousins these last 18 months, an incredible act of kindness and determination. Next are Ramesh, who has left for China; Rabindra who has been the "Papa's House" book-keeper for the past two years, and has raised his young nephew for the same amount of time; Ankit, who is now in training to join with the British Army, also teaches the adult women at the Chelsea Center; Nama, a great basketball player who just received a four-year scholarship to play in a well-known Kathmandu university and has traveled to other countries on the Junior National team of Nepal; Bishnu, who married last year and opened a small general store in his village as well as a chicken farm; and finally Lalit, who has been our top student in college and is now starting university, studying computer science.
*****
Five years ago, a young man was invited to our Thanksgiving celebration by another visiting friend of ours. He was moved by the overwhelming warmth of the event, by the humble meal, and mostly by the children's joy and camaraderie. A couple of weeks before Thanksgiving the following year we received a donation from Jon along with a memorable letter expressing how touched he was to be among us the year before. He said he wished to give back to the children and with his donation provide a truly splendid meal. Jon has continued to do so and this year his generosity allowed for a beyond tantalizing spread. For the first time ever, we barbecued chicken for the growing number of non-vegetarians among us, and a delight for the invited guest who rarely if ever can experience such eating pleasure. Jon's donation this year exceeded the cost of the meal, so we gave the balance to several of our invited guests who lead truly difficult lives, but always have a smile to offer.
Over one hundred of our children were present. As some of us were reminiscing, we counted close to fifty other children who have since returned to their villages and beyond, most with families of their own now. With 59 children in college and university, 43 children in classes 1-10, and one child in a special needs school, we are a family whose nest will never be emptied.
There is so much more that has happened over the past few months: exciting new staff, tremendous work at our Chelsea Center, accomplishments of our children, and new ideas adopted. There have been weddings, horizons lifted, goals set and others met. I will share all of this in January as we look back over 2019.
But we wished to get this transition-themed update out before Christmas. With so many children in higher education now, we have had to decrease our support for village schools, orphanages, and monasteries. Our work at Kanti Children's Hospital will not be affected, nor the educational support for many poor children in our community and our Chelsea Center. As we have promised our children that each and every one of them will be able to attend college and university, or technical training, or work/study programs in other countries, the next few years will have increased costs; then things will begin to taper off and NOH will be able to be a source of deliverance for the many programs we supported in our outreach.
Thank you very much for your support.
Papa
​