Snap Shots: Papa's House Home School


Board Member Carola Drosdeck with some of the girls and Board Member Tamara Saltzman reading to others
The monsoon season began late this year and rarely did it reveal its typical daily deluge. Our walk to school thus far has favored relative dryness, and only on a few occasions has the walk home required our rain ponchos. The girls and I have not lost a morning's run to inclemency though more than a few times we began in the departing night's rain which would yield to a drizzle as the sun rose. One evening this week the first sign of fall gently blew in over the mountains, and we were treated to an orange cinnamon sunset casting all briefly with colorful crisp edges until the light evaporated into cool darkness; a pleasant teaser for the months to come.
Housing continues to creep weed-like across Dhapasi. The single-wide road is now often jammed as construction vehicles overloaded with sand or brick groan by. Our walk to and from school requires great vigilance.  The once open pasture land now supports houses with high compound walls, and few cows remain in the absence of grazing fields. Hundreds of millions of dollars flow seemingly without tether into the capital city while the rest of Nepal slips deeper into despair. New faces will soon outnumber the old and they tend to be drivers instead of walkers, keeping them separate and foreign. The boom is taking its toll on the water supply as those with the wealth to build large homes bore deeper wells with greater capacity. We now have water tankers come weekly to supplement the anemic trickle from our wells.
A Tour of Dhapasi
One Saturday a few weeks ago, Anita, some children and I went to do some errands. I brought my camera along so that I could share with you a little bit of our life.

Our curd shop

Sneakers and running shoes

Our Samosa and Cello Roti shop

Our daily fresh fruit purchases are made here

Yarn Shop

Cloth Shop

Our Bakery

One of our clothing stores

Our secondary vegetable shop

Our Tailor

Our 3-generation-run bulk supply food store

Our mops and utensil shop

Ice cream and Paneer shop

Spice shop
Our neighbor's vegetable shop

Our plastic sandals and Mehindi shop

Pharmacy (pharmacist Rahjendra standing)

A local family we help with school

Cabinet shop
​
Dhapasi, despite its growth, is still a good village; it has been good to NOH and I believe we have in turn been helpful neighbors. I have made note of the fact that after 8 years of daily morning runs, the villagers and I had at some point reversed roles and I tend to greet them with "Namaste" while they all say a hearty "Good morning!" to me, and I often hear them greet each other with "Good morning" as well. This I suppose is my small and debatably unfortunate contribution to cultural dilution.
Nepal Orphans Home Helping Hand
Each year NOH helps between 30 and 35 local children to attend Skylark English School.
| | |
| --- | --- |
| This year's group (four missing) | The five graduates from 2012, all college bound |

The missing four children from the group picture
Kabita and Sabita Go to College
As we did for Hikmat last year, we assembled early on a rainy first day of college to wish Kabita and Sabita good luck and offer our blessings as they begin their college career. Two more, Anil and Sangeeta, will begin after another month. The number of our children attending college will start to increase each year, a somewhat scary proposition. We find comfort though in "Life's Handy Work" — Laura@LifesHandyWork.com or www.lifeshandywork.com. A former volunteer Laura Handy Nimick and her husband Justin two years ago started their NGO in Washington state to support the college fees of the NOH children. They have taken their NGO a long ways in a short time with fun local community fundraising events. We are very grateful for the support they have provided our children.

Top: Kabita and Sabita ; volunteers Cici with her friend and my wonderful cousin Anne
Anita and Pratap blessing Kabita; Gita, Kabita's House Mother; Susmita and Kamana
Kabita and Sabita will be attending Herald International College in Chakrapath, the college level of a school that all our children attended many years ago when we were far fewer in number. They will be majoring in management.  Anil is awaiting results from his entrance exam from the Medical College of Kathmandu where he will take a three-year course to be a Lab Technician, and Sangeeta will join Brooklyn College after her preliminary exam results are known, in an as yet undisclosed discipline.
New Children
We have had the shared good fortune to be able to welcome some new children since the past update. These children have come from far and wide and who, with the exception of a few, have lost their parents; those few have mothers but they are unable to support or care for them.
| | | |
| --- | --- | --- |
| Salina | Priya | Urajhan |
| Sanjeta | Gomati | Kanti |
| Kalpana | Alysha | Samirha |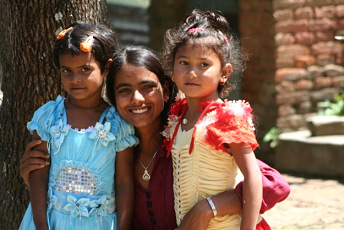 Kausil on left with Anita and Priety
Ghost Hill
We often hike to a beautiful pasture land of rolling hills covered with bent gnarly pines that may have at one time been the enchanted playground of witches and fairies. It's known in Nepali as "Ghost Hill" and is a place everyone knows not to be visited after dark.
I told the children a week in advance of the well advertised "Blue Moon" that we would be going there for a night time picnic. They were sure that I was kidding, but with the passage of time they laughed nervously and began to believe it may be so. They said I was crazy and they would not go, but on the evening chosen the children tentatively assembled on our grounds just before dark. I had advised them to wear black to become less offensive to the spirits we may encounter.
The staff passed out packaged food to our 139 wide-eyed children as the procession left the gates single file under an eerie quiet in this novel adventure. The silver blue moon beamed down from a cloudless sky, sharpening shadows in the deepening night as we shuffled along on our shoulder-width raised mud path. Dogs howled, bushes shook with the fleet movements of small creatures as we passed and a gentle breeze lifted our hair. 
Once there, the children clustered whispering, lest they attract attention. At the urging of Pratap, they formed a tight circle in a clearing and sat. I had asked Pratap to distract the children with a scary story while I slipped into the woods where I donned a large black sheet in which I had cut two holes for my eyes. From a hundred feet away I started moaning loudly yelping occasionally for good measure. This hushed the startled children who drew their circle a bit tighter. I then started running in and out of the trees getting a little closer to the children with each pass; the black sheet flying behind me, I whooped like a banshee. The children rose as if glued together, clutching one another following my approach and retreats.
Emboldened by squeals of fear, I decided to make a dash directly for the circle, but the sheet slipped over my eyes, and blinded, I kept bumping into things and tripping over the sheet. I reached the point of bruised exhaustion at about the same time the children concluded I was the most spastic ghost imaginable and with nothing to fear they relaxed. I slinked back into the forest, the yelping now a whimper, and packed up my sheet. Rejoining the group moments later I found them talking animatedly. After some moments I asked those closest to me if they had seen or heard anything unusual and with practiced nonchalance, they said no and to that party line held tight for the better part of the following week.
Dhapasi Street Cleaning
Once or twice a month all the children gather at 5:30 on Saturday morning and collect the abundant litter covering the streets that form a triangle between Skylark School and three of our five homes. On the alternate Saturdays we cut the grass of our large playground by hand with small scythes. The children enjoy the tasks with enthusiasm for the results and to be all together in a common effort. I have asked if they would like to sleep in a little on Saturdays, but they prefer to rise slightly before the sun. With both tasks we are finished before the morning tea is ready.
The neighbors look on these mornings, curious and amused. Occasionally pedestrians or porch sitters will compliment the children's efforts, but judging by how quickly the tide of debris reclaims the streets I suspect we have done little to raise the conscience of anyone. While the enjoyment of the clean streets has such a brief life we are pleased nonetheless by the act.
Brothers Day
Brothers Day was Thursday, August 2nd, one of a few days each year in Nepal set aside for sisters to honor their brothers. The girls make friendship bracelets and tie them onto the wrist of our boys They choreograph dances and sing, in addition to making and serving the lunch in a fun and tender national holiday.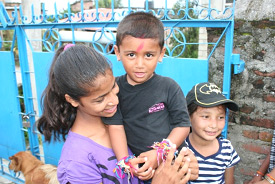 The banner makers with banner made from rice colored and applied one grain at a time.
Right: Sumitra holding Sandip, whose wrist gives witness to all of his sisters' affection.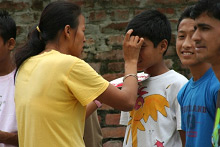 Asha and Toffey; Gita applying Tika to Diraj; Hikmat, the day's MC

Hari; Small girls' dance performance; Pinky looking on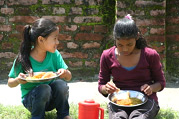 Juna and Man Kumari share a shawl; Salina and Gita; Kamali and Asmita
Teachers Day
Live a year in Nepal and one will find that the people love to celebrate and have others honor them.
This year Teachers Day was a well-polished event with superlative performances by many of the students at Skylark. It is truly wonderful to see the children illustrating talents one might not have known they possessed; or delighting in seeing them after a year's practice. A large number of our Papa's House children made music, sang and danced.
| | |
| --- | --- |
| Front Asha, Chiaya and Apsara | Mrs. Sangeta Rai, School Principal |
| Our older girls dancing | Sunita singing the blues |
| Saroj (Carlos Santana) on his electric guitar | Chham on a borrowed guitar |

Kamali singing Nepali love songs; Anu Maya singing English love songs
Tikapur
Our first term exams finished on Wednesday, August 1st, Brothers Day was the 2nd, and so I chose Friday the 3rd to take one of our children back to her village in an effort to find her parents. Chiaya has been living with us for four years. She was Kamlari (indentured) for several years before that, turned 16 last March, and until recently has never shown any interest in finding out about her family. With our children who believe they may still have family but have not cared to find out, we let them know that we will help to find them if the desire strikes.
Our records indicated that Chiaya was from Tikapur, but she remembered very little about it. She thought it had been at least five years since she had been home, but she wasn't too sure.
As it was cheaper than driving, we flew to Nepalgunj where a good friend to NOH had arranged a jeep and driver for us for the ride to Tikapur. Three hours later we left a hard road after driving into the business area of Tikapur, a quarter-mile of 2- and 3-story buildings, and began down a dirt washboard with small cement houses and an occasional vegetable stall along the shoulders. Slowly the road started to disappear. The rain was incessant, our progress slowed to a crawl. After thirty minutes, Chiaya thought she recognized a pathway on the right, so we stopped and she and I entered the pounding rain. Chiaya's excitement took over and she left the laughable protection the umbrella offered and leaped forward deer-like, her feet finding the highest spots to land. I splashed behind finding only ankle-deep water. We approached five small mud huts and she called back, "I think this is it," and entered the last one. It was very dark inside; a woman was sleeping on a rope bed covered by a mosquito net.  Chiaya opened the netting and looked into the woman's face, turned to me and whispered, "I think I am wrong," closed the netting and retreated into the rising water. We made it back to the jeep completely soaked ten minutes later and began again. After another twenty minutes, she called out for us to stop.  "This is it. I remember the army watchtower there." She pointed to a 20' watchtower with an armed infantryman silently peering out from under a too-large helmet. Taking in the total absence of life or structures, I was left wondering what he was watching for as we again plunged out of the jeep and into the deluge.  We walked for 15 minutes to a path on our right where Chiaya bounded pixie-like to the first of five huts which felt strangely familiar, and again stooped into the entrance where a lady sat on a bed and with obvious confusion said, "Lali??" Chiaya's given name was Lalita and this bewildered woman was Chiaya's aunt. The poor woman had woken with a fright after we left the first time, thinking the ghost of her niece had come and lifted her netting and left. She was none too sure even now if this was an apparition or not. We had driven in a very long half circle dissected by the long pathway to this house. Chiaya had found some family.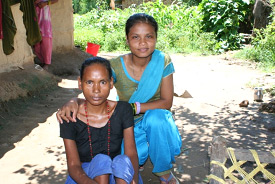 These photos were taken two days later when I went to retrieve Chiaya. The woman with her is the aunt who still appeared slightly unsure with the reality of Chiaya. The little girl is a sister born five years ago that Chiaya did not know about. Chiaya has a mother — she was in another hut and bedridden; Chiaya did not want me to see her. Chiaya was told that her father, who is handicapped, had gone to India to work. She has two married sisters; one is only 14 years old.  Those members of the family able to work do so in the fields of landowners and receive some produce and a few rupees. This is a difficult life, exposed to the elements; on this last day the temperature caused my perspiration to sizzle on my head.  The humidity inexpressible, I missed the rain. In winter it is bone-numbing cold. Snakes are everywhere, especially during monsoon when they like to seek higher ground; rope beds a frequent haunt. Mosquitoes that carry a litany of disease pepper the sky.
It is a tough life, the people fending against it as best they can. It helps to consider this before judging them for selling their daughters; perhaps they feel this is offering them a way out. Sadly in most cases it only offers lowering them to the fire from the frying pan.
Chiaya was pretty quiet most of the way home. She was deep in thought and I think troubled by her own good fortune. I gave her time.  When at last she was ready to share some feelings she began by simply asking if we could take into our home Manisha, the 5-year old sister she had found. I simply said "yes."
A Little Reflection
We never know which way the wind will blow and how with it our lives will change. I have somewhat changed my thinking that we have quite a bit of control over our lives. We do and we don't; our greatest control is in how we react to life and in not a small way by this we affect for sure the quality of life. This was superbly illustrated to me after spending some time with people who daily suffer from food insecurity and wretched living conditions. Yet they laugh a lot, are kind to one another and sleep easy at night. I mention this only to support my point that our greatest control is in dealing with what life offers. All the positive thinking in the world will not stop that random drunk driver from hitting someone and paralyzing them, yet how the patient deals with this situation will decide the quality of life from that moment on. How we choose to react to life's comparatively little irritations and occasional hurdles will bring us joy or frustration, we can empower the irritant or make it powerless.
Life in Nepal can be difficult; phones, internet, businesses simply do not work well, strikes frequently close transportation and schools, today's paper speaks of 20 hours per day without electric after the monsoon ends, and yet every day here is one of abundant joy because that is the way our children see life. They are happy and optimistic. They are also serious about wanting to make a difference with their lives; how little they know that they already have.
Changes
In our continuous effort to improve everything we do and to ensure seamless continuity in the event anything should ever happen to me, I have given up my position as manager of Harmony House. Doing this was to me at one time inconceivable, but trying to manage Harmony House while administrating everything we do in Nepal was becoming more than I could do at its best, and only one of these two jobs could be filled indigenously. My moving out was painful for everyone, but a month later we are all doing much better. Last year we were visited by the elder sister of one of our older girls and her brief time then left its mark on me. We called her and asked if she would be interested in training for the job and found that the timing was a godsend for her; she arrived by bus three days later. Anita (referred to as "new Anita" until we figure out an alternative) has settled in and is doing a splendid job.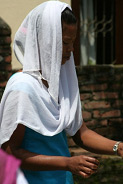 Anita now on left and last year when she visited her sister Sarita
Not being tied to one home has allowed me the opportunity to spend more time at the other homes and better address their needs. We have begun a program where on Friday nights I bring some girls with me for dinner at the boys' house, this was never done before. The first two Fridays were so much fun that I decided I would bring five boys to eat at the girls' homes on Sunday and Wednesday nights on a rotating basis.


Friday night Sarita and Asha eating Tibetan and Nepali Momos with Pratap and Devika's boys.

And Sunday night at Gita's House the boys and I dined on a beautifully crafted and delicious meal.
******
Change can be a good thing and I am finding being able to share my time evenly among all the children a great deal of fun; focusing more time on our present needs and future growth will enable us to better care for our family, and position us for the many challenges the future holds.
And that is the way it is in Dhapasi, Nepal, where children find a family and love, grow strong and educated, and time passes much too quick for their Papa.
I leave you with some photos from Saturday, August 18th, 2012.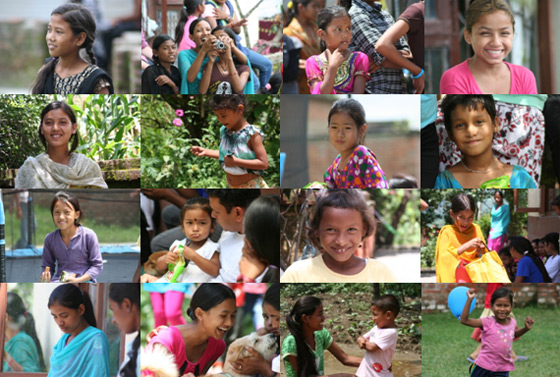 ​